The St. Regis Tianjin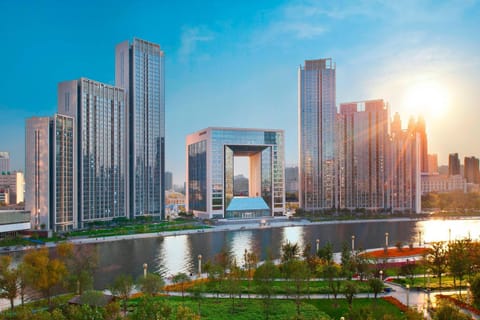 Hotel in Tianjin
Pool
Air conditioner
Internet / Wifi
Located in
Tianjin
, this attractive room in hotel for $133 per night is a fantastic choice for your next trip. Sitting next to the picturesque Hai River, The St. Regis Tianjin sits in the centre of the financial area of Heping district and provides accommodation with personal butlers, an iPod dock and Blu-ray players.
Pool
Air conditioner
Internet / Wifi
Smoking allowed
Parking
Laundry
Hot Tub / Spa
Wheelchair accessible
Gym / Fitness Center
100% verified reviews
4.0 / 5

"Good"

(41 Reviews)
good hotel, perfect location, nice staff
Feb 2023
perfect location near the mall and italian street
staff were not well trained at reception and took long time to check in even though there is a lady took care of us but procedure is long. AC was not cold couldn't sleep. BF was normal only eggs are good, not international BF.
Nothing apart from the size of the room + bathroom
Broken switches in the bathroom, annoying staff who keep making the room a few times per day ...
Wonderful hotel in the center on river side
Jun 2022
Ideally located on the border of the river. In the center. Impressive entrance.
Start to be an old construction, room not brand new anymore, but still luxuous.
extremely disappointed.
Nov 2020
good location to visit the city nice views nice breakfast
Before the virus, I often came to your establishment. now the prices have increased considerably but the service has remained the same. Extremely expensive happy hours, the staff do not speak English especially the bar staff who do not master the menu either.
A fantastic hotel in a perfect location.
May 2022
Fantastic location. Overlooking the HaiHe River. The hotel opens up onto the riverside, where you can sit for drinks in the evening with beautiful views. A great local and continental breakfast with lots of choices. There is a huge mall directly opposite the hotel and plenty of local back-street shopping. If you fancy a river cruise, the Da Bei Jiang Warf is only about 10 minutes drive from the hotel. The gym and swimming facilities were very good and the staff were amazing, all spoke English.
How much does this hotel cost compared to others in Tianjin?

The average price for a rental in Tianjin is $39 per night. This rental is $94 above the average.
Is parking included with this hotel?

Yes, parking is listed as an amenity at The St. Regis Tianjin. For more information, we encourage you to contact the property about where to park.
Is there a pool at this hotel?

Yes, a swimming pool is available for use at The St. Regis Tianjin. Enjoy the water!
Is The St. Regis Tianjin pet friendly?

Unfortunately, this hotel is not pet-friendly. Try searching again and filter for "Pets Allowed"
What amenities are available at The St. Regis Tianjin?

We found 9 amenities for this rental. This includes pool, air conditioner, internet / wifi, smoking allowed, and parking.