Art Villa Dominicana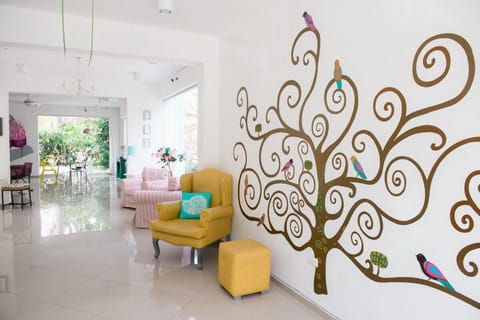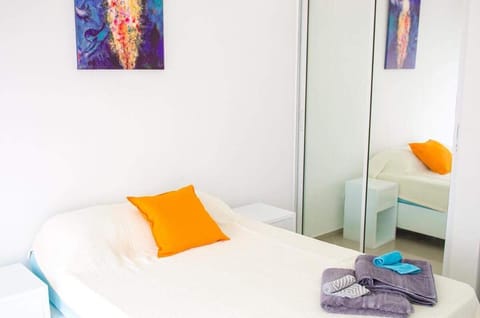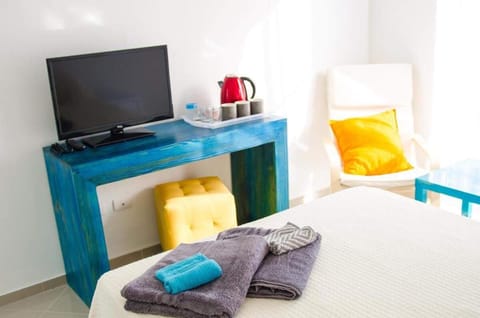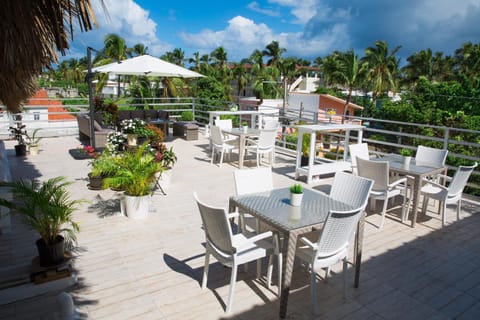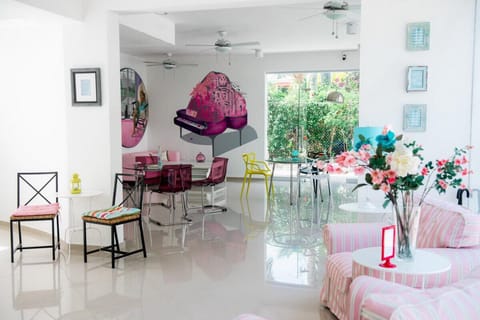 Hotel in Punta Cana
Air Conditioner
Kitchen / Kitchenette
Internet / Wifi
Situated in
Punta Cana
, this lovely room in hotel for $35 per night is a great option for your next trip. Located in Punta Cana, 600 metres from Arena Gorda Beach, Art Villa Dominicana provides accommodation with a shared lounge, free private parking, a terrace and a restaurant. The property is around 1.8 km from Bavaro Beach, 1.
Air Conditioner
Kitchen / Kitchenette
Internet / Wifi
Parking
Laundry
Balcony / Patio
Dishwasher
TV
100% verified reviews
3.6 / 5 (529 Reviews)
Enjoyed the place
May 2021
great place to stay for a few nights
Mar 2023
walking distance to the beach location, clean and spacious room, good price, very nice hosts
The staff was friendly, cheap and cute
Noisy, small terrace looking at the street , very old facilities
Poorly maintained
Apr 2021
The location is great, 10 min walk to the beach, some art on the walls, modern furniture in the kitchen. Safe box in the room.
It probably looked great when it was new, however it wasn't maintained well since then and now it looks kinda shabby. It was hard to open and close the patio door. The staff used our patio railing to dry their clothes and towels (we lived on the first floor) The kitchenette was equipped very poorly. They brought us a few things but it wasn't enough for three people so we didn't use it at all. May be not their fault but the internet was out the morning of our moving out and we couldn't book Uber, so we walked with our luggage a few blocks to another hotel. The breakfast was really cheap. No soap or shampoo in the shower. Towels are old with bleach spots. Staff was helpful but distant. There was a sick mommy cat with kitten walking in the kitchen. The cats hair was all over the red velour chairs.
Good for the price.
Dec 2021
The hotel is really pretty. Looks like they are getting some nice decoration and the terrace was getting painted. The breakfast place is really nice too. The staff are very friendly and helpful. The breakfast for a little extra was really worth it.
Our room was a little smelly and the air conditioner wasn't really cooling the place. I would say it was working on 60% efficiency. But for the price, its okay. Wasn't a bad experience at all.
Beautiful hotel a few blocks from the sea.
Apr 2021
The hotel is a few blocks from the beach and there are some nice restaurants in the area. The art is beautiful and there are lots of areas to relax or be with friends.
More a description of Punta Cana than the hotel but the surroundings feel a bit like a wasteland- walled houses, half built properties or overgrown land.
The hotel has great style. All is atmospheric and really nicely arranged. It surely has a soul what make you feel good. The rooftop eating/chilling place is very cosy. Staff is very nice. It is super close to the beach (this has algi..:p but it is usual thing in punta cana. In general, i would recommend, and it is surely value for the money
Overall impression is very good. Minor things that could be improved is that the offer stated that there is shampoo and all toiletters and hair dryier. It was not included. When we went for breakfast we were said that it is not included - but it was so pay attention on that ;)
Staff was very helpful, the location is good
There were no hot water and breakfast is a little bit small
Staff was very helpful and the price for the room was fantastic.
Everything was like expected.
Staff is very nice, location is great; close to the beach and restaurants without being on a noisy street, rooms are comfortable with AC, complementary breakfast is good with fresh fruit.
I enjoyed my stay there.
Apr 2021
Staff did some extra request - this was extraordinary! Very friendly and caring.
Could have been more clean. Especially the kitchen equipment in the room like the cutlery and plates.
I stayed for one night prior to heading back to LA and it was fine.
Apr 2022
Room was basic but met my expectations. It was suitable for 1 or 2 night stay for sure.
No small towels to wash face were in the room but otherwise everything was fine.
Cheap 3 star hotel, 10 min from the beach
Jan 2022
Room and bathroom ok. Fridge in room. Bed was good. A/C not noicy. Roof terrace, nice to sit there.. Simple but good breakfast.
The front desk, they only speak spanish, and they were not helpful and friendly. (Night staff was helpfull) Not good cleaning, they shall according to themselves , clean the room every third day. We went on a tour the sixth day, no cleaning was done. We had to ask everybody, before they did it ,late in the afternoon day 7. Kitchen equipment , when we saw it, we did not use anything, except glasses A/C not very efficient
Decent, simple hotel to avoid the Punta Cana resorts.
Feb 2023
Quiet location. Good breakfast in a pleasant cafe space. Value for money for one night after arriving by air.
In need of refurbishment. Curtains did not span window. Little hot water in shower. Lock on room door needed repair (but was secure).
The staff was friendly and 2 of the guys venezuelan guys working here were extremely kind. Dont expect the same standard that you see in the pictures. Aweful breakfast. One small sandwish, yoghurt and juice/coffee. Dishes were dirty. Shower looked old and dirty. Wifi was working very badly, But we were most sceptical to the surrondings. It looked unsafe. Had planned to stay 5 day, but we decided on the day of our arrival to leave the next day, so we did. That was not problem. Juat had to pay a cancelation fee.
There were two big beetles in the bathroom, so I lower the rating.
Only location is a good thing, having the beach close (but most of it is private and you can't sit). Restaurants were an advantage beeing close.
. .All the reviews are true. As you enter in room, a smell of wet is present and not dissappear with air con. The bathroom floor seems permanently with grease and fingerprints. The breakfast starts very very late.. 08.30 am, but you see the 1st person arround 8 40..you are served arround 9 am. Totally unacceptable in vacation, loosing your time. Most of the cups are dirty. Since 4 nights, I had breakfast 2 times. English is a really big problem, only 1 person speaks(the driver that brought me). Considers ting a price of 40 Euro/night, is not acceptable. My last trip 2 weeks ago was in Azores and Madeira having amazing hotels with 25-30 euro/night.
Its not hotel. More like service apt. No lights in halls. I stayed 2 nights no one cleaned the room.
I was supposed to stay for a night, but after seeing three rooms where none of them the air conditioner worked properly,
Oct 2021
Nice Staff, easy check-in and check-out.
Not very comfortable beds and room.
Nice friendly staff, not the most tasty, but very elaborate and cheap breakfast. Nice sitting area.
How much does this hotel cost compared to others in Punta Cana?

The average price for a rental in Punta Cana is $159 per night. This rental is $124 less expensive than the average.
Is parking included with this hotel?

Yes, parking is listed as an amenity at Art Villa Dominicana. For more information, we encourage you to contact the property about where to park.
Is there a pool at this hotel?

We didn't find pool listed as an amenity for this hotel. It may be worth double checking if a pool is important for your stay.
Is Art Villa Dominicana pet friendly?

Unfortunately, this hotel is not pet-friendly. Try searching again and filter for "Pets Allowed"
What amenities are available at Art Villa Dominicana?

We found 8 amenities for this rental. This includes air conditioner, kitchen / kitchenette, internet / wifi, parking, and laundry.