Apsara Residence Hotel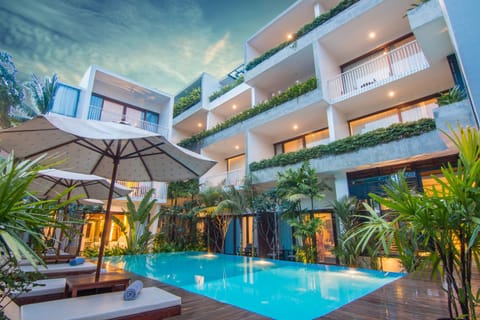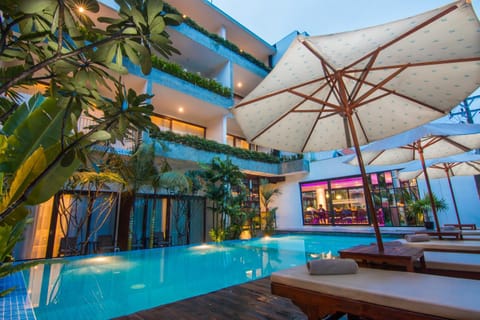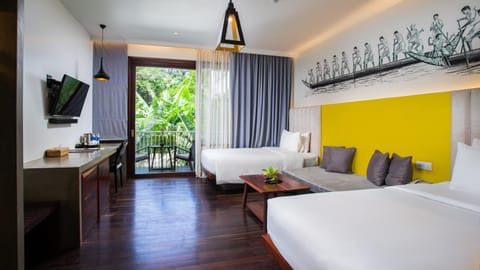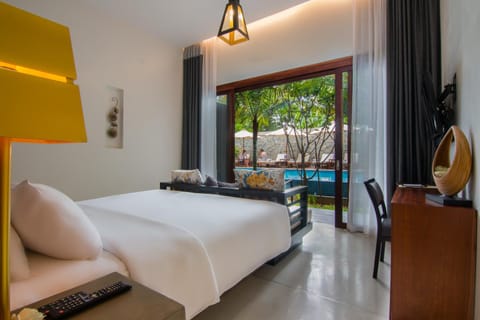 Hotel in Krong Siem Reap
Pool
Air conditioner
Kitchen / Kitchenette
Located in
Krong Siem Reap
, this charming room in hotel for $43 per night is a fantastic choice for your next trip. Featuring free WiFi throughout the property, Apsara Residence offers accommodation in Siem Reap. It is 400 metres away from Pub Street, Old Market and the night market. The hotel has an outdoor pool, and guests can enjoy a drink at the bar.
Pool
Air conditioner
Kitchen / Kitchenette
Internet / Wifi
Parking
Laundry
Balcony / Patio
Hot Tub / Spa
TV
Garden
100% verified reviews
4.4 / 5

"Excellent"

(225 Reviews)
Amazing stay at Apsara Residence Hotel
Apr 2023
Words can't do justice to how amazing, professional, kind and helpful the hotel staff have been. They arranged for me transportation and a local English speaking guides to explore the Angkor Wat complex. Recommended on local restaurants and shows to see. Thank you The room was clean with a comfortable bed and a air conditioning. Swimming pool and a restaurant on premises. The location is great, 5 min across the bridge to Pub street and local markets. Also there are supermarket restaurants and local pubs nearby.
The pillows were a bit hard for my taste. The second thing I didn't like, which has nothing to do with the hotel itself, were the mosquitos and geckos swarming on the balcony at night.
Excellent hotel with warm and welcoming staff.
Aug 2022
We would definitely stay here again. Excellent location, really friendly and kind staff who were incredibly welcoming, lovely pool area and really comfortable rooms.
The pool looks bigger on the photos! Other than that we couldn't fault it.
Excellent place to re-visit, staff were superb throughout.
Jul 2022
We have been here before, and we were greeted with enthusiasm by the staff, and well looked after throughout our stay. The introductory welcome on the bed was particularly nice - see picture below. We were given complimentary breakfast, which was lovely each day, and the staff simply organised anything we wanted - a jeep trip, a car a d driver back to Phnom Penh etc etc. The pool was clear, clean and refreshing, and all-in-all it was a lovely four days.
Nothing to report. Everything went as smoothly as you could want.
Friendly and helpful staff make worth every cent
Mar 2022
very nice, small hotel in quiet surrounding
Very attentive staff and great breakfast. Good housekeeping staff. Lobby and dining areas were very well kept.
Rooms, furniture and bedding all show signs of wear. Understandable in these covid times.
Absolutely awesome
Aug 2019
This hotel is at the top of our list of experiences in Vietnam and Cambodia (we stayed at 12 different hotels). They waited for us at our arrival from a long trip with fresh towels, a fresh juice, a calm check-in and wide welcoming smiles. They upgraded us from a double standard room to an incredibly nice room with bathtube and direct access to the swimming pool (I think it was the villa room). It was really nicely furnished and decorated, we felt better than being at home, actually we took pictures to copy their style somehow. The hotel was as nice and stylish as our room, walking distance from shops, restaurants and noisy streets, but far enough so you hear absolutely nothing at night. Breakfast was awesome, they spend 15min to prepare it for you, it's not a buffet with plenty of food from who knows when. It is tasty and have plenty of options both Asian or western. However, the best of this hotel is the staff. All of them are smiling at you and calling you by your name, willing to help you with whatever issue you might have. They are 100% customer oriented and very professional. If I came back to Angkor Wat someday I would definitely repeat at Apsara Residence.
The only negative point is that there are few tables at the breakfast area, if it happens that all the guests wish to have breakfast at the same time, you will probably have to wait a bit for a table. We saw this happened to a couple of guests while we were having breakfast.
They gave us a free upgrade. It was very close to pub street and the night market. Staff was friendly and helpful.
Our room smelled like a sewer most of the time. They offered to move us to another room, but the rates were quite expensive since it was over CNY.
the staff were super friendly and went out of their way to help. the room was beautiful and huge! the location was perfect
Best stay in Cambodia
Oct 2022
The staff were super friendly and welcoming. They gave us cold towels and tea when we arrived. We were lucky to be upgraded to an amazing room, which had a balcony and was modern and chic. The hotel pool was also lovely and well maintained and great to use. The hotel itself was well located and was close to Pub Street, Old Market and Wat Bo! it was just close enough to make it easy to go wherever but just far enough that it wouldn't be noisy. Added plus of being directly opposite Embassy, a fine dining restaurant, The Brothers Bar which has cheap drinks and also close to Tevys which does good lunch options.
A great stay considering the tourism is recovering from covid
Oct 2022
The staff were exceptional and the location was perfect.
the staff went out of their way to make us feel special
The staff is super friendly and always welcomed me with a big smile. The rooms are clean and the balconies are great in the evenings.
It would be nice to get a variety in the breakfast menu. The don't do buffet but you only have 6 choices to make of which two are fried rice.
Perfect for a four night stay.
Feb 2023
The staff are very friendly and helpful although their English is not always very good. The hotel is walking distance to markets, restaurants and bars, but in a quieter area. There is free pickup and return to the airport.
Would really have appreciated a lift as we were on the top floor.
I would not return based on the noise from the bar next door, which is too bad because the hotel is otherwise the hotel
Feb 2022
The staff are fantastic and can organise anything you need including tours and drivers at good rates. The rooms are comfortable. Short walk to restaurants.
The property is next to a bar that plays very loud music until 1:30am every day.
The staff are amazing and super friendly. Handled every request i had. I also liked the location, super close to the Pub Street. All the necessary toiletries and robes were provided. Great place! Definitely recommend
The room was nice good layout. Clean. Very inviting staff and friendly.
It is advertised as a private pool however there is nothing private about it. One side is open and people on second level look down into pool and occasionally you get there rubbish and smoke buts to. Hence we never used the "private pool"
The location is near to all eateries, cafes and convenience store.
One of the receptionist staff (fair complexion) worked on morning shift do not possess customer oriented attitude. I asked her help to help me translate some questions in khmer to someone on the phone and she insisted that the person understand English. And she watched me struggled communicating on the phone and then she offered to help at the end.
the location and staff are fantastic
all in all very good value for your money and greatly located
Apr 2022
The Hotel was located in a small garden but surrounded by walls. The hotel is beautiful from the outside and cosy and nicely decorated inside. Awesome pool surrounded by big palm trees and many plants. Pool towels for free and our room was with direct pool access. There was some misunderstanding between Booking.com and the Hotel facilities so we weren't able to have a room with private pool as we booked for three people. Private Pool rooms are too small for three people unlike it said on booking.com. So we got a room directly at the pool instead of private pool. The room was ok but maintenance would have been needed on the facilities in the room. After some complaints about minor issues in the room it was ok. Besides it was full of mosquitoes as the terrace door didn't close properly. The staff was EXCEPTIONALLY friendly, kind and helpful. They arranged private tours to Angkor and Phnom Kulen and the prices were just as good than anywhere else.
The breakfast was boring as it had the same jam every day and little choice in general! We had to order it a day before in advance. We would have preferred a buffet instead! The coffee was awesome though!!
Fantastic hotel but some improvements can be made
Oct 2022
The hotel in itself is absolutely brilliant, the staff couldn't be nicer and helpful. They are quick to help with requests and try their best to accommodate. The second room with a private pool, if you get the far right one, is an utter treat, gorgeous and intimate. The location of the hotel is great, walking distance to the main activities in the city centre. Breakfast is the only food available at the moment but it was delightful and plenty of choice in the menu.
A few things do need to be mentioned: Due to the hotel's central location, it is near popular bars, including a live concert bar that gets *very* loud in the evening until about midnight. While not the hotel's fault, the rooms could be better soundproofed to reduce the noise disturbance or ear plugs could be provided. The hotel organises tours to the temples which is great but there's very little explanation provided as to what is doable and timelines and how to navigate the temples in the archeological park, and the tuktuk driver has very limited English so the communication could be greatly improved. Furthermore, the breakfast provided for the sunrise tour could have been much better - two slices of bread and butter but no knife to spread the butter, 3 small bananas and 2 wildly undercooked shelled eggs that can't be eaten without a spoon.
the attention given by the staff
Comfortable and delightful hotel near everything, great breakfast BUT no elevator and can be loud
Jan 2023
Stayed here for 4 nights - loved the design of the room, the smart tv, the pool, the breakfast, and definitely the staff. I had read bad reviews about the breakfast but there's a large selection for you to choose from and they make it for you on the spot. The french toast was killer. Temperature was great in the room, shower pressure was good, and the bed was comfortable.
We had a room on the 4th floor with no elevator and deceptively did not realllly have a pool view (a tiny bit if you lean over the edge). Also there was a pub outside that was incredibly loud - it was still going when we left for the sunrise tour to Angkor Wat. The rest of the town was silent. I had earplugs so I don't know if the hotel offers them. I also think there could be more fruit available at breakfast or generally. The hotel didn't seem to have a water station though which would be really nice.
Good Location but Hotel needs a bit of maintenance
Apr 2022
Staff were great and very helpful
Room was not cleaned properly and the air conditioning system was not cold
staff was great! super friendly, we loved our stay
Staff was great and very hospitable! Location was good too.
Wifi kept dropping...probably due to corner location of room as wifi works well at areas nearer to reception
Good location, just a short walk to Pub street. Would go back just for the staff. Very enjoyable.
Feb 2023
Staff - The staff really made this property exceed my expectations. Always warm and friendly. Very attentive to the guest needs. Even the security guard knew my name. Also the private pool was very nice with the waterfall from the wall. Very tranquil.
We had a lovely comfortable stay and the service from the staff was exceptional
Jan 2020
Staff exceptionally helpful and pleasant
Good boutique hotel near to attraction areas with affordable price & comfy room
May 2019
Spacious room with private pool, comfortable bed & pillows, good location, walking distance to attraction places, friendly & warm staffs, public swimming pool.
Shower area has no cover so its a bit cold when taking shower
Very pleasant four nights, excellent base for whatever want.
Apr 2022
Situated just over the river from Pub Street. like the rest of Cambodia they are coming out of two years of misery, doubly worse as tourism in these area are Key. The hotel was of a good standard for the money, but be warned there are no lifts. The pool is salt water and quite small. only serving breakfast at time of review with no lunch or dinner available. Samba restaurant which is 5 minutes away is awesome, and the best coffee I had in Cambodia.
No lift.. the rest will come.
lovely location friendly staff
Apr 2023
How much does this hotel cost compared to others in Krong Siem Reap?

The average price for a rental in Krong Siem Reap is $39 per night. This rental is $4 above the average.
Is parking included with this hotel?

Yes, parking is listed as an amenity at Apsara Residence Hotel. For more information, we encourage you to contact the property about where to park.
Is there a pool at this hotel?

Yes, a swimming pool is available for use at Apsara Residence Hotel. Enjoy the water!
Is Apsara Residence Hotel pet friendly?

Unfortunately, this hotel is not pet-friendly. Try searching again and filter for "Pets Allowed"
What amenities are available at Apsara Residence Hotel?

We found 10 amenities for this rental. This includes pool, air conditioner, kitchen / kitchenette, internet / wifi, and parking.