Annecy Hotel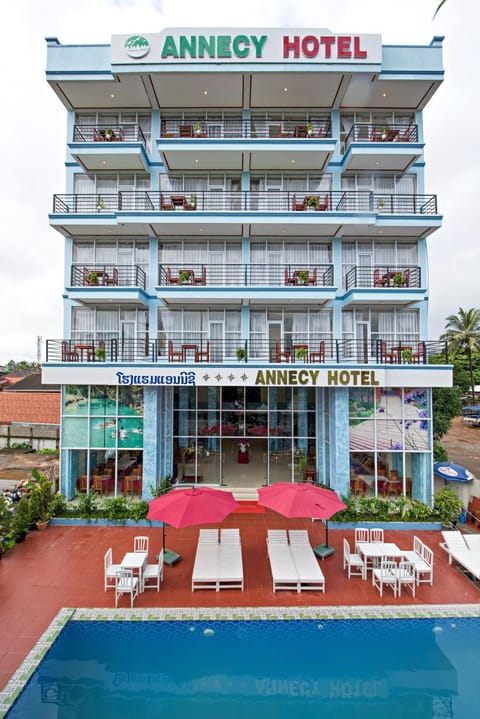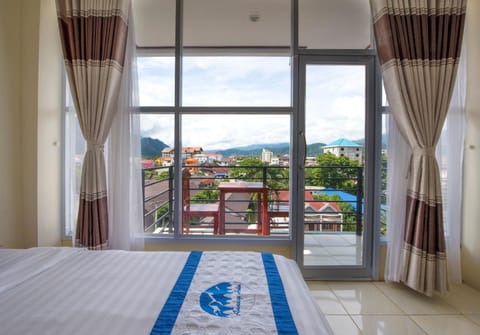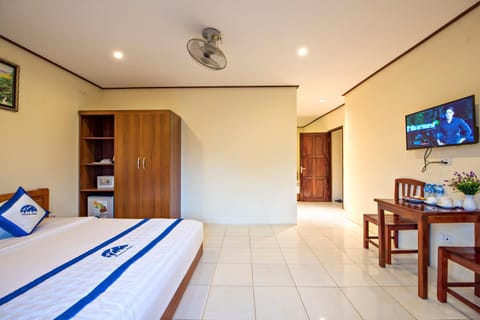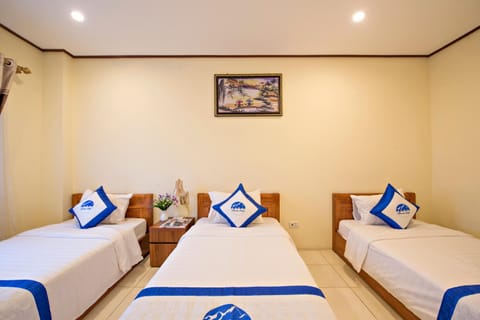 Hotel in Vang Vieng
Pool
Air conditioner
Kitchen / Kitchenette
Located in
Vang Vieng
, this charming room in hotel for $60 per night is a fantastic choice for your next break. Located in the heart of Vang Vieng, Annecy Hotel features an outdoor swimming pool. For guests to stay connected, free WiFi is available in all areas.
Pool
Air conditioner
Kitchen / Kitchenette
Internet / Wifi
Smoking allowed
Parking
Laundry
Balcony / Patio
Hot Tub / Spa
TV
Wheelchair accessible
Garden
Family friendly
100% verified reviews
3.7 / 5

"Good"

(138 Reviews)
Great location, friendly hotel staff, clean and comfortable! Would stay again!
Sep 2022
We loved the central location, very friendly hosts - Mr Jack the receptionist / superman was very welcoming, warm, helpful and friendly! The manager greeted us with cold drinks and even shared treats with us. The room was very clean, beds and pillows comfortable and very close - only one street back from the night market and river. Breakfast was generous- a plate of rice, fruit platter, bread and two fried eggs. Good wifi, all the amenities in the room too- hair dryer, fridge, AC, safe, coat hangers, toiletry kits, shower shoes! Bbalcony room was lovely!
nothing- we would come back again
This is lovely hotel the pools great, location close to everything in town and the staff will help with anything you need perfect 👍
They have a nice breakfast in the morning. they offer a ton of tours from the front desk and will point you to where to get a motorbike. They had nice hot water in the shower. Very close to walk to restaurants or the river.
The pool was green. The beds were very firm. The toilet hose constantly leaked and the bathroom was always wet.
A decent place in a quiet location, but shouldn't be rated 4 stars
Feb 2020
The staff were all keen and courteous and we thank them for their kind service. The beds were comfortable, and the wifi good. We liked the location which, being a short walk from the bars and backpacker places, was quiet at night and peaceful for relaxing by the pool in the day.
It is a pty that the hotel is advertised as 4 stars, because the services offered do not meet this rating - e.g. the breakfast choice is small, the rooms are quite small, and the laundry service took far longer than advertised. We were not inconvenienced, and I imagine this is one of the better options in Vang Vieng, but it is no match for the other 4-star hotels we have stayed in in Laos and elsewhere in Southeast Asia.
Staffs are really kindly and cheap price and good pool ❤
A nice hotel guilty of false advertising
Apr 2023
The name of the hotel on booking.com is Annecy Riverside Mountain view Hotel. The ACTUAL name of the hotel is Annecy Hotel. The river is not visible even if you stand on the roof. The ACTUAL river is about 400 meters away behind actual riverside hotels. Yes, you can see the mountains. Booking needs to change this listing to match the name on the hotel picture on their website. This is fraud.
Pool and location were fantastic. The two reception guys were great, always willing to help
Breakfast was nothing to write home about . Some cereals, fresh milk and toaster would have been a bonus. No English TV channels not even subtitles. The old saying you pay peanuts and get monkeys is true
Our room had a balcony which was great. I would not have liked to stay in a room that did not have a balcony.
TV did not work. Breakfast was average.Pool was falling apart!
location was great. really spacious room and bathroom with necessity facilities. staff helped us organise onward travel.
the hotel was very echoey so quite noisy people coming in and out through day and late at night (3am). breakfast was rated 10/10, but it's more like 2. pool was dirty our whole stay.
big rooms just eat out for breakfast as so centrally located
Oct 2022
family disappointments
May 2023
It was okay, but there are few items that need to be repair that they should check it regularly and take care the problem. Not sure, they inspected their rooms or not. It is easily fixing items, just ignored or just don't care?
The swimming pool should be cleaning daily, it's too dirty to jump in the pool, and the hotel manager should not hang out the guests sofa (should stay behind the front desk), plus he's smoking freely, don't care about the kids in the area.
good value and location but I would choose a different hotel next time .
Feb 2023
it was cheap and in a good location . staff helpful . breakfast fine .
we booked balcony and this didn't happen . the pool was closed . the electrics 'blew' my charger and lights very dim . hot water very intermittent. the room wasn't made up so same towels for 3 days .
real good value for your money
Jan 2023
Good and quiet rooms... well kept place and a good breakfast... friendly and helpful staff with night security...
TV Signal could be better, but who really needs one ;))
Close to town, super friendly staff
Close to the night matket and the main street, nice pool (a bit shaddy in the afternoon). Very communicative staff
Bought van tickets to Vientaine through the hotel, and although he said over and over that the van will stop in center of the city, the driver just drop us off somewhere. Breakfast wasn't as our taste(3 children) we skipped breakfast for couple of days and preffered eat outside
amazing staff & location. thank you!!
Mar 2023
Clean & spacious room with very good air conditioning. Location is perfect
Breakfast included, location, pool, rooms are big & spacious
Breakfast - when I came - almost nothing left, need to add additional food on regular bases.
Annecy hotel, great place to get away . great mountain view from our room , the pool very clean , breakfast was amazing too . the staff super friendly , come back stay again for sure
How much does this hotel cost compared to others in Vang Vieng?

The average price for a rental in Vang Vieng is $39 per night. This rental is $21 above the average.
Is parking included with this hotel?

Yes, parking is listed as an amenity at Annecy Hotel. For more information, we encourage you to contact the property about where to park.
Is there a pool at this hotel?

Yes, a swimming pool is available for use at Annecy Hotel. Enjoy the water!
Is Annecy Hotel pet friendly?

Unfortunately, this hotel is not pet-friendly. Try searching again and filter for "Pets Allowed"
What amenities are available at Annecy Hotel?

We found 13 amenities for this rental. This includes pool, air conditioner, kitchen / kitchenette, internet / wifi, and smoking allowed.