Hotel Lal Garh Fort And Palace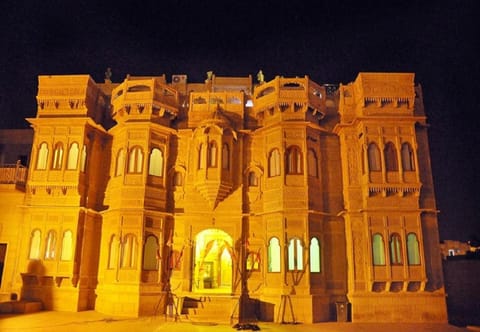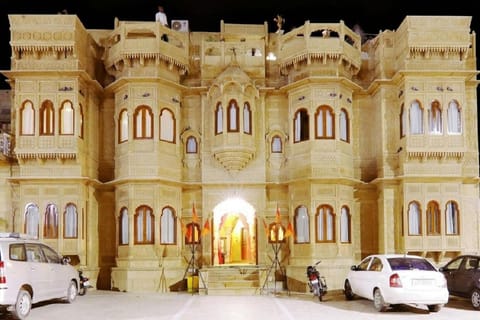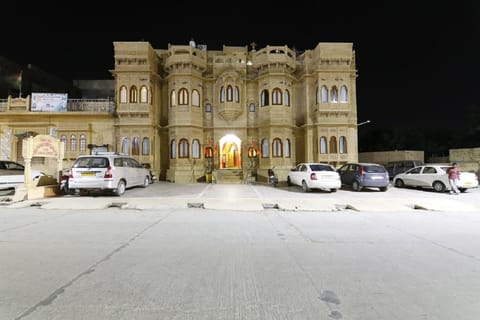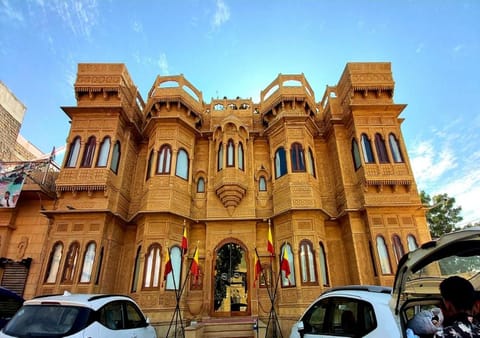 Hotel in Sindh
Pool
Air conditioner
Internet / Wifi
Nestled in
Sindh
, this lovely room in hotel for $36 per night is a fantastic option for your next break. Situated 1.1 km from Jaisalmer Fort, Hotel Lal Garh Fort And Palace offers 3-star accommodation in Jaisalmer and has a restaurant. With a terrace, the 3-star hotel has air-conditioned rooms with free WiFi, each with a private bathroom.
Pool
Air conditioner
Internet / Wifi
Smoking allowed
Parking
Laundry
Balcony / Patio
TV
100% verified reviews
4.7 / 5

"Outstanding"

(243 Reviews)
I Loved the space and the sunset views
Feb 2019
What an amazing place... We arrived at the hotel without any problems.. Lal Garh Fort and place was secure., immaculate and comfortable. It has everything you need for your stay and so close to everything. Perfect experience..
Excellent service in a great location to walk to the fort and enjoy fort views.
Oct 2022
We thoroughly enjoyed our stay at Hotel Lal Garh. Narendra and his team treated us very well, from the time we arrived to the time we left. Our room was very comfortable and had a great view of Jaisalmer Fort. We ate dinner (food was really good) in the rooftop restaurant and breakfast in the next floor below. Both had outstanding views of the fort. HIGHLY RECOMMENDED.
Breakfast was below standard for t a hotel of this quality. It was very plain and simple and lacked variety and quality.
Amazing stay in heritage Fort
May 2022
We liked the ambience and location of the property, one of my best experiences in Jaisalmer. 100% satisfied.
very very happy with this place. Ideally located just outside the fort, the hotel is peaceful, very clean, has big rooms, big bathrooms, very good A/C, the pool is super nice and clean, and an excellent restaurant on the roof. very big plus, they give you bottles of water free of charge whenever you ask. but most of all, the staff is amazing and so helpful. they helped us for the ATM, to get a SIM card, to book train tickets, arranged a car for us etc. and they were never pushy if we didn't want to do something (like a desert tour for example). whenever you asked them for help, they were there to help. I would recommend this place 100%
owner of the property is a nice Gentleman he explained all about places to visit and very nice staff fully cooperative
Oct 2022
very nice property newly renovated and clean value for money. Nice and polite staff.
Very nice people, Great Customer Service- Mindful of customers' needs, Excellent Food, Value for Money. Highly Recommended!
Beautiful hotel and great location
Sep 2022
Very much enjoyed our stay. The staff were friendly and helpful. We were upgraded to an incredible suite that had amazing views of the fort. We dined a few times at the restaurant and the food was overall good. We would recommend the Rajasthani thali. Would definitely stay again.
very helpfull staff, deluxe room was great
Amazing staff and food, beautiful room
Jan 2023
Very friendly staff, they were so helpful. Also the food at the rooftop restaurant was some of the best we had in India
Great staff , view and value for money !
Nov 2021
To begin with great value for money Room has nice view and the staff is really nice Especially the manager Mr Narendar . We wanted to cancel one night and he agreed at the last minute without any charges They really go out of the way to make you feel nice
A touch of luxury
Feb 2023
This was a welcome bit of luxury! The room was beautiful and big (they upgraded us for free but I'm certain our original room would have been just as lovely), the bathroom was big and the shower great (loads of hot water and great water pressure), and the staff were friendly and attentive. Food at the rooftop restaurant was also really tasty!
A true gem! right in the middle of it all!!
May 2023
This is undoubtedly one of the best hotel in Jaisalmer under budget category.! The overall ambience and hotel décor is great! Room were very neat and clean each and every facilities were there all we needed! Any time when we ask for anything were provided within minutes!
Amazing beyond the accomodation
Aug 2022
This hotel is AMAZING beyond accomodation. The rooms were nice and clean. The staff was friendly and professional. We booked a tour guide through the hotel whose name was Dharma and he was a great guide at a correct price. The hotel offered for free all the things we needed during our trip to the desert: late checkout so we could shower at 3pm before going, keeping our luggage for the night when we went there, and a room for a shower when coming back and before we were off the city. I absolutely recommend the hotel.
Very beautiful hotel & nice camel trip with Santos and Kem
Apr 2023
This hotel is a gem - looks beautiful inside out. The facilities are great...there's even a swimming pool area which looks amazing too, there's also rooftop restaurant with a view of the fort. The rooms are super comfortable, clean and spacious. The staff is very helpful, and they helped me organize a last-minute desert trip as well! Traveling as a solo female I was a bit worried about going into the desert alone, without other tourists, but my guides Santos and Kem were super sweet and reassuring so I honestly felt safe and protected at all times.
This is a general feedback to India probably - but I often felt that when I had to ask for help, although hotel staff would be really nice and provide solutions...this would often come at a financial disadvantage to me, which is a local policy I guess. But somehow I thought that the hotel would be a bit of a different environment, so all in all it just felt like you can really never lower your guard in India, not even at hotels. Just be mindful of that.
Made the experience a memory maker
May 2022
They are the one to make our trip wonderful and unforgettable.
The staff were very nice and helpful. The room was very spacious and comfortable.
The bathroom was spacious and good but had a bit of a smell. On the first night, the electricity kept going off repeatedly and although the generator switched on almost immediately, it was a bit disturbing, but I guess this was a general problem with the city's power supply that day.
Very good and comfortable hotel, with great staff and a nice view on the fort.
Jan 2023
The staff was very friendly and the room is off good quality. The restaurant and the room had a nice view upon the fort. Although we were early for checking in, the room was made ready within 15 minutes of waiting maximum. we were provided with a city map was handy and useful.
The staff was great, very helpful and polite. Helped us arrange most aspects of the trip in jaisalmer.
We had a really comfortable 3 nights stay at Lal Gahr
Jul 2022
The staff provided exceptional service and it was nice to have an indoor swimming pool
The room was clean and spacious. The staff including the manager were very polite snd helpful. they made sure that the stay should be comfortable. They have roof top restaurant and it is the best place to spend the evening. from that cafe you will get a clear view of jaisalmer fort.
Excellent hospitality and superb hotel
Jun 2022
The rooms are extremely clean with all the amnities beautiful swimming pool which is the indoor
The rooms are clean. The view is spectacular! The staff is super friendly and warm. All the tourist spots from the hotel are walking distance. The food at the hotel is also delicious.
The room is clean ,comfortable,big size. We can see the fort from the winder. The bed sheet , blanket is clean. the bathroom is big,clean. There are warm water from shower. The towels, toiletteries are OK. The roof top restaurant is good,we can see panorama view. The breakfast are good,delicious. The wifi is OK. the surrounding is quiet. It is near the market. Ther are elevator. The decoration in the room is nice. The staffs are nice.
The pillow has some bad smell . The bed is soft so I have back pain.There are no heater so it is very cool in the winter time.
Room, food and the terrace restaurant will stay in your memory
Mar 2023
The personal touch from the helpful staff. Terrace restaurant offers stunning view of well lit Jaisalmer Fort.
best stay in India so far
Jul 2022
The manager and the staff could do enough for us. exceptional stay, thanks
the rooms are great, the food was great, the staff were great.
10/10 experience.
Jul 2019
The hotel was great, 10/10, but the staff was even better. Always willing to help you, they are always looking for your comfort so you have the best experience, helping you with any doubt and providing you the information and the services you ask for. Very close to the fort, walking distance, one of the best hotels I've ever been. Totally recommend.
Nothing, everything was perfect.
A perfect stay!!!
Feb 2023
The hotel staff was very friendly and polite. My room was very specious and clean. The bathroom was also very big, neat and clean. The location of this hotel is also in the city center.
The hotel staff very helping and treated as family not the customer , My parents visited yesterday and they are very happy for the services , thank you so much Mr. Narendra Singh for extra services 😊😊😊.
A beautiful stay at Lal Garh hotel
Nov 2021
The hotel itself is beautiful. location was easily accessible. the fort view from the restaurant is great. The rooms are big and tidy and the staff is very courteous. Especially the owner was friendly and answered all queries. We stayed just for a night but wish we could have stayed longer.
there was nothing not to be liked.
Great for the price, Location very accessible!
Apr 2023
Staff were very friendly, Amazing room with wonderful view, Amenities were really good!
Non- Everything is Great!
Staff were super helpful with recommendations and helping us organise our travels. Breakfast was tasty. It was also all very reasonable.
A beautiful, comfortable and exceptionally fun filled stay.
Jan 2023
staff was extremely helpful. Good Food and hospitality. Pramjit, the manager was very good and helpful. we'll maintained property. Very good terrace space. Good view of the fort.
staffs are very friendly and good service. we got upgraded the room. the room is huge and well decorated.
floor is a bit dusty. we told the staff to mop the floor again after check in. after mopping everything is perfect. we had a great time stay here
Room very spacious and clean, staff very helpful, facilities are very nice. Restaurant has nice views of the fort. Would recommend it for sure!
Rooftop restaurant view of fort and food. Complimentary water and helpful staff
Doors and windows not soundproof, can be noisy at times.
awesome place to stay in Jaisalmer
Aug 2022
really nice rooms , extremely helpful and kind staff
restaurant is basic , could have been better
How much does this hotel cost compared to others in Sindh?

The average price for a rental in Sindh is $39 per night. This rental is $3 less expensive than the average.
Is parking included with this hotel?

Yes, parking is listed as an amenity at Hotel Lal Garh Fort And Palace. For more information, we encourage you to contact the property about where to park.
Is there a pool at this hotel?

Yes, a swimming pool is available for use at Hotel Lal Garh Fort And Palace. Enjoy the water!
Is Hotel Lal Garh Fort And Palace pet friendly?

Unfortunately, this hotel is not pet-friendly. Try searching again and filter for "Pets Allowed"
What amenities are available at Hotel Lal Garh Fort And Palace?

We found 8 amenities for this rental. This includes pool, air conditioner, internet / wifi, smoking allowed, and parking.