Karuizawa Prince Hotel West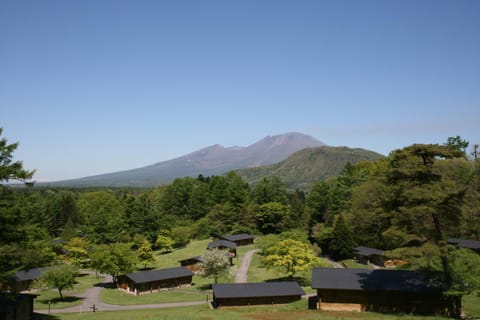 Hotel in Karuizawa
Air conditioner
Kitchen / Kitchenette
Internet / Wifi
Nestled in
Karuizawa
, this attractive room in hotel for $79 per night is a great option for your next break. Karuizawa Prince Hotel boasts 3 dining options, a large-scale shopping mall with 240 shops, hot-spring・open-air baths and a steam sauna facility, various golf courses and on-site ski slopes.
Air conditioner
Kitchen / Kitchenette
Internet / Wifi
Smoking allowed
Parking
Laundry
Balcony / Patio
TV
Ski in / Ski out
Garden
Family friendly
100% verified reviews
4.0 / 5

"Good"

(1,440 Reviews)
Will return! The sledding was fun for the kids.
Feb 2023
The cottage was spacious and well designed except the kitchen. We felt that it could have easily included more equipment such as a microwave, dish soap and towels among a few ideas.
good experience overall especially like to cycling inside the hotel resort. Onsen is good too.
Nov 2022
wooden cottage is very comfortable
a bit far away from lobby
it is over-rated.
Oct 2019
We were assigned a cottage. While we like the cleanliness and rustic atmosphere, we were disturbed by flies. We phoned for the buggie to take our luggage for checkout but was told it will be a 30-min wait. We would appreciate advice at check-in time on how much turnaround time is expected. The bath tub in the cottage is rather low and hence un-welcoming.
not going to visit karuizawa anymore, the little town has lost it's charm but hotels are costly
Feb 2023
we stayed at cottage D. lovely wooden hut but was hoping for more amenities inside the room
going to onsen costs 2000 yen pp each time
We all love ski including our 4 years old son. And we are grateful to the driver, who took us to the station on a temporary bus. Thanks to him, We could get home earlier.
A bit pricy, but great location and friendly staff
Dec 2020
Very helpful staff, very close to a huge shopping area, access to the ski resort is great Snow park for kids is great
Entrance is very far from the parking lot ( they are in renovation so maybe it is one reason) The primrose breakfast buffet is definitely way over priced for the quality or variety of food The ski resort is not beginner friendly, there are many schools yes, but for beginners to just play around there s not a lot of space. If you are not able to get on and off the lift easily, you wont really make use of your ski trip
Love Karuizawa prince hotel west
Dec 2022
very close to Karuizawa premium outlet (5 min walk), hot spring is big and beautiful, very nice staffs.
hot spring is a little far from west hotel
Overall it's quite a nice hotel but you definitely need to hire a car to come here !
May 2023
This is a huge hotel with 18 hole golf course. Well maintained at the hotel site but the Cottage that we are staying is quite old though its clean… I like their landscape of the hotel!
I guess the Cottage is a little far from the reception. The hotel only provide transportation during check in & check out time. Other than that you will need to wait for the shuttle bus to pick you which is rather cumbersome:-(
they were nice to arrange the cottage which was close to the ski lift the cottage was comfortable, good for a big family
the schedule of the shuttle bus was not that good, if it's full, need to wait for another half hour which was not very convenient for a family with 3 little kids and with a lot of luggages the staff were nice but unfortunately they didn't really speak English, so they couldn't really answer well on our questions we stayed at the cottage, but they didn't provide a microwave which we could reheat some food for our baby and kids.
Nice resort with great staff culture to make your stay great!
Dec 2019
The staff was professional. You could feel that the staff will do anything possible to help you get the best experience. The housekeeping was detailed and friendly. Facilities were fantastically clean. There was shuttle service around the area. The driver was also attentive. It was near a shopping area. Do note that most eating places close at 7 in winter. There were also ice activities for children from 4 years old. All in all, it was a wonderful experience topped by a great team of staff.
Nothing I didn't like really. It's a place I would go back again for skiing. The place was a little old but it was more than made up in other ways and it is also going through renovation at some parts during my stay.
The room atmosphere and the hot spring.
Unnecessarily confusing
Jan 2022
the location to the outlets were fantastic.
The cabin was very cold, and the check-in process was overly complicated. The front desk told me to wait to park my car because the van would follow me and then take me to the cabin. While waiting, the valet asked me to park my car and then come back to the main Center by foot. The parking lot isn't too far, so I didn't mind but it was a lot of waiting. Then finally when it was time to be taken to the cabin, I had to ask that they bring the luggage with us because I could see the luggage cart was just sitting there in the lobby. It was surprising that this whole process was as confusing for both the costumers and employees.
Convenient location
Jun 2022
The location is very convenient for exploring the area and going to outlet mall. There was some wait (5 minutes) during check-in as this large hotel seems popular but it went smoothly. Decor is simple and elegant. Room was clean and comfortable. Nice to have sink separated from toilet/bath. Coin laundry worked well. Good to have a FamilyMart near lobby. Huge and manicured hotel grounds, great for walks.
Appreciate the upper vent windows to let in cool air but may benefit more from having real windows.
The location is near the outlet.
The air conditioner is poor ! It is too hot in room with room temp over 26C. The air conditioner didn't provide cool air. The hotel can only provide us a fan which is not good enough ! You cannot stay inside the room in a sunny afternoon.
The location inside the ski resort and next to the outlets, the size of rooms and onsen. Everything was awesome!
comfortable, clean and spacious hotel! highly recommended!
Jan 2023
the hotel itself is very comfortable and locate in very convenient place.
not at all, we enjoyed every sec of our stay!
hotel is aesthetic pleasing to The Eye with the autumn leaves and trees!
Nov 2022
the hotel area has trees all around, very pretty. they have shuttle bus with a timetable as the cabin is quite a walk away with the luggages. there's a family mart right next to the hotel lobby and their outdoor onsen is really nice. they have shopping area near to the hotel as well, I think there's a lot of facility available such as sports and skiiing around the area, good for family outing. there's a hearing mat at the dining area, kept us warm when we were hanging in the living area
it can get pretty dark at night, and we have to rely on their bus services to get back to the cabin, alittle stress as to searching for the bus stop and also get on at the right timing. basically you can't get to anywhere without bus unless you wanna walk. which is troublesome if you have multiple bags and luggage.
Lovely cottage, warm service, bad logistics.
Dec 2022
The cottage is very clean and comfortable. The staffs are wonderful and knowledgable.
The resort shuttle bus is small and only comes every 30 minutes. It gets very packed during peak hours.
Cottage facilities
Jan 2021
the cottage is quite old building. the curtains have holes. well, another, in total everything is clean and good service, as usual.
The facilities all old and don't have WiFi
Really beautiful grounds and lovely staff. Would stay again!
Jan 2023
Super clean and really beautiful interior that felt super authentic! Handy buses that take you around the place for free as the place is huge. Super close to the train station and to the shopping plaza.
We aren't native Japanese speakers and got a bit lost while walking around.
Need To up glade lunch
Aug 2021
Good stay at Karuizawa to ski/snowboard!
Mar 2023
Staff is super friendly and helpful. The room is spacious, well equipped, clean and cozy. Everything is very comfortable and relaxing. Absolutely loved the onsen to relax after a long day of skiing/snowboarding. There's a convenient store next to the lobby that sell quite a lot of things. I think what's great is that you can walk directly to rentals and a ski lift right behind the hotel. It's also a short walk from the outlet mall and there's shuttle buses to get around the area.
I think the location is not the best, as you kind of have to rely on the shuttle bus to get to main areas. The shuttle bus doesn't come by too frequently, but there're several routes. Onsen and the rentals was like a 5-10 minute walk from our room, on the other side of the hotel. I guess it's good that at this side of the ski area there're less people to queue for lifts and rentals, but the main side is quite a distance away. To be honest the outlet and Shinkansen station is quite far away too. Walk-able but not the most convenient. There're also not a lot of budget-friendly restaurants at night too. You have to go out to the outlet area.
We had such a good time during our 2 days stay in prince hotel. My kids are having so much fun.
Mar 2023
skiing facility and nice scenery
Wonderful. Will be back for longer stay.
Jan 2023
Shuttle service for guests and delivery/pick up of luggage from hotel to cottage and vice-versa. Good food, the many shopping outlets and serene surrounding. We also like that the hotel had lent us a weighing scale to weigh our luggage. That was most helpful.
Would be better for the hotel to provide wifi in the cottage.
room was clean and modern. onsen was lovely!
no communal sitting areas/workspace etc. no kids club. come up as kid friendly but I disagree.
room set up pre arrival and the west wing was brand spanking new
Room is good, onsen is good
Proximity to ski facilities, train station and shopping mall.
Lack of english speaking staffs.
waiting shuttle bus for a long time .
Avoid booking this accommodation
Nov 2022
Could not be able to communicate with staff, reception included, in English. Rely on shuttle buses between hotel and railway station - buses always full and takes long waiting time. Rely on shuttle transportation to travel between the main lobby and the cottages. Waiting time always exceeds 20 mins. Cottages are too old and requires renovation. Only 3 restaurants are on site and priced expensively.
How much does this hotel cost compared to others in Karuizawa?

The average price for a rental in Karuizawa is $96 per night. This rental is $17 less expensive than the average.
Is parking included with this hotel?

Yes, parking is listed as an amenity at Karuizawa Prince Hotel West. For more information, we encourage you to contact the property about where to park.
Is there a pool at this hotel?

We didn't find pool listed as an amenity for this hotel. It may be worth double checking if a pool is important for your stay.
Is Karuizawa Prince Hotel West pet friendly?

Unfortunately, this hotel is not pet-friendly. Try searching again and filter for "Pets Allowed"
What amenities are available at Karuizawa Prince Hotel West?

We found 11 amenities for this rental. This includes air conditioner, kitchen / kitchenette, internet / wifi, smoking allowed, and parking.