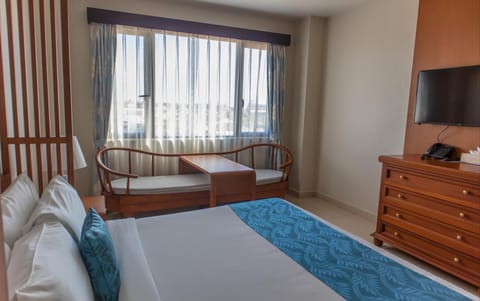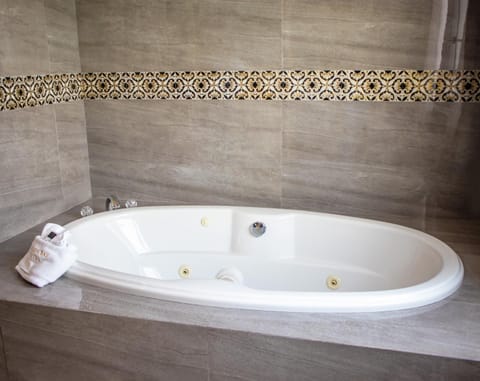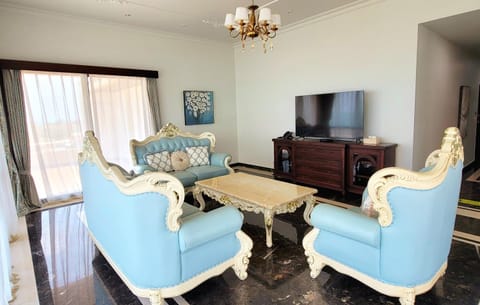 About this hotel
Nestled in
Belize City
, this lovely room in hotel for $88 per night is a great choice for your next trip. Golden Bay Belize Hotel is located in Belize City. The property features a bar, as well as a restaurant serving international cuisine. The accommodation provides a 24-hour front desk, airport transfers, room service and free WiFi.
Amenities
Pool
Air conditioner
Pets allowed
Kitchen / Kitchenette
Internet / Wifi
Parking
Laundry
Balcony / Patio
Hot Tub / Spa
TV
Beachfront / Waterfront
Gym / Fitness Center
Ski in / Ski out
Family friendly
Reviews
4.4 / 5

"Excellent"

(598 Reviews)
100% verified reviews
Awesome place to relax and enjoy the view.
Sep 2023
Wonderful place, with an amazing view. The staff is very friendly, they all make you feel welcome. It's a great place to relax and enjoy piece and tranquility. We loved it!
Just the fact that they don't have a pool. It would make it even better
Location Views Cleanliness
A very comfy bed and helpful smiling staff
No daily service in the room. Our beds were not made, bathroom not spruced, coffee cups not cleaned/replaced
Bery good location with good restaurant on the roof. Very clean, friendly staff.
Jul 2023
Great location, elevator for those that cannot manage stairs, clean room, interesting furniture, very nice staff
Paint fumes in the hall that week while painting.
The staff was exceptionally helpful.
The smell of the cleaners in the hallway was very strong.
The hotel and staff were very good. The only downside was their use of toxic cleaning products. I would appreciate a mor
May 2023
The location and views were wonderful.
They used toxic cleaners.
the view from the room was amazing, the beds were comfortable
the air conditioning didn't really work, the shower wasn't the best.
My room was stunning, the meals were delicious, the staff were friendly and helpful!
Beautiful views, great restaurant, and rooftop bar. The staff was wonderful.
The room was a little warm and humid. The air conditioner couldn't keep up with the rising temperatures.
Can't wait to stay here again on my next trip in three weeks !!
Apr 2023
I stay at Golden Bay often. I have never been disappointed. impeccably clean, wonderful staff, and value far exceeds the price.
decent hotel. decent breakfast.
Apr 2023
family trip vacation.
Mar 2023
modern & clean. great view of the Sea. Quiet. Nice area.
the bathroom didn't have enough space. maybe some extra shelves?
Great Hotel in Belize City
Mar 2023
absolutely fantastic. The hotel is impeccably clean. The staff are extremely helpful room service is great. outstanding hotel in Belize city.
Definitely stay here and ask for the large suite on the 3rd Floor! 5 Stars!
Mar 2023
We booked a suite and then got upgraded to this amazing Suite on the 3rd floor that was fit for a King. The furniture was incredible and room just blew me away. I would definitely stay here again
The Wifi was spotty and the breakfast was basic scrambled eggs, toast and sausage. I expected more options
The hotel was fine and the staff was very helpful!
Mar 2023
The location was fine. We were able to walk into the city center.
Super clean and cool restaurant on top, easy airport shuttle.
good quality hotel central and convenient with nice views.
Feb 2023
great location , good sized room very comfortable bed. rooftop restaurant nice for a sundowner
bedside lights were an issue and not enough tea/coffee/milk supply. the bathroom has no counter space .
Each and every member of staff that we encountered was warm, friendly and extremely helpful. The room was clean and the views from the room were lovely
There's only one floor designated as a hotel, so there weren't that many facilities. The breakfast included was a little lacking in quality and quantity. The only thing that stood out as being bad was on our final night. During the night some American students started to skate board down the corridor making a bit of a racket. Now, during the night the hotel has a member of staff sat at the front counter with a bank of CCTV cameras. The CCTV also has audio. So 1. they would have seen these students pratting around and 2. they would have heard them. It would have been great if that member of staff did their job and told the Americans to shut up and not treat the hotel like a college dorm,
Nice High End hotel at Reasonable Price
Feb 2023
Very nice hotel. Lots of marble. The rooms were very well appointed. Felt like a luxury hotel, which it is. Restaurant and Bar on the roof was beautiful. The continental breakfast had wonderful eggs, sausage and fruits.
The bathroom sink bowl was too large for the counter, so very little counter space. The water pressure was sufficient but not wonderful.
Smart hotel in Belize City
Feb 2023
The hotel was smart, and the room was well-equipped, with fridge, desk and coffee maker. The breakfast was good, and the roof terrace had great views over the city and the sea.
Dinner at the hotel had only one vegetarian option, which was not terribly good.
location, shop at the same building, good food, excellent view
if i want my room to be cleaned, i have to hang a sign that it is non standard approach. moreover nobody inform about such process. first time I've met such approach. it may generate cost savings for owners but create bad impression of a guest
Location good. Huge room , very clean and well equipped . Nice roof top bar and dinner was very good although pricey when compared with room rate . Breakfast ( included in price) fairly average but overall stay was good value for money
FAQs
How much does this hotel cost compared to others in Belize City?

The average price for a rental in Belize City is $92 per night. This rental is $4 less expensive than the average.
Is parking included with this hotel?

Yes, parking is listed as an amenity at Golden Bay Belize Hotel. For more information, we encourage you to contact the property about where to park.
Is there a pool at this hotel?

Yes, a swimming pool is available for use at Golden Bay Belize Hotel. Enjoy the water!
Is Golden Bay Belize Hotel pet friendly?

Yes! This hotel is pet-friendly. For more information, we recommend contacting the booking provider about animal policies.
What amenities are available at Golden Bay Belize Hotel?

We found 14 amenities for this rental. This includes pool, air conditioner, pets allowed, kitchen / kitchenette, and internet / wifi.