Duong Chan Hotel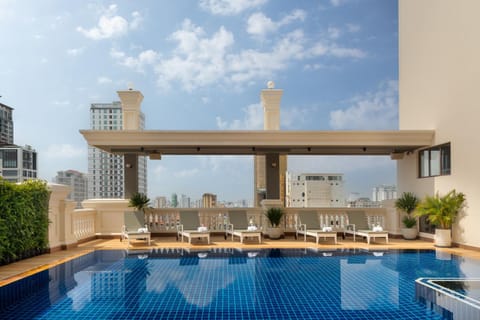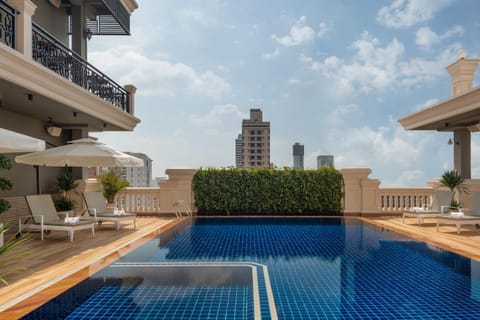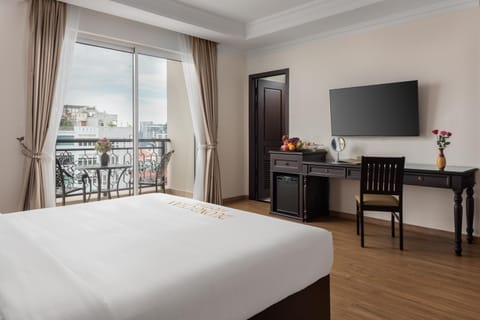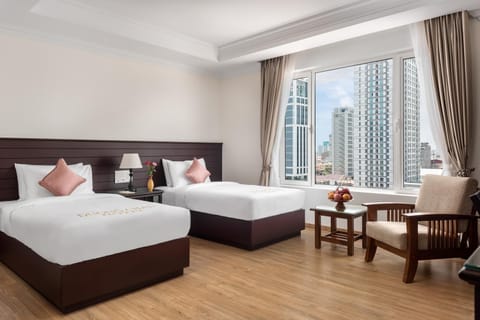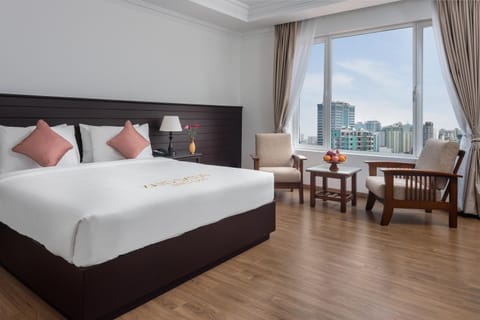 Hotel in Phnom Penh Province
Pool
Air conditioner
Kitchen / Kitchenette
Located in
Phnom Penh Province
, this charming room in hotel for $50 per night is a fantastic choice for your next break. Boasting a terrace, Duong Chan Hotel is situated in Phnom Penh in the Phnom Penh Municipality region, less than 1 km from Tuol Sleng Genocide Museum and 1.1 km from Royal Palace Phnom Penh.
Pool
Air conditioner
Kitchen / Kitchenette
Internet / Wifi
Fireplace
Parking
Laundry
Balcony / Patio
Hot Tub / Spa
TV
Gym / Fitness Center
Family friendly
Map of Phnom Penh 

Province
100% verified reviews
4.5 / 5

"Excellent"

(540 Reviews)
Not one bad thing to say
May 2022
We were really surprised at the quality and how pretty the hotel was for the price we paid. We cannot fault the hotel for anything the breakfast buffet was great quality, eggs cooked at request, nice and fresh. stunning hotel pool, great location with very friendly staff. Hotel room was clean and comfortable.
Cannot fault the hotel, everything was amazing.
We stayed 3 nights and found the accommodation to be very good value. The staff were helpful and polite. The room was quiet and spacious and the bed was comfortable. A good shower is a must and this place didn't disappoint. All the areas were very clean and tidy, including the pool area. The reception staff were very helpful organising our airport transport which we really appreciated. We would definitely stay here again.
We actually liked everything about our stay!
well located hotel with spacious appartments, great rooftop bar with good food, supportive staff
rooms are big and everything is there, but not really well designed or arranged. we had small ants in one bedroom (which was the case also in other hotels in Cambodia).
We have been traveling for 3 months and this is the hotel favorite! Rooftop bar with beautiful views and amazing pool and fitness center were bonuses. The rooms are new, modern and comfortable. The bed and bedding was amazing.
location is not exactly in the thick of the tourist area, but not a far walk to the palace and the river
Very nice hotel with large and comfortable bedrooms, exceptionally clean. The pool is great and the cocktails are too! Food and breakfast was all fresh and good quality. Very attentive staff, they forwarded my tablet that I'd left in the safe to another hotel in Siem Reap for me and kept me updated via WhatsApp. I travelled for 3 weeks in Vietnam and Cambodia and while the other hotels were all nice, this was the best one of the whole trip in terms of facilities. I would definitely return!
Nothing, everything was spot on.
wonderful stay in Phom Penh
Jan 2022
very good location, close to many restaurants, shopping and sight seeing. Hotel is small and personal with an attentive staff. Breakfast selection is great and the roof top bar is great to enjoy the sunset
Very friendly and helpful staff
Very clean and spacious room with perfect shower.
Breakfast is more on the Asien-Side, even there are about 80% Westerners. It was OK, but no Cheese at all and cold cut only ham.
As close to perfection as you can get with value for money.
Apr 2022
This would have to be one of the best hotels i've stayed at and I've stayed in a lot of hotels. The staff are excellent, Vuthea and Chenda at the front desk went above and beyond to help me get to the places I wanted to get to at certain times and even though masks are required at the moment you can tell all the staff are smiling under them. Breakfast selection is good with a pretty good variety of food each day, pool, sauna, steam room, gym! Location is near a lot of different food options, pharmacy, bank, ATM's, grocery/mini marts, phone/SIM provider the list goes on but it's also really quiet at night for a good night sleep. I will definitely try to stay here again if I am in Phnom Penh. Thanks again to the staff and even the friendly security that are welcoming guests every time you enter for a wonderful stay.
NEW Brand Hotel in Great Location
Jan 2022
This is brand new hotel in a perfect location of business area BKK1 and it is very easy for you to walk and find many option of local restaurants, coffee shops, marts. I paid to experience in Premier Double Room with Balcony for 4 nights there last week. The room was very big, very clean and sleep quality was very good, the room has working desk and a chair which very convenience for a business traveler like me. Hotel offered diversity of buffet breakfast and you can order extra such as delicious noodle, eggs without extra fee.. One more thing is do not forget to experience its Sky Bar at evening time to enjoy viewing of capital city Phnom Penh. The hotel staff is so friendly, every time you crossed its lobby area they will smile and greeting you with open to offer further assistance if you need. I will definitely go there again for my next trip and would strongly recommend this hotel to all travelers either business or leisure purpose
TV has two remotes control, hotel staff no guidance how to use TV with 2 remotes upon checking in.
Excellent hotel in great location - Highly Recommended
Apr 2022
This hotel looks to be newly opened and has the feel of a top class hotel. Staff are well trained and attentive. All the faciltiies are spotless and well maintained. The room we booked was spacious and had no issues at all, even an extra toilet we were not expecting! Swimming pool was crystal clear and well serviced with plush towels and sun umbrellas. The location was in the heart of good restaurants and bars, many of which are walkable, with a feeling of safety.
Bar servicing the swimming pool does not open until 5pm leaving no bar/food service at the swimming pool between 2pm and 5pm.
The staff were very nice. The room is also very nice. The breakfast buffet is super! I will definitely book here again if I want to relax.
The room smells like cigarette smoke. It is so strong you can smell it when you open the door. There is no hair conditioner.
Excellent stay we had such a wonderful time.
Mar 2023
The staff were so attentive, couldn't do enough to make your stay exceptional. Clean comfortable bed lovely swimming pool and sky bar Excellent breakfast service was so good. Really had a fabulous stay at the Duong Chan Hotel
Wonderful, comfortable experience
Mar 2023
The staff were incredibly kind, helpful, and accommodating. Kudos to Ly Kunkot and Song Chenda for their assistance with booking and flight changing, they went above and beyond. We looked forward to breakfast, catering equally to western and Chinese with delicious fruit.
luxury that doesn't destroy the wallet
May 2023
the staff made us feel like royalty. 5 star service was a beautiful experience coming back to the capital. we stayed here our first and last night in Cambodia and duong chan put a smile on my face the whole time
the tuk tuk driver who sits out front and wouldn't leave us alone
A great place for family holiday
Feb 2023
The size of the family room was big, we did not expect it also came with a kitchenette The staff was very helpful The rooftop bar had a fantastic view and the breakfast had a great variety of choices.
Nice place in the city
Mar 2022
The room was very nice and clean. The staff is very nice. The welcome drinks were very tasty. The rooftop bar is also very nice.
Walls are pretty thin and depending on your neighbor you might have trouble with sleep. When the doors are closing going out of the room it is very loud in the evening.
very comfortable room😀receptionists are friendly and accommodating:.. highly recommended place
Mar 2022
the room, restaurant, lobby and pool
spacious, good location but mediocre soundproof
Oct 2022
The room is very spacious and the hotel is located at a very convenient location. staffs are friendly and the shuttle service is pretty convenient at a cost of 20 dollars.
the soundproof could have been better considering this is a 4-star hotel and newly opened. (-1 point)
In general, I am very satisfied.
May 2023
The room is spacious and has a great view. The quality of the shower gel and shampoo is very good.
The drainage in the shower is slow, and the floor accumulates water. Other guests didn't follow the hotel rules ate durian had caused the room to become unpleasant.
Not worth the price!
Jul 2022
The property was clean and the room had a bath which was an added bonus! The pool area and the restaurant had a lovely view and the food was pretty good.
The room was definitely not worth the price. Our window faced directly onto another window so we had to keep our blinds closed at all times. The door was not soundproofed so we were woken to a drunken neighbour returning at about 4am both nights. The light switches and plug sockets were behind my pillow, so I accidentally turned on/ off the lights when I moved (the room must have originally been a twin but converted into a double with the way that it was set up). The drain in the bathroom did not work very well so the bathroom flooded every time we took a shower. The hallway constantly smelt of smoke, despite being advertised as a non- smoking floor.
The outstanding customer service given bt Thirin Chenda they great!!
The food was not hot at breakfast
Great value for an excellent hotel
Nov 2022
The location, amenities, the room was amazing and the staff is very helpful.
Well run Cambodian owned hotel
Apr 2022
The hotel was extremely clean and the staff were really hospitable
The hotel is very new and clean. The employees are overwhelmingly nice and helpful.
Since the hotel is new, some of the processes are not working 100% yet, e.g.,. the room service is slow sometimes.
The hotel is new with perfect condition and super clean. Staffs are super friendly. Will stay here again once I visit phnompenh again. Highly recommended.
The hotel is new. Rooms are very spascious and comfortable. Rooftop bar is a beautiful place to grab a drink. Moreover, the sympathy and competence of the staff made the stay extremely pleasant
The hotel, facilities and staff are exceptional. I have nothing but positive things to say about every single aspect. Going above and beyond seems to be the moto for the staff, they took such great care of us. With a special mention to Malina in reception was an absolute star! The rooms (in fact the whole hotel) is scrupulously clean, beds are super comfortable, bathrooms are well appointed. Breakfast choice was great and plentiful. The pool area and Sky bar were amazing Nothing but a 10/10 😊
The choices were great. Delicious breakfast.
1. The smell inside the room. 2. Price seems overpriced.
enjoyable stay at this property with eatery around the corner
Mar 2022
the breakfast was inclusive and simple but nice
some rooms are facing directly opposite building
The breakfast was excellent and the staff were very helpful.
The bar, restaurant and pool area were fine.
The room was very basic with the worst view from any hotel room I have ever stayed in. When we arrived, reception area was very dark and uninviting.
and we have Traveled around Cambodia staying different hotels! wish we could have spent more time
Apr 2022
The amazing warm welcome received as you walk into the grand, air conditioned and amazing fragrance of jasmine and ginger!! The reception staff really are something else with their fab hospitality!
Nothing, it was all exceptional
Swimming Pool, Gym and other facilities were excellent!
Food service at night took a bit longer than expected.
Excellent, luxurious stay
Jan 2022
Staff were so nice even when someone tested positive on our flight and we had to quarantine. The pool is amazing especially in the evening, we often had it to ourselves. Rooms are very clean and spacious. Good WiFi. The restaurant food is amazing especially the Khmer beef salad.
staff very nice and room tidy.
really excellent- would highly recommend
Apr 2023
staff facilities location all excellent
perfect t location, perfect hotel and perfect t service. highly recommended
Jan 2023
should be 5 stars. beautiful hotel and impeccable service.
Good value for money hotel.
Jan 2022
Rooms are new and clean, very comfortable beds. Also the staff is really friendly.
We had to give a USD 50 deposit for a one night stay even though we prepaid the hotel (apparantly this was hotel policy, no further explanation could be provided. The food is ok, but nothing more.
Wonderful venue, very attentive and friendly staff
Sep 2022
RECOMMENDED: Overall, our group was very pleased with the accommodations, services and staff. Comfortable, clean, quiet, well appointed. Spa service was top notch. Quite likely to return.
Hot breakfast food could be leveled up. Dinner was understaffed.
How much does this hotel cost compared to others in Phnom Penh Province?

The average price for a rental in Phnom Penh Province is $39 per night. This rental is $11 above the average.
Is parking included with this hotel?

Yes, parking is listed as an amenity at Duong Chan Hotel. For more information, we encourage you to contact the property about where to park.
Is there a pool at this hotel?

Yes, a swimming pool is available for use at Duong Chan Hotel. Enjoy the water!
Is Duong Chan Hotel pet friendly?

Unfortunately, this hotel is not pet-friendly. Try searching again and filter for "Pets Allowed"
What amenities are available at Duong Chan Hotel?

We found 12 amenities for this rental. This includes pool, air conditioner, kitchen / kitchenette, internet / wifi, and fireplace.