Home Inn & Suites Swift Current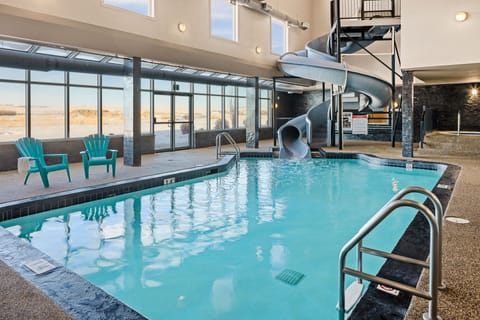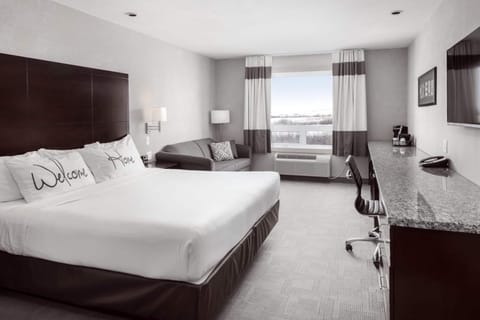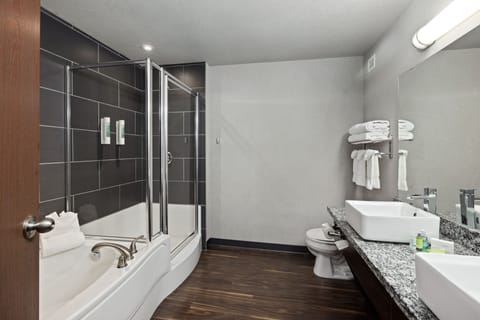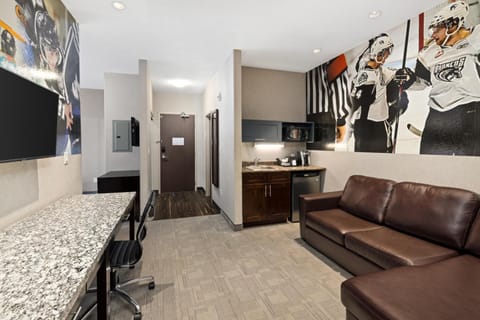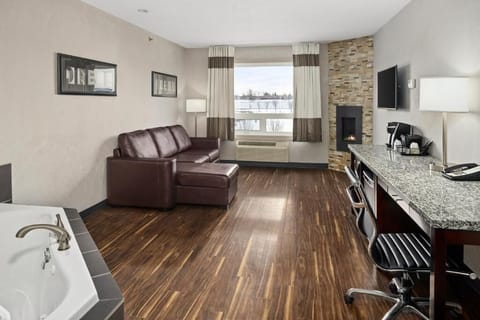 ---
Reasons to book
Includes essentials
Pool, Kitchen / Kitchenette, Air conditioner and more
Book with confidence
We partner with the top travel sites so you know you're getting a great deal on the perfect rental
---
About this hotel
Located in
Swift Current
, this lovely room in hotel for $98 per night is a fantastic choice for your next vacation. This smoke-free hotel features a full-service spa, an indoor pool, and a fitness center. WiFi in public areas is free. Other amenities include a spa tub, massage/treatment rooms, and a meeting room.
Amenities
Pool
Air conditioner
Kitchen / Kitchenette
Internet / Wifi
Laundry
Hot Tub / Spa
TV
Wheelchair accessible
Gym / Fitness Center
---
Reasons to book
Includes essentials
Pool, Kitchen / Kitchenette, Air conditioner and more
Book with confidence
We partner with the top travel sites so you know you're getting a great deal on the perfect rental
---
Reviews
4.4 / 5

"Excellent"

(987 Reviews)
3.0
Aug 2023
Excellent experience. Clean, friendly workers. Crazy good hot breakfast. Best I've ever had.
3.0
Aug 2023
Terrific service. In the city for medical reasons - early checkin & late checkouts. The staff was very accommodating with our needs.
5.0
Jun 2023
Location was perfect. The hotel was very clean even the grout in our bathroom. The bed was very comfortable. The breakfast buffet had a nice selection. The staff was pleasant. The pool and hot tub very nice.
5.0
Jun 2023
It was very convenient to be able to walk to the casino for our function.
4.0
Jun 2023
A very good stay for four nights. Breakfast was great. Staff very helpful. Thank you Home Inn and Suites. We will be back next visit to Swift Current!
5.0
Jun 2023
They made me feel at home! Clean, modern room and friendly helpful staff. I'll stay here again!
5.0
Jun 2023
5.0
Jun 2023
Very nice new facility with clean rooms. Easy access to highway and walkable to Boston Pizza which was an excellent option for my cross country drive.
4.0
May 2023
The couch in the room was not at all what I expected. It looked like 1/2 booth from Denny's. Not comfortable at all after driving all day Everything else was good.
4.0
May 2023
The regular rooms are quite large which is nice. They are clean, breakfast was good. An improvement would be to extend the pool hours in the evening to adult only and to open them in the am for adult only. It's hard to enjoy a relaxing swim or hot tub soak with 50 excited children.
5.0
May 2023
Great hotel! The room was clean, beds were very comfy, the pool was fun and the breakfast was great. Would stay here again.
4.0
May 2023
Nice size suite. Very clean.
5.0
May 2023
Probably the newest hotel in Swift Current. The area around the hotel only has other hotels, gas stations, and a casino but Swift Current is a surprisingly walkable city so I didn't find this to be an issue. The check-in was quick and simple, the staff were very nice and checked in after I got into the room to make sure everything was to my liking. The room was extremely clean and up to date, the included bath and body works shampoo and conditioner were nice. The included breakfast was surprisingly good quality and I was quite satisfied with it.
4.0
May 2023
Shower was terrible, could not put it completely on shower setting. Water slide not operating. Used to be a great place to stay but has gone downhill so probably won't stay here again.
5.0
May 2023
5.0
Apr 2023
Great stay, room was very nice
3.0
Apr 2023
Breakfast was wonderful. Not many places have real dishes and cutlery. Food was great
2.0
Apr 2023
We stayed here a year ago and it was new and we were very happy. One year later and it's already looking run down. The shower was so unclean we didn't have a shower. Breakfast was good and they have excellent coffee. Not sure I would stay there again.
5.0
Apr 2023
The staff were all friendly. The room was excellent. I have stayed at two other hotels in Swift Current in the past, but I will only stay at Home Inn and Suites from now on. Hands down the best place to stay!
4.0
Mar 2023
We were only there for a few short hours but the beds were comfy and the rooms clean.
4.0
Mar 2023
Very nice property will stay there again!
5.0
Mar 2023
Next to Casino. Provided voucher for dinner and VLTs. Made off with a couple hundred bucks and paid for night in Swift Current! Loved everything about the Hotel!
3.0
Feb 2023
It's a great hotel, good location, clean friendly service and a good breakfast for a good price.
5.0
Feb 2023
Good water slide and pool!
5.0
Feb 2023
The staff were very friendly and the room was great.
5.0
Feb 2023
Very nice for a reasonable price.
5.0
Jan 2023
Booking with Expedia was deceiving. The photos on the room I thought I chose (a suite) were photos of four different rooms - I thought they were different views of the suite I booked. The staff at the desk and the manager, Karen, were wonderful and able to give us a suite. Beware Expedia photos may not be an accurate representation of the room.
4.0
Jan 2023
It was a nice place to stay
5.0
Dec 2022
5.0
Dec 2022
Very nice breakfast options, the kids loved the pool
1.0
Dec 2022
Basically, I sent the front desk a video of a bug crawling on our ceiling and all they said was they would investigate and gave me 30 bucks off my bill at first they didn't even offer me any type of compensation $30 won't even cover my dry cleaning bill they only offered it to me after I said, I was going to report to Expedia
4.0
Dec 2022
Excellent stay! Hotel accommodated all requests, was clean, quiet, and comfortable. Would definitely stay here again.
5.0
Nov 2022
Great staff and beautiful rooms!
5.0
Nov 2022
Staff was very friendly and alwaus asking if we needed anything.
1.0
Nov 2022
Billed for room and separately for "incidentals". The incidental charges were never refunded and after multiple calls with hotel staff and their excuse that Expedia ripped us off…we will just consider it theft and move on. Thankfully there are other hotels in the area that aren't thieves.
3.0
Oct 2022
Great stay and great hospitality.
5.0
Oct 2022
5.0
Oct 2022
Our stay was fine. Room was clean and hotel is well located. After checking out, and was many kms down the road, I realized I had left a ring in our room. We called and learned one of their team had already found the ring and turned it in. We made some arrangements and the ring arrived at our home today. THANK YOU to the team at the Home Inn and Suites in Swift Current. We will definitely stay with you again the next time we are in the area.
5.0
Oct 2022
Very close to Casino- walked over for supper.
4.0
Oct 2022
It was okay. Nothing special. There was a dried up sausage under the desk in our room.
FAQs
How much does this hotel cost compared to others in Swift Current?

The average price for a rental in Swift Current is $58 per night. This rental is $40 above the average.
Is parking included with this hotel?

Parking is not specified as an available amenity at Home Inn & Suites Swift Current. For more information, we encourage you to contact the property about where to park.
Is there a pool at this hotel?

Yes, a swimming pool is available for use at Home Inn & Suites Swift Current. Enjoy the water!
Is Home Inn & Suites Swift Current pet friendly?

Unfortunately, this hotel is not pet-friendly. Try searching again and filter for "Pets Allowed"
What amenities are available at Home Inn & Suites Swift Current?

We found 9 amenities for this rental. This includes pool, air conditioner, kitchen / kitchenette, internet / wifi, and laundry.