Sans Hotel at Algers Suites Marikina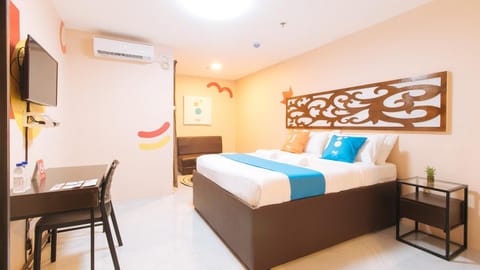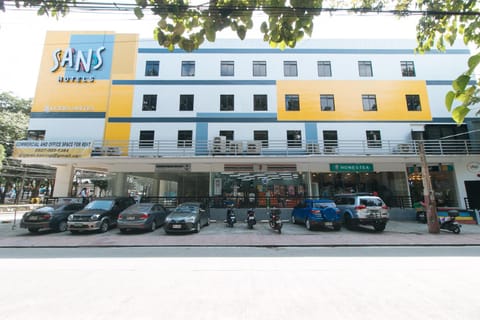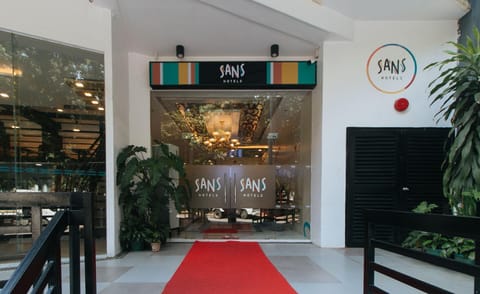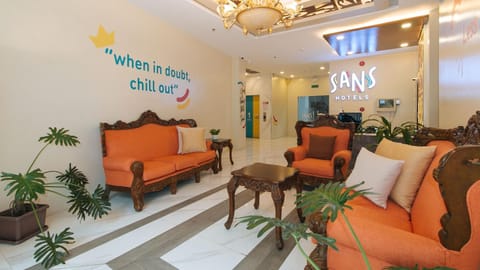 Hotel in Marikina
Air conditioner
Internet / Wifi
TV
Nestled in
Marikina
, this charming room in hotel for $91 per night is a great choice for your next vacation. Featuring 1-star accommodation, Sans Hotel at Algers Suites Marikina is set in Manila, 9 km from Smart Araneta Coliseum and 13 km from SM Megamall. The 1-star hotel has air-conditioned rooms with a private bathroom and free WiFi.
Air conditioner
Internet / Wifi
TV
100% verified reviews
3.5 / 5

"Average"

(38 Reviews)
The TV and the internet access in the room is not working, i asked for assistance and did not get any. It was an awful stay at room 403 at the Sans Algers Suite
The TV and the internet access in the room is not working, i asked for assistance and did not get any. It was an awful stay at room 403 at the Sans Algers Suite
At least thehotel was close to the venue we had a party but the rm facilities are not good
Dec 2022
Weak wifi signal, no cable and loud guests we barely can rests and I requested for a quiet room or at least the room should be sound proof no hammering noise or hearing people talk at the hall way because they have weak signals in their rooms
i hope you'll have a proper training in your staff about hotel policies and conduct. clearly you really need one badly!
Nov 2022
smart tv, comfy bed and new hotel
the staff will go inside your room without our permission. we went out to have early dinner, when we're back / we were shocked that a staff is inside our room. and the management even told me that it's just ok bec their hosuekeeping is the only person to have a duplicate key. it was so foul and it's the first time it happened to us. they dont have respect to the checked in guests. we left all our gadgets there, money.. and they will just enter without permission. we didnt even requested to housekeep the room, they entered bec i requested an extra pillow but not to deliver it without us and force enter the room. i wont trust this hotel again, i hope they will learn and improve to their next guests. it was really really bad to do that to a check in guests. once a guest already checked in, that room is already paid by the guest and you have no rights to go inside anymore even you are knocking and nobody is responding. if you need something - you wait for the guest not decide by yourself to enter just bec the guest isnt around. we cant even sleep properly bec we were thinking they will just force enter the room whenever they want.
Room appearance, location and some staff.
Defective aircoon. Mainit po. Unfortunetly ipapa check pa ung aircon sa technician kaya langbdi available. Kaya naiinitan ang baby ko
Please improve your wifi and data signal inside the room.
place is super clean and ambience is nice
New hotel and clean but needs more effort by owner.
Lacks the basics, no power outlets near bed, no fridge, no coffee making facilities. Missing traps on bathroom floor waste so room always smells of sewerage. Wifi not working and not much effort to repair.
Our stay was fine. The place are safe and convenience, the staffs also did well and very polite. But I'm dissapointed wi
Apr 2023
it's very spacy and the staff is nice.
The shower's not even pointing at the right position.
It was good. The staff and crew were very responsive.
Jan 2023
Its new so its well maintained
that they don't have option for guests to extend maybe because they have limited rooms
Everything was good for the price, except for the sewer. It needs to be repaired/cleaned.
Sep 2022
Good location, nice hotel design, fun and homey, friendly staff.
The sewer smells. I already reported this to the staff. I hope this can be fixed.
How much does this hotel cost compared to others in Marikina?

The average price for a rental in Marikina is $39 per night. This rental is $52 above the average.
Is parking included with this hotel?

Parking is not specified as an available amenity at Sans Hotel at Algers Suites Marikina. For more information, we encourage you to contact the property about where to park.
Is there a pool at this hotel?

We didn't find pool listed as an amenity for this hotel. It may be worth double checking if a pool is important for your stay.
Is Sans Hotel at Algers Suites Marikina pet friendly?

Unfortunately, this hotel is not pet-friendly. Try searching again and filter for "Pets Allowed"
What amenities are available at Sans Hotel at Algers Suites Marikina?

We found 3 amenities for this rental. This includes air conditioner, internet / wifi, and tv.