Hyatt Place Glendale / Los Angeles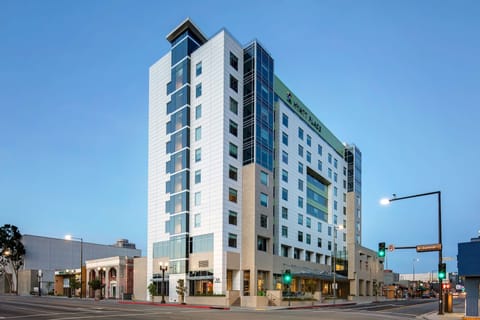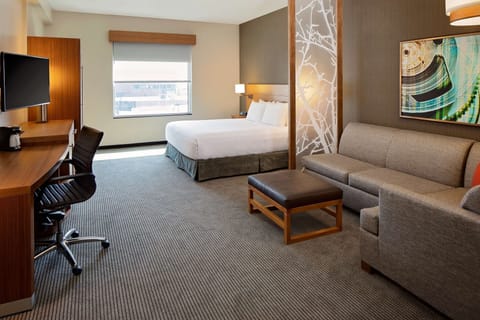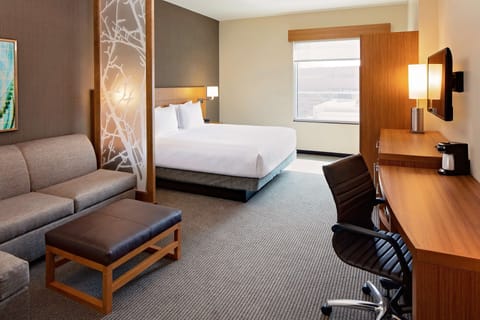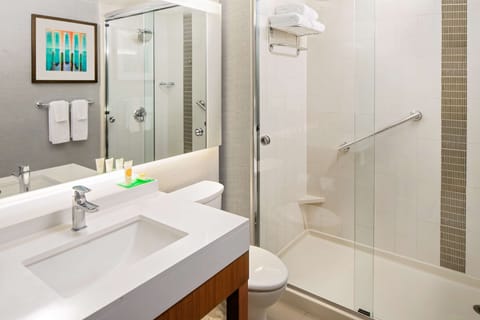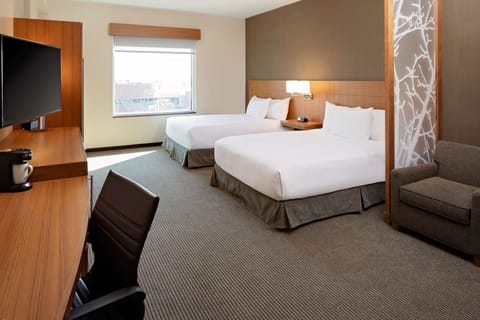 About this hotel
Situated in
Glendale
, this lovely room in hotel for $202 per night is a fantastic option for your next vacation. A restaurant, a fitness center, and a bar/lounge are available at this smoke-free hotel. Free on-the-go breakfast and free WiFi in public areas are also provided. Other amenities include a snack bar/deli, a 24-hour business center, and valet parking.
Amenities
Pool
Air conditioner
Pets allowed
Kitchen / Kitchenette
Internet / Wifi
Laundry
Balcony / Patio
TV
Wheelchair accessible
Gym / Fitness Center
Reviews
4.4 / 5

"Excellent"

(1,107 Reviews)
3.0
Sep 2023
We had such an amazing experience with Hyatt Place. The staff made all the difference. I am a frequent Hyatt Place guest but the Staff at Glendale CA has been the BEST I have ever encountered. I am in the service industry and It truly makes all the difference in the world. Please applaud your full staff cause they were exceptional!
2.0
Sep 2023
Hotel nice, clean, comfortable , but no parking lot.
3.0
Sep 2023
Exceptionally clean, very good breakfast options, any courteous staffing. There's couple of things I would like to see improvement on, one being a Marijuana smoke Free place, the other was that housecleaning needs to empty out at least the trash cans everyday, if they don't want to clean everything everyday, and lastly I don't know how but I was bitten several times throughout my arms while sleeping. I noticed that it only happened while in the room and at nights. Otherwise, I definitely recommend Hyatt Hotel in Glendale.
3.0
Sep 2023
Very comfortable bed and real tasty breakfast!
2.0
Sep 2023
Location is the convenient, rooms are small.
3.0
Aug 2023
The hotel was in a great location. The staff were extremely nice, hotel very comfortable and the price right. Will book again.
3.0
Aug 2023
Good customer service , hotel is clean
1.0
Jul 2023
There was no bell service to help with luggage. Very hard and thankful to porn luggage on a carpet in the hallways. My back was literally heard on the entire time I was there. I'm comfortable bed, breakfast service was way too early in the day and they would start cleaning up 15 minutes before the time was the van over. Valet was very slow too. Overall it was a very disappointing experience!
3.0
Jul 2023
Very clean and well maintained property. Valet parking is fast and reasonably priced. The room was clean and staff was friendly. Shampoo, conditioner, soap, and lotion were available in the restroom. The room had a mini fridge and a coffee maker, but not a microwave. But the restaurant downstairs was open late.
2.0
Jul 2023
Hotel very clean and close to shopping center restaurants
3.0
Jul 2023
3.0
Jun 2023
Great room and breakfast!
3.0
Jun 2023
The weekend was excellent. Very nice area and clean. Only drawback was no parking lot.
5.0
Jun 2023
Amazing breakfast! Great guest services. New rooms
4.0
Jun 2023
Nice property but parking is expensive and not much in the surrounding for things to do.
2.0
Jun 2023
Everything was nice clean and great EXCEPT! There is no parking! Only valet for $28! They don't have other options so u have to drive around and park and pay in untrustworthy parking garages if you don't want to do valet ,we did find a garage 2 blocks over for $9 daily parking
5.0
Jun 2023
Receptions Arsee was very kind. I'm sorry I don't know her name. But very wonderful and hospitable hotel.
4.0
Jun 2023
Felt safe but Valet parking was a little expensive. Clean hotel. Courteous staff
4.0
Jun 2023
I'm surprise that they don't shower cap available at the front desk.
5.0
Jun 2023
Nice hotel, great customer service
2.0
May 2023
I booked double room for 4 adults however they told me they got reservation from Expedia as king bed and didn't help to solve problem all they had to say was sorry we can't do anything and I have to contact Expedia and even if it was wrong they don't have a double bed available ! So disappointed and had hard time sleeping on sofa bed for 4 nights
5.0
May 2023
Valet only parking was nice. Didn't have to worry about my car. Property was clean and the staff was amazing.
2.0
May 2023
We were placed in a room next to the 24 hour gym on the 2nd floor. It was noisy and we did not enjoy our stay at this hotel. Tried to speak to manager twice and was told all rooms were booked. Very disappointed!!!!
3.0
May 2023
Unfortunately everything good I'd like to say about this property is overridden by the overwhelming smell of marijuana on our floor, everyday, morning to night for our entire stay. I know weed is legal in LA but come on, in a hotel? Why housekeeping didn't report it I don't know but as soon as we got out the lift it hit us, all along the corridor and it could even be smelt in our room. Disappointing that this should be what we remember most about our stay as the staff were nice, housekeeping did a good job even though they only came once during our 4 night stay. I was fine with that but if you prefer housekeeping more frequently than that, this is not the hotel for you. Breakfast was basic but plentiful. The car valet team were wonderful, super friendly and efficient.
2.0
May 2023
It was a nice place to stay
4.0
May 2023
Was quite good and the Front Desk worker during our check out was amazing
4.0
May 2023
3.0
May 2023
Parking is a problem. They don't clean the rooms every day, so you have to ask for clean towels. When we got to the room a there was a 5 gallon bucket of water left in the tub. The air conditioner wasn't working well. The room was hot. We asked about it. They said they would send someone up, but never did.
3.0
May 2023
Neighbors are iffy, staff tried hard to put us in separate rooms instead of the double-queen we booked. Room was clean, shower was warm, breakfast was fabulous.
5.0
May 2023
Modern and clean hotel with very friendly staff.
5.0
May 2023
Property location was very convenient for our weekend family trip which included a trip to Universal studios. Rooms were clean, updated and more than spacious for our group of 5. Walkable distance to mall and nearby dining options (Porto's few blocks away ;) Hotel staff were very courteous and helpful. Complimentary breakfast was decent. They don't have on site parking but valet was very convenient and fast service. We would stay here again!
4.0
May 2023
5.0
May 2023
Super close by the Galleria and decent distance away from Universal and Griffith Observatory
5.0
May 2023
In the middle of everything!!
5.0
May 2023
Great service and breakfast
5.0
May 2023
3.0
May 2023
Breakfast was not many selections and scrambled egg was not good at all those 4 days that I stayed. Also, valley parking seems like was mandatory so I used but 4th night they closed service. So I have to go to public parking lot when I came back. valley parking charged me $27.99(?) plus tip and I payed $15 on public parking. Someone should inform us in advance that wasn't formal.
2.0
May 2023
Everything was good, except that when we arrive to check in they had to change our room not the one we paid for and reserved Room 202 4/28-4-30 Not sure why they do that I reserved and paid for a room with a view and higher floor obviously at the time of booking it was available then we got there they didn't have that room :(
5.0
May 2023
Hotel was nice and clean.
5.0
Apr 2023
Hotel is clean, nice great location, walking distance to the business loop, personnel was great, she was able to correct the mistake of Expedia did. I had a good time. The only minus is the parking. No in hotel property, it is a few steps away but it is a public parking.
FAQs
How much does this hotel cost compared to others in Glendale?

The average price for a rental in Glendale is $157 per night. This rental is $45 above the average.
Is parking included with this hotel?

Parking is not specified as an available amenity at Hyatt Place Glendale / Los Angeles. For more information, we encourage you to contact the property about where to park.
Is there a pool at this hotel?

Yes, a swimming pool is available for use at Hyatt Place Glendale / Los Angeles. Enjoy the water!
Is Hyatt Place Glendale / Los Angeles pet friendly?

Yes! This hotel is pet-friendly. For more information, we recommend contacting the booking provider about animal policies.
What amenities are available at Hyatt Place Glendale / Los Angeles?

We found 10 amenities for this rental. This includes pool, air conditioner, pets allowed, kitchen / kitchenette, and internet / wifi.