Quality Inn Riviere-Du-Loup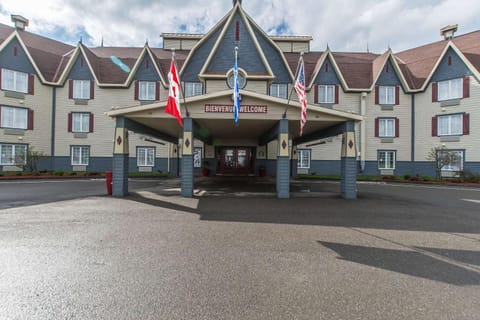 About this hotel
Nestled in
Rivière-du-Loup
, this attractive room in hotel for $64 per night is a great choice for your next break. The Quality Inn hotel is a maritime country-style property. This Rivière-du-Loup hotel is minutes from the Rivière-du-Loup Golf Course and Musée du Bas-Saint-Laurent, a contemporary art and ethnology museum. Observe the variety of birds living in St.
Amenities
Pool
Air conditioner
Pets allowed
Kitchen / Kitchenette
Internet / Wifi
Parking
Laundry
Balcony / Patio
TV
Wheelchair accessible
Gym / Fitness Center
Garden
Family friendly
Reviews
4.0 / 5

"Good"

(850 Reviews)
100% verified reviews
Just okay not making a point to return as it was expensive and the bed was just okay.
Jul 2023
Breakfast was good to have with the Hotel stay.
I asked for a bottle opener for my beer as it is not a twist off cap. She said there was only 1 and who ever had it did not bring it back. The Tim Horton's across the street was closed. We drove further and all restaurant were closed at the time we arrived about 10;30 pm. The sheets didn't seem fresh. The air conditioner was noisy and can't shut off.
Pool was nice Breakfast was good Close to highway for easy travel
Not going back. Should have received a partial refund for broken pool and alarm when we advised them. No apologies were
Jul 2023
The pool was broken and we were not advised in advance. The pool was the reason we chose this property. At 5:30 a.m a fire alarm was set off by someone's shower. It remained on until 8 a.m. during which time the elevator did not work either. Our whole family was awakened so early and could never get back to sleep. We called the front desk to complain about the alarm and we were told just that someone was looking into it and problem should resolve soon. but 2 hrs later still ringing. The eggs for the breakfast were tasteless and rubbery. I heard some of the guests mention mold on the muffins.
Met out needs - would recommend.
Jul 2023
AC was cold. Breakfast was excellent. Lots of choice, hot, fresh options.
Beds were a bit uncomfortable. Pool was closed for maintenance.
Would definitely recommend
Jun 2023
It was clean, staff very friendly Great breakfast
Very good experience. Clean, good bed, nice staff, good breaky.
Jun 2023
The light in the bathroom flashed at night.
English-only speaking people, go stay at this hotel. It is very good and I appreciated the service.
Jun 2023
The staff would speak English to me and I did not feel like im an outsider. The continental breakfast was very good. The atmosphere was cheerful.
Short but comfortable.
May 2023
Room was quiet, bed was very comfortable, air conditioning wasn't too loud.
The main floor was small and dated. Didn't give a great first impression.
I would stay here again and recommend it.
May 2023
The room was spotless and exceeded my expectations based on recent travel experiences. Staff was very helpful. It was unfortunate that the pool was closed for maintenance.
Very clean, good breakfast and nice staff
Friendly helpful staff at reception. Were given information on dining and where to use spa facilities in town
Breakfast was just o.k. scrambled egg was dry and pastries were stale, Coffee was watery Shame that the hot tub had been removed as this had been a reason for choosing this motel in the past.
Good location, very large and good breakfast, quiet location
Hot breakfast was very nice
I have been to a number of Quality Inns and this one was definitely not the best one
Small room, very expensive
More than just satisfactory.
Aug 2022
Property was as expected by a brand name
Grout / caulking in bath in need of removal and replacement.
Convenient location but overpriced.
Aug 2022
The staff was very pleasant and efficient. Especially the breakfast staff.
Outdated decor in general. Room wallpaper stained.
Great spot, clean, comfortable, and perfect for our trip. Staff friendly and excellent bfast included.
I did find price high for style and quality of hotel.
Beds sheet were not at all clean and comfortable
As advertised, liked the motorcycle parking.
Aug 2022
Pool was great, breakfast was good (although had to wait for main items to be replenished), and room was comfortable. Also very much liked the dedicated motorcycle parking right adjacent to the reception, really appreciated that.
Adequate for our needs.
Jul 2022
Waffle maker makes an awesome breakfast.
FAQs
How much does this hotel cost compared to others in Rivière-du-Loup?

The average price for a rental in Rivière-du-Loup is $72 per night. This rental is $8 less expensive than the average.
Is parking included with this hotel?

Yes, parking is listed as an amenity at Quality Inn Riviere-Du-Loup. For more information, we encourage you to contact the property about where to park.
Is there a pool at this hotel?

Yes, a swimming pool is available for use at Quality Inn Riviere-Du-Loup. Enjoy the water!
Is Quality Inn Riviere-Du-Loup pet friendly?

Yes! This hotel is pet-friendly. For more information, we recommend contacting the booking provider about animal policies.
What amenities are available at Quality Inn Riviere-Du-Loup?

We found 13 amenities for this rental. This includes pool, air conditioner, pets allowed, kitchen / kitchenette, and internet / wifi.