Hampton Inn Pensacola-Airport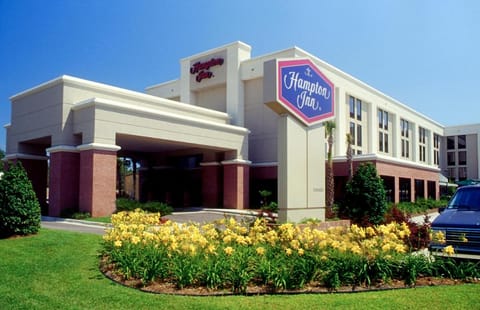 Hotel in Pensacola
Pool
Air conditioner
Pets allowed
Located in
Pensacola
, this lovely room in hotel for $115 per night is a great option for your next vacation. Set in the Cordova Business District, near Pensacola Regional Airport, this Florida hotel offers a free hot breakfast and free shuttle service to the airport from 4am until midnight. Housekeeping service is available upon request.
Pool
Air conditioner
Pets allowed
Kitchen / Kitchenette
Internet / Wifi
Smoking allowed
Parking
Laundry
TV
Wheelchair accessible
Gym / Fitness Center
100% verified reviews
3.9 / 5

"Good"

(468 Reviews)
This is a very outdated room that didn't seem clean
Oct 2021
When I first walked in the room it smelled. The bed was poorly made, bathroom shower looked dirty and outdated. The vent in the bathroom was dirty. There was hair in the sink. No pen or paper in the room. No TV guide for channels, the room was old and I was very disappointed how much it cost.
Disappointing compared to most Hampton stays
Mar 2023
Room was not cleaned daily. Asked for it to be cleaned and returned and it was not.
Value and location near family event.
It is right next to airport so could hear planes in the morning but we were aware of that prior to stay. We got in late and only had one soap.
Our first room did not lock. Our second room the a/c unit was loud and would not adjust. The room was freezing. We did not sleep. Staff was good and agreed something was wrong.
My stay at the hotel was okay.
Mar 2022
Other guest were loud inside of hotel. And the blanket was too thin on the bed. And need better blinds to keep out the sun.
the rooms are very spacious and barrier-free. Particularly suitable for wheelchair users. They are very clean.
The receptionist at check-in was rude because you didn't immediately understand what she was saying. I found her very snooty. She should be better trained in dealing with guests.
Completely dirty room
Aug 2022
The room didn't meet expectations. Several issues including bathroom light fixture held together with tape: A/C Vent completely covered with dust. The pull out mattress dirty and stained.
Great staff but difficulty sleeping
Jan 2022
The man at the front desk was very helpful regarding our flight the next morning.
There were 3 pillows for a king size bed… and a loud whirring sound that kept repeating every 30 seconds making it impossible to sleep (when I had to be up at 3:30AM for our flight).
The lady with the last name Roper is a class act. Our circumstances were awful and she did everything she could to help us out
Good value, hot breakfast, friendly staff
Aug 2021
The complimentary breakfast was good. I always look for hot breakfast that includes meat, and this one does. It included turkey sausage, omelettes, oatmeal with add-ins, waffle maker, etc. The hotel was clean, and the beds were comfy. The hotel includes a pool with the deepest end at 5ft. The staff was very friendly and accommodating, especially the guy that was there our first few days. I believe his name was Sal, but not sure. He dressed like an early 2000s Andre 3000 tho, cool little dude. He went above and beyond to make sure we were satisfied with our stay.
The distance from the beach. It was a minimum 20 min drive , depending on traffic
Comfortable and stress free. Would absolutely stay here again.
Sep 2021
The cleanliness of my room was exceptional. Traveling during COVID is scary, so when I saw the cleaning protocols of this hotel I was extremely impressed. However, using the digital key was the absolute BEST. I didn't ever have to see anyone anywhere.
Enforcement of guests wearing masks in public areas could have been better. I saw very few guests in masks on elevators and other areas.
The breakfast had a good selection of things to choose from and plenty of space for seating.
the stay was very comfortable and I would definitely stay again.
Jan 2022
the beds were the most comfortable I've ever slept in. the location was also conveniently located next to the airport
property seemed old. Carpets looked worn and not too clean.
Not exactly as described-constuction should have been mentioned
Mar 2022
Size of room and bathroom Parking Climate control Staff
Day started by police banging on neighboring door screaming …police ! Open up! View out of window was scaffolding Breakfast variety was great but the hot food - sausage and potato's were cold Toilet never stopped running
clean, comfortable, pleasant and helpful staff.
Feb 2022
Proximity to airport. Free shuttle service. Clean rooms. Friendly staff.
Everything was nice about the property.
Where do I even start. I got to the hotel around 11 Friday night, there was a car parked at the door unloading. Another car pulled up the same time as me and we were all just trying to check in. With one foot out of my car, someone from inside came out yelling at me to not block her shuttle. Cool. Got ya. Yet there's a car unloading all their luggage where I would need to pull to go around. After finally parking and going in, I stood there for a good 3 mins so the ladies working could finish their conversation. Gave them my name expecting to hand them my card and ID and get my key. I had to fill out a paper with my name, address and WRITE my CC info that they now have. That makes me feel real comfortable . 
The young lady that was getting off when I was checking in, was beyond rude! Come to find out, it wasn't because she had a long day because she acted the EXACT same way the next day. 
I made a reservation for one room, for two people yet only had ONE large towel in my room. Went down Saturday morning to ask for more. They don't keep towels in the office so he text someone to drop some off to my room. Never happened. I finally got a couple more when I went down and asked again Sunday morning. Let's not forget the fact that EVERY towel had some kind of stain on it. 
Upon checkin out, I found out they don't even have a working computer system, even though the person telling me this was fiddling with a computer . I was told because of this, they couldn't give me a receipt nor could they even tell me the total I would be charged! I was told it would be the total that was on my confirmation email and that when their system comes back up on Tuesday (today is Sunday) that I will get an email receipt. I showed the woman at the desk (who claimed to be the manager) the total that was on my email and asked if that is what I will be changed.
The early morning staff when we checked out, she was not friendly at all.
The ac/heating could be easier. I could not adjust the temperature or the fan & was too cool. Didn't call down because I needed to get to sleep so I turned it to off
I will never stay in that horrible place again.
Oct 2021
It would have been nicer if the AC didn't sound like a mac truck running right outside the room and if someone didn't bang on my door at 3:30 in the morning and if the staff had done something to make me feel like they cared about the fact that I only got about 3 hours of sleep.
How much does this hotel cost compared to others in Pensacola?

The average price for a rental in Pensacola is $146 per night. This rental is $31 less expensive than the average.
Is parking included with this hotel?

Yes, parking is listed as an amenity at Hampton Inn Pensacola-Airport. For more information, we encourage you to contact the property about where to park.
Is there a pool at this hotel?

Yes, a swimming pool is available for use at Hampton Inn Pensacola-Airport. Enjoy the water!
Is Hampton Inn Pensacola-Airport pet friendly?

Yes! This hotel is pet-friendly. For more information, we recommend contacting the booking provider about animal policies.
What amenities are available at Hampton Inn Pensacola-Airport?

We found 11 amenities for this rental. This includes pool, air conditioner, pets allowed, kitchen / kitchenette, and internet / wifi.