Quality Inn & Suites Lake Havasu City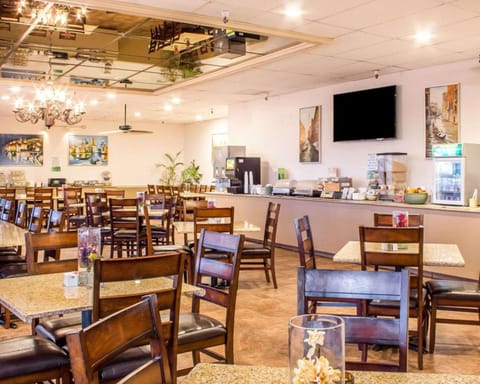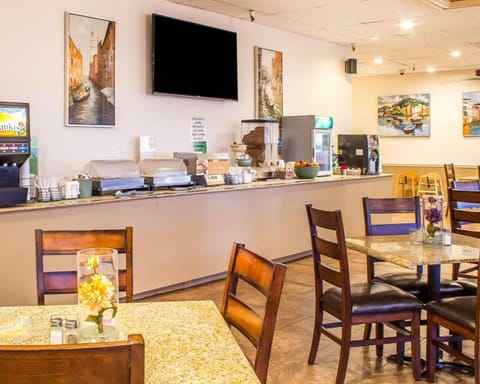 About this hotel
Situated in
Lake Havasu City
, this lovely room in hotel for $108 per night is a great option for your next break. This Lake Havasu City hotel is a 15-minute walk from the London Bridge. The hotel offers free Wi-Fi, an outdoor swimming pool and a full-service restaurant and bar.
Amenities
Pool
Air conditioner
Pets allowed
Kitchen / Kitchenette
Internet / Wifi
Parking
Laundry
Balcony / Patio
Hot Tub / Spa
TV
Wheelchair accessible
Gym / Fitness Center
Map of Lake Havasu City, AZ
Reviews
3.4 / 5

"Average"

(941 Reviews)
100% verified reviews
Remodeling was being done, and the front desk area was loud, and it wasn't safe to walk.
Rather pricey for the condition and age of the motel.
Aug 2023
Good location, clean room, nice pool. Front desk staff was very friendly and helpful. Free breakfast was decent. Plenty of parking available. Lots of free chanels on tv.
Under construction. Toilet flush sytem was broke, I had to take lid off of the tank and hold down a bar to make it flush. I was able to make it work so I didn't report it until I checked out, I'm sure they would have fixed it or given me a different room if I asked them too, but I made it work. It is an older property and need upgrading, but they are working on it.
I woke up at 5:30 to get the 6 AM breakfast, with my four small children. We waited for 45 minutes and the doors are shut. We talked to the front desk staff and they said the breakfast lady did not show up for work and we waited a little longer. Our family was really hungry so we just went and got breakfast somewhere else which was not in our budget. It was an extra $100 I did not plan on spending. The front desk staff were indifferent and told me to complain to corporate. I called corporate, and they did not care or offer any compensation. Also our fridge was moldy and they wouldn't clean it. We need to store milk in it for our toddler and baby.
Great AC was on point!!!
Aug 2023
Well the parking lot was awesome for trucks and trailer with boats or jet skis. The location felt safe. Staff said they had cameras don't know it that was true but made me feel better. Ac in the room was on point it worked amazing for how hot it was outside.
Well the place was being remodeled so it was a mess the front desk was two plastic tables. The poor staff was having issues with the computer. It kept freezing on them. Then the ice Mechine was not making ice. I went to call the front desk for more towels the phone didn't work in are room. Calling out or room to room. So I had to call on my cell phone and once the front desk answered the person on the line was like ya come down and we'll get you some towels. All other places I stayed they brought them to you. Wouldn't have been an issue but I have a bad knee and they put me on the bottom floor in the back so a flight of stairs takes awhile. WiFi was so slow.
The bed comforter had stains they didn't even replace a new toilet paper roll the roll was halfway used from those who stay in the room previously
The room was not ready my family and I walked into the room and a employee was servicing the AC unit.
The room was very beat up. There was pieces of wall missing carpet had multiple stains. The mattress was horrible. It ha
Jul 2023
The property itself was very dirty. The parking lot had trash all over it, broken bottles, and various other things there. 
Chosen because closest to location we needed to visit for mercy mission. Will not choose this again.
Jul 2023
Not much. Bed was comfortable.
This establishment is old and it showed. Room not made up whilst there. Told rooms only made up on Thursdays! Towels very small and thin. Carpet absolutely filthy!! Blackened my feet when I walked barefoot.
We broke down, had to stay out of room I thought for the price it would be nice but it wasn't
Jul 2023
The practice was just basic muffins, waffles, orange juice, milk that's it
For the price I paid it was like staying at a motel. Six paint was dirty. Just not what I expected.
property needs remodeling. carpet was dirty and walls had stains.
kinda loud people around. trash in the parking lot
Location and hotel staff. Wonderful 👍
Very dirty carpets in rooms. You will want to wear house shoes.
ok for 1-2 nights when you travel alone
Mar 2023
very old and used inventory, thin walls so you hear everything going on next door and outside. breakfast was included but come on, even in the us in 2023 and for 180 bucks the night a real plate, cup and cutlery could be expected, isn't it ? or maybe I just expect to much?
Bad /disappointing
Mar 2023
Safety Cleanliness Friendliness of staff
OK stop-over place.
Mar 2023
The pillows were very good.
The traffic noise outside the window all night long, vey vey loud. Teeny, tiny bathroom, extremely poor shower head. Don't eat the powdered eggs for breakfast. But the waffles were great.
noisy. we were told we had a lake view and we hadn't. no lift to other floors having carry suitcases.
very disappointed unacceptable - they should of paid me to stay there didn't get much rest there either
Feb 2023
god help us - doors didn't work properly rug stunk non smoking room stunk TV WAS NOT SET UP MATRESS COVERS dirty stained MATRESSes much too old way too NOISY EXTREMELY- light switch hidden corridors noisy smelly damp room had to use peppermint oil - one of the worse rooms I've ever witnessed HEALTH DEPARTMENT SHOULD CLOSE THEM DOWN I might call if I don't get a response!!!!
I have used Quality Inn for years traveling across country and NEVER have I seen one like this. It is an absolute disgrace to call it Quality Inn. We wanted to see the room, it was outside quite a distance and my friend got so tired of walking she had to lean up against the wall, then the man said it is right here after you CLIMB this set of stairs outside. They don't even have an elevator.. We are 85 and 90, do you know how times in 3 days we would have had to climb those stairs. NO THANKS! So we just left. I will probably not use them going home anymore as that location needs be visited by some authoritarians unknown to them to see how bad it is. Too bad!
Our room was a non smoking but we got smoke in the bathroom when the fan was on
It will be okay after it is painted.
Feb 2023
Hotel was in great location
The room we recieved was on the road side and you could hear the road all night. The room was 158 dollars for something that should have been around 80 for the noisy side for sure.
Road noise to loud. Dirty sidewalk, lots of drunks at bar at night.
The waffles that we have for breakfast were really nice and the lady that was working the kitchen was very nice as well
It was a little outdated. I think they're in the process of remodeling because they were taping up the outside of the building is we were Checking in
Great customer service and was nice bar area with the most friendly bartender
The complimentary breakfast was in my opinion tasteless and horrible coffee
Easy access and friendly staff.
Could not get the message light to shut off. Flashed 24/7.
Great value and amazing location
Huge property, hard to work to the breakfast area
I wouldn't stay there again
Dec 2022
the shower and the carpet were disgusting - I wouldn't take off my shoes
Jody and Tracie were great!
Dec 2022
All I needed in one place
FAQs
How much does this hotel cost compared to others in Lake Havasu City?

The average price for a rental in Lake Havasu City is $199 per night. This rental is $91 less expensive than the average.
Is parking included with this hotel?

Yes, parking is listed as an amenity at Quality Inn & Suites Lake Havasu City. For more information, we encourage you to contact the property about where to park.
Is there a pool at this hotel?

Yes, a swimming pool is available for use at Quality Inn & Suites Lake Havasu City. Enjoy the water!
Is Quality Inn & Suites Lake Havasu City pet friendly?

Yes! This hotel is pet-friendly. For more information, we recommend contacting the booking provider about animal policies.
What amenities are available at Quality Inn & Suites Lake Havasu City?

We found 12 amenities for this rental. This includes pool, air conditioner, pets allowed, kitchen / kitchenette, and internet / wifi.