Regency Inn in Los Angeles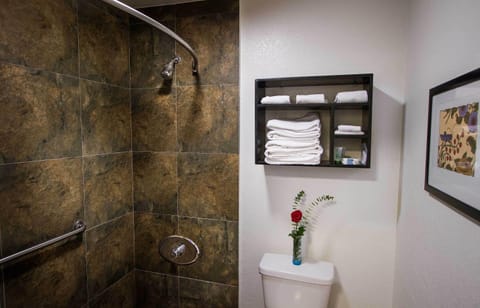 About this hotel
Located in
Eagle Rock
, this charming room in hotel for $104 per night is a great choice for your next vacation. Located 9 miles north of downtown Los Angeles, this hotel offers free parking. It offers rooms with a microwave, refrigerator, and free Wi-Fi.
Amenities
Pool
Air conditioner
Kitchen / Kitchenette
Internet / Wifi
Smoking allowed
Parking
Laundry
Balcony / Patio
Hot Tub / Spa
TV
Wheelchair accessible
Gym / Fitness Center
Family friendly
Reviews
4.1 / 5

"Excellent"

(236 Reviews)
100% verified reviews
Comfortable beds and convenient location.
AC was confusing to operate.
room was spacious, clean and comfortable. nothing fancy but not cut-rate either. lots of stores/businesses nearby. we asked for a quiet room and were given one on the ground floor away from the street. The only staff person I interacted with was very friendly and helpful, although no help was needed. everything in the room worked as expected, she gave me the wifi info without my asking. Parking was no problem.
The room was very clean! The bed was comfortable and it was quite peaceful.
The only issue is probably parking, it is first come first serve but I had no issue finding a spot.
It was so comfortable love it
The staff were friendly and the location was good.
The room was poorly lit and I could hear a lot of outside noise.
The room we were in was extremely nice and clean!
A convenient and comfortable place for a one night stop as we passed through LA
Jul 2022
very clean, good beds, good shower
nice stay, amazing bed!
Jul 2022
big room very comfy bed easy and quick check in and helpful staff
shower and toilet room not great not a huge amount to do in the immediate area but not far in a car to other great areas
Front desk super nice and I felt so welcomed! Room was so amazing! I would highly recommend friends and family to come stay here!
Nothing everything was great!
Very comfy, the staff was great, definitely will stay here again
Jun 2022
The proximity of the property was very close to our family. The staff was wonderful. The rooms were clean. The beds were so comfortable and lots of pillows! Loved this place
The shampoo and conditioner and soap could've been better. Other than that, great property
Will stay again and again
Jun 2022
Room bigger than most of other hotels we stayed, quiet, comfortable bed and pillows, fair price.
staff was great and very helpful
Jun 2022
bed fridge microwave coffee maker
rough towels no spa no pool
Decent place to stay if you're not picky about details.
Apr 2022
Pleasant greeting and service overall.
Parking very tight, unfinished details in bathroom, strong smell, could hear movement above and through walls, homeless encampment behind building.
Quaint little place for a short stay.
Apr 2022
Nice sized room where the ceiling was painted beautifully. So much detail in that ceiling- I felt like i was in a garden The mini fridge kept everything nice and cold. The front desk lady was very nice. There's a bus line/stop right outside - so it makes travel easy if you don't have a car. Very close to Occidental College.
It was a bit noisy, but it is a motel. The neighborhood noise could be heard in my room - alot.
The hotel smelled like bug spray there's dead cockroaches all over the hotel Not to mention the swat team came in and broke the window and arrested a guy not living in the hotel he was homeless
The room smelled bad like toxic and cockroach spray
The room is clean and spacious enough!
Room service was mean sometimes and took long to bring things we needed in the room! Also I wished it had an elevator
Will definitely be back.
Apr 2022
Loved the king size bed. The room felt like a mini apartment. Everything about the room was excellent.
FAQs
How much does this hotel cost compared to others in Eagle Rock?

The average price for a rental in Eagle Rock is $139 per night. This rental is $35 less expensive than the average.
Is parking included with this hotel?

Yes, parking is listed as an amenity at Regency Inn in Los Angeles. For more information, we encourage you to contact the property about where to park.
Is there a pool at this hotel?

Yes, a swimming pool is available for use at Regency Inn in Los Angeles. Enjoy the water!
Is Regency Inn in Los Angeles pet friendly?

Unfortunately, this hotel is not pet-friendly. Try searching again and filter for "Pets Allowed"
What amenities are available at Regency Inn in Los Angeles?

We found 13 amenities for this rental. This includes pool, air conditioner, kitchen / kitchenette, internet / wifi, and smoking allowed.