Courtyard by Marriott Pensacola Downtown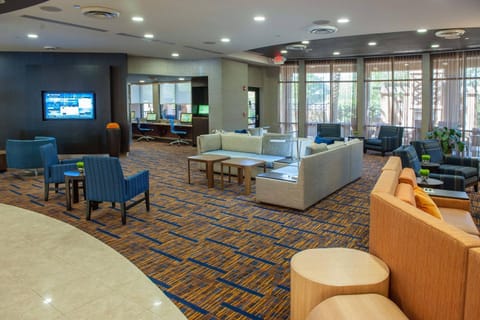 Hotel in Pensacola
Pool
Air conditioner
Kitchen / Kitchenette
Situated in
Pensacola
, this lovely room in hotel for $113 per night is a great option for your next vacation. Set in downtown Pensacola and 5 miles from Pensacola Beach, this hotel has a outdoor pool area and onsite fitness facilities. It offers spacious rooms with free Wi-Fi and flat-screen TVs. Guests can enjoy the sunbath at the deck surrounding the pool.
Pool
Air conditioner
Kitchen / Kitchenette
Internet / Wifi
Parking
Laundry
Hot Tub / Spa
TV
Wheelchair accessible
Gym / Fitness Center
100% verified reviews
4.2 / 5

"Excellent"

(168 Reviews)
Would definitely stay again
Sep 2022
Shower knobs were a little confusing
The staff was friendly. When I called for extra towels and soap after two days it was there in less than 5 minutes. Very friendly. The outdoor patio and fireplace were very cozy. We stayed out there visiting with our adult kids for a few hours after our dinner together.
The rest of the staff was welcoming and excellent except the woman mentioned above. There was a long haired guy that went out of his way in checking us in just by so welcoming and helping us out with anything else we'll. Great rest of the staff. Again FIRE the other woman. Unprofessional idiot.
There was a rude black woman behind the front desk telling me "to go find another hotel" just because simply my mask had just broke. I had been there 2 nights already AND had already PAID. So I responded with "no I'm fine. Upper management needs to address this woman which they will probably not. FIRE this woman she is in the wrong profession and makes the hotel have a bad name. FIRE HER.
It was a nice birthday getaway' bed was comfortable I was disappointed because I was told it was no jacuzzi! Had to driv
May 2021
The location is close to a lot of restaurant and gas station.
The room was not that clean and when I used the coffee maker the alarm went off. No breakfast food on weekends.
My stay was very nice and convient to the Jazz Festival Venue.
Sep 2022
The housekeeper was exceptional. She always took care of all my needs; I really appreciated her service. Brought extra pillowcases and towels; did not have to wait long to ask again. I think she deserves a bonus.
I didn't like the fact that there was no room service and Star Bucks did not have my Black Tea. I think there should have at least been free donuts or bagels and coffee. Maybe you can take this into consideration.
The bed was great to sleep on. The room was great and had black out shade. The location was great as well walking distance to restaurant.
Surrounding with bar and restaurant easy crossing to the pensacola beach
We been there 4-5 days No mate come clean our room at all We're asking for new towel so many time till the some guy he bring for us elavator broken on the weekend ;-(
Good Outweighed The Bad - Still A Winner
May 2021
Staff was very friendly. The rooms were clean. Just had the issues with the bugs. Lobby looks great as you enter hotel. Check out time is noon. The location is great and walking distance from different places.
We had to kill 2 cockroaches in the room. Also not having hot breakfast in the mornings on weekends. Plus beds were too firm.
The front desk ladies were very professional
Jun 2022
I didn't like that the Bistro was closed both nights we were there. we were told due to staffing. I did not like that there was not maid service to change our towels
last minute plan to stay after a concert close by. no staff anywhere to be found at night or in the morning.
Apr 2023
How much does this hotel cost compared to others in Pensacola?

The average price for a rental in Pensacola is $146 per night. This rental is $33 less expensive than the average.
Is parking included with this hotel?

Yes, parking is listed as an amenity at Courtyard by Marriott Pensacola Downtown. For more information, we encourage you to contact the property about where to park.
Is there a pool at this hotel?

Yes, a swimming pool is available for use at Courtyard by Marriott Pensacola Downtown. Enjoy the water!
Is Courtyard by Marriott Pensacola Downtown pet friendly?

Unfortunately, this hotel is not pet-friendly. Try searching again and filter for "Pets Allowed"
What amenities are available at Courtyard by Marriott Pensacola Downtown?

We found 10 amenities for this rental. This includes pool, air conditioner, kitchen / kitchenette, internet / wifi, and parking.