Henn na Hotel Osaka Namba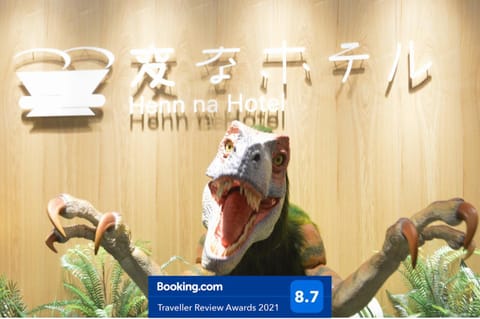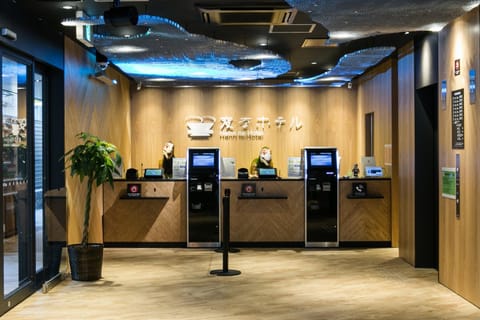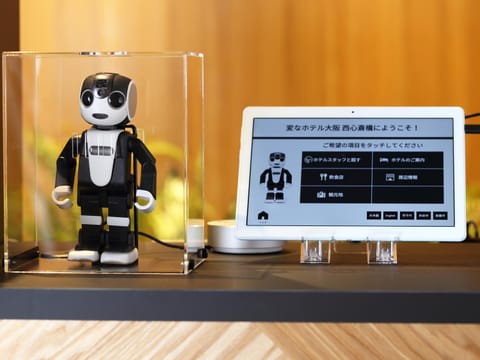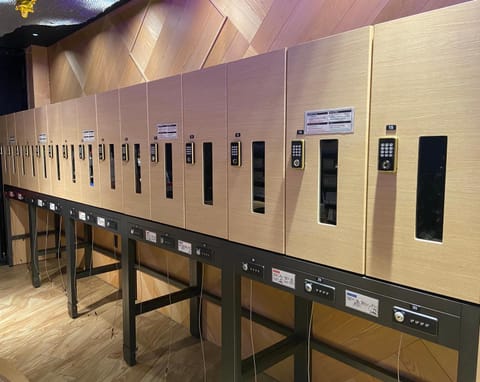 Hotel in Osaka
Air conditioner
Kitchen / Kitchenette
Internet / Wifi
Nestled in
Osaka
, this charming room in hotel for $32 per night is a fantastic choice for your next trip. Attractively situated in the Chuo Ward district of Osaka, 変なホテル大阪 なんば is situated 200 metres from Shinsaibashi Shopping Arcade, 400 metres from Glico Man Sign and 600 metres from Mitsutera Temple.
Air conditioner
Kitchen / Kitchenette
Internet / Wifi
Smoking allowed
Parking
Laundry
TV
Wheelchair accessible
100% verified reviews
4.3 / 5

"Excellent"

(1,260 Reviews)
We loved the location. Easy access to everything and close to the station.
No place to put suitcases. Wired arrange for the bathroom. We requested the Robophone room but it was not really what we expected.
We loved everything about this place, the location is perfect for all the retro clothing shops, bars and restaurants. Everything you want to see is within a short walking distance. The twin room had very comfortable beds. The room is small but really well designed and practical. All the facilities were excellent. I would definitely recommend this place for comfort, value for money and location. The Dinosaur robots are a great quirky addition, and if you do have any problems, there are friendly, helpful staff available too... Excellent!!!!
Good, and we were relieved to find it.
May 2023
We did not get breakfast there, but liked the location. Close to walkable areas, without being in the busiest part of the town.
It would have been nice to have more than one room key - if one person wanted to leave the room, they had to either leave the other person in the dark, or call them to come down and get them.
Walking distance to dotonbori and lawson convenience store. Clean and comfortable beds
Tap was outside the toilet
Very easily manageable to do the check in, the room had everything you needed at it was very clean!
This hotel sets a new standard for clean and tidy rooms. It was superb. Front desk was great. Beds comfortable.
Clean room, good facilities
Nov 2022
The room's clean and I like how toilet and bath are separated
The pillow is kinda uncomfortable and the walls are thin. You need to walk quite a bit from train stations to the hotel.
A fun and refreshing stop for a short rest
Jul 2021
The price, location and convenience were great! The robots at the reception were very entertaining! The bathrooms were quite clean and spacious for the room size.
The beds were a little stiff and the pillows were even more-so. The robots, while entertaining, were a little difficult to work with in specific instances. They do not have clear instructions for foreign residents who are applying. The staff quickly solved the issue but it takes away from the experience to deal with the human attendant called for by the robot.
I wouldn't say value for you money as the only value is the location. it's a bit pricey for a hotel that only offers the
Jan 2023
The location is very convenient
Facilities are a bit old, room can only put one luggage.
Overall good hotel.
Dec 2022
The location, close to Midosuji metro. Room is maintained clean every day. Usb ports on the walls for charging.
Quite tight for 2 adults, room not spacious (typical of Japan rooms). Lack of hanging clothes hooks. Pillow too soft.
Don't really recommend it
May 2023
The hotel is located in a very hype area.
Lot of young people drinking in the streets nearby. It was a bit noisy during the night. During our checking with the robot something went wrong and a real person came in to assist… Other than the robots at the reception and the one in your room there is nothing special about the place. It is just a nice, clean hotel.
Great place to stay in Osaka, very close to alot of great locations
May 2023
Self check in and check out
Cool robot hotel in the heart of Osaka
May 2023
Really cool hotel with talking dinosaurs, who can speak English, to check you in. Nothing overly fancy and had everything we needed for our stay like laundry. The room was typical for Japanese sizes so a little small but for us it was fine, clean though. Best thing was the location where you are so close to Dontonburi all the shopping, the metro and in the heart of the action!
Loud thumping heard from upstairs in the middle of the night.
How much does this hotel cost compared to others in Osaka?

The average price for a rental in Osaka is $55 per night. This rental is $23 less expensive than the average.
Is parking included with this hotel?

Yes, parking is listed as an amenity at Henn na Hotel Osaka Namba. For more information, we encourage you to contact the property about where to park.
Is there a pool at this hotel?

We didn't find pool listed as an amenity for this hotel. It may be worth double checking if a pool is important for your stay.
Is Henn na Hotel Osaka Namba pet friendly?

Unfortunately, this hotel is not pet-friendly. Try searching again and filter for "Pets Allowed"
What amenities are available at Henn na Hotel Osaka Namba?

We found 8 amenities for this rental. This includes air conditioner, kitchen / kitchenette, internet / wifi, smoking allowed, and parking.