Zimeroni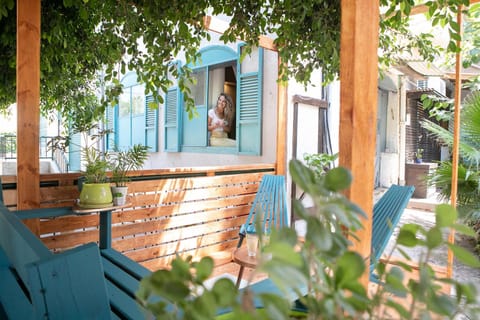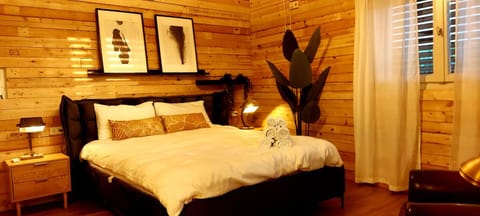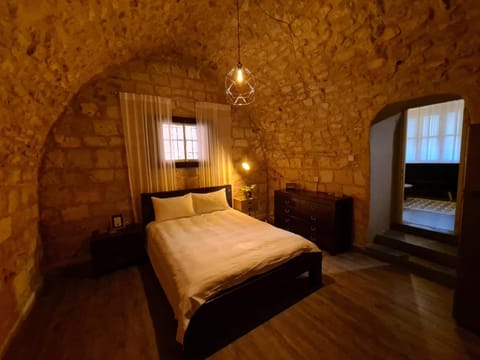 House in Haifa District
Air conditioner
Pets allowed
Kitchen / Kitchenette
Located in
Haifa District
, this charming entire house for $88 per night is a great choice for your next break. Zimeroni is situated in Zikhron Ya'aqov, 39 km from Haifa's Municipal Theater and features air-conditioned accommodation with free WiFi, as well as access to a terrace.
Air conditioner
Pets allowed
Kitchen / Kitchenette
Internet / Wifi
Smoking allowed
Laundry
Balcony / Patio
Hot Tub / Spa
TV
Garden
100% verified reviews
4.5 / 5

"Excellent"

(845 Reviews)
Beautiful gateway
Jul 2021
We stayed in superior double room with jakuzzi & beautiful yard in front. It was very clean and nothing was missing. The location is amazing and Zihron is just a wonderful and quiet place for relaxing.
We had the Executive Suite and the Superior Double (which had a hot tub) Both were exceptionally large and comfortable and full of character Erez was very helpful and was on hand to fulfil all our requests No breakfast on the premises but plenty of options nearby Would certainly stay there again next time we visit Zichron
we had a wonderful time place was sweet and prime location
very clean and comfortable
Door lock need to be fixed
Historic charm comfortably situated
Oct 2022
This was a very nice stay. The room was a historic horse stable. The owner upgraded us to a nicer room with a jacuzzi and was very hospitable- helping us with parking and showing us how to use the coffee machine and TV. The place comes with free mineral water, milk and coffee pods which we really appreciated. And lastly the location was excellent- at the heart of historic Zichron.
lovely place. not 5 stars but with a lot of character and charm and very comfortable bed
May 2023
the style, the location, the friendliness of the host
the bathroom wasn't great. lots of mosquitoes and nothings provided for protection from them
We enjoyed our stay there very much.
Sep 2021
The room was very nice. The owner was helpful and friendly. The location was very good.
No breakfast included. Bed a bit small.
great room, comfy bed, great location
Sep 2022
the room was beautiful and perfectly located. we got married at the bistro de carmel and since i forgot stuff twice! it was great having the location so close! it was clean and romantic! and the manager was super helpful!
the lighting was very romantic but there was no real option for brighter light to get ready which made that a bit challenging, also another table in the room for storage would have helped but all of this was minor. def recommend the zimmer
Exceeded expectations
May 2021
There were many little areas to relax and enjoy in - the porch, room, jacuzzi, and even a little herb garden to pluck and make fresh tea!
I very enjoyed the stay.
Nov 2021
The owner is very nice person, very calm and easy to communicate. The room is standard and the value for the price is fair enough. The place has a parking. The room has small spot for microwave, kettle and small coffee machine. The location is the key point of the house, it is in the area of many restaurants (1-3 min walk). Even though it is central location the place is quite enough. We very enjoyed the stay at this place.
Nothing. All was according to expectations.
The location was perfect, the room was very clean, lovely and comfortable. Erez, the host, was helpful. Would definitely recommend and would stay there again.
We enjoyed our stay very much and have already recommended your place to several people.
Jan 2022
The location was great-right in the heart of Zichron Yaakov where we wanted to be. The room was warm and inviting and the bed was very comfortable. We would definitely come again. Thanks so much.
Lost power a few times, but all was good (there was a rain storm afterall and the whole town went dark-no fault of the Tsimeroni). No worries.
The host was welcoming and location is great. It's close to the central street.
Such a perfect place for a Zichron adventure!!!
May 2021
The hosts were so lovely. The location couldnt be better. I loved the style of the rooms, so trendy.
The bath towels were tiny and there's no door to the shower. The front door is really old and hard to lock. I had to unplug the fridge because the bed is in the same room & it made so much noise.
Will definitely come back ❤️🔜
Jul 2022
the facility was wonderful and clean
Perfect choice . Highly reccomended
Dec 2021
The best possible central location . Very well finished . Superb rain shower . Very comfortable beds and duvets. Warm welcome good TV with Netflix . Great espresso machine and capsules . parking .K
great room and location.
Aug 2022
the best location. room is as explained and very quaint. Erez, the manager of the property was available and great to work with.
great zimmer, great location, great staff
Sep 2022
stayed for my friends wedding, room was very close, manager was very helpful!
Roni is amazing, made us feel very pampered! The room exceeded our expectations and the location couldn't be better. Highly recommend!
The deluxe suite is precisely as advertised so read the description with a lawyerly eye. The outside space with jacuzzi is a ceilinged partitioned section of the car park. The refrigerator is in the sleeping quarters and needs exorcism since sporadically noisy. Bring your earplugs. If you keep your expectations in check you won't be disappointed. And the reason we felt let down was that the blurbs & reviews oversold so expectations were dashed. The less deluxe room our companions took had a pleasant outdoor space. Great location. The owner is responsive as when the WiFi went down he took care of it immediately. We had a good indoor space for several couples to chat.
How much does this house cost compared to others in Haifa District?

The average price for a rental in Haifa District is $117 per night. This rental is $29 less expensive than the average.
Is parking included with this house?

Parking is not specified as an available amenity at Zimeroni. For more information, we encourage you to contact the property about where to park.
Is there a pool at this house?

We didn't find pool listed as an amenity for this house. It may be worth double checking if a pool is important for your stay.
Is Zimeroni pet friendly?

Yes! This house is pet-friendly. For more information, we recommend contacting the booking provider about animal policies.
What amenities are available at Zimeroni?

We found 10 amenities for this rental. This includes air conditioner, pets allowed, kitchen / kitchenette, internet / wifi, and smoking allowed.