Executive Villa, 4 minute stroll to beach, pool, Air cond, hot tub, sleeps 14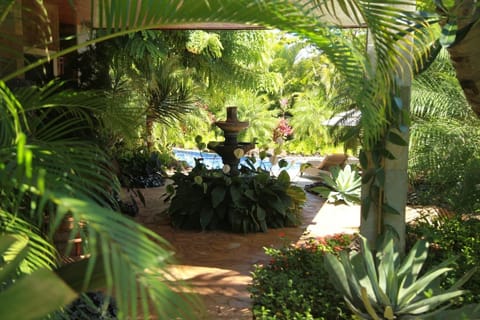 About this house rental
Nestled in
Poipu
, this charming house for $1,300 per night is a great option for your next vacation. Full refund up to 180 days prior to check in. Please see rental agreement. Just a 4 minute stroll to the beach. TA-086-721-9456-01 The Poipu Bay Getaway is now being offered as a whole house Family Luxury vacation rental or business retreat property. This newly remodeled five bedroom/four-bath, two-story Villa is Located in Kauai's pristine Poipu Kai South Shore resort -- just a 4 minute stroll along a lighted garden path and the Beautiful Poipu Kai Park to white sand beaches, crystal aqua water, and wonderful restaurants, tennis and the world famous Poipu Bay golf course and Grand Hyatt Anara Spa. This 3,500 square-foot residence offers an all tile 40 foot salt water pool, adjoining hot tub, private patios and gardens for the entertaining of the most discriminating of guests. There is a fully-equipped and well appointed kitchen (located upstairs)along with new top-of-the-line clothes washing machine, and dryer. Hardwood and stone floors, indirect lighting, mahogany trim, granite counters and floor to ceiling glass create an elegance through out this executive retreat. The living room has a 62" TV, and a DVD player, This villa sleeps up to 12 adults and a couple littles if ya wana put them on futons or a Pac N Play. There are five air conditioned suites and bed rooms. The luxurious upstairs master suite features two extra long twin pillow-top mattresses to create an extra large split King and allow for that perfect sleep, ample clothing storage, and an attached upstairs granite and marble bathroom. Search for our main site, poipubaygetaway for room layout and more info. The Pool Terrace Suite bedroom is situated on the ground floor and has it's own separate entrance is elegantly appointed, has a kitchenette, walk in closet, full bath indoor and an out door lava shower. It has a queen Simmons pillow top puna'e bed in the den and King pillow top in the bed room separated by 8 foot mahogany pocket doors. Floor to ceiling glass sliders open up to a 250 sq ft fully furnished private patio, gardens and the properties private pool. This suite is perfect for the family of four or close friends who would share the one bath. This beautiful property has a detached Bungalow that sits amid the gardens. It features a King pillow top mattress, luxurious Tommy Bahama Furniture, Kitchenette, Granite floors and counters, mahogany trim and a tropical double head rain forest walk in shower. It also has an outdoor shower and beautifully appointed private patio and hammock. The main house downstairs 4th and 5th bedrooms are nicely appointed and share a full bath w/ tub. bedroom 4 has a king pillow top and the fifth bedroom a queen and private garden view. All bedrooms have independent state of the art air conditioning for comfort and privacy. The beautiful gardens surrounding this fabulous property consist of a variety of tropical fruit, and indigenous flowering and non-flowering plant life. Both levels have elegant patios which are more than suitable for outdoor dining. A webber gas grill is ready to go and wireless high speed internet is offered through out the whole property. This property does not require you pack everyone in the car or cross busy streets to go to the beach, parks, or enjoy the ocean. Not only is it a mini resort destination but any one in the group wanting a change of scenery simply strolls down a garden path to the beautiful Poipu Kai park and Hyatt Beach just several yards away or grabs a bike and visits the rest of Poipu in minutes. We have many guests who never leave the property. The Villa is across the street from the Poipu Bay Golf course, there are several wonderful shopping villages with many top notch restaurants as well. Enjoy watching whales breaching in the bay or a short walk to Shipwreck or Brenneckes Beach for fabulous snorkeling, surfing, boogie boarding, windsurfing, and power lounging. All the elements are here -- moody rain forests, majestic cliffs, jagged peaks, emerald valleys, palm trees swaying in the breeze, daily rainbows, and some of the most spectacular golden beaches you'll find anywhere. Soft tropical air, sunrise birdsong, essence of ginger and plumeria, golden sunsets, sparkling waterfalls. . .you don't just go to Kauai, you absorb it with every sense!
Amenities
Pool
Air conditioner
Kitchen / Kitchenette
Internet / Wifi
Parking
Laundry
Balcony / Patio
Dishwasher
Hot Tub / Spa
TV
Garden
Family friendly
Reviews
5.0 / 5

"Outstanding"

(228 Reviews)
5.0
Jun 2023
We had read reviews regarding this property and thought they were too good to be true, but our week here was off the charts. The top three features in my opinion: [1] the outdoor area is almost impossible to describe (the pictures on the website don't do it justice), [2] the location is superb, short walk to the beach and the Grand Hyatt, and [3] Dan and Lynette are readily available to solve any minor issues that may arise. The ocean view is minimal, but we probably spent way more time on the property than we would have imagined because the on-site scenery is hard to leave. This was truly a week that we will never forget.
5.0
Jun 2023
5.0
Jun 2023
We called this our Legacy Trip. Entire family of 10 covering 3 generations. We relaxed within 30 minutes and kept that vibe the entire stay. Beyond beautiful, a piece of paradise. So much fun and memories created. Each night at dinner we would share what our favorite thing of the day was and on the last day our all time favorite. Being together on this gorgeous property, talking, laughing and feeling like we were on our own private resort was everyone's all time favorite - toddler, teens and adults. Thank you Tony for your welcome and quick response to any questions we had. A big Maholo
5.0
May 2023
This house is amazing!! It is beautiful, with incredible landscaping, pool, hottub, and lots of room for my large family. The host was more than responsive, making me feel more like a family member than a guest. Staying in this house was, in itself, a vacation.
5.0
May 2023
The house was perfect. We had a 3 year old with adults ranging in age from 41 to 77. For our family it was great. Our son is a chef so we spent nights in cooking with the kitchen perfectly outfitted for cooking/barbequeing. the pool and jacuzzi were clean and functional and the yard area was a showplace! The walk to the beach was a must every morning with the little one. Hikes along the beach trail short drives to other beaches, restaurants etc. The house is great, the owner's are great - absolutely perfect.
5.0
May 2023
We are 3 couples, friends for 20 years over 60. This home is spectacular! Clean, perfect location and ample beds, areas to gather and supplies like towels and kitchen stuff. But the most wonderful part of this whole experience was the owner and his godson Tony. So kind, generous and welcoming. Always checking on us offering assistance to help to make our stay better. Hope to be back again. They are fantastic, the house and property are beautiful! Recommend highly!
5.0
Apr 2023
Dan Booye is an outstanding host. He personally greeted us, showed us the property and was accessible and responsive. The property itself left nothing to be desired. Everything was clean
5.0
Apr 2023
We took a 4 family multi-generational trip to Kauai with 8 adults and 5 children the youngest being 9 months. The house was more than perfect giving every family their own space. The pool, spa and garden felt like you were staying at a tropical lagoon. The house was well stocked with essentials. We loved it! Dan is quite the gardener; make sure you check out the banana tree. Thank you Dan and Lynette for sharing your beautiful home with us.
5.0
Apr 2023
This is our second stay at this glorious property. You needn't read further. Just book it before your dates are booked, which will happen quickly given its desirability. You'll love it. It is incomparable.
5.0
Mar 2023
Dan is an extraordinary host. The home and property are beyond gorgeous. Our family includes children 1-12 years and the convenience of pool and beach access was incredible.
5.0
Mar 2023
Dan was very helpful and resourceful with any questions we had about restaurants or how things worked. He's done a fabulous job maintaining the property and truly was a nice paradise. We had a great time.
5.0
Mar 2023
This house was beautiful and provided our family spaces to gather inside in the spacious living and dining rooms and outside by the pool and hot tub. I would definitely stay here again if I have the opportunity. Beds were comfortable and we had a good experience.
5.0
Mar 2023
We booked our stay one year ahead of going. We had no idea of what the house would be like except looking at the photos online. Of course I looked multiple times, trying to get a idea of how this would work out with 12 plus one infant. We arrived and Dan greeted us with a giant smile! Right away I knew we had booked the perfect spot. Usually pictures can deceive by people using fish eye lenses to make the spaces look bigger! This wasn't the case here. Every part of this house was perfect. Having such a large group...this includes adult siblings, we weren't sure about how people would be able to "have their space". We spread out everywhere. The pool is big and inviting. We lounged around watching the grandkids swim while others could watch from the above deck looking down. As grandparents, we stayed in the lower bedroom. This allowed the littlest one and the parents to have the ability to wake up early and come visit us. They stayed in the pool house where it was easy to contain late night crying and nap time. One of the best surprises was walking to the beach and having that giant expanse of green space to play frisbee, watch sunsets and basically run off energy. Poipu is also such a wonderful location to run to Living Foods for a healthy dinner, grab a puka dog at Brenneckes, Lamberts for ice cream and safe swimming at Poipu beach. Thank you Dan for everything!
5.0
Feb 2023
Dan is a great host. On top of everything. We all enjoyed our time away.
5.0
Jan 2023
What an incredible time! Our family had a wide age span from toddler to grandparents. The home met all of our needs and then some! It is very well appointed with everything you could ask for. Very spacious and clean. And then there is the pool and yard!! Wow!! Absolutely beautifully landscaped! Your very own tropical garden! Dan was wonderful to work with! Extremely kind and easy going. We loved our stay and are hoping to return someday! Thank you so much for allowing us the opportunity to experience such a great home!
5.0
Jan 2023
Very positive experience, loved the location and Dan was fantastic.
5.0
Jan 2023
5.0
Jan 2023
When you step onto the property, you instantly feel that you've walked onto a private paradise. Friendly and helpful owners, luxurious accommodations, plenty of space for everyone, clean and gorgeous property.
5.0
Dec 2022
This was a family vacation to celebrate a 60th birthday. There was plenty of space for private time and together time. Fully equipped kitchen, comfy beds, beautiful yard/pool area. Conveniently located in sunny Poipu! 5 star all the way. Mahalo
5.0
Dec 2022
We had such a lovely time. The house is better than pictured! Close to wonderful beaches for swimming, snorkeling, body surfing and castle building. Great location for hikes and exploring the south end of the island. The house was well appointed with everything we needed to cook, relax and play at the beach or pool. We will definitely be coming back.
5.0
Nov 2022
Perfect location and amazing outdoor space. Walking to Poipu beach (.8 mi) and the Hyatt (next door) was so easy. We enjoyed the upstairs deck for coffee in the mornings and cocktails in the evening. The beds were comfy. Kitchen was well stocked with MANY essentials - check it out before shopping (especially for seasonings/oils). A little different/odd since 2 bedrooms you have to go outside and downstairs and all the living space/kitchen is upstairs (used to be a B&B) but it was great for our party of 4 couples. The pool area was amazing! Seriously AMAZING. Also we had a couple of hiccups that Dan handled swiftly and thoroughly. All in all SUPER communication with Dan!! We had a private chef come one night and a masseuse come one day. Great space for both those things. Would definitely recommend and would stay here again!
5.0
Oct 2022
This property is absolutely beautiful. It was perfect for our family with children. Walking distance to the beach and a quick drive to Poipu Beach. Dan/Dave took very good care of us. You will lack for nothing at this house. We highly recommend it and we will be returning.
5.0
Oct 2022
We had a wonderful week with our family! Dan and Lynette are awesome hosts, and the home and separate bungalow is perfect for multi-families vacationing together. — The backyard paradise is stunning!! Wish we could have stayed longer!!
5.0
Oct 2022
Dan and Lynette's home is beautiful, plenty of room for a large family. We especially enjoyed the large deck off the living room/kithchen area. We enjoyed looking at the ocean and sky and stars and clouds every evening. We hope to go back one day. Thank you for the excellent time and your attention to detail.
5.0
Oct 2022
This property is even better than in the photos! We had four adult couples and each had their own private bedroom and bath. Three bedrooms are masters, including the lovely bungalow by the pool. The POOL! The salt water pool is absolute heaven and sits in a tropical oasis. The property is pristine and stocked with everything you need to enjoy your stay. We are already booking for next year! Thank you for sharing your beautiful home with our family.
5.0
Sep 2022
This property is amazing, the view is fantastic, the huge windows seem to let the outside come in and the pool/ jacuzzi area is so private you'll never want to leave - like me.
5.0
Sep 2022
This VRBO was simply OUTSTANDING and I and my party had a WONDERFUL time! The location, accommodations, pool, grill, fully stocked kitchen are all Outstanding! I could go on and on, but I will keep this short! All met and exceeded our expectations! Working with the owner, Dan was such a pleasure! We had a great experience and hope to return someday to this exquisite home on this most Beautiful Island! Thank you Dan and Lynette for providing us with such a wonderful retirement celebration vacation!!
5.0
Sep 2022
We were a group of 10. My wife and I had stayed in the cottage when it was a B&B and had loved the place. When it was converted to a rental for 10 we knew that we had just the group. The grounds are amazing with a resort-like garden surrounding the pool. The house is spacious with indoor and outdoor seating areas so that even with a large group, it never felt crowded. It even has two sets of laundry equipment to make washing easy for all. It couldn't have been a better getaway. We're looking forward to doing it again.
5.0
Sep 2022
The house was beautiful. Communication from the property manager was excellent. Exceeded our expectations!!!!
4.0
Aug 2022
Our family enjoyed this property and "uncle Dan" so much. It was a peaceful retreat from the chaos in the world. The pool was awesome and used by us all. The beach was beautiful. We will be back!! Thank you, for sharing your property with renters. From ziplining to snorkeling the island was amazing.
5.0
Aug 2022
When you stay somewhere that love has been poured into, you feel it the moment you stop into the property, This is what Dan's place is~ loaded with charm and local flavor in materials and finishes. The glass surrounding the upper floor allowed for a tropical paradise view and cross breeze. So many outdoor places to socialize or find your own corner. We loved it all…the pool was perfect ; feels like a home away from home and many can stay. Location is ideal as Shipwreck beach is our favorite and the Hyatt is wonderful for a coctail right on the ocean if desired We all Enjoyed meeting you Dan!! Thanks for sharing this wonderland of a property and we hope to be back one day!
5.0
Aug 2022
Everything was perfect - starting from Dan welcoming us up to the time we had to leave again. We stayed with 3 generations of our family from four different countries and everyone loved it. The house is even more beautiful than the pictures suggest. We found all we needed and everything is very well maintained. Some of the lasting memories are the short evening strolls to the beach, seeing the sunset and watching the turtles coming up on the sand for a nap.
5.0
Aug 2022
Was like staying at our own private spa. Such tranquility! Our large family had an amazing stay. Swam in the pool everyday. Used the hot tub. Cooked meals every night. Walked to Shipwreck Beach. Walked to Poipu Beach Park. Loved hiking the Manaulepo trail. Neighborhood is very peaceful and quiet. But house feels incredibly private. Dan was awesome! Very responsive and always available to answer questions. It's clear the owners have put a lot of work into this house. Would 100% recommend!!!
5.0
Jul 2022
A Beautiful Property in a Beautiful Place
The house and property were great. The swimming pool was magnificent. Ocean views from the upper deck was icing on the cake. The property was well maintained. The house had everything that one could ask for. The bedrooms and baths were very nice offering privacy when needed. We hope to be back to this lovely place.
5.0
Jul 2022
Wonderful!
What a lovely home! It was perfect for our family vacation with kids and grandkids. Very comfortable home and plenty of room for everyone. The gardens are a tropical paradise and everyone enjoyed the pool. Dan is a great host and we were so happy to find this beautiful place. Deborah G.
5.0
Jul 2022
What a lovely home! It was perfect for our family vacation with kids and grandkids. Very comfortable home and plenty of room for everyone. The gardens are a tropical paradise and everyone enjoyed the pool.Dan is a great host and we were so happy to find this beautiful place.Deborah G.
5.0
Jul 2022
Beautiful
We had such a wonderful time staying here. Dan was very welcoming and very helpful. The house is very comfortable for a large family gathering. The gardens surrounding the house are gorgeous, you'll feel like you've stepped into a garden oasis. We got to watch the coconut trees get trimmed up, which was pretty cool. The kitchen is well stocked with pots, pans, utensils and lots of spices. I would check the kitchen before you go out shopping for something. We loved the fact that that the Hyatt is next door and took advantage of their restaurants and spa. The pool at the house was a great place to relax. All in all, it was an amazing vacation and this lovely home played a big part in it. Thanks so much!
5.0
Jun 2022
Family anniversary celebration
Terrific opportunity to forge lasting memories with three generations of family. Kids loved the pool, parents loved the serenity, and grandparents loved the space. It could not have been more perfect for a 50th wedding anniversary celebration.
5.0
Jun 2022
Heaven on earth !!
We cant begin to tell you what a terrific property this is. We had a family get together and memories were beyond expectations because of this oasis. The landscaping is beautiful, the pool relaxing, and proximity to beach and activities perfect. I even learned how pool mechanics work. Thanks again to Dan and Speedo 😎
5.0
Jun 2022
We cant begin to tell you what a terrific property this is. We had a family get together and memories were beyond expectations because of this oasis. The landscaping is beautiful, the pool relaxing, and proximity to beach and activities perfect. I even learned how pool mechanics work.Thanks again to Dan and Speedo
FAQs
How much does this house cost compared to others in Poipu?

The average price for a rental in Poipu is $425 per night. This rental is $875 above the average.
Is parking included with this house?

Yes, parking is listed as an amenity at Executive Villa, 4 minute stroll to beach, pool, Air cond, hot tub, sleeps 14. For more information, we encourage you to contact the property about where to park.
Is there a pool at this house?

Yes, a swimming pool is available for use at Executive Villa, 4 minute stroll to beach, pool, Air cond, hot tub, sleeps 14. Enjoy the water!
Is Executive Villa, 4 minute stroll to beach, pool, Air cond, hot tub, sleeps 14 pet friendly?

Unfortunately, this house is not pet-friendly. Try searching again and filter for "Pets Allowed"
What amenities are available at Executive Villa, 4 minute stroll to beach, pool, Air cond, hot tub, sleeps 14?

We found 12 amenities for this rental. This includes pool, air conditioner, kitchen / kitchenette, internet / wifi, and parking.