Rest at Chabivin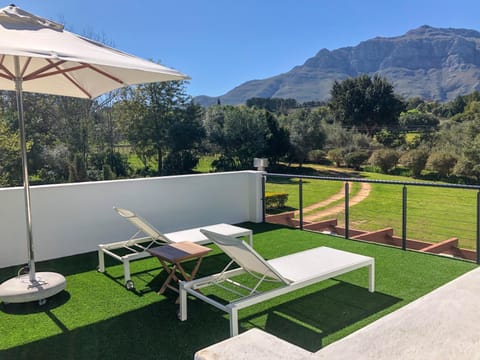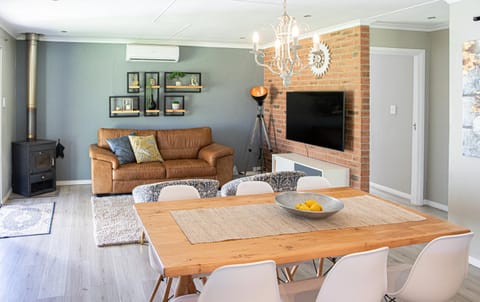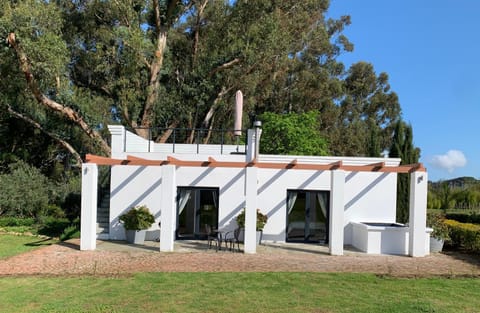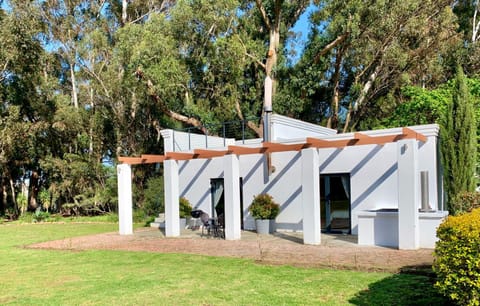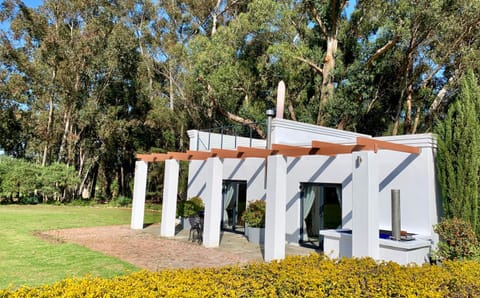 House in Stellenbosch
Pool
Air conditioner
Kitchen / Kitchenette
Nestled in
Stellenbosch
, this attractive entire house for $108 per night is a great option for your next break. Situated on a boutique Stellenbosch wine farm and estate, Rest at Chabivin is privately situated in-between vineyards and a natural eucalyptus forest. The property offers different accommodation options, including a holiday home and studio units.
Pool
Air conditioner
Kitchen / Kitchenette
Internet / Wifi
Fireplace
Smoking allowed
Parking
Laundry
Balcony / Patio
Dishwasher
Hot Tub / Spa
TV
Wheelchair accessible
Garden
Family friendly
100% verified reviews
4.5 / 5

"Excellent"

(311 Reviews)
We thoroughly enjoyed our stay. Was a great getaway to just rest, relax and unwind.
The shower drains were blocked. So everytime we showered, we would be standing in a pool of shower water.
Peaceful & relaxing!
Oct 2021
We loved the fact that the Deck Studio is a separate little cottage with a beautiful view of the mountains!
Romantic self contained flat, perfect for a few days seeing Stellenbosch
May 2022
We had our own space with a lovely wood fired hot tub. It was just outside Stellenbosch so perfect to get around. Hosts were amazing and even pointed us to the shared pool round the hedge from our accommodation. The accommodation had amazing facilities and would love to stay again.
The only thing I would say and it wasn't a deal breaker was the shower was very slow to drain so we would have to wait between showering to avoid overflowing especially if I washed my hair but the pressure and actual shower were amazing.
we had everything we needed for a perfect stay
Very nice and cozy place!
Jan 2022
Very nice and quite location
No airconditioning in the bedroom, terribly hot. Also the roof in the living room made extreme ticking noises (when you are sleeping and wake up because of it kind of spooky).
Very comfortable, loved the fireplace on a cold wet Cape weekend & a request for more firewood was met promptly & efficiently.
Beautiful and convenient
Sep 2022
The stay was great. We really enjoyed it. We will definitely be returning.
The springbok walking with the dogs of the owner.
The property was not at all what the photos showed. Very run down and no modern finishes. On booking.com it gave the impression that it is a very stylish property.
The space between the units is brilliant.
We loved the experience of tranquility, the service was amazing and the place is what is advertised and more.
May 2022
the setup and location is great. place is modern has everything you need including a dishwasher and coffee maker.
Mattresses were a bit hard. It would have been great if there's an outside table next to the braai area.
Just a brilliant property to top off an amazing trip to the are. A must stay for everyone
Dec 2022
The property is amazing. Excellent location and so quiet. 10 minutes from Stellenbosch and the most amazing scenery from waking up to going to bed. The wood fored hot tub was a massive bonus which we thoroughly enjoyed
Well appointed comfortable unit - nicely decorated throughout
May 2021
The peaceful situation of this unit is wonderful and perfect for a family stay. Sunset view over the vineyards also lovely. Located fairly close to Stellenbosch and well worth being in the countryside
Braai pit was a bit of a challenge
Very comfortable cabin on a wine farm with beautiful mountain view!
Jan 2021
The location was beautiful, very serene and chilled. The mountain view from our cabin was fantastic at the sunset. As the cabin is on the farm, the star gazing experience was incredible! Cabin is very lovely and clean, secluded from other cabins, loved the little touches such as candles, we had all the necessary amenities, could even braai in the evening. We worked remotely and it was important for us to have good Wi-Fi, and it exceeded our expectations! There is also a swimming pool on the property, and it was a great bonus. We very much enjoyed the dogs popping over to say hello.
The shower drainage wasn't working properly. And we would prefer the cleaning ladies to wear masks for extra precautions.
The location and setting was gorgeous! The decor and interior was stunning. The coffee amenities in the morning were perfect!
An Escape from the fast pace of life.
Jun 2022
The hosts were outstanding and I will be recommending Rest at Chabivin to my friends. Would have loved to spent more time here. The view of the vineyards' autumn colours, enhanced by the array of colours of the trees' leaves, with background of the Hottentots-Holland Mountain painted a serene picture and was beautiful. Will definitely be back.
Wonderful setting in the Winelands. Peaceful and serene.
A lovely stand alone cottage in a great location, close to the main attractions of Stellenbosch
Nov 2021
The cottage was stand alone, with modern facilities, with 2 large enough bedrooms, and two bathrooms, one with a bath, one with a shower. The lounge/dining area was big enough for 4 people to sit in comfort, and with a large Smart TV with access to DSTV and any online channels. The kitchen facilities were good, and there is a Nespresso machine with enough pods for several cups of great coffee each a day. We were riding a 2 day mountain bike race, and they allowed us a late checkout on the Sunday so we could get back and shower before heading home - a nice touch as that put them under pressure for the next guests, much appreciated.
One of the chairs had slightly wonky legs, but that was pointed out to the staff who said they would address it immediately, and I believe them. Apart from that, it was perfect for our short weekend away.
Very practical and clean
Mar 2023
The actual accomodation was better than on the website.
Possibly the couch could be more comfortable.
The accommodation was amazing and so well equipped. I wish we could have stayed longer to take advantage of the outside entertainment area.
Retreat from buzz of town
Quite spacius house, quite area.
Cottage very dark, garden could have been used as a terrace but furniture around the fire place dirty. Found the pool by accident, some advice on that would have been great. Aircondition & fridge quite noisy. Garden messy when we arrived.
It was a lovely stay, thank you.
How much does this house cost compared to others in Stellenbosch?

The average price for a rental in Stellenbosch is $85 per night. This rental is $23 above the average.
Is parking included with this house?

Yes, parking is listed as an amenity at Rest at Chabivin. For more information, we encourage you to contact the property about where to park.
Is there a pool at this house?

Yes, a swimming pool is available for use at Rest at Chabivin. Enjoy the water!
Is Rest at Chabivin pet friendly?

Unfortunately, this house is not pet-friendly. Try searching again and filter for "Pets Allowed"
What amenities are available at Rest at Chabivin?

We found 15 amenities for this rental. This includes pool, air conditioner, kitchen / kitchenette, internet / wifi, and fireplace.