Clearwater Holiday Home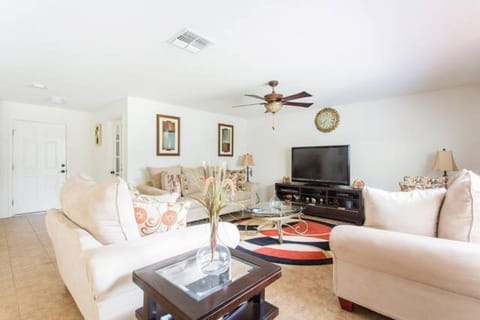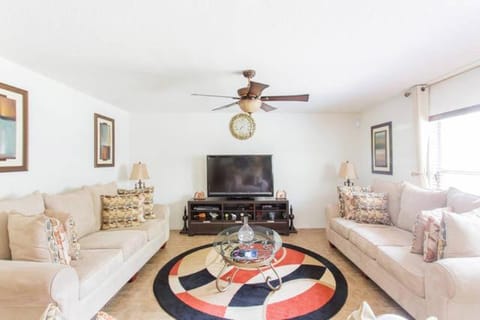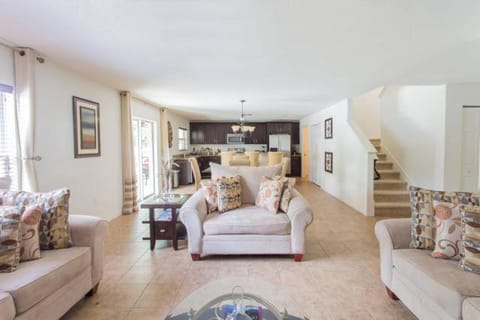 House in Largo, FL
Pool
Air conditioner
Kitchen / Kitchenette
Nestled in
Largo
, this attractive entire house for $69 per night is a fantastic option for your next break. Located 9 km from Pier 60 in Clearwater, this holiday home features a patio. You can relax by the outdoor pool in the garden in fair weather. Free WiFi is provided throughout the property and free private parking is available on site.
Pool
Air conditioner
Kitchen / Kitchenette
Internet / Wifi
Smoking allowed
Parking
Laundry
Balcony / Patio
Dishwasher
TV
Wheelchair accessible
Garden
Family friendly
100% verified reviews
4.1 / 5

"Excellent"

(23 Reviews)
Really good location everything within 30 to 45 min. House was very comfortable with Everything we needed
Aug 2021
Well equipped and perfect location near everything we wanted to do and needed
No grill and cameras in the house without providing notifications of this.
Very clean loved the pool! Tv in each room. Very modern
Upon arrival the street and area didn't look that great . When entering home it was clean but on one of the bedroom doors there was a note stating this room is never to be opened nor used. In the garage there was a freezer with left over meats which I notified the host he/she knows about it and was told not to touch it. The garage also had a moldy smell to it . I know I had a Cleaning fee but didn't realize I also had chores to do before leaving the premises. Sweep, Vacuum take out the garbage I couldn't even enjoy a quiet AM on back deck due to neighbors having multiple chickens. I also was disappointed about not having a grill which it showed a pic on their web sight that there was one but when I contacted the host I was told they got rid of it 2 yrs ago. so now it was either order take out every night or cook on the stove . Also, so many rules including No Swimming after a certain time think it was 9pm , No running up/down stairs No jumping on beds No opening windows No taking beach towels to the beach and if beach sand was to be found in home you will be charged an extra cleaning fee . Due to all those rules my family and I basically walked on egg shells while on Vac and we made sure not to do any damages I also was texted at least 3x that wk we were there asking if there's any damages to the house and to make sure I open the blinds before leaving, like it was when you entered the home . At that point I was getting a bit freaked out ! It was a uncomfortable feeling staying in that home I thought I can just let it all go and try to stay positive about things but hours after we checked out I received a message saying a bed was broken 😡 mind you I made the beds every morning I didn't notice any damage. I tripled checked the house before leaving to make sure nothing was left behind .
Even with hurricane IAN coming for us we still had a great time relaxing.
Oct 2022
The home was very roomy and well equipped. The beds were comfortable.
The pool cleaning device was in the pool when we arrived with no info on how to remove it or what to do. Was not aware that the master bedroom would not be available. Would have been nice to have the lawn mowed as the grass was pretty high. With the hurricane headed straight towards us the owner never checked on us or the property. We were not aware that we were actually in an evacuation zone until the neighbors returned.
Quiet Comfortable Vacation Home
Mar 2022
The home was very comfortable, lots of room to sit around and very comfortable furniture. Open space from kitchen to living room, dining in the middle. Could see the pool and lanai area from all areas of the downstairs living space. There was also an office with a door for anyone who needed a quiet work area.
There were only 2 outdoor lounge chairs around the pool. All the others were broken and in the garage. Only 3 regular chairs around the outside table. Luckily for most of our stay there were only 2 of us staying at the house.
- Quiet neighborhood - Full Kitchen - Pool
Had issues with front door lock.
Everything. It was the worst vacation ever. Please do not rent this house, you will hate it. I truly believe that the 5 star reviews were made up by friends of the owners. Mold in the bathroom, took 13 minutes for the sink to drain.
Down right horrible
May 2022
Nothing at all the lady that owns this location is horrible she is not nice at all she said we left place dirty and was not true all she will keep your 500 deposit for no reason at all don't waste your time there she takes way more money than she tells you she's going to do even bad the pool guy and neighbors say she is horrible
She also turns wifi off while your there couldn't even visit with family bc of her
Location that's it really
Get some bigger toilets in the house they were very small for me to sit on. Also better beds or mattress, and I did get access to Master bedroom I was in a room with no king size bed. The add stated king size but didn't get one. Check in time want until late because they house was not ready for me at 3pm. The curtains on the sliding door needs to be washed
It was located in a nice quiet area and only a short drive to most restaurants and shops. The kids Ioved the pool and the beach was only a short drove away.
great value, near beach and lot of restaurants!
Feb 2023
close to everything and very clean
How much does this house cost compared to others in Largo?

The average price for a rental in Largo is $195 per night. This rental is $126 less expensive than the average.
Is parking included with this house?

Yes, parking is listed as an amenity at Clearwater Holiday Home. For more information, we encourage you to contact the property about where to park.
Is there a pool at this house?

Yes, a swimming pool is available for use at Clearwater Holiday Home. Enjoy the water!
Is Clearwater Holiday Home pet friendly?

Unfortunately, this house is not pet-friendly. Try searching again and filter for "Pets Allowed"
What amenities are available at Clearwater Holiday Home?

We found 13 amenities for this rental. This includes pool, air conditioner, kitchen / kitchenette, internet / wifi, and smoking allowed.