Desert Sky Camp & Tours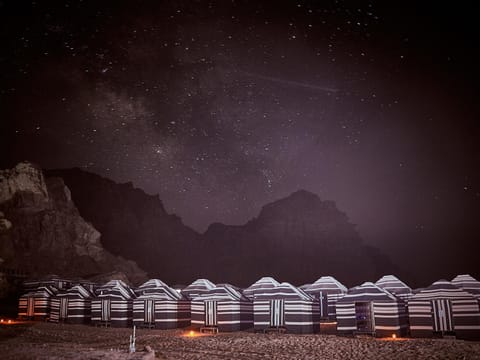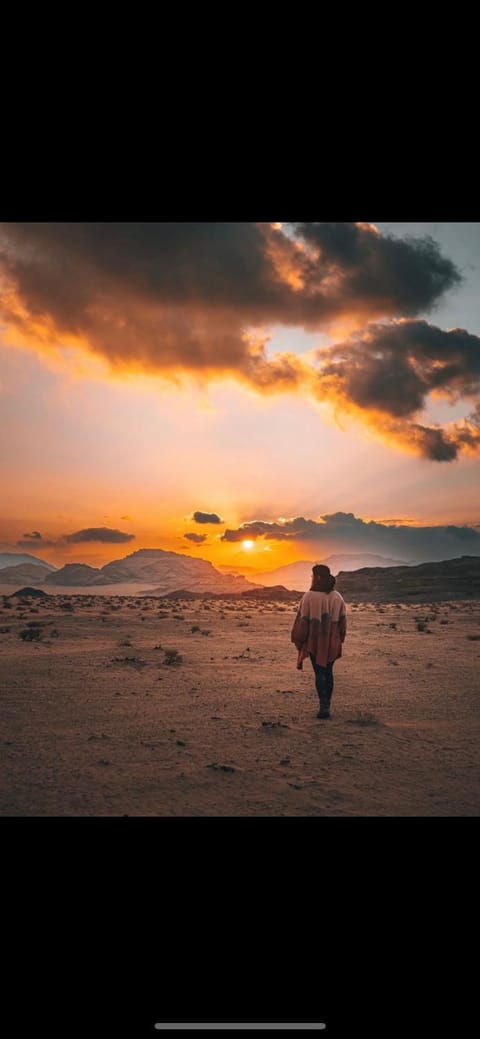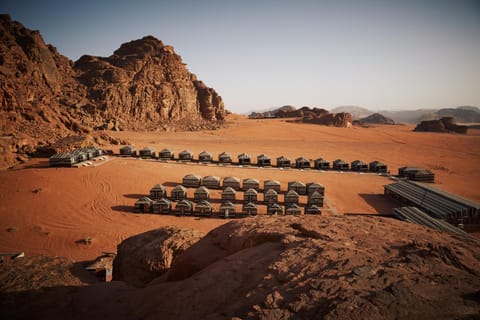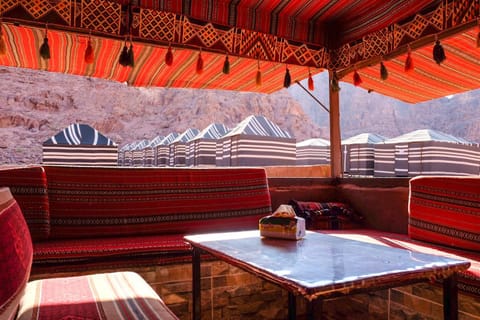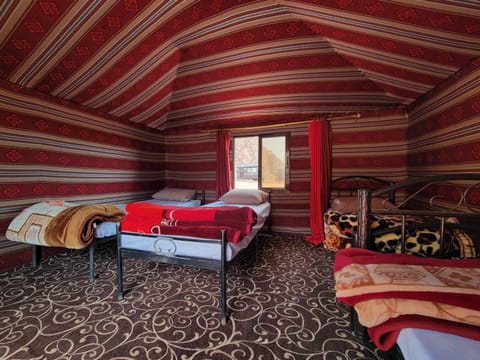 Other in South District
Pets Allowed
Kitchen / Kitchenette
Internet / Wifi
Nestled in
South District
, this lovely rental for $13 per night is a great choice for your next vacation. Set in the Wadi Rum desert 10km from Rum village. 70km from Aqaba and from King Hussein International Airport. Free transport is provided from Rum village to the camp. Assistance with taxi service to Wadi Rum if required.
Pets Allowed
Kitchen / Kitchenette
Internet / Wifi
Smoking Allowed
Balcony / Patio
TV
Family Friendly
100% verified reviews
4.7 / 5 (60 Reviews)
We would highly recommend this place. The staff was very friendly, the food was also very good, the whole experience was amazing. They organized our jeep tour and our guide was Abdul. He was simply the best - he took us to different spots around the desert, we drank tea with them in the tents, he was also very friendly and nice. If you have the chance, make a reservation with them, you won't regret it 😊 Abdul and others, thank you again! 😊
Very kind and friendly people, camp has very good location with a Nice view, the dinner was really delicious with a lots of dishish, rich breakfest. We were on whole day jeep tour, it was really amazing adventure with Lunch and watching sunset by the Beduin tea.
Unforgettable experience
May 2020
The tent was unexpectedly comfortable (one of the best places we slept in all Jordan). The facilities were really clean and the tour guide was very nice. An experience you need to live at least once in a life time.
The camp is in the middle of the desert so once you arrive there you need to book the tour and all the activities with them, accepting the price they ask for as you cannot check other options. The Bedouin night meal was nice but not too much food, just a chicken piece per person. There was a luck of animation activities.
Thanks to this camp this holiday exceeded all our expectations.
Dec 2021
The friendly staff always ready to help, the food which was very healthy , the comfortable camps, especially the plush blankets, the main tent where you can meet so many people with different cultures. Internet and free WIFY was very good and had no issues to communicate. Will be back for sure.
great experience! good value!
May 2022
the dinner (buffet) is great, like a sumptuous banquet! the owner organizes great tours for visitors to choose from: jeep tours(2, 3 and 4 hours) and camel tours in the Wadi Rum area
We felt very warmly welcomed in this amazing camp!
Jan 2023
The camp is beautifully located and well maintained. We had everything we wished for! Good food, comfy tents and amazing staff.
AMAZING: Desert, stars, and beduin friends.
Oct 2022
Our stay in the camp was amazing. We stayed there for 2 nights, and they welcomed us with a lovely zarb dinner buffet. The people working there were these super friendly beduins, they made us feel we were among friends. The breakfast was also amazing, with omelets cooked at the moment and plenty of fresh food. The room (tent) was alright, nothing special but wifi was available there. They were really friendly and helpful taking us to the visitor center for an activity we booked early in the morning. We also took the one-day private jeep tour around the Wadi Rum desert with Mohammed and we totally recommend both the experience and him as a guide.
Nothing, it was a PERFECT stay.
It is a very cozy and well organized camp. Staff was helpful and very friendly. Thank you Omar, Rasaf and Bakir!!
So much fun! A great place to be minimum once in your life!
Oct 2021
I loved every minute at this place! The camp is right in the middle of Wadi Rum - even to get there is a cool experience! Everybody who works there showed so much hospitality, some managers of big 5star Hotel chains should come here to see what hospitality means. The breakfast and especially the dinner was fantastic! Thanks so much everybody in the WadiRum Camp - you all do a fantastic job!
Basic Wadi Rum Camp that offers the original desert experience
Nov 2021
I had an exceptionally GREAT day in Wadi Rum. Upon arrival you get allocated to one of the Jeep tours (at an extra cost) and we explored Wadi Rum all day long with various stops getting shown the landscape, dune surfing, sunset view etc. It clearly was a highlight during my Jordan vacation and an absolute MUST DO. Communication with the camp beforehand was smooth through WhatsApp and pick-up organized very efficiently in the village. I loved the dinner, which was cooked according to local tradition underground.
The camp is rather basic (which is ok, it's part of the experience), but I felt the sanitary installations could have been cleaner. Also, it was REALLY cold at night in the unheated tend (again, part of the experience... so get ready for it!)
-fantastic place -owners organized private desert tour with very nice guide -rich breakfast and supper with tradicional prepered meals Fully recomend, everyone should visit Wadi Rum and stay in this camp!
Nice place in the middle of the desert
Jun 2022
Everything was super nice! The camp was really charming, with a beautiful view. Tents and bathrooms were clean. Good breakfast & dinner (in the form of a buffet) with plenty vegatarian/vegan options. WiFi was also availiable in the camp.
Everything was great. I really enjoyed dinner according to their tradition, it was really delicious. A very cool guy who wandered through the desert and told how they live there. We were afraid it would be cold to sleep, but it really wasn't. The staff is great.
Everything was amazing! Since We dont have a car, the staff was very kind and help us arriving from the gate to the village and then to the Camp. The dinner was awesome because the taste was really good and they show us a old way to cooking in the desert! Also, have vegetarian options!! Breakfast was good to, and the tour it is in our opinion mandatorian. The bathrooms was very clean and the mens bathroon have a wall made from real rock from the mountain Honestly with the night, food and tour the price is really atractive The best of this place was the staff, they make us feel at home all the time and really help us a lot
Everything!!!! nice, warm tents, excelent dinner, super nice host and team! for sure will recommend to all my friends! thank you Team for your amazing hospitality
Best travel experience with our family
Jan 2023
Beautiful luxurious camp, with amazing food and hot showers. We went on a full day Jeep tour and is was one of the best things we did! Our kids enjoyed in the back of the Jeep, cruising over the sand dunes.
Amazing staff and absolutely amazing food.
Great value. Amazing facilities for the price. Wi-Fi is great
Feb 2023
Amazing. Lots of offering. Way above expectations
How much does this other cost compared to others in South District?

The average price for a rental in South District is $147 per night. This rental is $134 less expensive than the average.
Is parking included with this other?

Parking is not specified as an available amenity at Desert Sky Camp & Tours. For more information, we encourage you to contact the property about where to park.
Is there a pool at this other?

We didn't find pool listed as an amenity for this other. It may be worth double checking if a pool is important for your stay.
Is Desert Sky Camp & Tours pet friendly?

Yes! This other is pet-friendly. For more information, we recommend contacting the booking provider about animal policies.
What amenities are available at Desert Sky Camp & Tours?

We found 7 amenities for this rental. This includes pets allowed, kitchen / kitchenette, internet / wifi, smoking allowed, and balcony / patio.