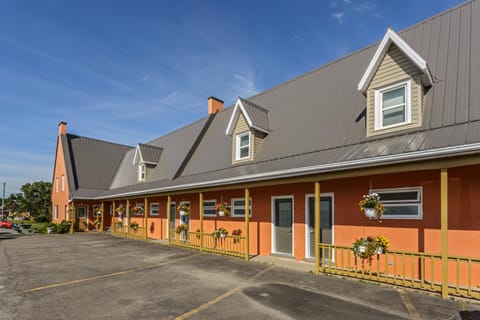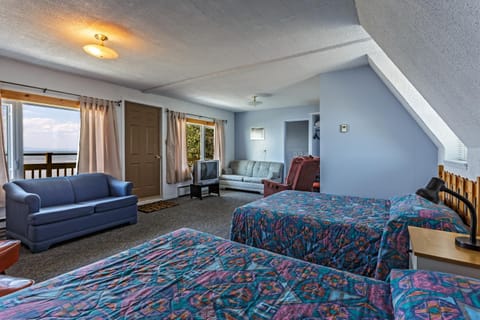 About this rental rental
Located in
Rivière-du-Loup
, this attractive rental for $62 per night is a fantastic choice for your next vacation. This Riviere-du-Loup, Quebec guest accommodation is 3.5 km from the ferry that goes to Northern Shore. The waterfront property offers an on-site restaurant. Pet-friendly guest rooms offer free WiFi. A furnished balcony that overlooks the St.
Amenities
Internet / Wifi
Parking
Laundry
Balcony / Patio
TV
Beachfront / Waterfront
Family friendly
Reviews
3.6 / 5

"Good"

(269 Reviews)
100% verified reviews
Rustic charming motel with awesome view in the back.
Aug 2023
I liked the view from the back. It faced water and the view was awesome.
It is basic old motel type of facility. However it was clean and the bed was comfortable.
adequate but not enough amenities so would not return to this hotel
Oct 2022
good location scenic view
small room very few amenities (almost none) not good value for money
Right by the river , available when the popular ones were sold out
1 flat pillow for 1 person , was late at night when we reached so did not want to disturb senior inn keeper lady for more pillows , otherwise lady was helpful and friendly . Mattress on the firm side but ok
The view from the room on the bay is amazing, perfect to enjoy a nice sunset :)
We enjoyed our stay.
Sep 2022
I loved the room and the view of the St Lawrence on the deck at the back of the motel. The room was spotless and the bed was one of the most comfortable on our trip. It was very quaint.
The towels were small, but did the job.
Beautiful economic riverside hotel.
Oct 2021
Lovely hostess. Gorgeous location close to a beautiful park. Very clean and organized place.
They get it about animal dander allergy. Recommend highly in this respect.
Would have liked a coffee maker or hot water in the room
Fantastic hostess and the view can't be beat!!
Furniture in the rooms are outdated and smell of old, bedding needs major updating , pillows are flat and need changing, bath tools were slightly ripped and need changing, it's potential to be a great place , view is amazing of the water
No fridge, no hairdryer, cheappest toilletterie ever, old TV. We arrived about 8:30 p.m and she asks us: "why we were too late and she stays late for us." Darkest room ever.
Wish we had more time to stay. Just a quick overnight en route.
Oct 2020
Quiet and private. Lovely
Very old shower head, installed to low for comfort. Very old television. No kettle, coffee machine or microwave.
FAQs
How much does this rental cost compared to others in Rivière-du-Loup?

The average price for a rental in Rivière-du-Loup is $72 per night. This rental is $10 less expensive than the average.
Is parking included with this rental?

Yes, parking is listed as an amenity at Auberge de L'Anse. For more information, we encourage you to contact the property about where to park.
Is there a pool at this rental?

We didn't find pool listed as an amenity for this rental. It may be worth double checking if a pool is important for your stay.
Is Auberge de L'Anse pet friendly?

Unfortunately, this rental is not pet-friendly. Try searching again and filter for "Pets Allowed"
What amenities are available at Auberge de L'Anse?

We found 7 amenities for this rental. This includes internet / wifi, parking, laundry, balcony / patio, and tv.