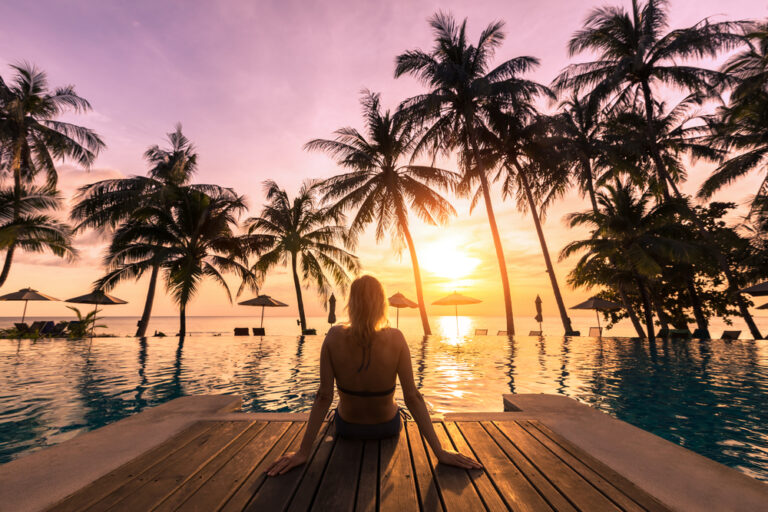 Maybe it's the uptick in COVID-19 vaccinations. Maybe it's cabin fever. Maybe it's flexible cancellations. Whatever the reason, summer vacationing — albeit, in a cautious, pandemic-wary form — is making a comeback. According to our booking data, summertime rental reservations are up 125% this year over last.
The U.S. Travel Association concurs, noting that roughly 9 out of 10 Americans are planning to travel within the next six months. All of this pent-up demand doesn't mean an instant return to the way things used to be. As travelers in the United States resume travel, they're vacationing with safety (and fresh air) in mind.
Here are five noteworthy travel trends we're seeing as we look forward to summer 2021.
Starting Small
Despite rapid vaccination roll-outs and travel restrictions easing up, small gatherings continue to dominate the travel landscape. Looking at current bookings for summer 2021, reservations for small groups — consisting of two or four people — are leading the charge by a significant margin. Even groups of six are outpacing odd-numbered bookings and larger groups.
The upshot of this two-by-two trend most likely stems from couples who have been isolating together seem to be traveling together. The scenery may be changing, but vacationers are still surrounding themselves with that same trusted pod.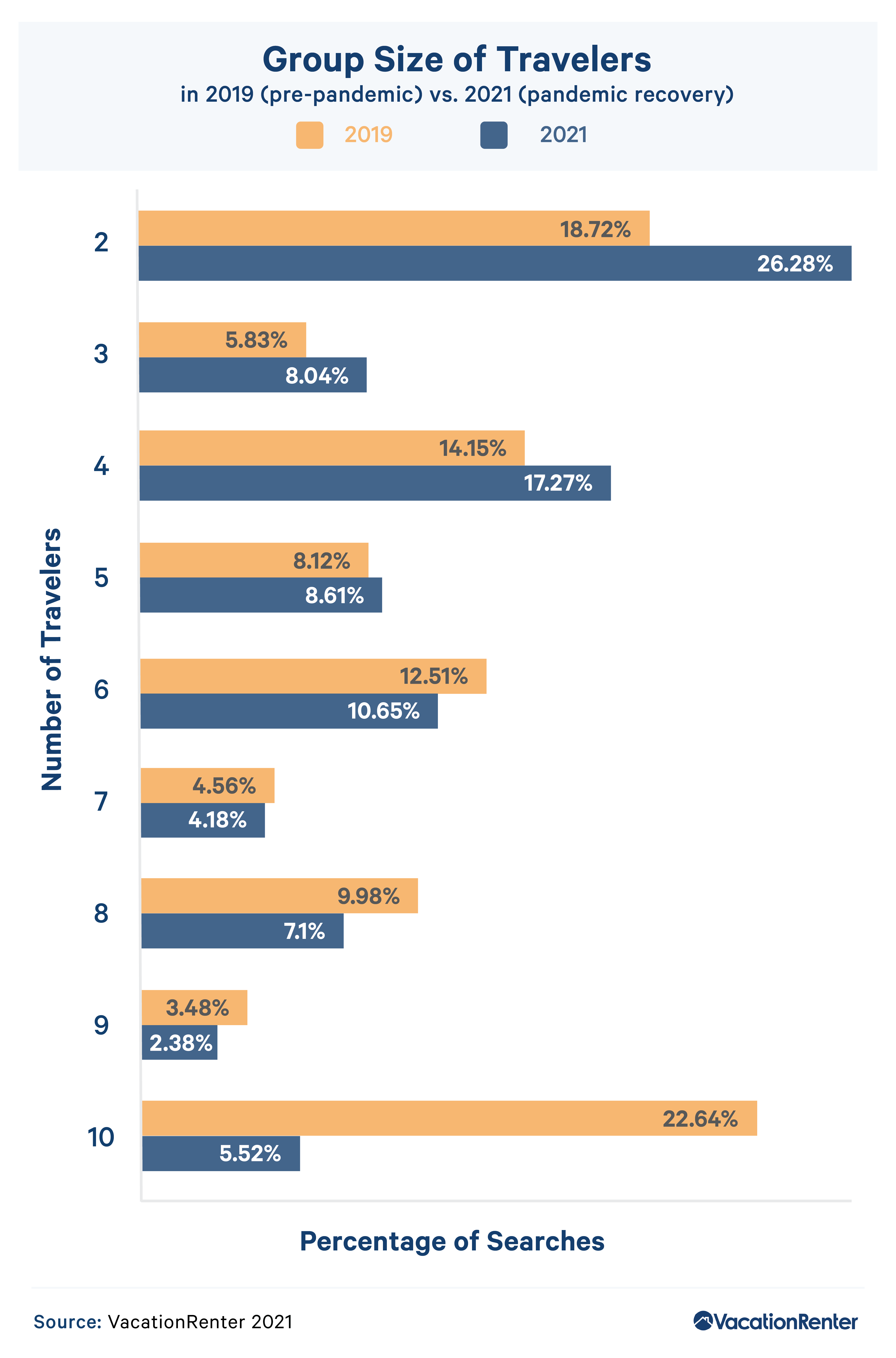 While "pod-cations" may be on the rise, big ol' reunions still appear to be on the back-burner as families and friends heed the CDC's continued call for social distancing. In pre-pandemic times, we saw the leading number of guests in a booking group as 10, which outpaced now-popular small groups by 30%.
Currently, those large-group bookings have dropped off the charts, while the percentage of searches for smaller groups has increased significantly from 2019 to 2021.
Seeking Private Space
Secluded and remote getaways have understandably become a common trend over the last year, which seems to primarily remain the standard for 2021 travel. Whether it's traveling by RV or finding an off-the-grid cabin, socially distant getaways have allowed travelers to vacation responsibly. Overall, we've found that more people are seeking out accommodations and destinations with a guaranteed buffer zone from other travelers. Searches on our site for entire homes — as well as villas and cabins — far outpaced accommodations with shared spaces and amenities. In fact, bookings for houses and villas in March 2021 were up 160% and 200%, respectively, over the same time last year.
Of course, it doesn't get much more private than an RV, where travelers can dictate their own place and space. The vacation-on-wheels trend is clearly a favorite, as our RV rental bookings rose 350% over the past year — and there is no sign of this trend hitting the brakes. With wanderlusters still itching to get away, RVs provide the safety and security of a private kitchen and bathroom anywhere you go, and the freedom to hit the open road.
Choosing Traditional and Ocean-Breezy Destinations
While some folks may have headed for the hinterlands to isolate (or work remotely) during the height of the pandemic, there appears to be a return to traditional — yet still fresh-air-infused and outdoorsy — destinations from June through August. Destin, Florida tops the list for summertime destinations by 18%. Not far behind are these escape-to-the-beach destinations:
Beachy cities aren't the only spots to vacation in the great outdoors. The gateway city to the Great Smoky Mountains — Gatlinburg, Tennessee — also ranked near the top of summer 2021 planned getaways. Gatlinburg, like alpine resorts around the country, has all manner of chill-out or full-throttle adventure, from hiking to putt-putt golf, and some great eats and drinks, too! While beaches may be the biggest summertime draw, the mountains aren't far behind.
Of note: while most of these top destinations allow for socially distant, outdoor pursuits, they are still in line with what we've seen in non-pandemic summers.
Traveler Wishlists: Pools and Pet-Friendly Accommodation
So far, pools and pets have proved to be the top filters for online summertime vacation searches in 2021. This spring, 28.1% of all travelers who booked through VacationRenter used our pool filter as they searched for their ideal summer getaway. A private pool or even a dip in an uncrowded, shared pool (given that most resorts and homeowners associations now limit pool numbers) has obvious appeal. Given that pool bookings rose 61% over the same time period last year, there may be an on-site entertainment element to pools for those seeking to happily stay put while vacationing.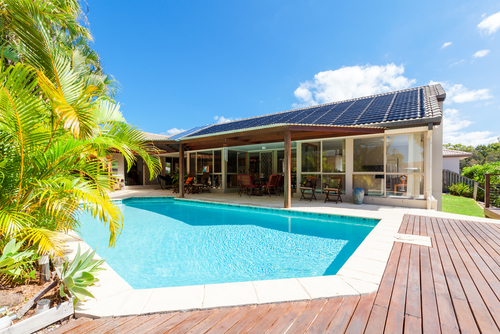 Lockdown proved that pets — and dogs, in particular — make remarkable companions. Now that travel is rebounding a bit, many pet owners are hesitant to leave that furry family member behind. Surpassing all other searches, the pet-friendly accommodations filter rose 230% over the last year. And while airlines may be tightening up their pet policies, your four-legged friends seem to be welcome at plenty of drive-to accommodations across the country.
Not surprisingly, health and safety concerns continue to have a lingering presence as travelers seek out the perfect rental. At the height of the COVID-19 pandemic, we introduced health and safety filters such as "self check in / no contact entry" and "enhanced health & safety measures." Even as COVID-19 transmission decreased this spring, we saw searches for enhanced cleaning rise 12%. That relatively low percentage, when compared to pools and pets, may simply indicate that there is now an expectation for extreme cleanliness across the board.
Keeping It Last-Minute
Perhaps spurred on by flexible work-and-school situations, spring 2021 travel proved to be a largely last-minute affair. VacationRenter saw many travelers booking within days of arrival, even to airline-accessed destinations, such as Puerto Rico — where a surprising 11% of bookings were made the day before travel. Whether or not this last-minute travel trend sustains through summer 2021 is yet to be seen.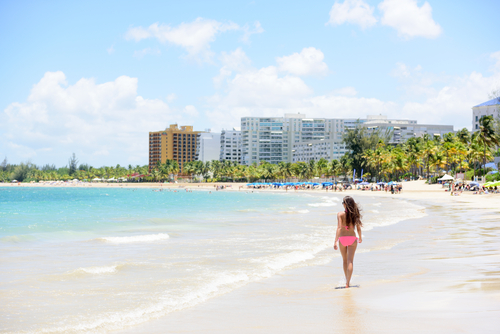 Who's Searching Via VacationRenter
To put this data in perspective, VacationRenter demographics lean female (54% of users identify as female) and the leading age-range of users is 25 to 34.
Travel Safely
As travel restrictions ebb and vacationers are free to wander, please keep the most up-to-date CDC guidelines in mind and be aware that there may be hoops to jump through on your way to your destination. Until COVID-19 is in the rearview mirror, some states will require negative COVID tests, there may be limits on occupancy (poolside) or reservations (tableside) required, and mask-wearing is still mandated in plenty of counties. Check official tourism and visitors' center websites for the latest protocols.