Whether you travel solo or with a large group of friends, traveling is one of the most enriching, fun, and overall best things you can do with your spare money and time. Experiences like discovering a new city, trying unique foods, and mingling with locals are memory-making adventures — especially when the city's a well-known travel destination on many people's bucket lists. However, some frequent travelers believe these highly popular cities are often just as highly overrated. Did they get trapped by superficial tourist agendas, or did they really explore the city?
Though traveling is enjoyable, it can also be quite an undertaking. Before committing to a trip, it's essential to make sure your chosen city is worth your time. In our survey of more than 800 recent travelers, respondents shared their opinions about what makes certain cities seem like a "tourist trap." This study also used data from an Amazon MTurk image classification task, where 13,600 respondents viewed and rated one city. Read on to discover which cities failed to meet their expectations and why.
Key Points
According to survey respondents, Los Angeles, Las Vegas, and Orlando are the three biggest "tourist traps" in America.

Internationally, the three biggest "tourist trap" cities were Paris, Cancun, and Tijuana.

When visiting Detroit, Orlando, and San Antonio, travelers found it hard to locate good food.
"Tourist Traps" Close to Home
A lively, glamorous, and sunny paradise full of talent, art, and stunning mansions, Los Angeles' reputation precedes itself. Despite its popularity, many visitors have left feeling that they could have had a better time. Most of our survey's respondents who have traveled to L.A. said that it is too expensive – especially for the younger crowd. Here's a look at what other cities were most often deemed "tourist traps" by our respondents.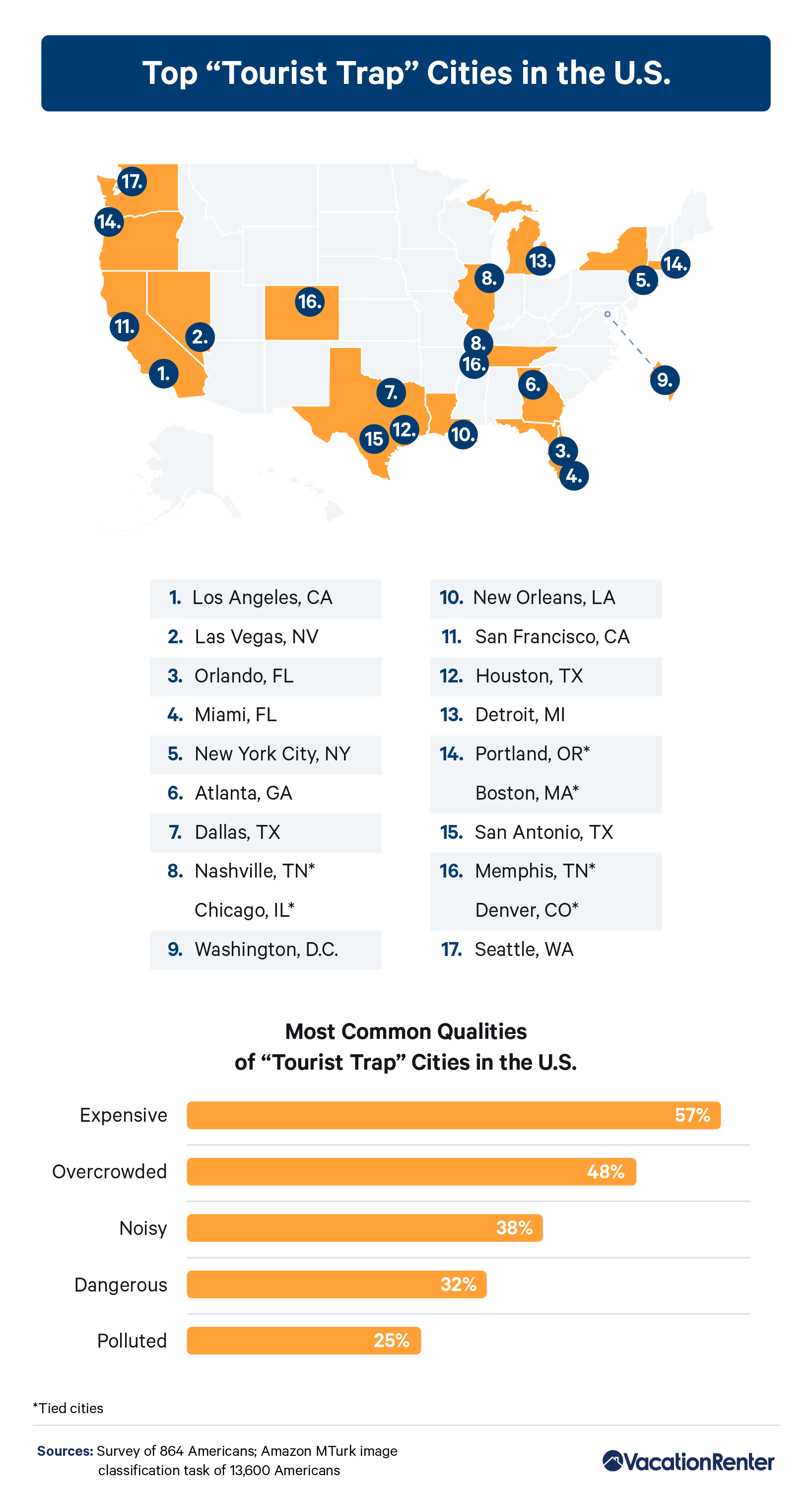 We asked our survey respondents what makes a city a "tourist trap" in their opinion, and we found that the most common qualities were expensive (57%), overcrowded (48%), and noisy (38%). The glitz and glamor of fabulous Las Vegas make it an easy target for a "tourist trap" reputation, but there's much more to the city outside the crowded downtown Strip. Outdoor adventure tours and activities abound in nearby natural areas like Red Rock Canyon.
Speaking of costly and crowded destinations, New York City is the most expensive city in the United States — and respondents of the survey were well aware. They also said it was rather dirty and extremely crowded, making it difficult to navigate. If you travel to New York City, you can expect to spend an average of $238 per person per day, including housing.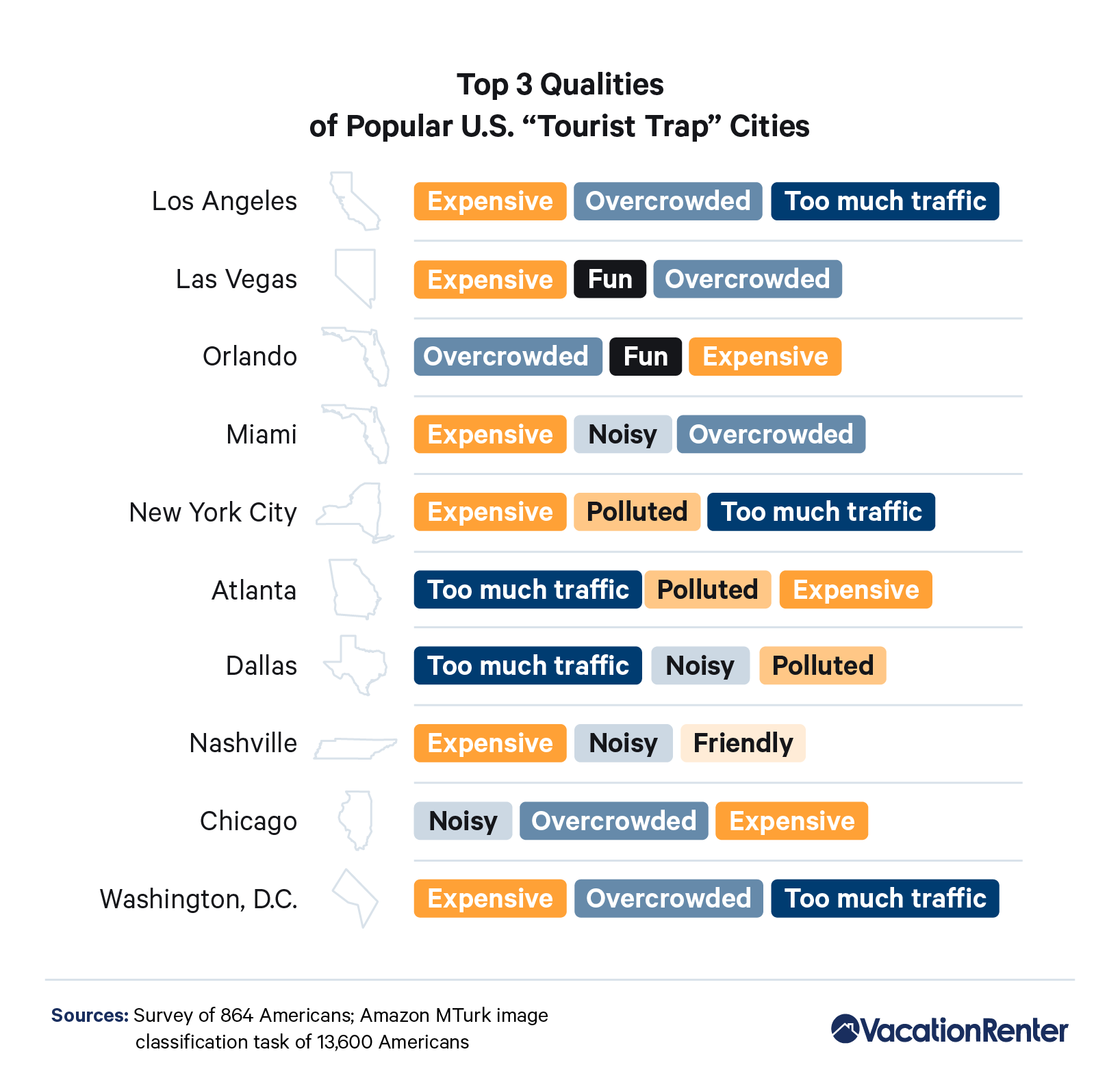 If you opt for a trip to New York, you can still enjoy the city as it's an incredibly diverse and sprawling metropolis with an incredible food scene. If you want to avoid the crowds, try journeying outside Manhattan to Brooklyn or Queens for a more authentic Big Apple experience. Hearkening from 20 miles east of Manhattan in New Jersey, our resident roadtripper has some advice when it comes to experiencing New York City.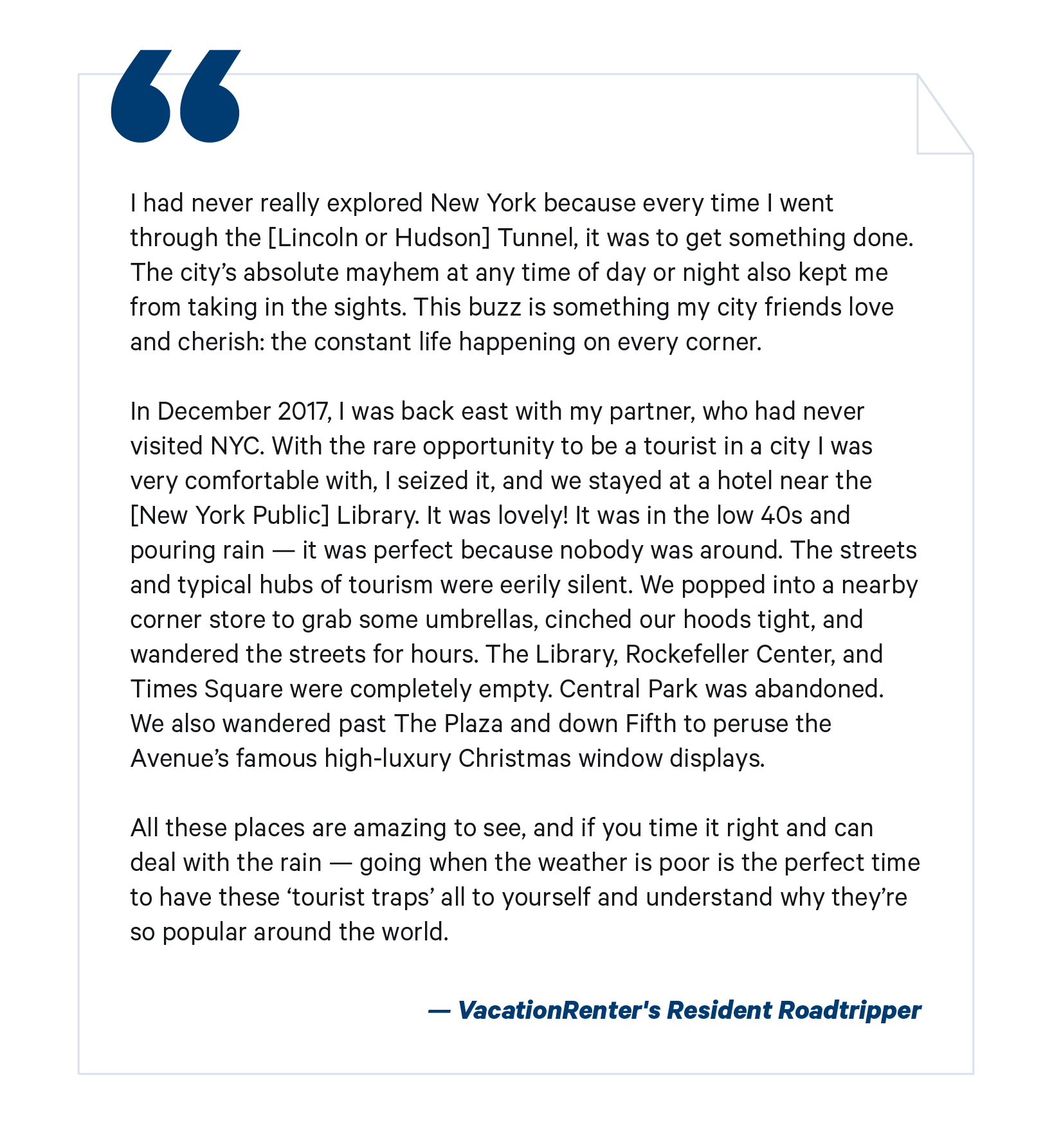 Another city where the best gems can be found off-the-beaten-path is Orlando. Its biggest draw may be the amusement parks, making it a great destination for kids and kids-at-heart. But if you want to beat the crowds and find lower rates on lodging, visit in the fall or winter when the kids are in school. There's plenty to explore in Orlando in the off-season when the temperatures are more tolerable. And while our respondents found the food in Orlando sorely lacking, you'll find the best tacos just outside the city. 
"Tourist Traps" Abroad
It's hard to know what to expect when planning a trip – that's what makes it an adventure! But we were surprised to find that one of the biggest attractions of traveling abroad was a common disappointment among our survey respondents: many travelers felt that the food was overrated. Luckily, we have some tips that will make your experience better than theirs.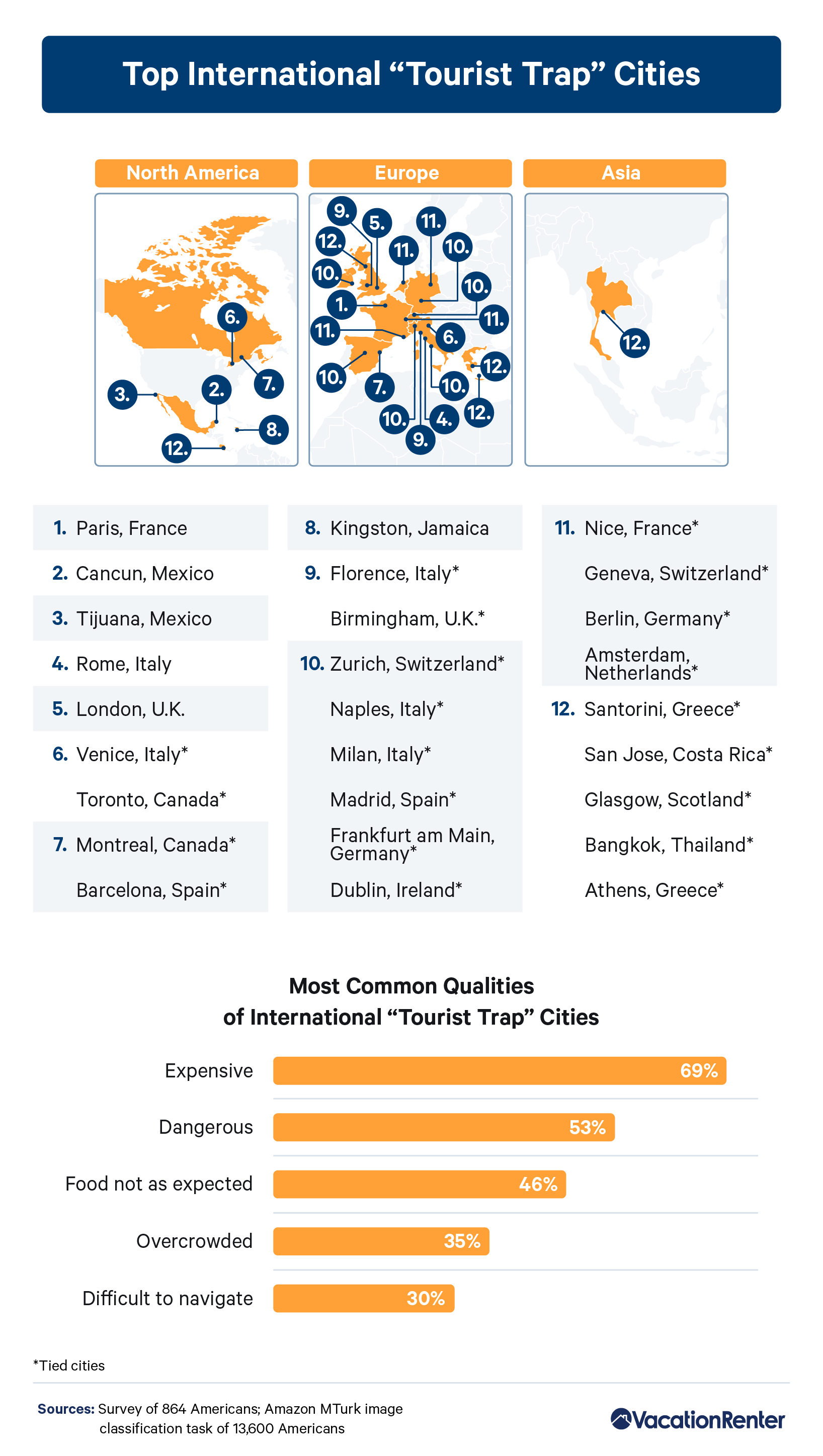 Cancun has its pros and cons, depending on what you're visiting for. While it's a great place to party and soak up some sun on the beach, travelers say the food is too expensive and not at all authentic to Mexico. This report might come as a shock, given that Mexico is known for its tasty cuisine. If you're a foodie looking to have meaningful culinary experiences during your trip, consider visiting other cities like Oaxaca or Guadalajara. Even Mexico City has a wonderful food scene! 
The food should be worth the long and expensive trip if you're crossing the Atlantic for it. Most people are fans of Italian cuisine, so their culinary expectations when traveling to Rome are high. However, survey respondents thought this city was one of the most overrated culinary destinations, surprising given Italy's reputation for delectable food.
Much of people's disappointment in Roman food may stem from the fact that they expect it to be like Italian American food, but the two are very different. If you plan to visit Rome, research the food scene and local etiquette, and learn more about avoiding common dining mistakes. For example, be open to trying foods other than the creamy carbonara and spaghetti with meatballs you're used to at home. 
Smaller cities in Italy might also be more in tune with what you're looking for if you want to avoid a "tourist trap." Consider swapping Rome for other cities like Genoa and Florence.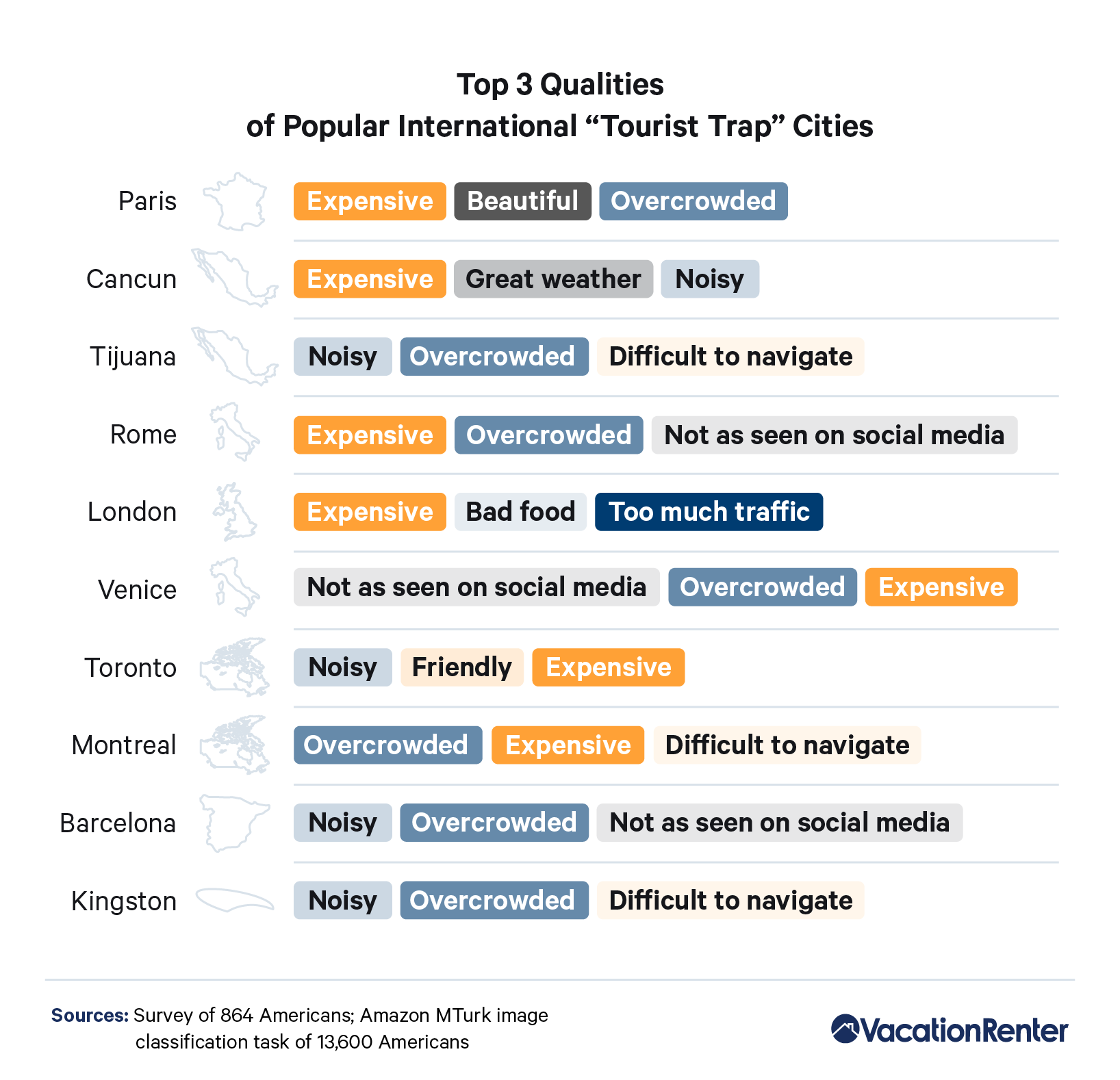 Aside from being one of the most expensive cities in the entire world, survey respondents said the food scene in London wasn't as great as they expected it to be. Given that London is one of the most diverse cities in the world, there is certainly a large selection of restaurants from all over the globe. Finding those hidden gems might take some work, but it'll make your trip all the more rewarding. Take it from one of our resident travelers: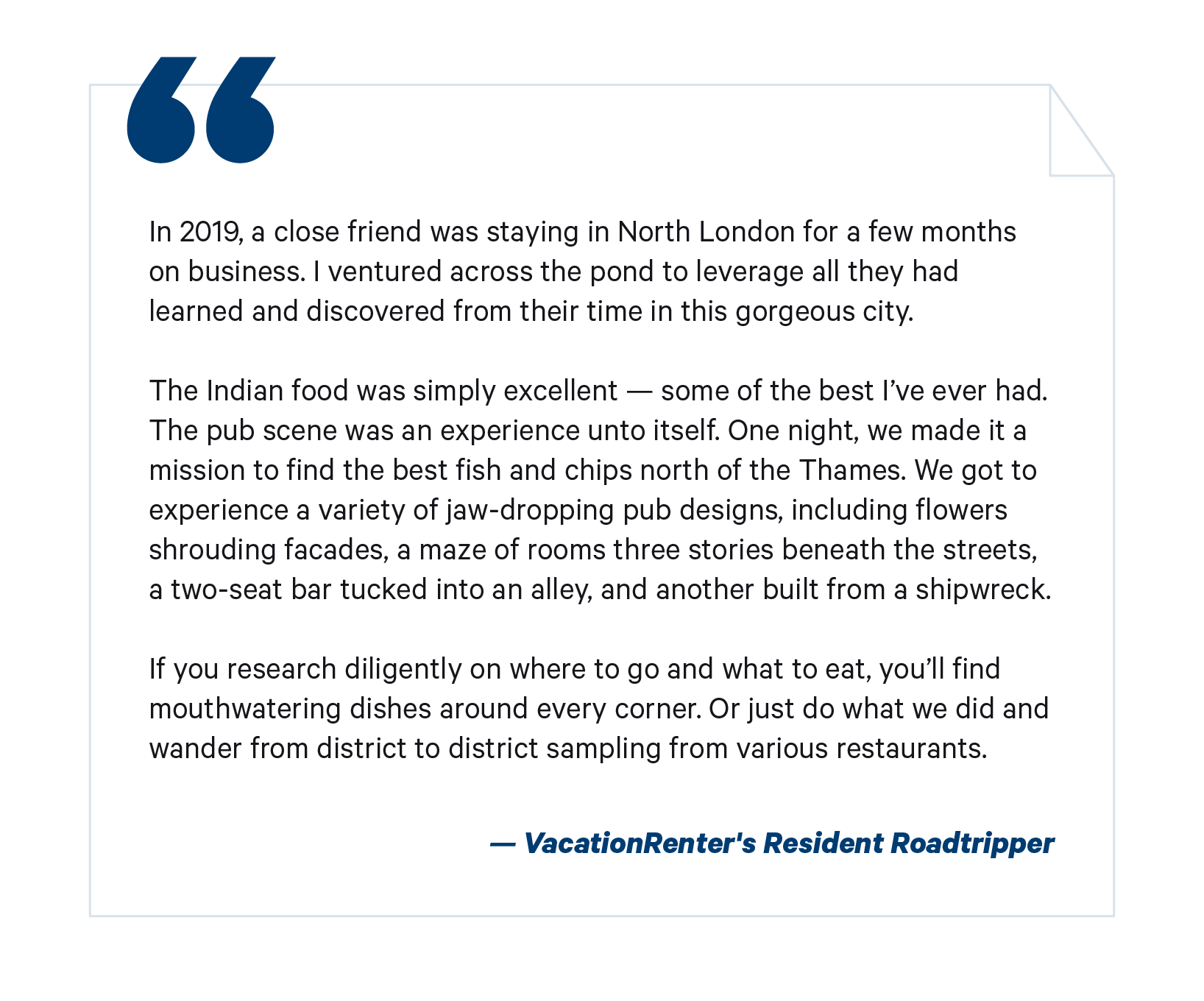 Another reason some travelers held qualms about their London trip was the amount of road traffic, which wasted time and made the city difficult to navigate. But in London, you don't need a car. Our experts advise visitors to use "The Tube" — a colloquial term for the London Underground — which is exceptionally built and can take you all across the city. If driving is necessary, other cities in the U.K. might be more interesting and easier to explore. Think about visiting Edinburgh or Glasgow in Scotland instead.
Judging Cities
The most popular destinations are often not the best options, which is why doing your own research is important. But what should you look for in a city before you decide to visit? And how can you find the hidden gems that every famous city has? Travel agents and friends or family members who've been to these destinations before can offer some guidance based on their experiences. Talking to the locals is also one of the best ways to find the most interesting experiences and authentic eats away from main tourist areas.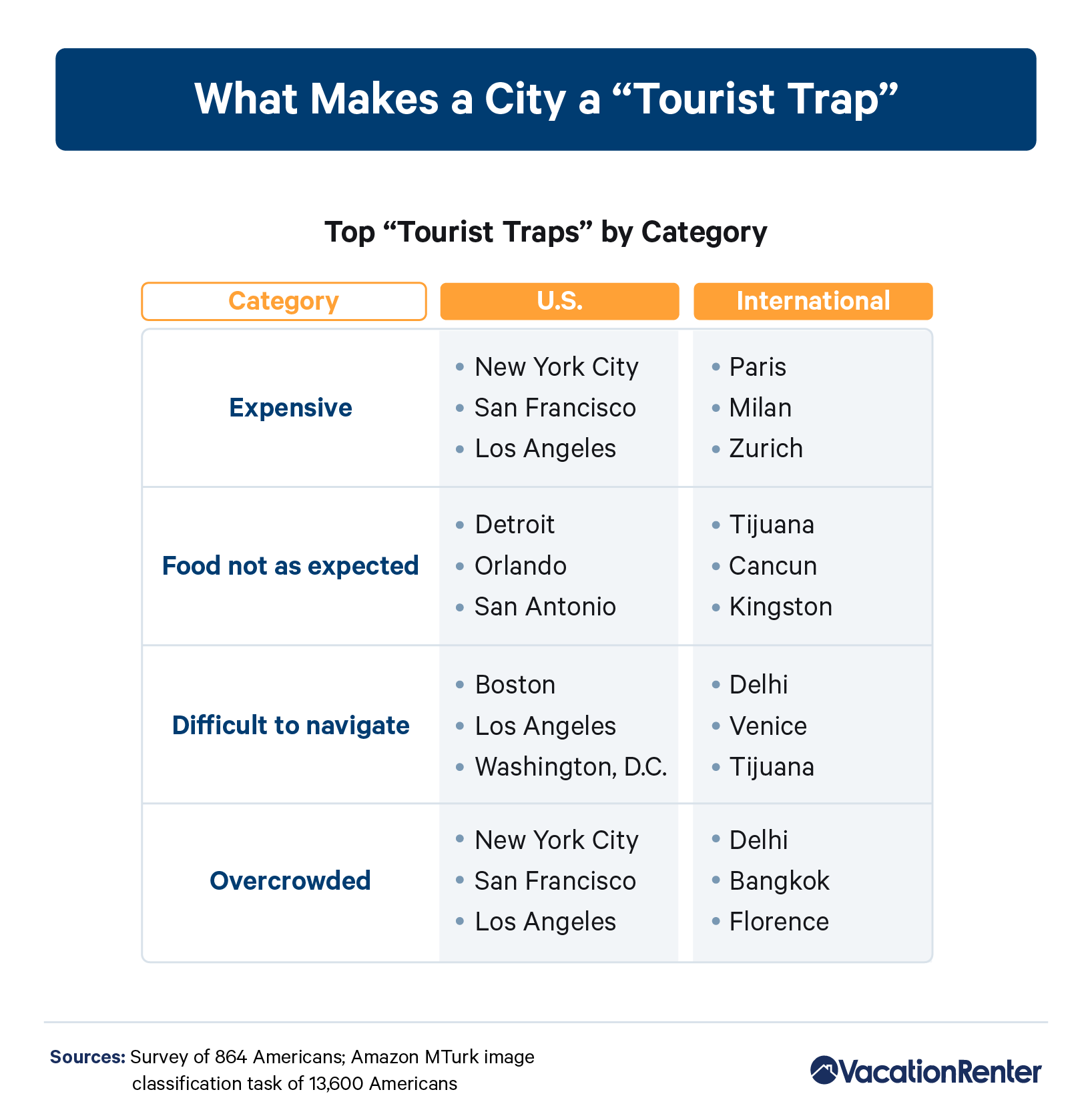 According to our results, most people had issues with places that felt too crowded. Walking is the best way to get to know a city, and that's difficult when there's no space to stroll. Unless you're in the company of a local, cities that are reportedly hard to navigate — such as Los Angeles and Delhi — can make exploring as a tourist even more difficult. If you want to take a driving break, consider visiting places where you won't need a car.
Many travelers also found the food at these popular destinations wasn't as they expected. A subpar experience with food can often make or break your travel experience, especially if the city you're visiting has a reputation for an impressive food scene. Be sure to fact-check what you've heard about a city's reputation, and find out which cities really have the best food scene before planning a trip.
But food is probably not the only thing on your agenda, so remember to think about how you'll want to spend the rest of your time. For example, if you love the outdoors, look up the best places to experience nature in the destination you're considering. Google is a good place to start, but try Reddit to find the true hidden gems — it's a treasure trove of first-hand recommendations from fellow travelers. 
Pro tip: Use Google to search for Reddit posts about your destination to get the most targeted search results.
All travelers have different preferences, but what most travelers have in common is they want an authentic experience. When visiting a new city, it's nice to know you're getting a close look into the culture and essence of the place. Feeling like you've fallen into a "tourist trap" can taint your experience, no matter what great things you may have heard about a city. 
Choosing Where to Go Next
There's nothing worse than taking a long flight only to arrive at an underwhelming destination. Thankfully, you can avoid it by doing lots of research and deciding what you'd like to get out of your trip ahead of time.
Are you a big foodie who loves to try new restaurants and cuisines? Are you an active adventure seeker who loves hiking? If you prefer a relaxing, slow-paced trip, you might decide that traveling to the French countryside might be more worth your time than a trip to Paris. 
Whatever you decide, budgeting and planning ahead will save you — and your wallet — a lot of trouble. Additionally, try to befriend some locals for an even better experience. If you're traveling solo and staying at a hostel, mingle with your fellow solo travelers. Not only is this a great way to meet people from all over the world, but you also never know what adventures you might get into together. 
Though some cities might require extra preparations and a bigger budget, traveling is a fantastic way to spend your time. Though we all have different preferences, every city has its own special magic. Go and find out for yourself today!
Methodology
This study uses survey data from 864 Americans who traveled at least once within the past three years. Respondents ranged in age from 19 to 75, with an average age of 36. 48.1% of respondents were women, 51.8% were men, and 0.1% were non-binary or chose not to identify their gender. This study also used data from an Amazon MTurk image classification task in which 13,600 respondents viewed and rated one city. Researchers chose cities based on survey results that had identified the most overrated U.S. and international cities. 
Please note that survey responses are self-reported and are subject to issues such as exaggeration, recency bias, and telescoping.
About VacationRenter
VacationRenter helps travelers make the most out of their vacation by assisting them in finding the perfect vacation rental quickly and easily.
Fair Use Statement
If you know a frequent traveler or are one yourself, please share our findings for noncommercial purposes only. We simply ask that you link back to our work as a credit to our researchers.