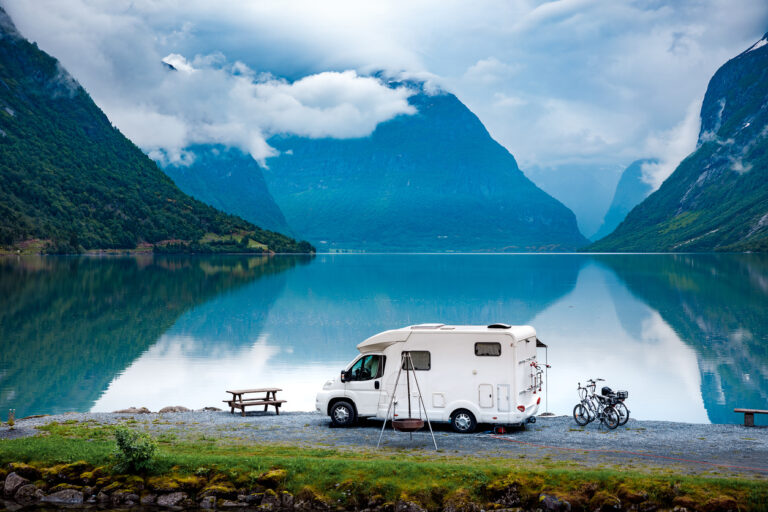 For many, the summer months are often synonymous with travel – families wanting to spend quality time together while their children are out of school; college students taking advantage of their time off in between semesters; those living in colder climates wanting to visit warm summer hot spots; and the like.
However, the COVID-19 pandemic may have caused travel plans over the last several months to be put on hold. People might not be as quick to hop on a flight for a weekend getaway as in the past – but air, bus, and train travel aren't the only options for touring the country.
Recreational vehicles, or RVs, provide an alternative to those other public transportation options, allowing families and friends to travel together without being in close quarters with other people they don't know or don't feel comfortable being around. Individuals can also travel independently and enjoy the outdoors on their own time, uninterrupted. RVs come in all shapes and sizes, with a variety of features to accommodate whatever your travel plans may be.
We surveyed 1,016 adults to learn more about the current rise of RV popularity, and how it may be changing the way people choose to travel.
To Ride or Not to Ride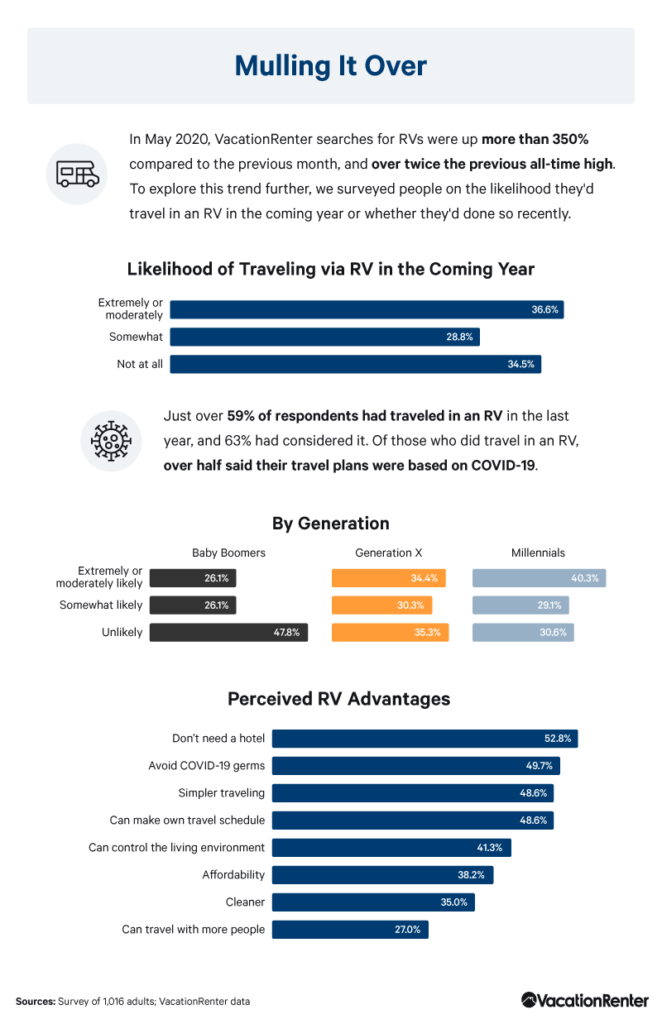 COVID-19 was declared a pandemic in mid-March, which prompted many people to make life-altering decisions, such as working from home, socially distancing from others, and canceling or rescheduling travel plans. After that first month and a half of refraining from public travel, however, people seem to be more interested in an alternative way of traveling: recreational vehicles. RVs are one of the safest ways to travel while still protecting yourself from COVID-19. RV searches soared over 350% during the month of May when compared to April and an additional 56% during the month of June when compared to May.
Most of those surveyed reported having traveled, or considered traveling, in an RV within the last year. COVID-19 was cited as a primary reason for the RV excursions for over half of these respondents, but that isn't the only benefit of traveling this way. While avoiding COVID-19 germs appears high on travelers' priority lists, the biggest advantage of using an RV to get around is that it helps travelers control who will be around them, which is a big deciding factor when choosing a vacation destination, and can sometimes even make or break your travel experience.
One of the major positive factors of RV travel is that you have complete control over your living environment. There are RVs that come equipped with beds, kitchenettes, bathrooms, and showers – or you can purchase a camper to tow on the back of your vehicle that has all of these necessities. RV traveling also allows you to create your own travel itinerary, and do things at your own time, pace, and preference. You can bring your own food, games, and entertainment, and you can travel with whomever you'd like, including your pets. For pet owners, this can be a game-changer. No more looking for pet sitters or kennels while you are away because your furry friends can join in on your travels with ease.
Road Tripping with RVs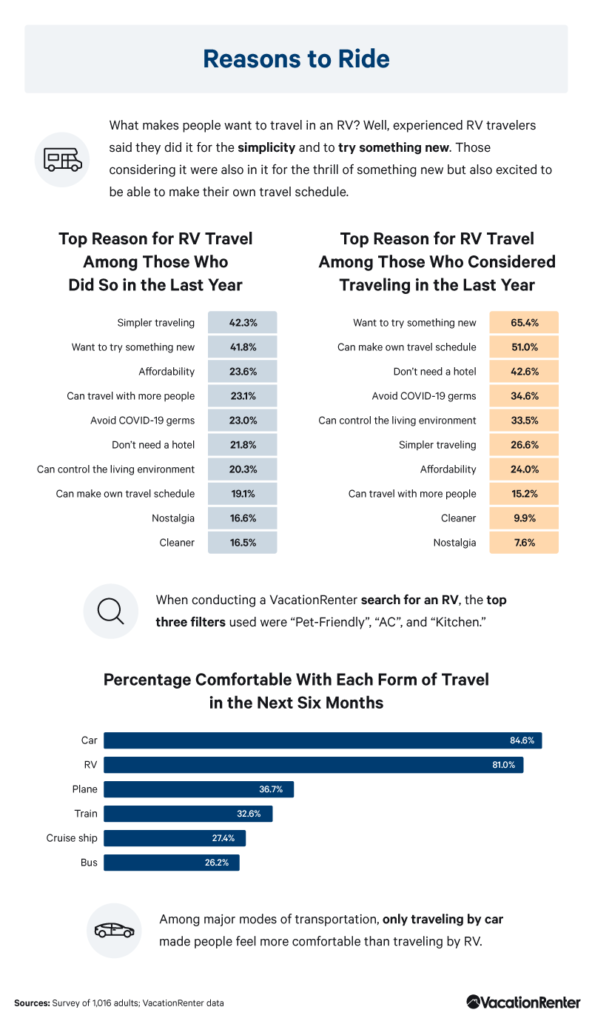 RV experiences are as hot as ever right now and will continue to be in the months to come. People are becoming more and more comfortable with traveling in this type of vehicle. In fact, the only mode of transportation respondents said they were more comfortable in was a car. Almost half of respondents were more comfortable traveling by RV than by plane or train, and more than half were more comfortable with an RV than a cruise ship or bus.
People travel to experience something new – and that is exactly the allure of an RV. It offers a unique travel experience during which people can go wherever they want, whenever they want, and do whatever they want. It's also a more simple way of traveling, with no hotel bookings to worry about or itineraries to follow. It's for these reasons that travelers are itching to swap out their airplane ticket and passport for a set of keys to an RV.
For those surveyed who've traveled by RV within the last year, it's that simplicity and an opportunity to do something new that convinced them in the first place. Over half of respondents considering RV travel were lured by the thrill of doing something new, as well as the idea that they'll be able to make up their own travel schedule along the way.
Taking the Scenic Route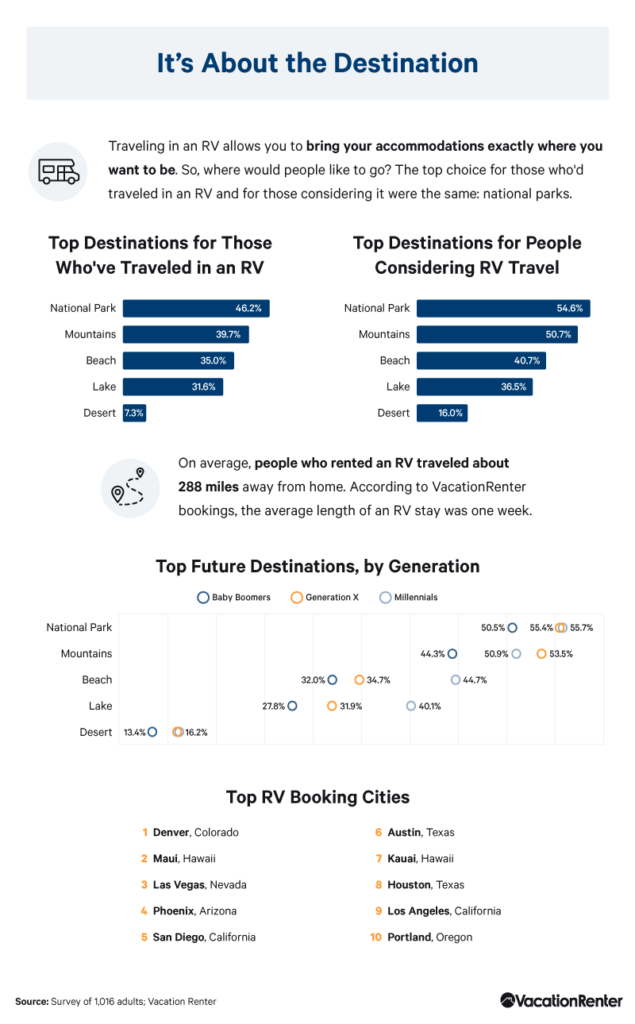 One major thing that differentiates RV traveling from using a plane, train, or bus to get from point A to B is that you are free to see and explore the outdoors as you wish. Traveling with an RV allows people to make multiple stops, rather than being limited to one final destination. By plane, a multi-destination trip might be monetarily out of reach because of all the travel expenses involved, but when you're in control of your travels, you can see more of the country for less of the price.
Not only can you watch the outdoors as you ride freely down the road, but you can also park your RV and set up camp in one of the many campsites across the country. Make sure to do your research and find a spot that allows for overnight parking and camping. This way you can enjoy nighttime outdoor activities, too, like building a campfire and stargazing.
Those who plan to travel, or have traveled, in an RV clearly have a desire to see the outdoors – national parks, specifically. The top three most popular destinations for RV travel, all of which feature national parks, included Denver, Colorado, home of Rocky Mountain National Park; Maui, Hawaii, home of Haleakalā National Park; and Las Vegas, Nevada, home of Red Rock Canyon National Conservation Center. Other highly coveted RV destinations included the mountains and the beach.
What Holds People Back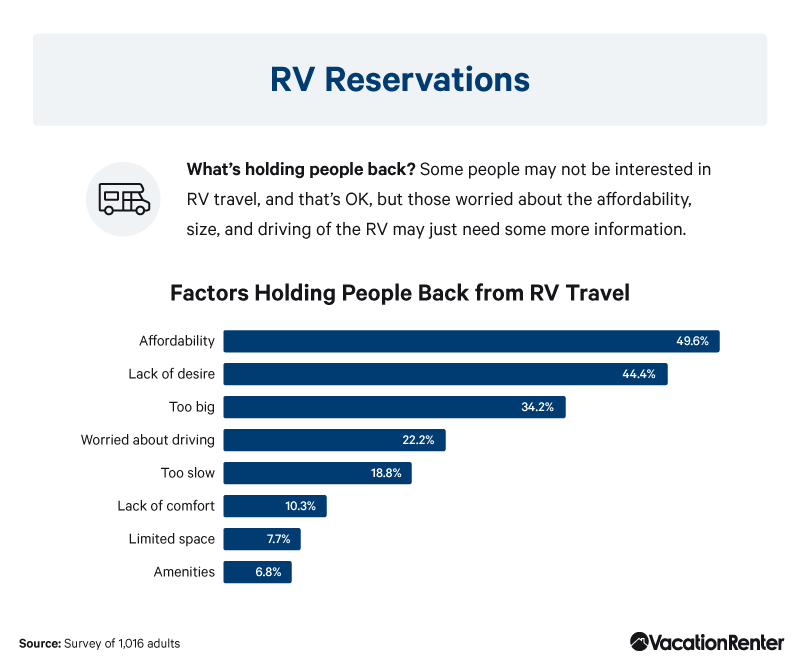 After learning more about the benefits of RV traveling, especially during the current global situation, what's holding people back? Of course, there may be some who just do not find the idea of RV traveling appealing, but for those who are curious and reserved, there are a few notable items that come up.
Perceived affordability is a big deterrent, with almost half of survey respondents citing this as the main reason they are holding back from RV travel. On the contrary, RV travel can be 60% cheaper than a traditional vacation. With an RV, you have all the amenities you need right on board. You don't need a place to sleep, so you aren't paying for accommodations, and you can bring and cook your own food, so there is no need to dine out for all three meals of the day as you typically might while vacationing. If you are worried about the costs of potential repairs, make sure that the RV renter does any and all maintenance before you set off on your travels to avoid any unnecessary added costs.
Others are worried that an RV is too big, but there are many different sizes of RVs available to suit individual tastes. There are even towable trailers that can hitch onto the back of your regular vehicle as long as you have the proper tools.
If you are worried about the extent of driving, RV parks and rest stops are available for you to take a break. If driving an RV is holding you back because you may be nervous or new to the practice, talk to other RV drivers and ask for their tips and advice. Before purchasing an RV and taking it out on the open road, rent one and practice driving around your neighborhood or on back roads to get a feel for how it rides. You also do not need a special license to drive most RVs, so long as it is under 26,000 pounds, which most types of RVs are. As long as you have a regular driver's license, you are able to drive an RV in all 50 states.
With RV travel, people can still enjoy all of the perks of going on a vacation and traveling while practicing proper social distancing protocols. Although our world has changed in many drastic ways due to COVID-19, it hasn't stopped. An RV could be just the thing to provide some with an opportunity for a much-needed break this summer.
Methodology
We surveyed 1,016 people and asked them how they felt about RV travel.
We had 436 female, 579 male, and 1 nonbinary respondents. Our average respondent age was 37.63 with a standard deviation of 12.17.
We had 115 baby boomer respondents, 241 Generation Xers, 605 millennials, 34 Generation Zers, and 21 respondents that were older than baby boomers.
This survey relies on self-reporting and has not been weighted. Therefore, it should be considered for exploratory purposes only.
Fair Use Statement
If you or someone you know is interested in RV travel, please feel free to share this information for noncommercial purposes. All we ask is that you give us credit by linking back to our study.