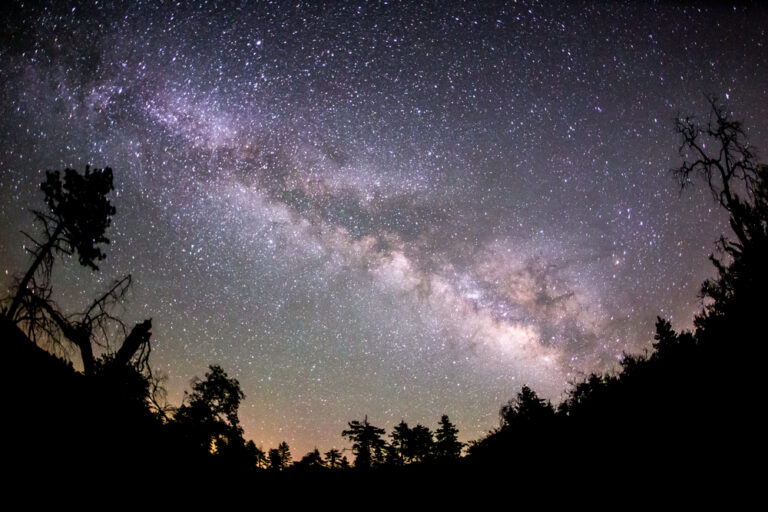 The best time to see astronomical events is calculated by scientists who study the sky. Astronomers housed in observatories or labs may have the best tools and expertise for stargazing, but they don't always have the best ambiance. Luckily for the amateur stargazer, there are routes, rentals, and calendar dates available for those interested in embarking on an epic celestial journey from the comfort of their home planet.
We used Dark Sky Map and data from In-The-Sky.org to determine the dates and places star trekkers should build their astronomical road trip around. Read on to see how we've illuminated every hot spot for the clearest, most eventful night sky.
Key Takeaways
The Rocky Mountains region of the United States contains the most dark sky spots in the country
A week after the 𝞰-Aquarid and 𝞰-Lyrid meteor showers in spring 2022, road trippers can get a glimpse of a total lunar eclipse
Rentals in North Carolina have the most mentions of celestial bodies compared to other states
Dark Sky Routes
Our road trip map is broken up into four regions containing the darkest skies in the contiguous United States. We found that the region around the Rocky Mountains has the least light pollution and contains the largest number of dark sky spots.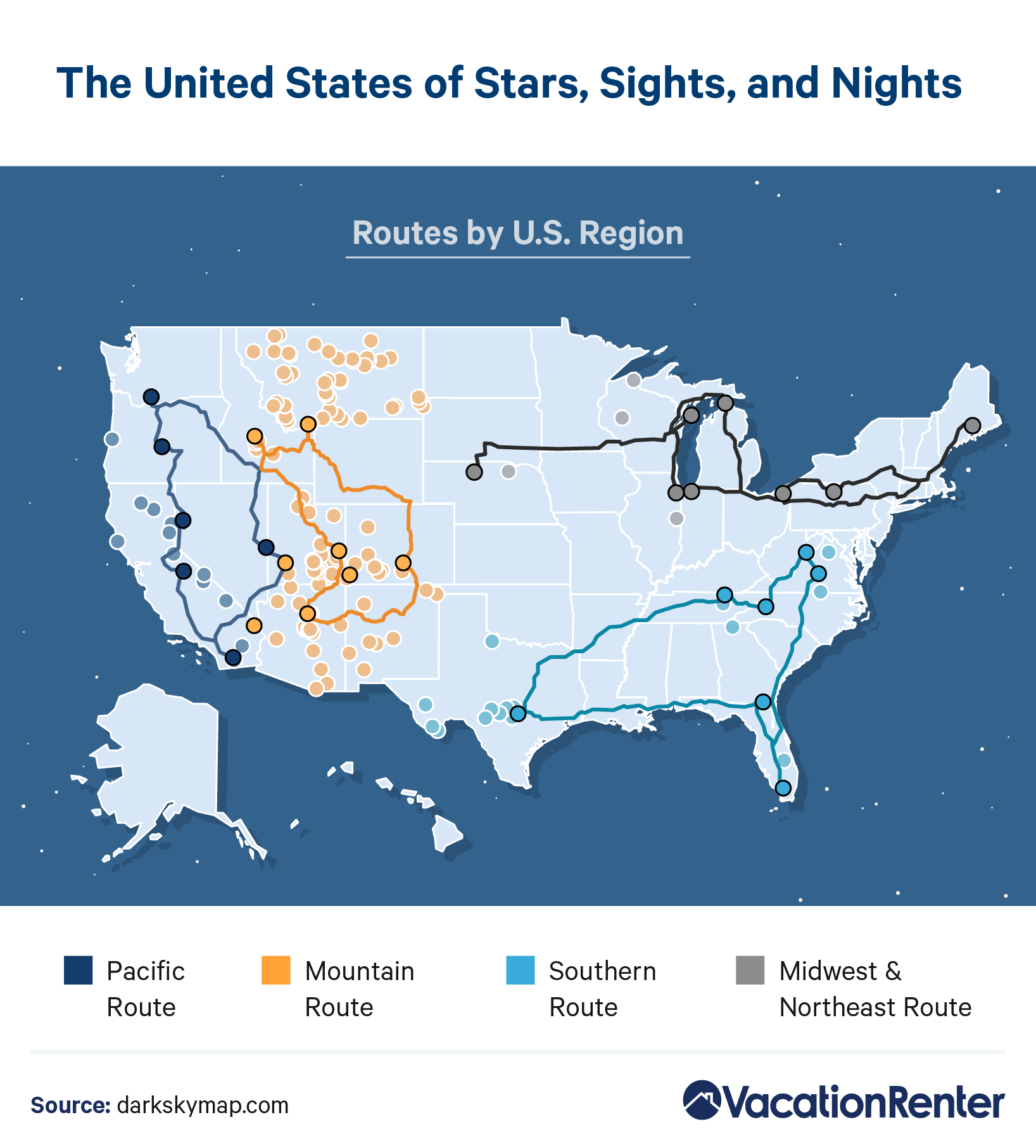 These round-trip routes have been optimized to include as many states as possible, avoid seasonal roads, and have the shortest travel times. Because there are so many dark sky locations in the West, we chose routes with the most attractive points, but travelers can add or subtract locations as they please.
Certain routes may be safer during specific seasons. However, for stargazing enthusiasts concerned about winter weather or unsafe roads, the following events are all visible to the naked eye and can be seen safely from a rooftop or any other open space. Continue reading to learn more about these routes and how to optimize them to view cosmic events!
Meteor Shower Road Trips
Be prepared for late nights and afternoon travel when chasing stars. Trips taken on the following dates start off with a bang, as they feature meteor showers at their peak. Although these events are best seen in dark skies, they can be viewed without a telescope. Best of all, they can be seen on any of the routes suggested below in both 2021 and 2022.
Winter: From December 5 through December 9 of 2021, witness the 𝝋-Cassiopeid and Monocerotid meteor showers. Although a total solar eclipse takes place on December 4, you won't be able to see it unless you're in the Antarctic Ocean or South Africa. Nevertheless, you'll be able to catch multiple-planet conjunctions — the moon and Saturn, the moon and Jupiter — and Venus at her highest and brightest. In 2022, on the other hand, this trip features a full moon that meets up with the red planet, Mars.
Spring: From May 3 through May 8 of 2022, the 𝞰-Aquarid and 𝞰-Lyrid meteor showers take place. This trip calls for two parts, as a visible total lunar eclipse takes place the following week on May 15.
Summer: From July 28 through August 3 of 2022, the Piscis Austrinids, Southern 𝞭-Aquariid, and 𝜶-Capricornids meteor showers occur. In 2022, the moon's first quarter phase will be farther apart from these events. This means less light from the moon and more visibility for meteor showers. From July 17 to August 24 of 2022, the annual Perseid shower may also be viewed as a part of this summer trip. This popular meteor shower peaks around mid-August.
Fall: From October 8 through October 11 of 2022, you can view the Draconid, Southern Taurid, and 𝜹-Aurigid meteor showers. Aside from witnessing Mercury at its greatest elongation, highest altitude, and a conjunction of the moon and Jupiter — this trip also features planetary conjunctions of the moon and Venus.
The Pacific Route starts and ends in Baker, Nevada, and contains five additional stops in California, Oregon, and Washington. The route passes through Yosemite National Park, and has a total drive time of just under 54 hours — spanning just under 3,000 miles.
Next, the Mountain Route starts and ends in Ketchum, Idaho, and contains four other stops in Utah, Arizona, Colorado, and Montana. It also passes through two national parks: Arches and Yellowstone. The total drive time for this proposed route is 42 hours, covering more than 2,600 miles.
Onto the Southern Route, beginning and ending in Gladstone, Virginia – it stops in six additional states: Florida, Georgia, Texas, Tennessee, North Carolina, and West Virginia. This route also features a stop at Big Cypress National Preserve and has an estimated drive time of over 70 hours and 4,000 miles.
Lastly, the Midwest & Northeast Route begins and ends in Hampden, Maine. This is the longest route, spanning eight states with over 77 hours of drive time and 4,830 miles to complete. It passes through Maine, Pennsylvania, Ohio, Indiana, Illinois, Wisconsin, Nebraska, and Michigan. Nebraska and Maine are considered outliers in this trip and could be removed from the itinerary if traveling in winter. 
UFO Sighting Locations
Hoping to spot a UFO or maybe even some aliens, but lack clearance to enter Area 51? Take a peek at the alien sightings map below to better your chances of an extraterrestrial encounter.
This interactive map features the darkest spots (C1, C2, and IDA: Dark Sky Preserves) from Dark Sky Map as well as any documented UFO sightings within 10 miles of each location. Sightings have occurred all over the United States, but seem to be most prevalent along our Mountain Route.
Although the government offers no evidence of other life forms, over the last few years, reports of UFO sightings by Navy pilots have become almost commonplace. With this combination of dark skies and previous UFO sightings, we hope to give you the best chance of having your own UFO encounter. With hopefully no abductions, of course!
Hashtag Stargazers
Through Twitter hashtags, we looked for astronomy terms such as "dark sky," "astrophotography," "telescope," and "stargazers" to determine which states had the greatest number of positive mentions for each one.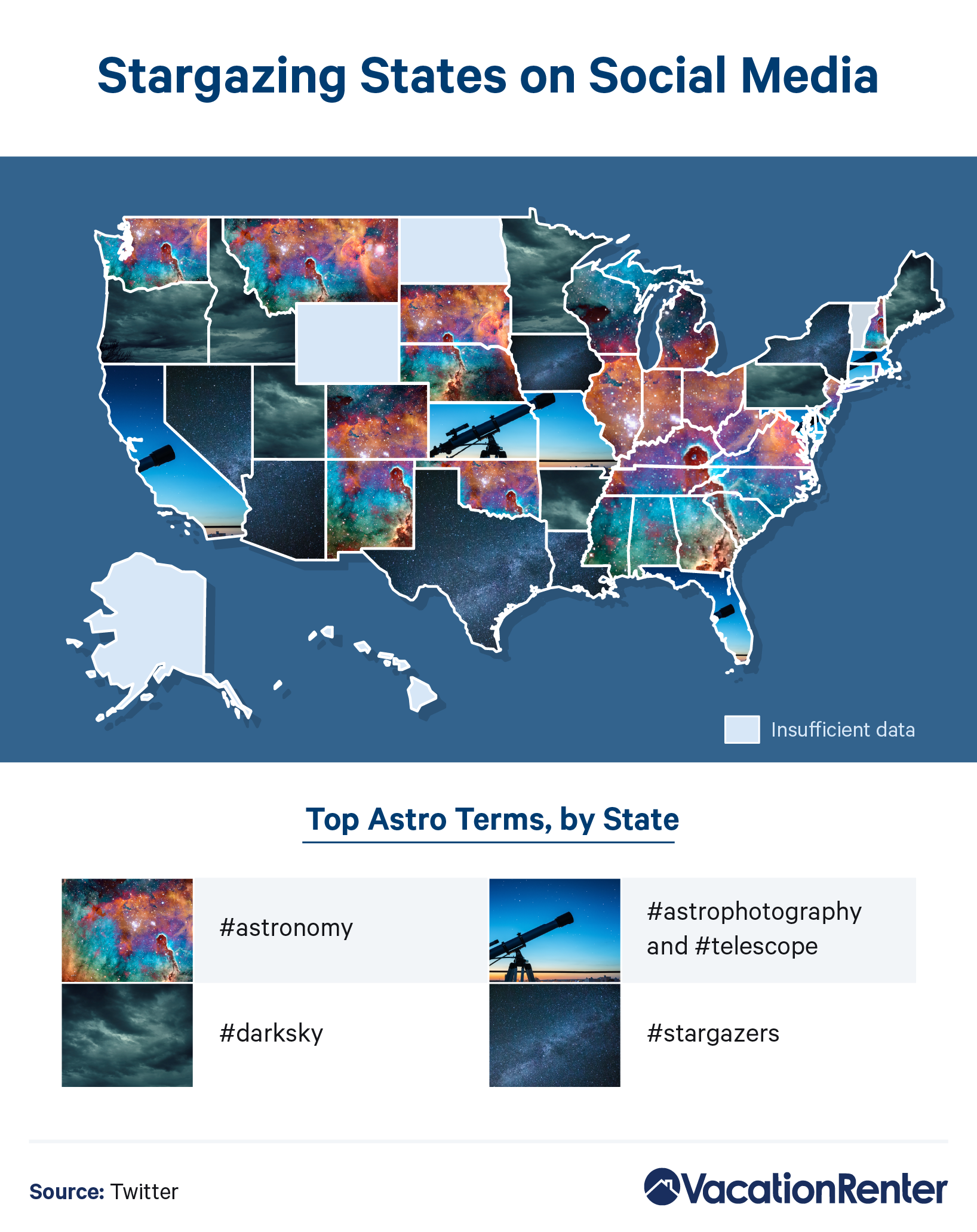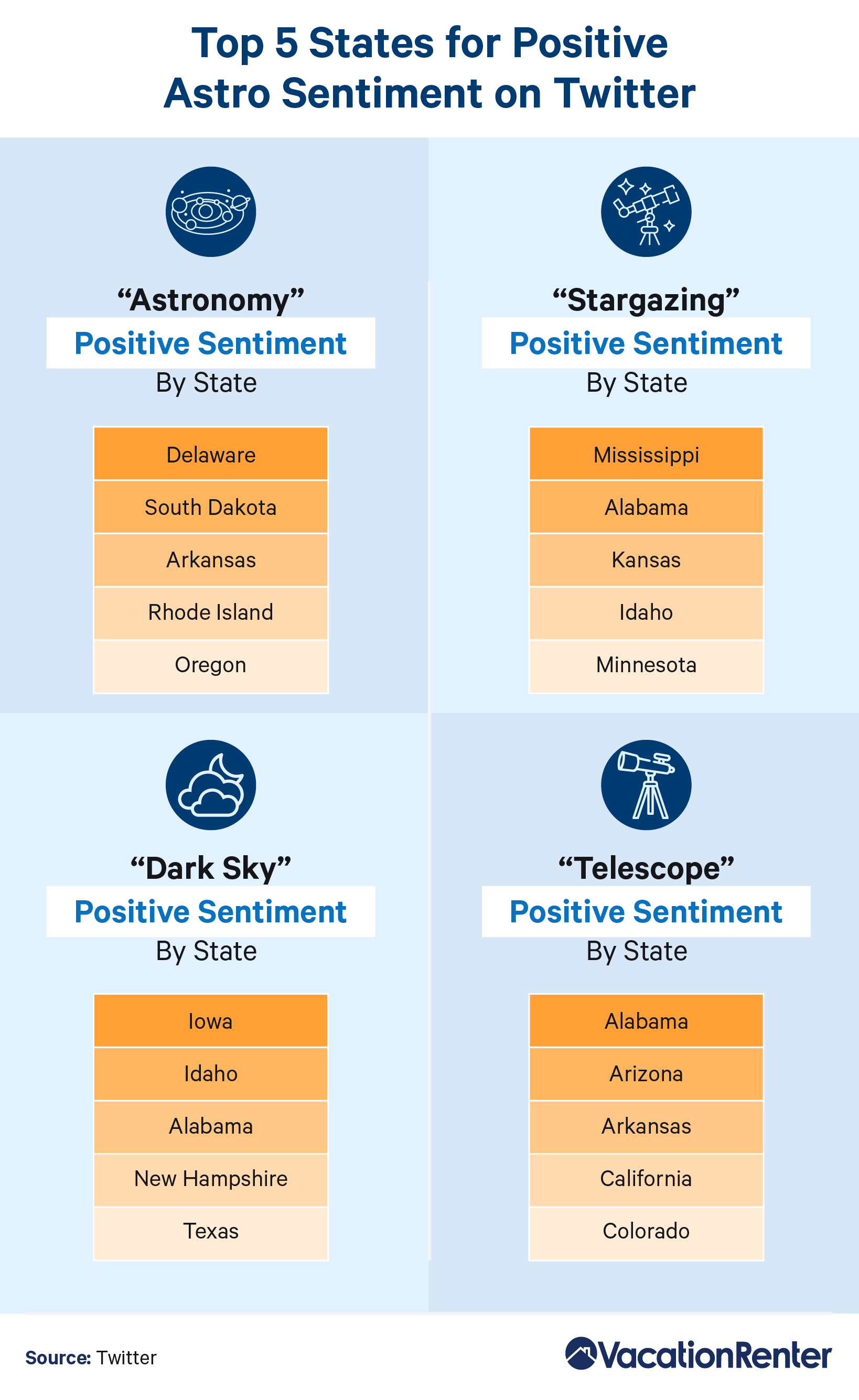 States with the most dark sky spots didn't always rank at the top of the positive mentions lists. Unfortunately, 80% of Americans say they can no longer see the Milky Way due to the light pollution that is present in urban areas. It's possible that states with more light pollution appear more prominently on positive sentiment rankings because celestial bodies are more rarely seen — and therefore more appreciated when they do make an appearance.
States with the Clearest Skys
Using VacationRenter data, we also performed a text analysis based on rental reviews. We looked for mentions of astronomical terms and geotagged their locations to determine where our customers found the best celestial views. Unlike the states mentioned on social media, the states with the best for both stargazing views from rentals did favor less light-polluted areas, such as California, Hawaii, Arizona, Texas, and Colorado.
Additionally, here are the top five states for viewing the moon, stars, and Milky Way from vacation rentals below. 
Moon:

California, Florida, Montana, North Carolina, and Tennessee 

Stars:

Florida, Texas, Colorado, North Carolina, and South Carolina 

Milky Way:

California, Colorado, Maine, Texas, and North Carolina 
Fill the Tank and Begin Your Adventure
Pick a route of your choice, then time it to coincide with one of the meteor showers listed above and you'll be set for an extraordinary astrological adventure. If you're lucky, you may even spot a UFO! Don't forget these road trip itineraries can be customized by removing stops or adding new ones from the Dark Sky Map. Our astronomical road trip routes also take you to some of America's most popular destinations. Don't let your trip come to a halt because you're so busy with your head in the clouds that you forget to make a reservation.
VacationRenter offers personalized and painless bookings in places all over the United States. So, buckle up to see the Milky Way, planets, stars, and more — just make sure you secure a rental (or rentals) in places where the stars shine the brightest!
Methodology
This project used several data sets to create maps and text analyses. Data sets were pulled from the following sources:
Dark Sky Spots: We pulled these mapped dark sky spots from Darkskymap.com. These spots are sorted in the following order: C1 Excellent dark-sky site; C2 Typical truly dark site; C3 Rural sky; C4 Rural/suburban transition; C5 Suburban sky; C6 Bright suburban sky; C7 Suburban/urban transition; C8 City sky; C9 Inner-city sky; Dark Sky Places (IDA). Only spots C1: Excellent dark-sky site, C2: Typical truly dark site, and Dark Sky Places (IDA) are mapped and included in suggested routes.
Astrological Events: We pulled these calendar-dated events from In-The-Sky.org. These events were sorted for visibility to the naked eye and their relative closeness to weekends. Events span from August 2021 to December 2022. 
UFO Sightings: We pulled location-based data of self-reported UFO sightings from Arcgis.com. These data points were positioned within 10 miles of C1, C2, and IDA dark spots to form the interactive map for alien sightings.

Twitter was scraped for the following terms: #darksky, dark sky, darksky, stargazing, stargazers, beautiful night sky, night sky, telescope, starry night, astronomy, astrophotography, galaxy, and light pollution. These terms were grouped into the following four categories and then visualized: darksky, astronomy, astrophotography and telescope, and stargazers.
Limitations
Route stops were chosen to include popular locations, and events were prioritized for their proximity to weekends. Data from ArcGIS Online are self-reported and therefore subject to exaggeration or telescoping.
Fair Use Statement
If you know someone who is interested in astronomy and loves road trips, please feel free to send this their way. All we ask is that you do so for noncommercial purposes only and give us credit by linking back to the article.