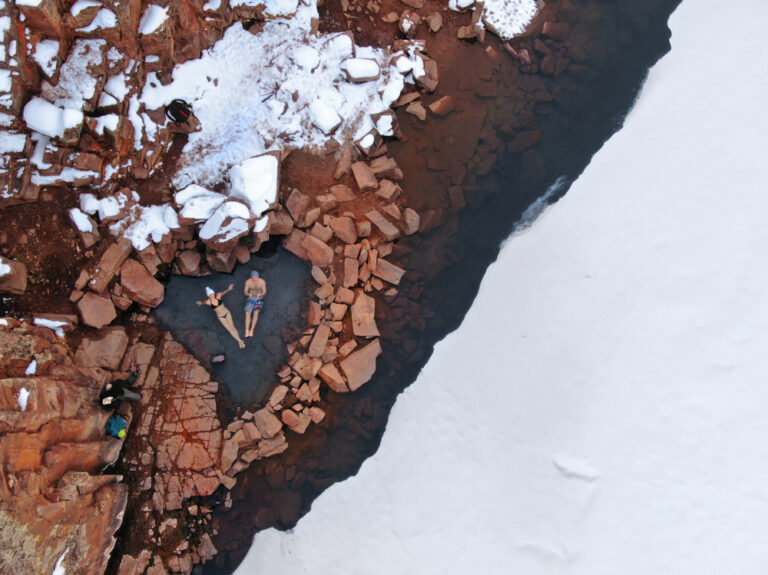 If you're looking for fresh adventures this summer, you're not alone. Ever since the summer of 2020, enthusiasm for outdoor experiences has skyrocketed. Naturally, inspirational glimpses into some of the world's most beautiful and seldom-seen marvels are thriving on TikTok, the explosively popular social media platform and the most downloaded app in 2021.
Checking out breathtaking destinations on TikTok can be powerful inspiration for users who want to plan trips of their own. The high level of engagement across TikTok adventure posts may even indicate where travelers are planning to visit next. For this study, we scraped nearly 1,500 TikTok videos with hashtags containing an American state and "adventure" to see what wonders around the U.S. were being explored and displayed on the platform. Read on to find out some of the most engaging experiences TikTok users have shared around the country.
Key Points
California's #adventure video engagement on TikTok is better than any other state, with Colorado ranking second.

Extreme sports and water sports #adventure videos generate better engagement than any other activity.

Mountain hikes perform best among hiking content on TikTok — in comparison with hikes to waterfalls, woods, and beaches.

Florida's wildlife-centric adventure content was more popular than amusement park videos.
Is California America's Most Adventurous State?
The United States is full of places that welcome thrill-seekers and outdoor enthusiasts of all stripes, but some places tend to have higher-quality adventure content on TikTok than others.
California — which topped our list of the states with the best #adventure videos on TikTok — is famous for much more than wineries, movie stars, and amusement parks. It's also home to some of the most sought-after places for experiences in National Parks like Yosemite, Death Valley, and Joshua Tree. And with opportunities for majestic experiences scattered all across the massive state, road trips are a great way to hit a variety of destinations in a single go.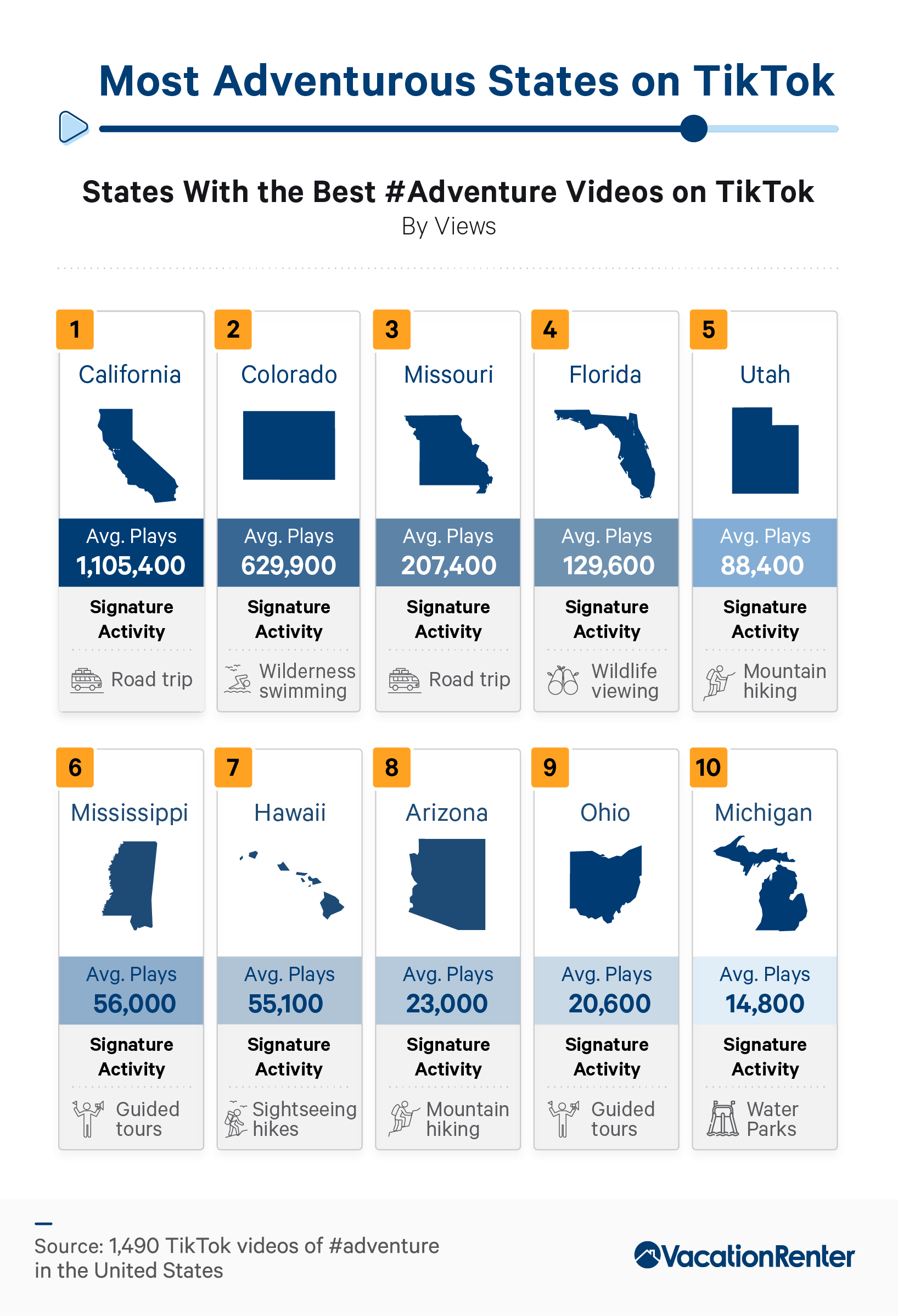 Although California significantly outpaced other states, adventure content filmed in Colorado and Missouri was also popular on TikTok. 
Content featuring high alpine lakes at locations like Paradise Cove and Devil's Punchbowl in Colorado was most popular with viewers, while Missouri boasted attractions like the natural rock formations in Ha Ha Tonka State Park and canopy ropes courses.
Florida: Where the Wild Things Are
According to our viewership findings, Florida — widely known for Disney World and its extensive coastline — was surprisingly more popular for wildlife than amusement parks.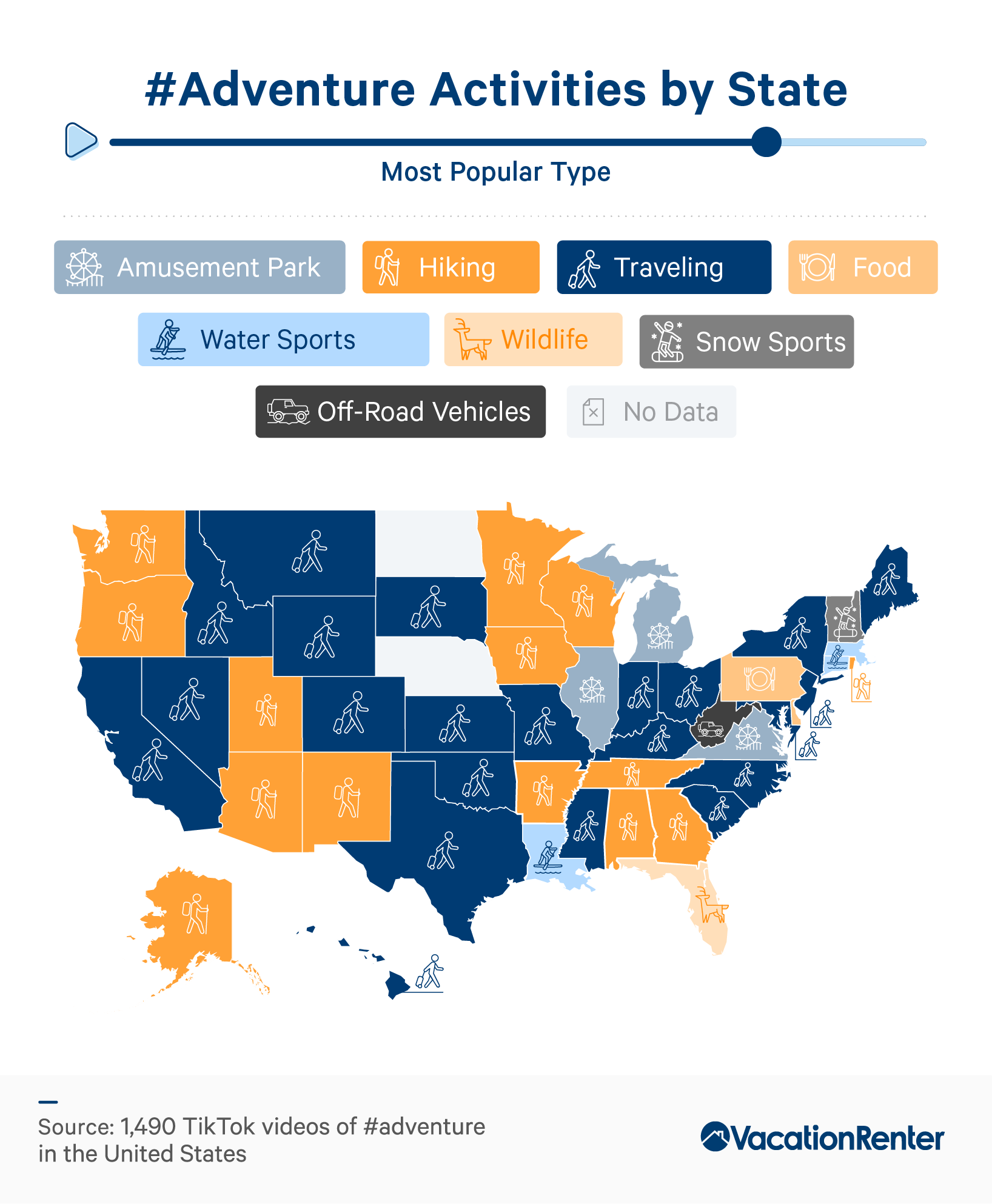 It wasn't only the sunshine and South Beach that garnered views in Florida. The posts we analyzed featured places like Everglades National Park, America's largest subtropical wilderness and home to 39 endangered species native to the state. 
Hiking and traveling were the most popular adventure topics nationwide, dominating TikTok posts in the vast majority of states. The popularity of hiking and other outdoor explorations rose by 171% from 2019 to 2020, as many Americans sought more outdoor activities due to the COVID-19 pandemic.
Extreme Thrills Are the Ultimate Adventure
The most popular venues for TikToks involving adventure were thrill-oriented experiences like extreme sports and water sports, where creators can showcase themselves putting their own unique flair on activities like zipline courses and barefoot water skiing. 
While hardcore and physically exhilarating experiences were the most popular based on average video view, creators in the TikTok space were hashtagging adventure content for everything from food experiences to wildlife and plenty in between.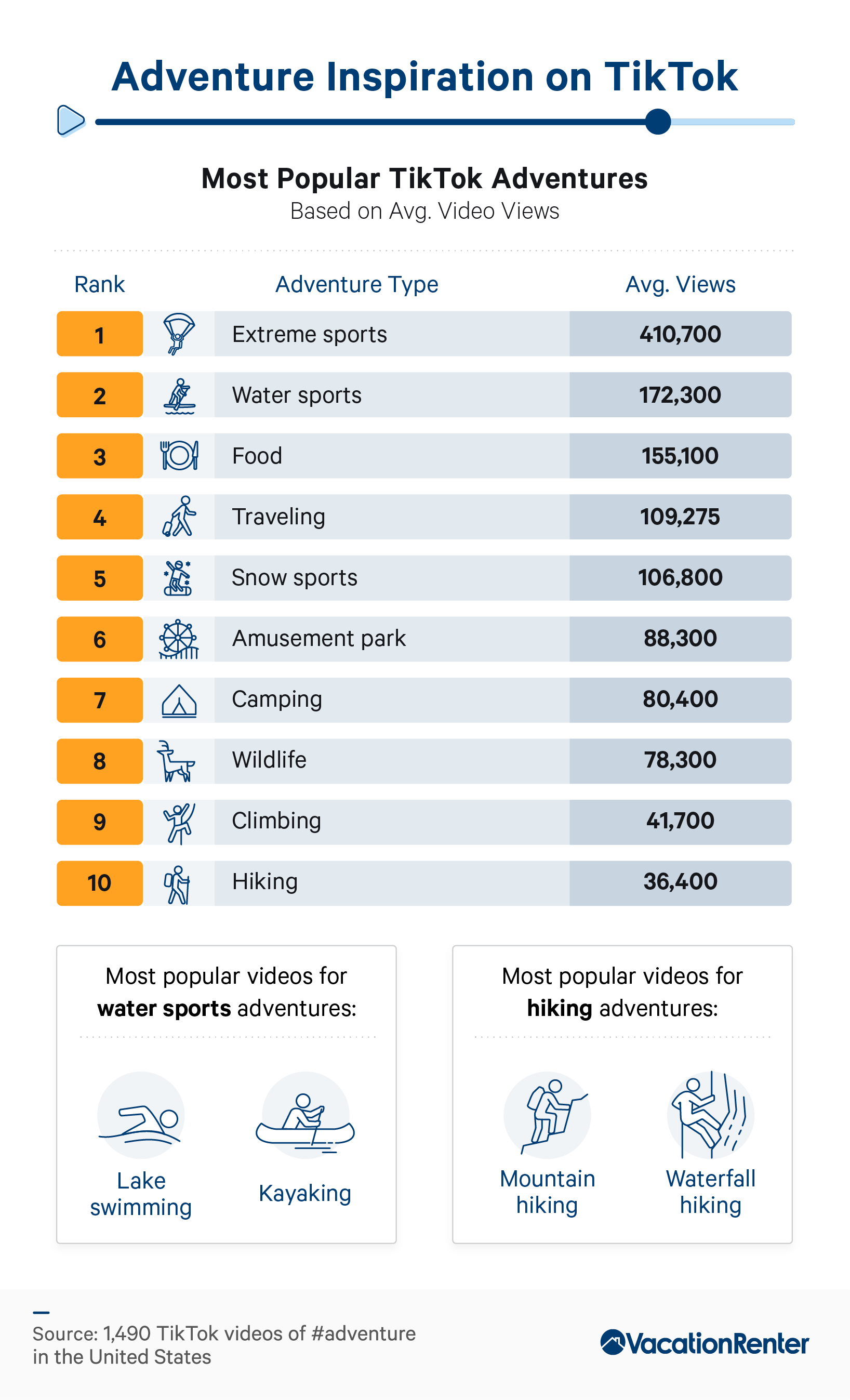 Thrill-seekers may be familiar with what some call type II fun — experiences that may seem miserable while they're happening, but fun in hindsight. Activities related to this category, like extreme sports, waterfall climbing, and mountainous hiking showed the highest view counts. This data indicates a collective desire people have to see beautiful gems of the natural world and breathtaking peaks that they may not be able to experience themselves — a vicarious vacation. 
Top Adventure Destinations on TikTok
While new destinations around the country are featured every day on TikTok, some of the most popular outdoor and adventure destinations in America garnered hundreds of thousands of video views on average. These videos highlighted some of America's most amazing places to visit.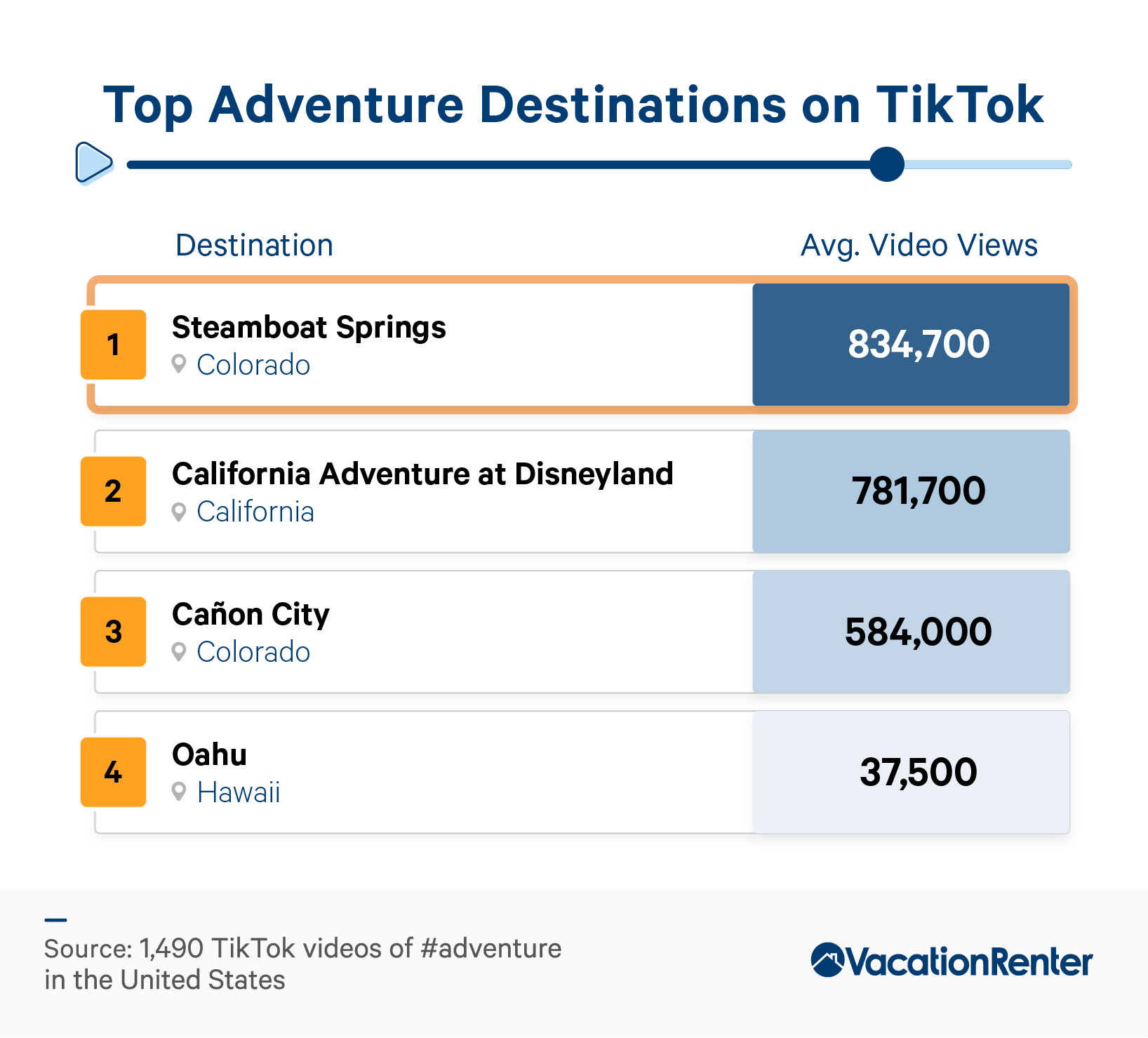 At over 800,000 views on average, Steamboat Springs in Colorado was the winner for most views among the major destinations we reviewed. Creators also showcased interesting content from Disneyland in California, to Cañon City in Colorado, raking in hundreds of thousands of views. Oahu — Hawaii's well-known adventure hotspot — ranked fourth with 37,500 views on average.
A user at Colorado's Steamboat Springs gave viewers a unique look into the cascading hot springs so viewers could experience what it's like to relax in a natural marvel. The popular theme park known as California Adventure gave TikTok users ample chances for memorable photos. One TikTok creator in the video below turns a wild ride into a classic rollercoaster moment. 
TikTok creators harnessed the platform's video elements to bring viewers to places like Cañon Springs, Colorado. Nestled in between the cliffs of the Rockies, this TikTok followed the winding river and its adjacent train tracks inside a marvelous canyon.
Destinations on Oahu and the other islands of Hawaii are also prime spots for adventure-seekers. Anyone looking for the best adventures in Hawaii might love this popular travel TikTok that highlights the best sights on Hawaii's Big Island, such as waterfalls, volcanoes, and white- and black-sand beaches. 
TikTok Has Endless Inspiration for Adventure Travel Destinations
Whether users embrace TikTok to find new travel destinations or to live vicariously through its prolific travel accounts, the platform is a great source of wanderlust. Natural wonders in states like Colorado and California were popular destinations for adventurers alongside extreme sports experiences. 
TikTok can also be an excellent place to seek out less-traveled destinations, such as the Everglades in Florida. The platform has a unique ability to bring attention to national parks and wildlife viewing opportunities in America. Be sure to check out VacationRenter's own TikTok account for vacation inspiration.
If you're seeking an adventure of your own somewhere in the United States, whether it's to a national park or an amusement park, or anything in between, be sure to plan all your trip logistics — lodging, activities, travel, and more — ahead of time so you can focus on the experience of a lifetime.
Methodology
We scraped 1,490 videos from TikTok tagged with a hashtag of the format #<state>adventure for each of the 50 states in the U.S. We used Andrew Nord's TikTok scraper to collect this data. The scrape was performed on April 15th from an IP address in the northwestern United States. We used the ftfy Python library by Robyn Speer to correct mojibake encoding errors in scraped text content. 
A researcher then manually reviewed each video to determine whether the video fit the theme of "adventure" by depicting a special, thrilling, or adventurous activity. 1,034 of the videos scraped fit this description, and for each of these videos, a researcher described the type of activity depicted and gave a short, more detailed description of the activity. The researcher also provided the name of the location featured in the video if it was available.
About VacationRenter
VacationRenter makes it simple to find the perfect vacation rental for an upcoming trip. All rental options from leading travel sites are brought together in one place to make searching and booking a rental quick and easy.
Fair Use Statement
Is your audience looking for their next adventure? Feel free to share how TikTok is helping shape the adventure landscape and highlighting some of the most amazing places in the U.S. Just please be sure to link back to this page so our team of contributing researchers can receive credit for their work.