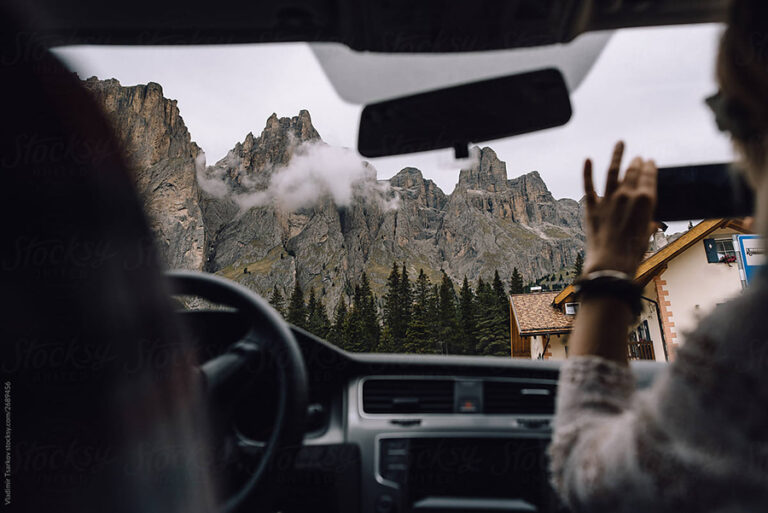 Gone are the days when traveling was a normal and natural thing for people to do at any given time, when travelers didn't give a second thought to taking a vacation near or far. COVID-19 has caused people to think differently about the ways in which they are traveling and where they are traveling to. However, this doesn't mean that traveling is completely out of the question – it simply means that there are more safety precautions to consider so that you can still get out and enjoy new places and experiences.
Despite the impacts of COVID-19, two-thirds of people want to travel even more than usual this summer so long as they are able to travel safely. While safety was always at the forefront of decision-making, there were two specific areas we'll delve into further that appeared to heavily factor into many travel plans this summer: distance from home and modes of transportation.
We surveyed just over 1,000 American travelers to learn more about their opinions surrounding traveling in our current climate and how COVID-19 has affected their travel plans for the remainder of 2020.
Traveler Comfort Levels
After months of abiding by the "stay-at-home" cultural norm during quarantine, people are becoming more comfortable leaving their homes, and have started to resume traveling again. A small portion of survey respondents had already planned a vacation, and almost half had considered making travel plans in the coming months.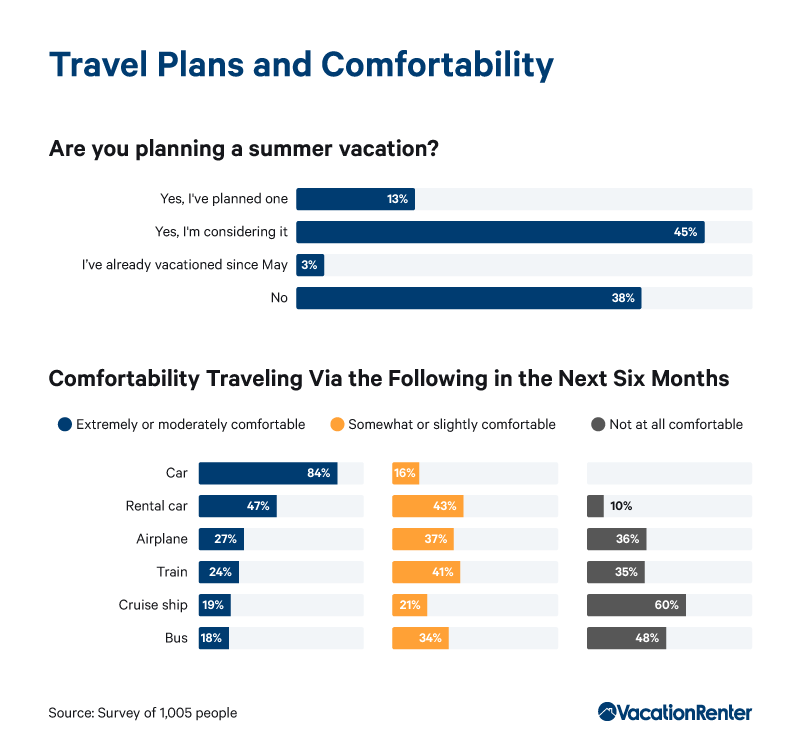 People's comfort levels for general traveling are on the rise – but not all kinds of traveling. Overall, people felt most comfortable traveling in a car over all modes of transportation. Driving to your destination is a safer choice, as it allows you to control the situation more closely than if you were on a plane, train, cruise ship, or a bus. There is much more interaction with the public in these situations, and it could be difficult to maintain the six-feet-apart requirement for socially distancing from others. In a car, you are either traveling alone or with family members or friends that you feel comfortable being in close quarters with.
How Far Are You Willing to Go?
If distance is the cause of your concerns with traveling right now, rest assured you don't have to travel far away from home to still have an enjoyable vacation. In fact, this is an ideal time to explore somewhere closer to home that you may not have thought about visiting before.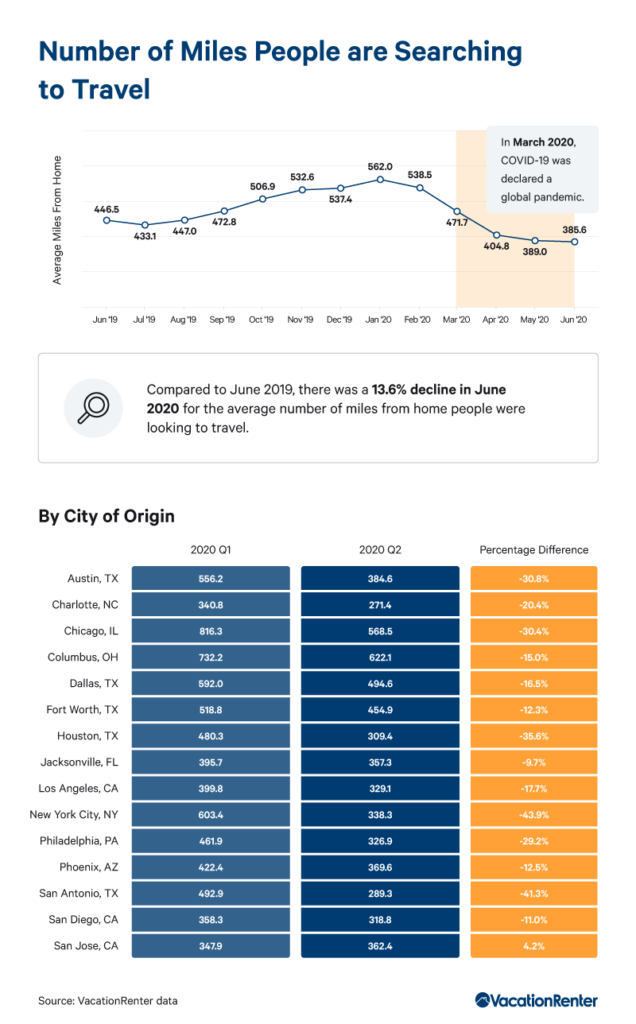 Compared to last June, more people are staying closer to home when traveling, and there was even a drop in the number of miles people were willing to travel during the summer, versus the first few months of 2020.
People are eager to travel, especially after being confined at home for so many months, but they want to travel with ease. Traveling closer to home allows them to do that. There is less planning involved, and in the majority of cases, staying closer to home allows you to travel via car, which is what people are most comfortable with.
Summertime Travels
Many people look forward to the summer months because it symbolizes a time when things slow down, when people may have a break from work or school, and a time most often associated with traveling and vacations. COVID-19 caused a lot of people to cancel and/or postpone travel plans earlier in 2020, but, with summer, it's evident people were ready to get back out again, even if just a few hours from home.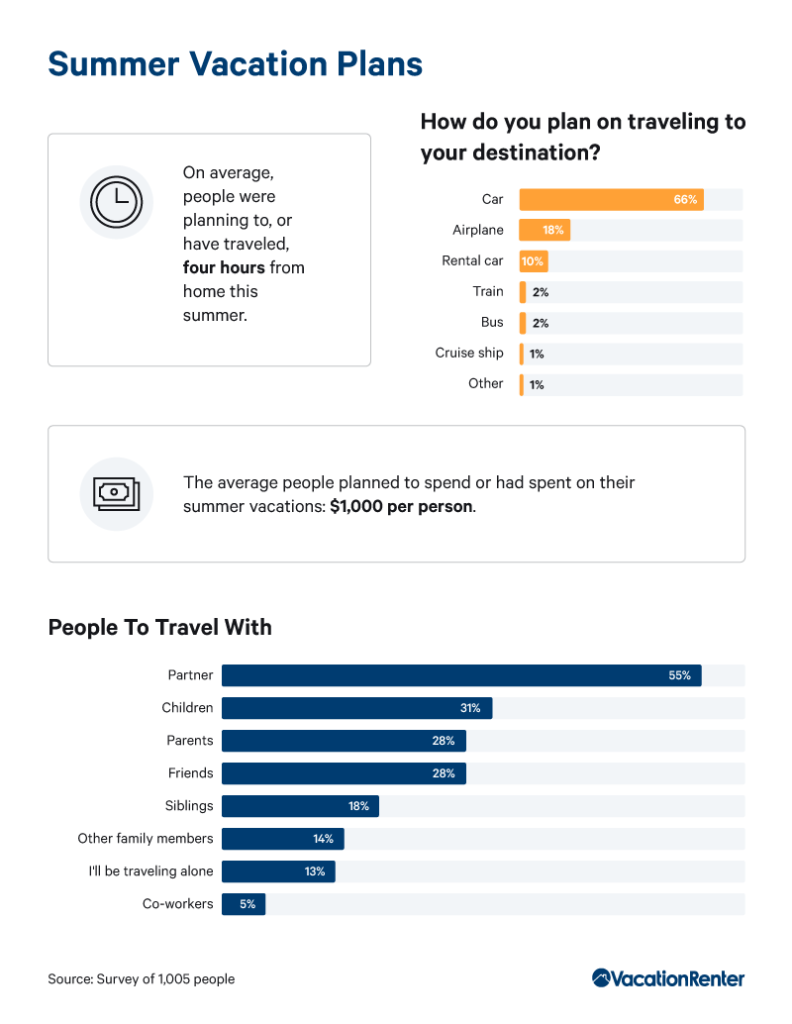 The average person who had traveled, or planned to travel, during the summer kept their vacation destination within four hours of home. These short-distance destinations are realistic for car travel and are likely more affordable, which may account for cars being the most popular mode of transportation to reach a vacation spot.
A second component of traveling that plays a part in comfort level is who people are traveling with. If you have already been in quarantine with someone, or spent time with specific family members or friends during your time in quarantine, you are probably more comfortable traveling with that person over others you hadn't seen during those months. Over half of respondents had traveled, or were planning to travel, with their partner during the summer. Traveling with children came in at a close second for traveling companions, followed by parents and friends.
Taking a Staycation
This new era of life we're living in could mean the rise of the staycation, where quick trips within driving distance of home are the new norm.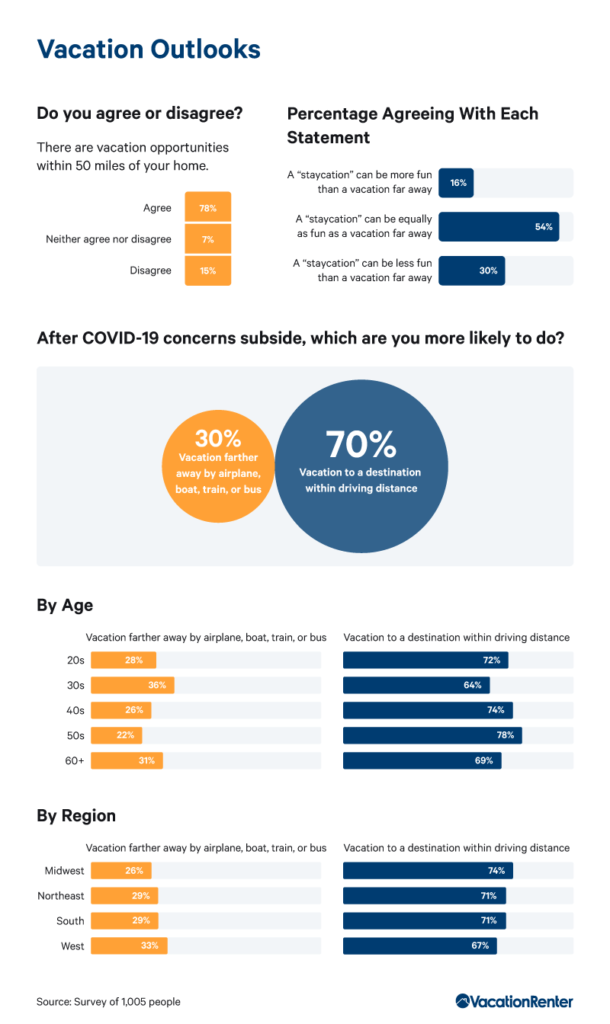 Almost 80% of respondents agreed that there is an opportunity to vacation within 50 miles of their home, and over half agreed this type of vacation can be just as enjoyable as going somewhere farther away.
Maybe people prefer a staycation because of its simplicity – it can be easier and less stressful to plan, and can often be much cheaper. Testing out a short trip first can help to reduce any uneasiness about traveling for a longer period of time. There is also a belief that these shorter local vacations can benefit both physical and mental health because of their ability to spark a mental recharge, reduce stress, and improve people's moods.
Travel With Caution
Despite the impacts of COVID-19, it seems a majority of people are still planning to travel to destinations closer to their home with caution this summer. Regardless of age or where people live, most people are more likely to go on vacation somewhere they can drive on their own rather than via alternate modes of travel such as an airplane, ship, train, or bus.
While everyone should be mindful of COVID-19 and ensure precautions are taken, there are still safe ways to travel and many opportunities to enjoy our vacation time. Take this time to hit the open road, enjoy the company of family or close friends, and explore your own state or those within driving distance.
Methodology
We surveyed 1,005 Americans about their travel plans and feelings. There were no requirements to qualify for our study.
The average age of our respondents was 38.57 with a standard deviation of 13.3.
The distance people were willing to travel was based on proprietary data from VacationRenter. It looks at searches on the site's platform originating from the 15 largest U.S. cities.
This data is not weighted, and it is based on self-reporting. With self-reported data, there are limitations, such as over- or under-reporting of information as well as exaggerating numbers and answers.