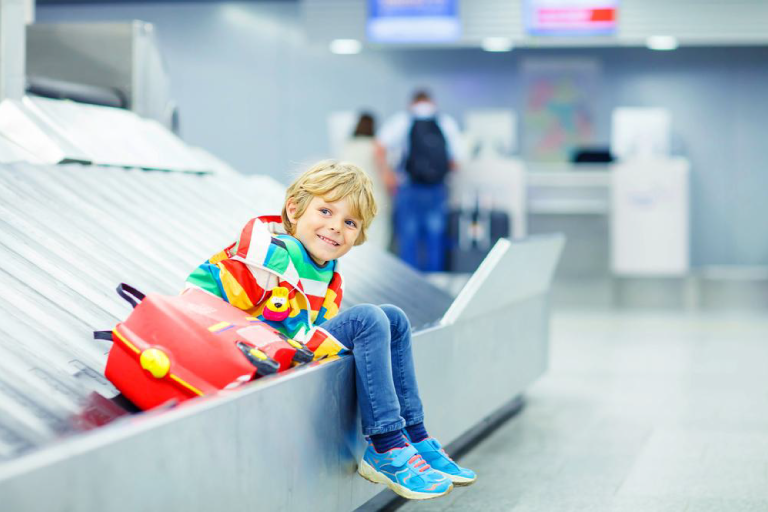 On average, surveyed parents believe  the best age for children to start traveling is 4.1 years

66.2% of parents prefer road trips over any other way to travel with children

1 in 3 respondents prefer to stay in a hotel room when traveling with children, while 1 in 5 respondents prefer a hotel suite or a vacation rental home

Almost half of respondents had traveled with their child(ren) since the pandemic started
The Traveling Family Dynamic
Traveling does not only broaden our horizons – it can help strengthen our mental health, too. Once kids come into the picture, though, the peace and tranquility that many of us seek when we venture out into the world becomes less of a reality. Traveling with children can be tough – so to find out what it's really like, we surveyed 1,010 parents across the United States. to tell us all about it.
We've gained valuable insight into the different realities of traveling as a family. What are parents' preferred methods of travel? What are the hardest parts about traveling with children? How do you keep them entertained? These questions and more will help shine light on the dynamic of traveling families and what their experiences are like.
Best Way to Get Around
To understand how parents feel about traveling with kids, we started by asking about their preferred method of travel.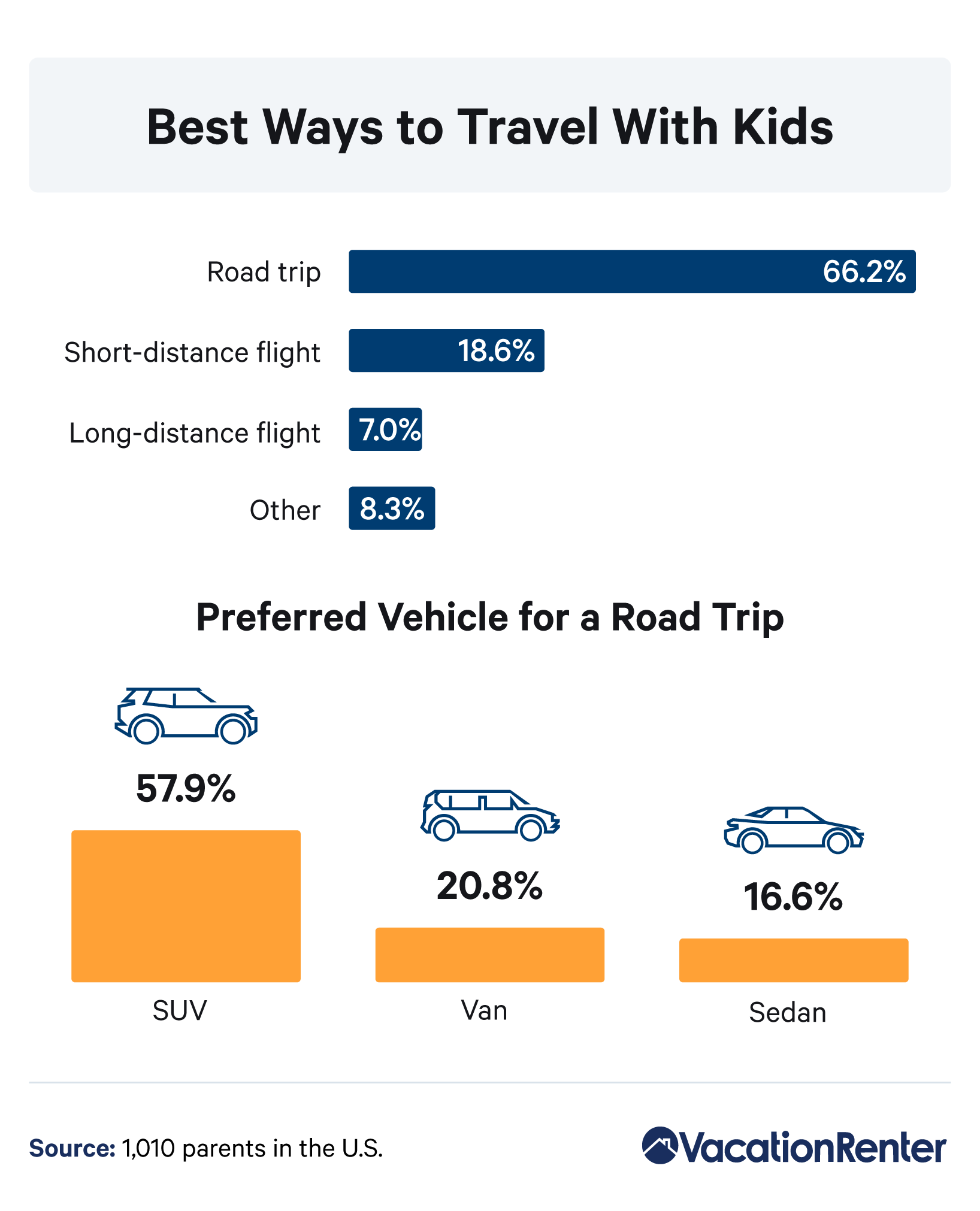 Out of all the different ways of traveling with children, 66.2% of parents preferred road trips, and of those respondents, 57.9% favored hitting the road in an SUV. They are a popular pick among parents for a number of reasons. When heading on a road trip – especially when kids are involved – you need all the space you can get. SUVs offer just that, and many come with foldable seats, allowing for even more storage room. They also typically come with loads of safety features, ensuring the well-being of your family for the duration of the drive. Many are also equipped to handle off-road terrain, making them a very well-rounded option for long, and potentially precarious, journeys.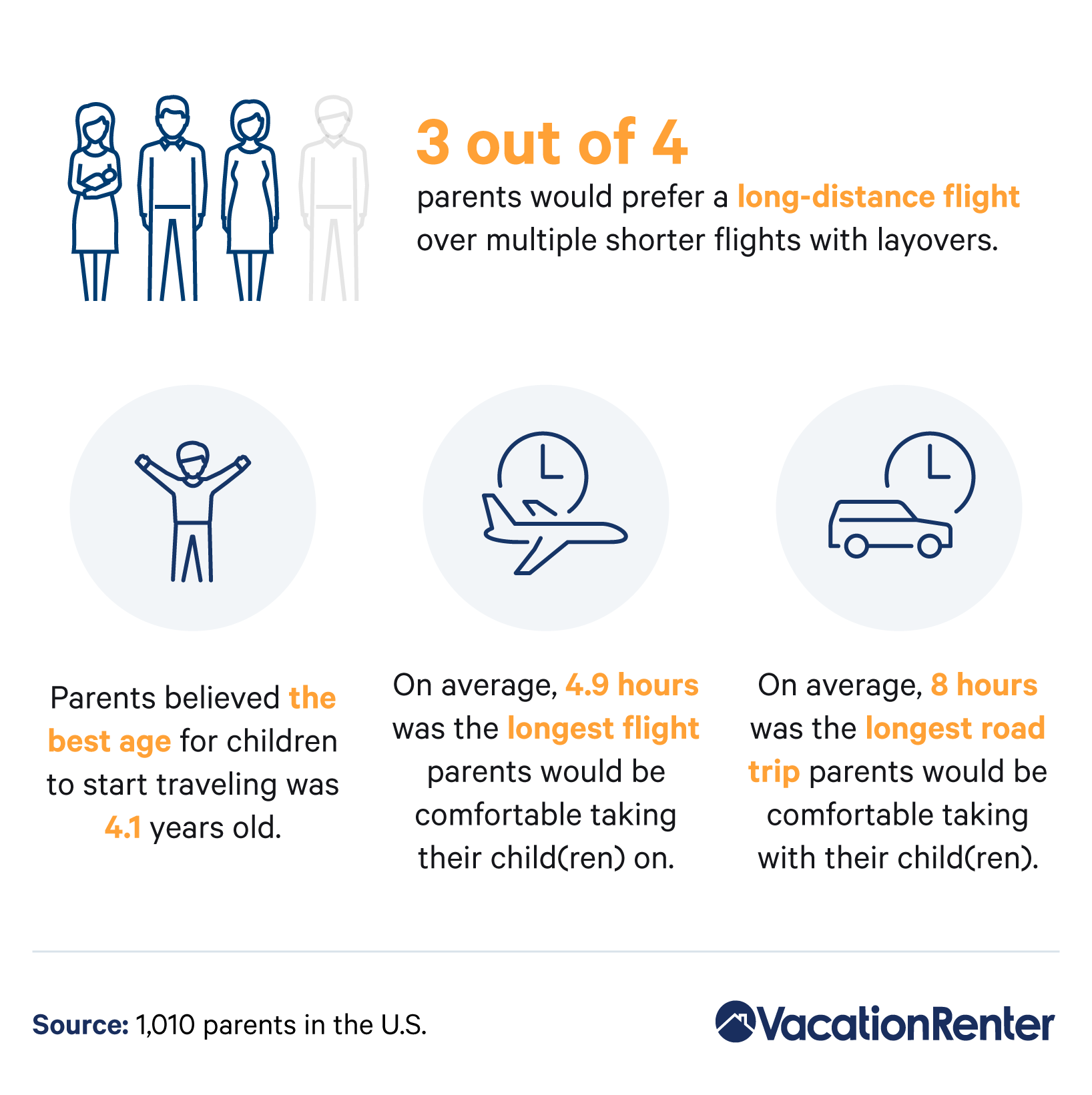 Regarding flights, 75% of respondents would rather be stuck on one long ride instead of multiple short ones with layovers. On average, the earliest age a parent would take a child on a flight was over 3 years old, and they have the right idea – newborns have a weak immune system and are more susceptible to illness, especially in a tight space like a plane. Parents admitted they wouldn't be comfortable taking their kids on a flight longer than 4.9 hours on average, though. 
On road trips, respondents thought that with children, any length of time over 8 hours would be inappropriate. Surveyed parents believed, on average, that the best age for children to start traveling is a little over 4 years old. 
The Pros of Traveling With Kids
Traveling with kids can be a truly enriching and valuable experience, so we asked parents about the benefits of traveling as a family.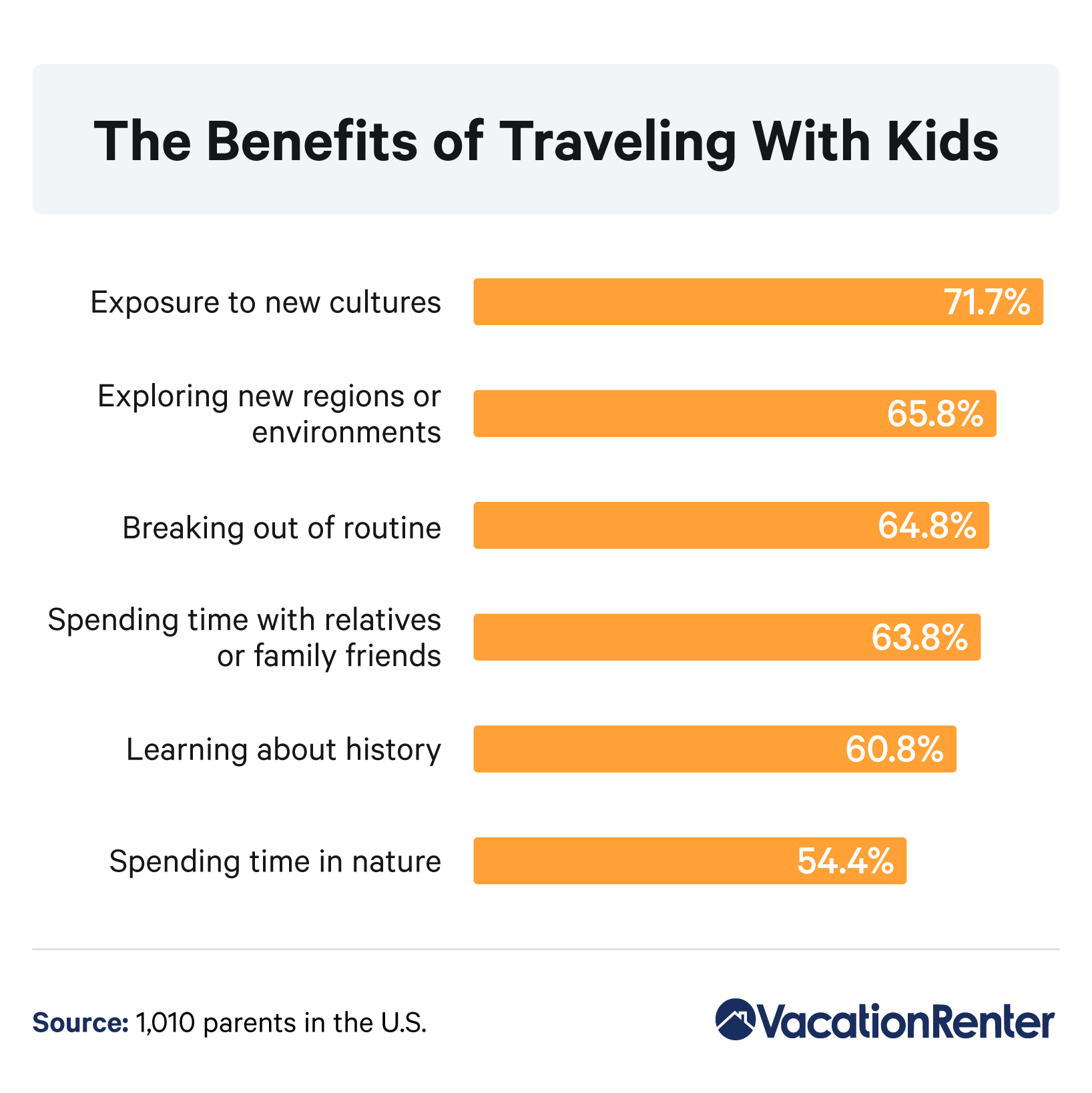 Aside from dealing with potential complaining and protesting, a majority of parents believe there are plenty of benefits to traveling with their kids. Well over half of surveyed parents agreed with all the above perks, and the biggest one was exposing their children to new cultures. Learning about different cultures at a young age can be very beneficial. These unique experiences allow children to gain new perspectives and become more open-minded about the world around them.
Other benefits associated with traveling with kids included exploring new regions, switching up routines, visiting family and friends, learning about history, and being in nature.
The Downsides to Traveling With Kids
Sometimes, traveling with children can be challenging, so we were curious about some of the worst experiences parents had endured.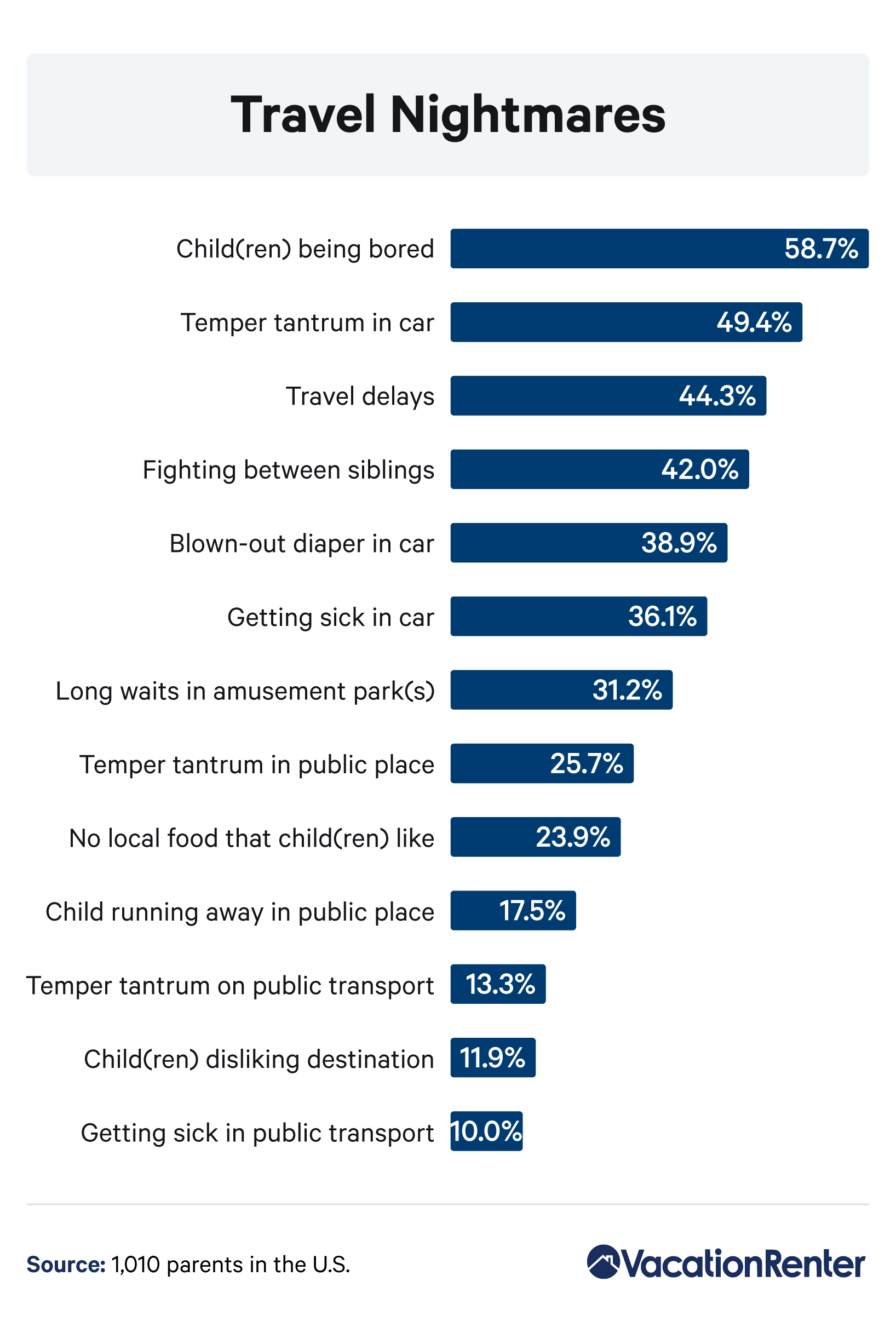 Traveling with children isn't always easy, and respondents have cast their vote for their most challenging experiences while on the move with little ones. By a significant margin, the agreed-upon worst-case scenario was when their child(ren) got bored (58.7%), likely leading to the second worst scenario being temper tantrums in the car (49.4%).
The boredom, tantrums, and subsequent infighting between siblings are daunting tasks for parents to manage, but many face those challenges for a reason – a 34-year-old mother shares, "Going to a new place and [seeing] their reaction to things they have never seen before – it's joyous, and in a way, it's kind of like reliving childhood through the eyes of your children."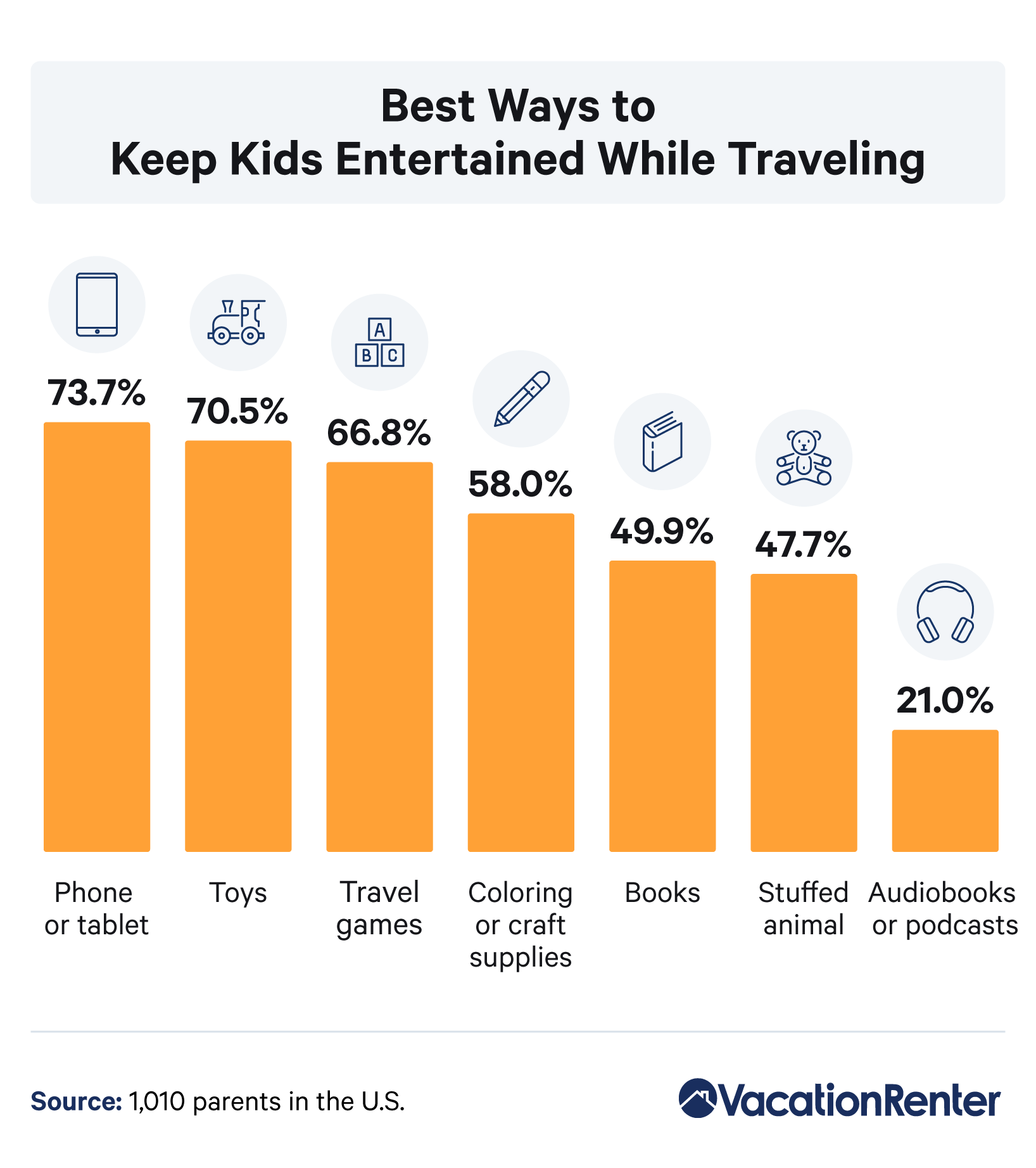 Unsurprisingly, the most effective way reported by parents to keep kids entertained while traveling was to stick a phone or tablet in front of them. In the United States, on average, kids aged 8 to 12 spend four to six hours a day in front of a screen, while teens spend up to nine hours daily.
Although most are glued to their screens, many are still playing with toys (70.5%), participating in travel games (66.8%), expressing themselves through arts and crafts (58%), reading (49.9%), or just simply enjoying the ride with their stuffed animal at their side (47.7%).
On Accommodation and Experiences
Where do parents prefer to stay with their kids while traveling? And what types of experiences do parents want to have with them?
When arriving at their desired destination or stopping somewhere along the way, 34% of parents agreed that the ideal place to lodge with their children is a hotel room. Hotels offer a variety of perks – including Netflix access to keep you and/or your children entertained. Many rooms are also equipped with refreshments to snack on and bathroom essentials in case you forgot your toothbrush at home. Especially when traveling as a family, this kind of service is much appreciated.
Over a fifth would instead opt for a vacation home rental or hotel suite – another great option for families looking for a change of scenery with all the amenities of home. On the other hand, 12.9% of parents said they'd like to stay with friends or family, and 10.4% said they'd prefer to rent an apartment.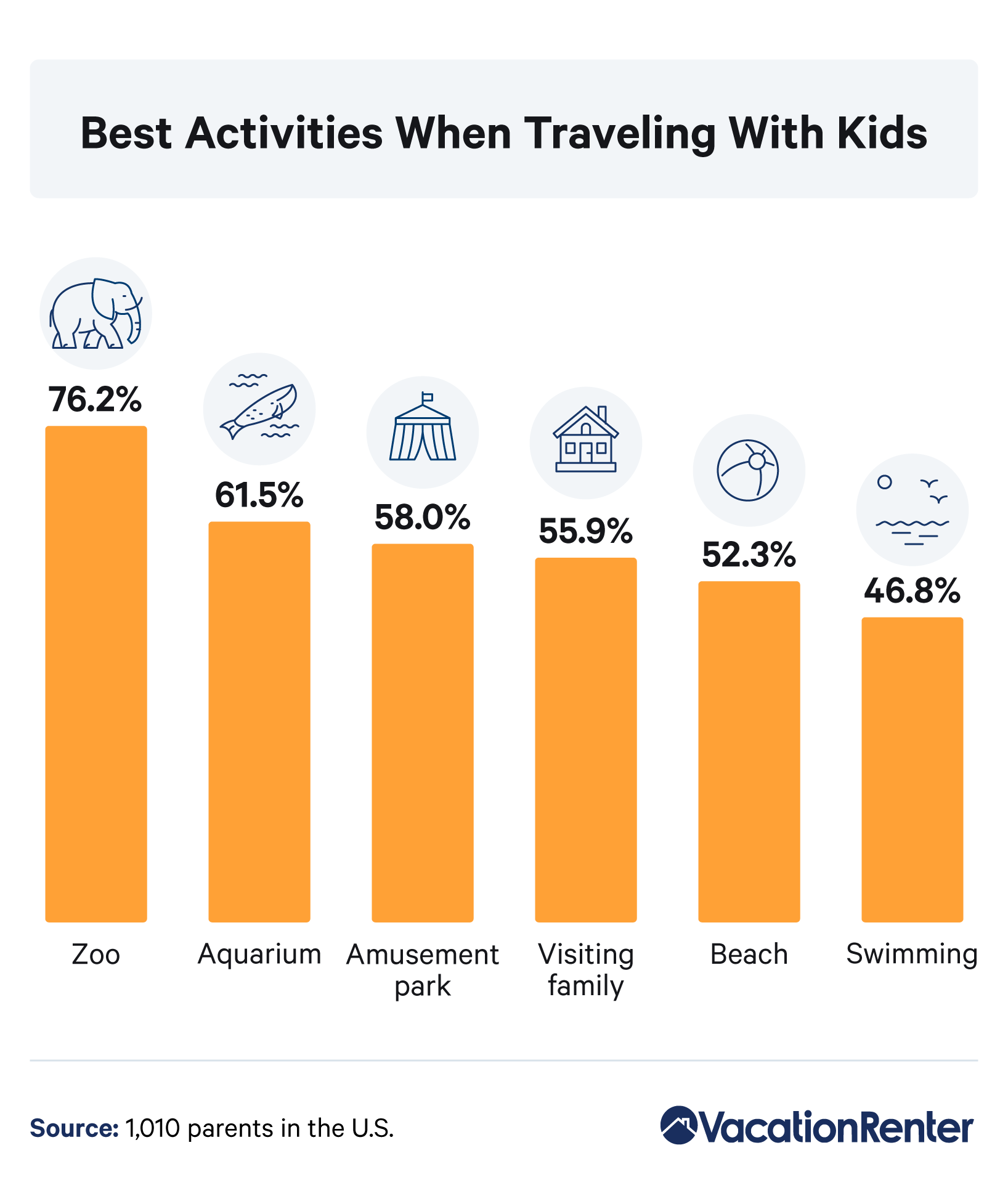 Out of all the activities to do with children while traveling, going to the zoo was the top choice for 76.2% of respondents. The next most agreed-upon choice was spending the day at the aquarium. Seeing animals up close is fun, but there are also educational benefits to these activities. In a 2014 study involving 6,000 people across more than 30 zoos and aquariums, researchers found an increase in biodiversity understanding among participants from pre-visit to post-visit.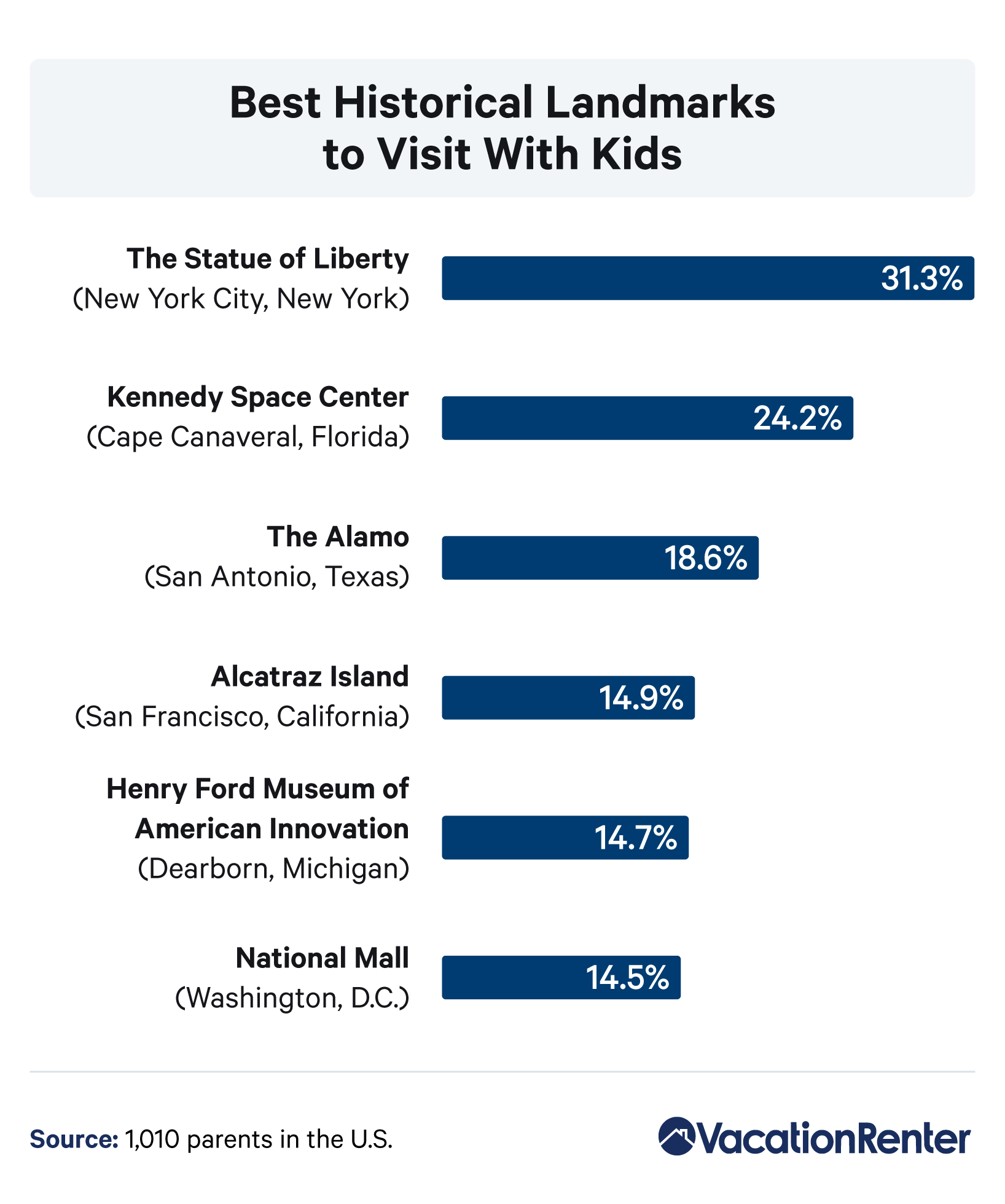 In the opinion of 31.3% of respondents, the best place to bring their kids to expose them to historical landmarks was the Statue of Liberty in New York. Nearby, just across the Hudson, the Liberty Science Center offers an interactive way to inspire children, and encourage them to learn more about science and STEM. Just under a quarter of them enjoyed taking their children to the Kennedy Space Center in Florida. In a pandemic-free world, the complex offers a ton of educational and interactive activities for kids, such as astronaut training simulators and a simulated shuttle launch experience.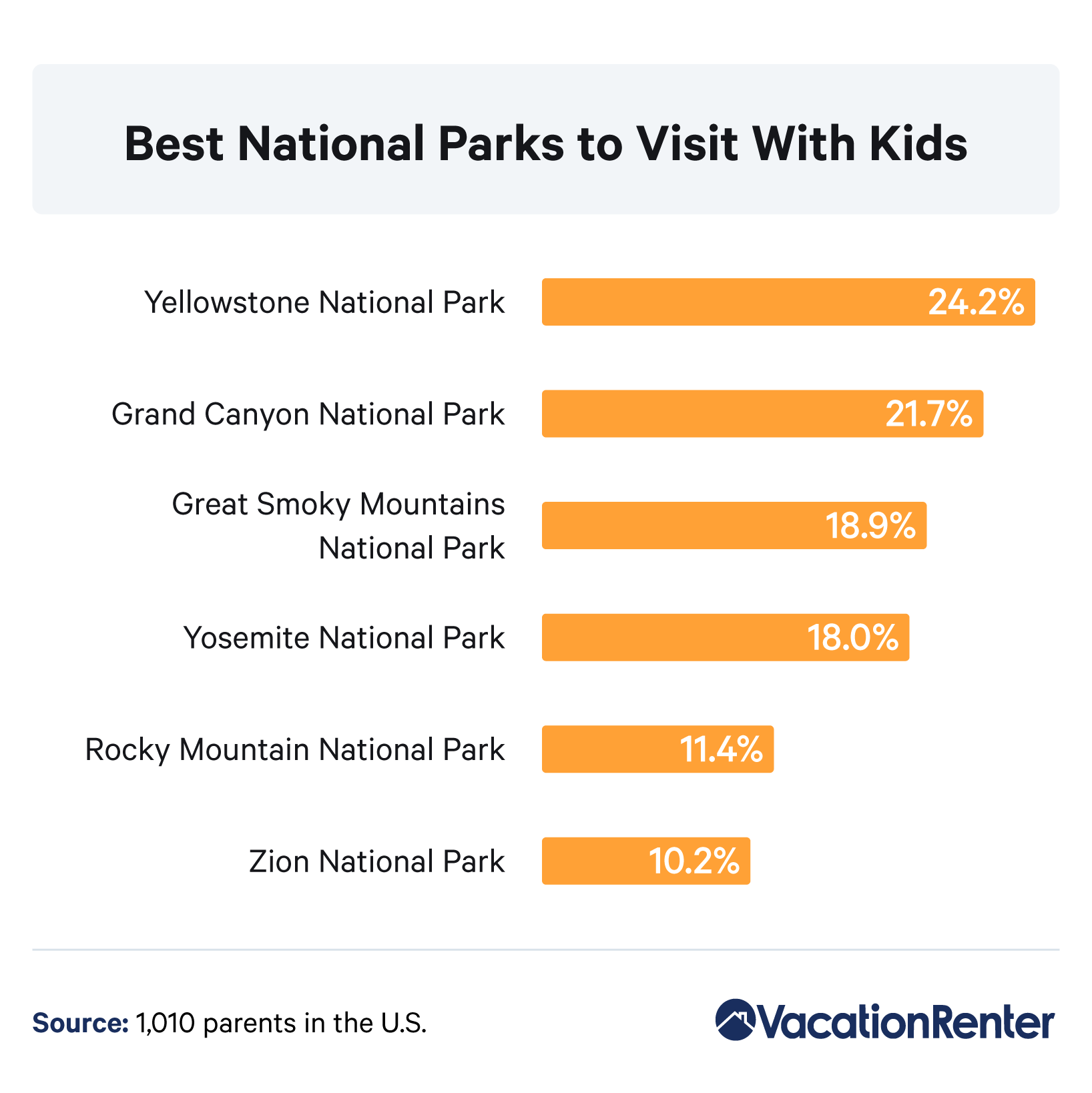 To really get a sense of the great outdoors, 24.2% of surveyed parents took their children to Yellowstone National Park. Eighteen percent or more have also taken them to Grand Canyon National Park, the Great Smoky Mountains, and Yosemite National Park. These parks also offer a lot of benefits for the environment and for our well-being. For example, many are designed to protect endangered ecosystems, and studies show that spending time in nature is good for both our physical and mental health.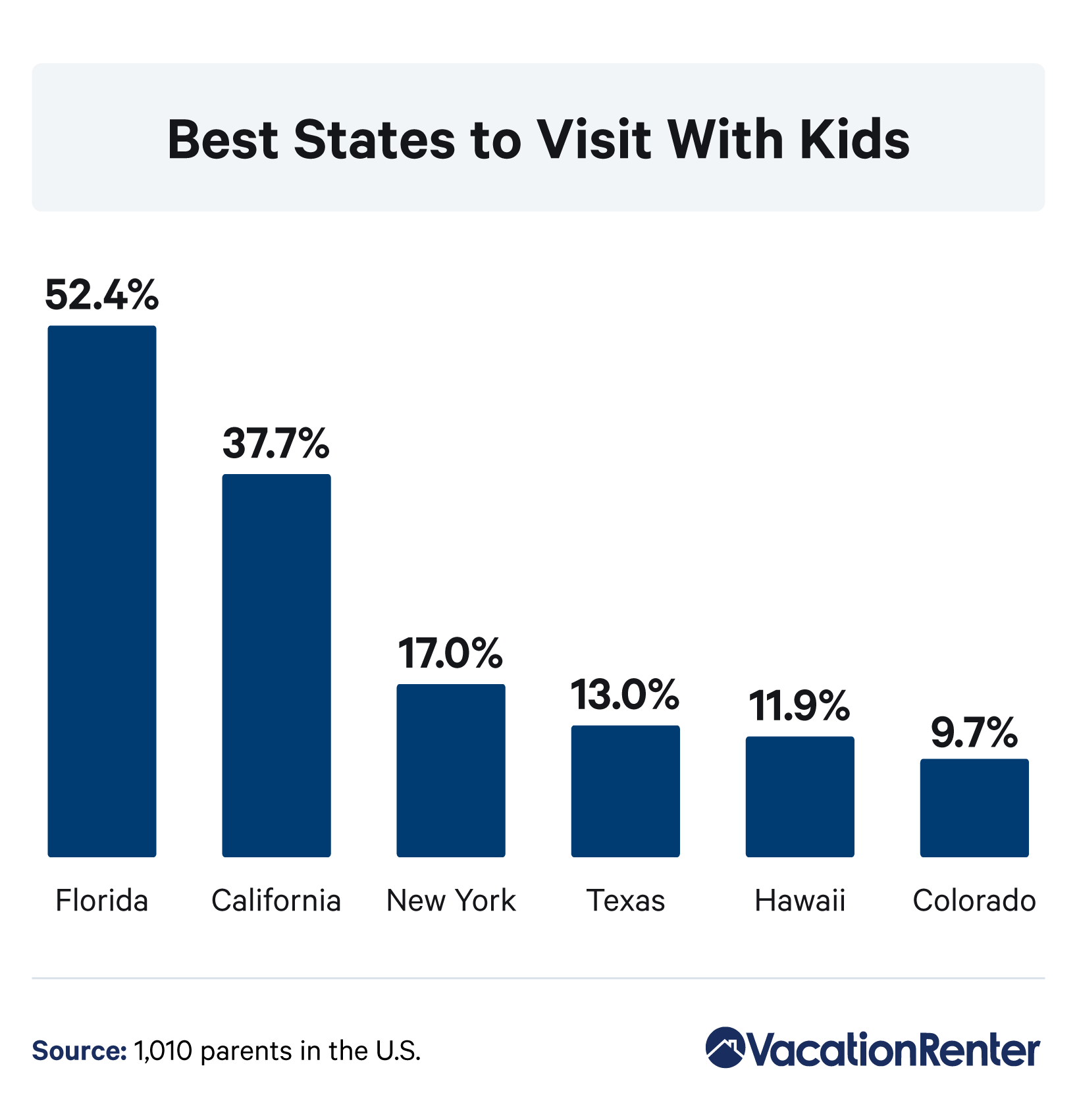 Regarding the best state to visit with kids, Florida takes the cake. Aside from the aforementioned Kennedy Space Center, the state boasts many family-friendly resorts in Orlando, Miami, Tampa Bay, and more. Popular attractions like Universal Studios and Walt Disney World are located in Florida, too. California has plenty of attractions as well, which is likely why it claimed the second spot on this list.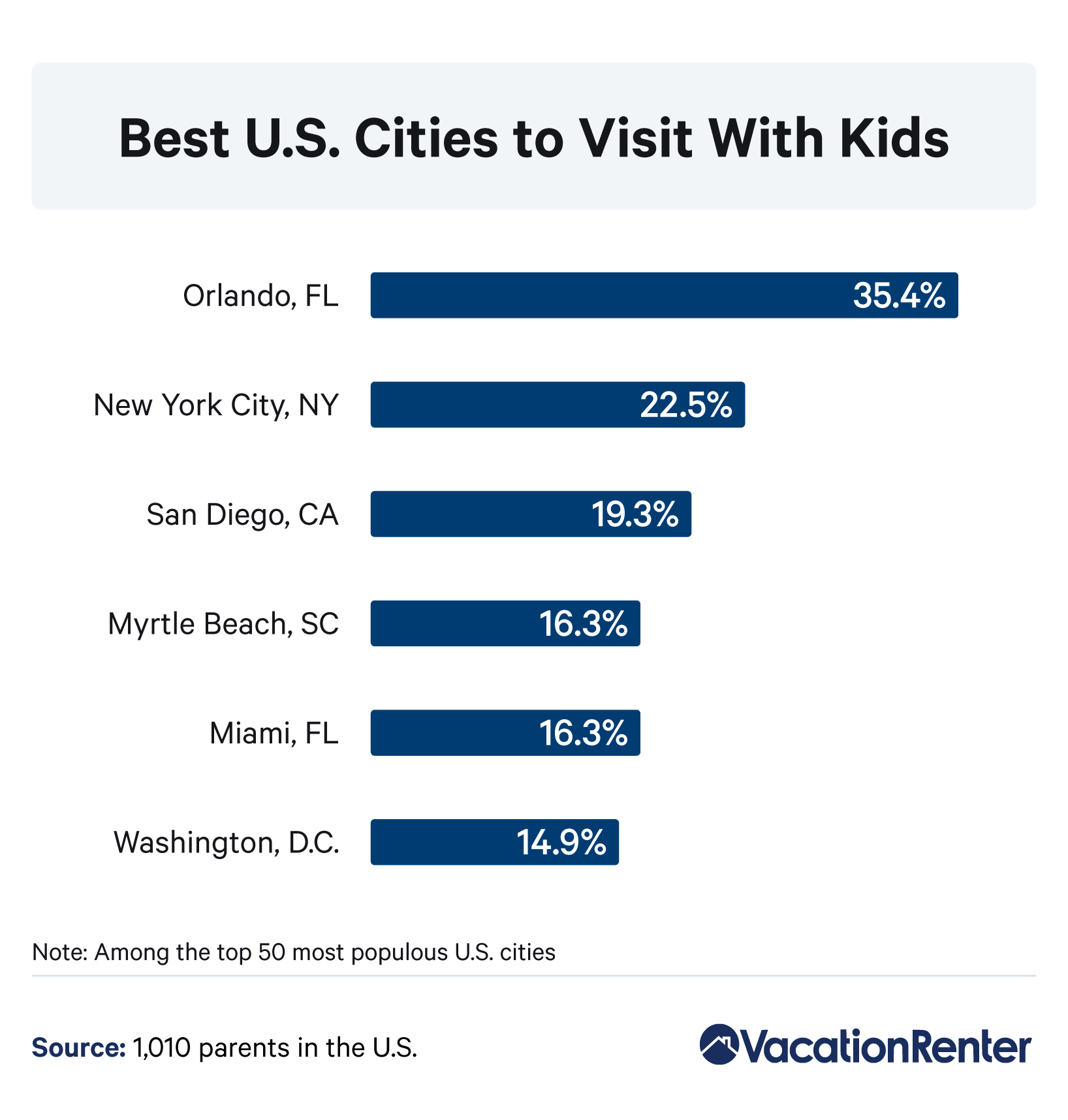 More specifically, the best city to visit was Orlando, Florida – as the two previously mentioned Florida-based attractions are both in Orlando. Besides visiting the Statue of Liberty, New York boasts other fun activities as well, like taking a stroll through Times Square, visiting Central Park, and taking in all that the American Museum of Natural History has to offer. Out of the top 10 cities to visit with children, the states of Florida and California had two apiece. 
The Global Pandemic
How has COVID-19 affected people's travel plans?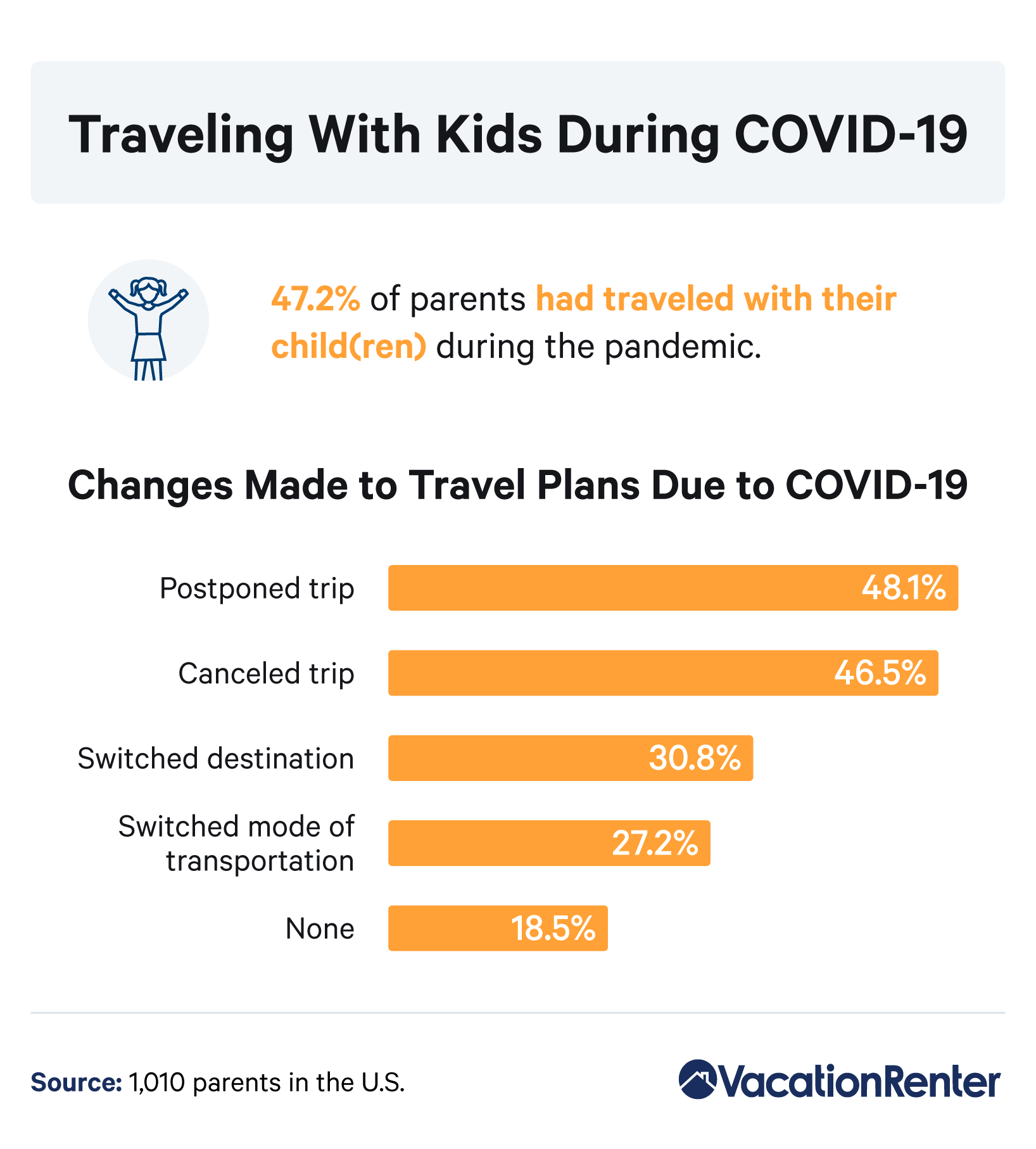 The global pandemic has made traveling a much more difficult process, but almost half of respondents had done so with their children at some point. Regardless, changes to plans were inevitable – 48.1% of respondents had to postpone a trip, whereas 46.5% had to cancel one altogether. Only 18.5% of parents were able to go through with their original plans without making any changes.
To put these travel planning issues into perspective, the tourism industry has lost out on more than $750 billion in revenue due to the pandemic.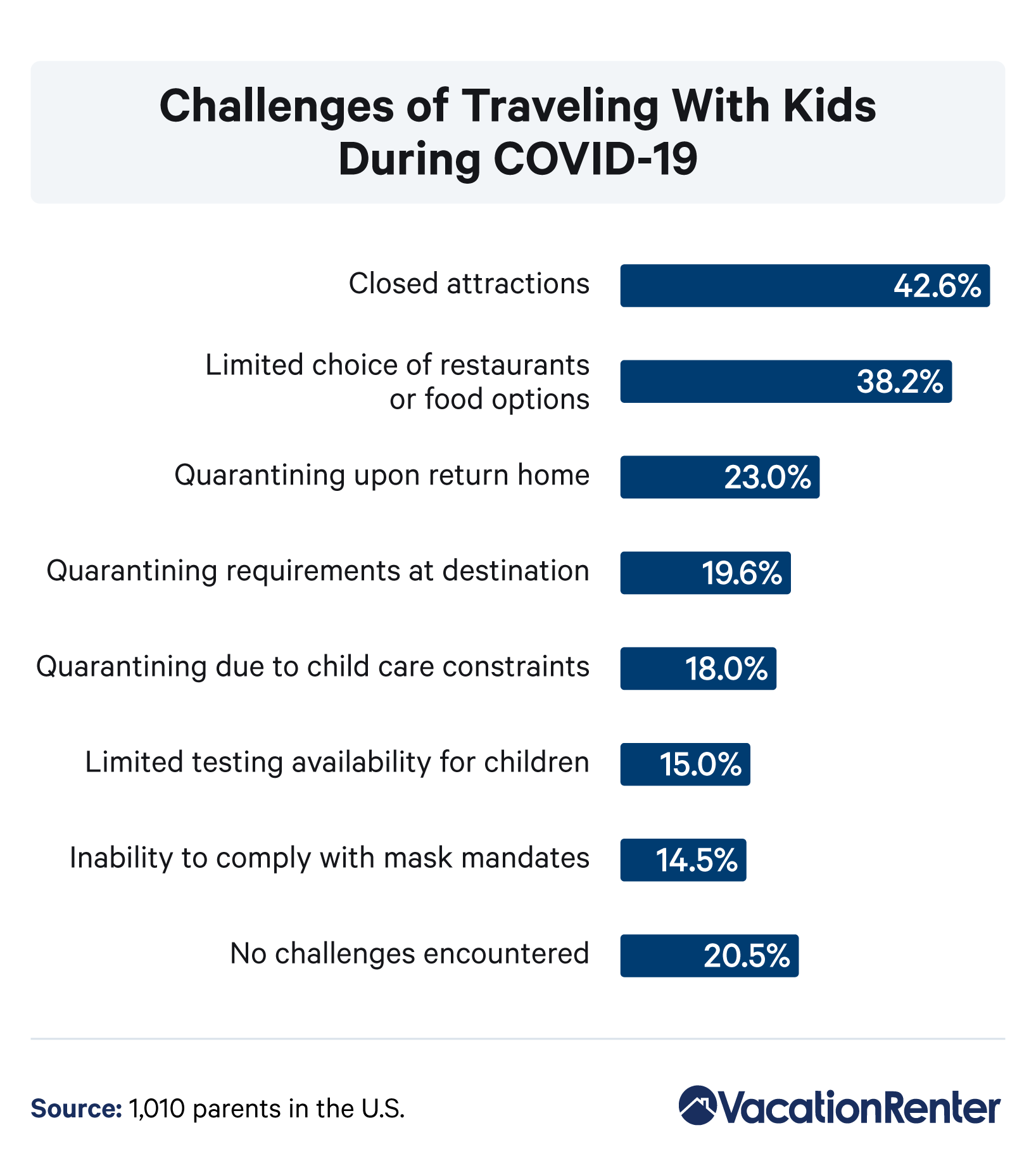 If families managed to go ahead with their trips in the wake of COVID-19, many faced common challenges. We know how important attractions are, especially for kids, and many have been shut down or have been running at limited capacity. This was the biggest bummer, according to 42.6% of parents. Almost 40% also found the lack of restaurants and food options challenging, and many struggled with quarantine-related protocols and health-related compliances. Just over a fifth of respondents were lucky to have encountered no issues at all during their trip.
One Big Happy Family
Clearly, organizing a trip with children is no easy feat. There's no telling when a tantrum might occur, but it seems as if kids become much more manageable as they get older. Even with the headaches, respondents did see a lot of upside when traveling as a family, and trips are sure to become even more successful once the global pandemic subsides.
There's no telling when borders will open, let alone our own cities. But when the time is right, taking the next family vacation will surely feel amazing. We don't want you to waste a minute worrying about your accommodations! At VacationRenter, we are committed to finding you the perfect rental as quickly and efficiently as possible. Wherever you're going, we've got the place. Head over now to see what's in store for you.
Methodology
This study uses data from a survey of 1,010 parents located in the U.S. Survey respondents were gathered through the Amazon Mechanical Turk survey platform where they were presented with a series of questions, including attention-check and disqualification questions. 45.9% of respondents identified as men, while 54.1% identified as women. Respondents ranged in age from 22 to 74 with an average age of 35. Participants incorrectly answering any attention-check question had their answers disqualified. This study has a 3% margin of error on a 95% confidence interval. 
Please note that survey responses are self-reported and are subject to issues, such as exaggeration, recency bias, and telescoping.
Fair Use Statement
We've all been kids, so we know what it's like to travel with them. If you think your friends or family might get a kick out of this article, feel free to send it their way. We only ask that you do so for noncommercial use and that you provide a link back to the original page so contributors can earn credit for their work!