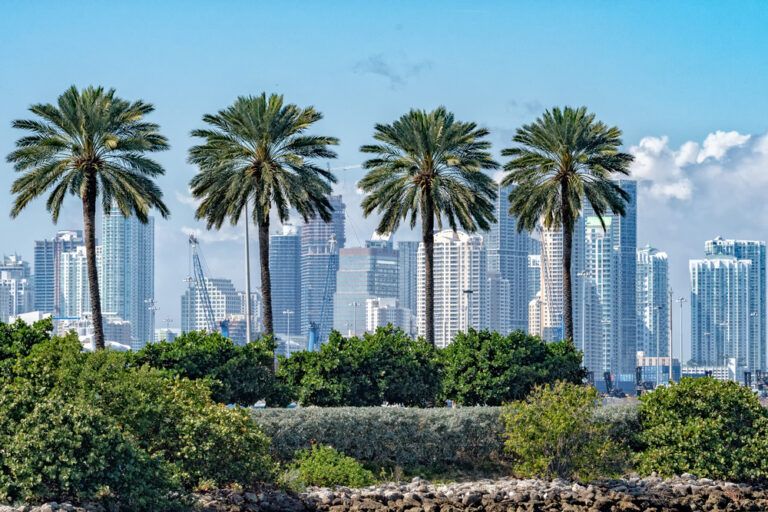 As America looks forward to returning to normalcy in 2021, priorities for most include reuniting with family and supporting local businesses. One thing Americans are especially looking forward to in 2021 is being one step closer to traveling again. Although it may take some time to return to life pre-pandemic, it's clear that people are excited about the potential of packing their bags and exploring a new location safely. 
And since it's been a while since most people took a proper vacation — or spent a significant amount of time anywhere that wasn't their home – we're here to give you a recap of where the most trendy travel destinations are and popular activities to do once you get there. 
So which cities are currently ranked as up-and-coming travel destinations? With the ingredients of a trendy destination in mind: places that are often associated with widespread cultural acceptance, tech-savvy, social awareness, and free-thinking – and data from Yelp Fusion APIs – we identified America's top up-and-coming cities, plus the most unique things to do in each. Read on to see what we uncovered and the vacation destination you might want to start planning for when it's safe to do so again. 
What Makes a City Trendy?
To understand what makes a city up and coming, we surveyed over 1,000 people about what they look for in a modern and trendy travel destination. According to their responses, the five most common elements of these up-and-coming cities were:
Having a music scene (62.6%)
Youth population (58.7%)
Nightlife (57.5%) 
Art (52.5%)
A high cost-of-living (43%)

 
While the threat of an increasing cost-of-living may be concerning for some, for others, it may signal that a city offers the ingredients of an exciting, up-and-coming area.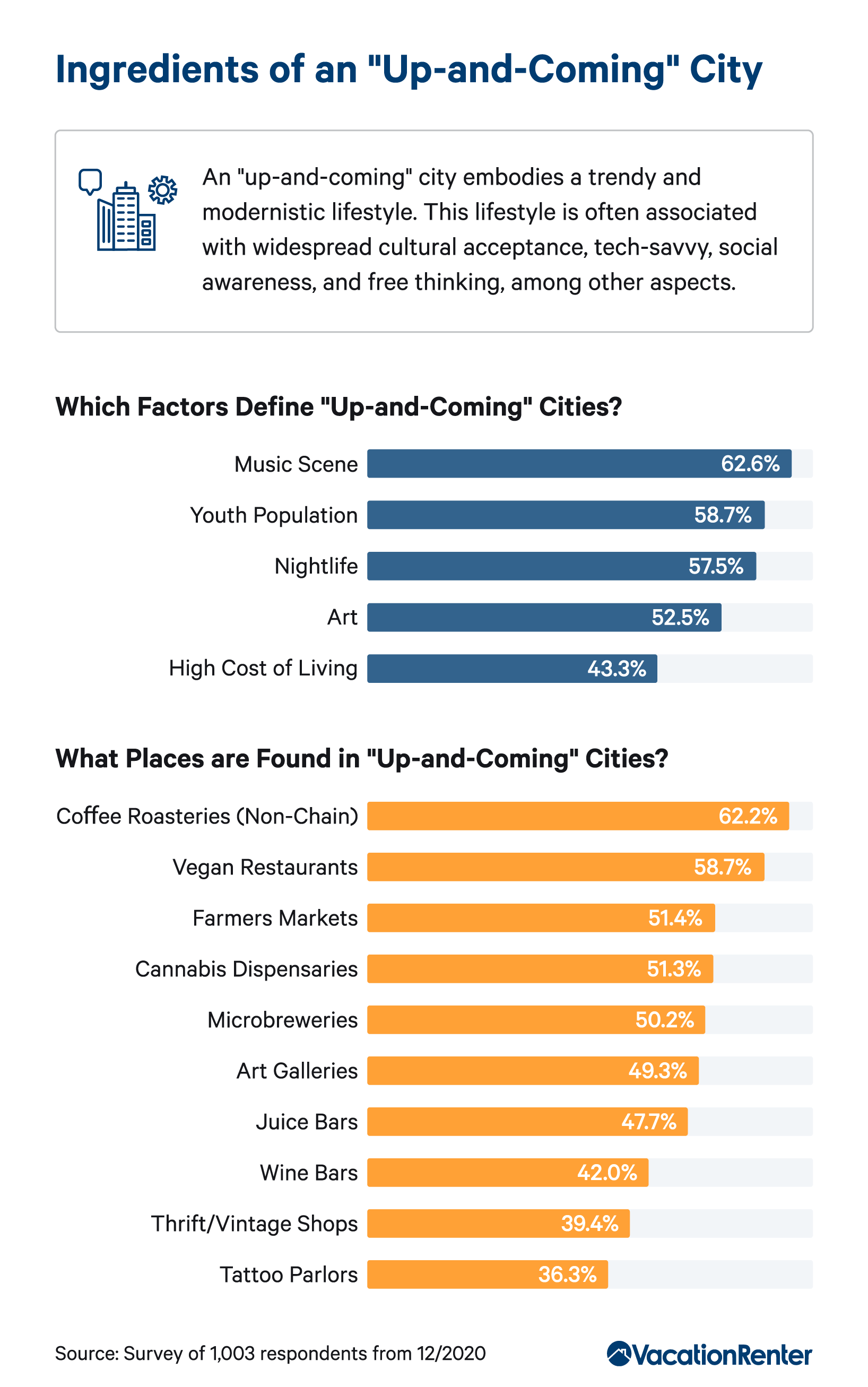 When asked what places are found in up-and-coming cities, respondents indicated these establishments were the most popular options

Coffee roasteries (62.2%)
Vegan restaurants (58.7%)
Farmers markets (51.4%)
Cannabis dispensaries (51.3%) 
While slightly less common, microbreweries (50.2%), art galleries (49.3%), and juice bars (47.7%) also made the list. 
Finding the Right Vibe
People we polled identified youthful residents as one of the ingredients of what makes an up-and-coming city so trendy, which may explain why some older respondents don't feel as welcome in those areas.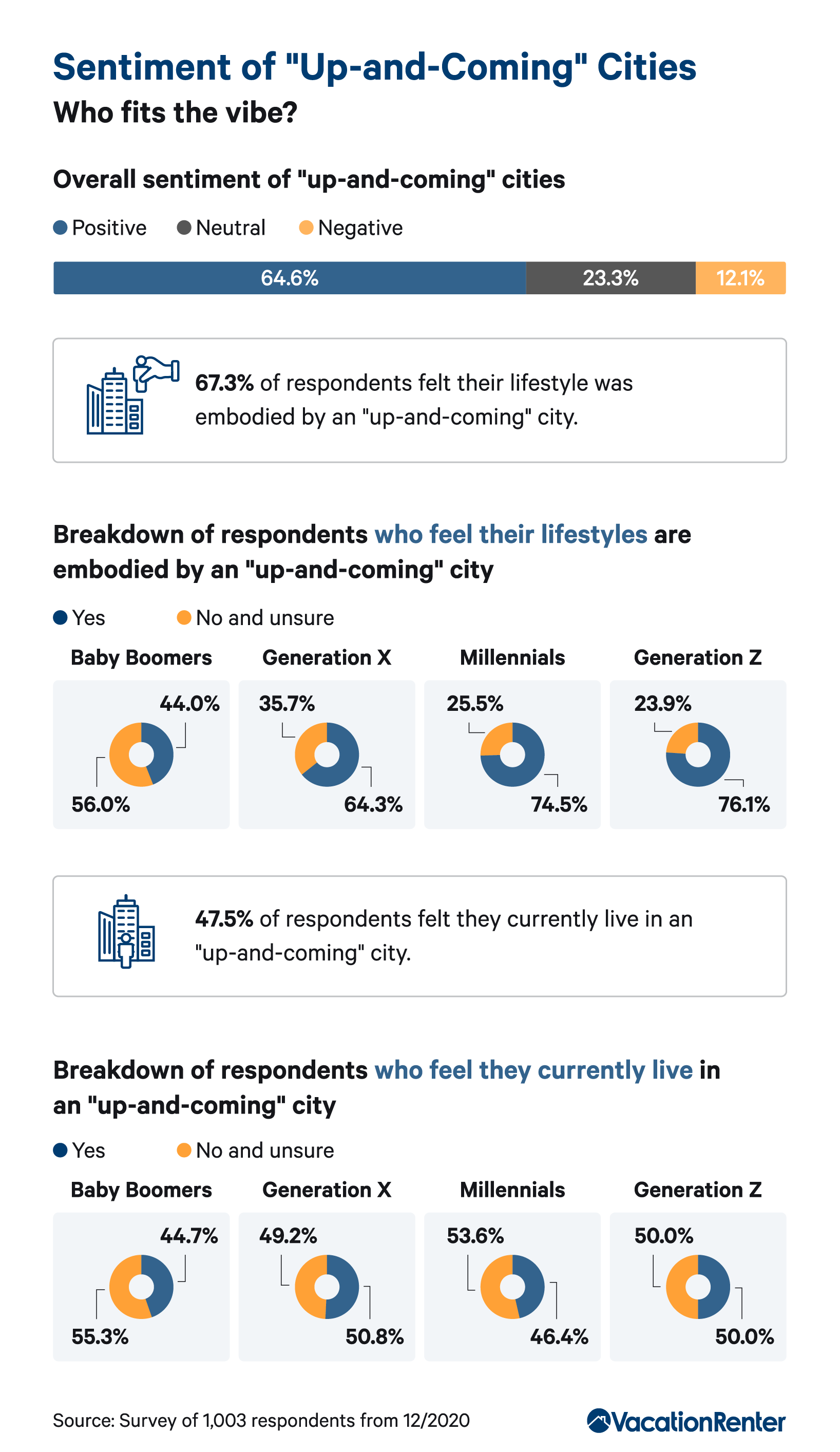 While 64.6% of people reported feeling as though they "fit in" with these modern cities, those numbers were lower among baby boomers (44%) and Gen X respondents (64.3%) and higher with millennials (74.5%) and Generation Z (76.1%).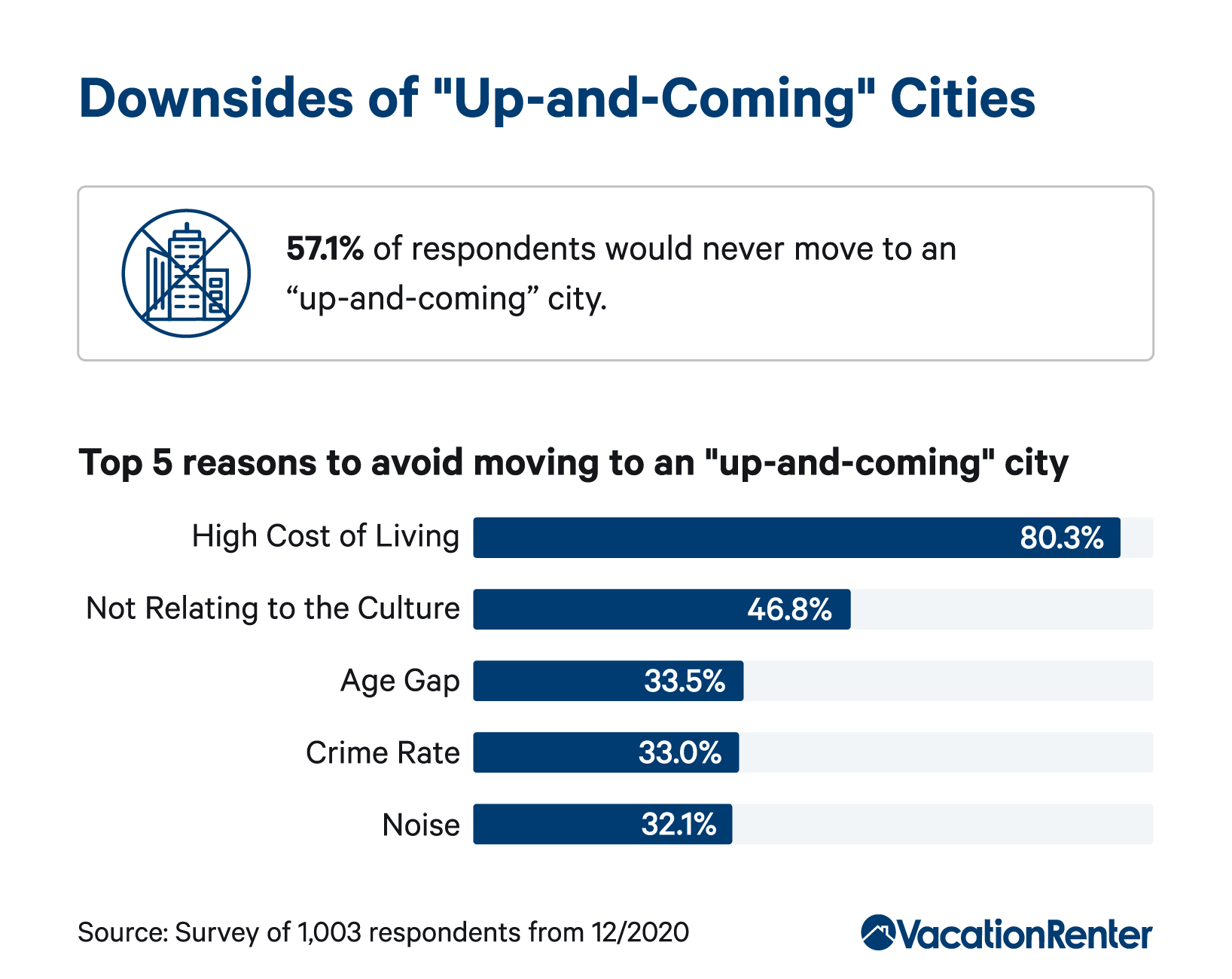 While they may be nice to visit, 57.1% of people said they would never move to an up-and-coming city – more so the baby boomers (78.5%) and Gen X respondents (64.6%) than the millennials (48.7%) and Generation Z (40.9%). This was primarily due to the high cost of living (80.3%), not relating to the culture (46.8%), and a potential age gap (33.5%).
Modern Travel Destinations
To identify the cities with the most trendy locations, we created the Up-and-Coming index by analyzing the number of trendy locations within a city and their ratings defined by the Yelp Fusion API.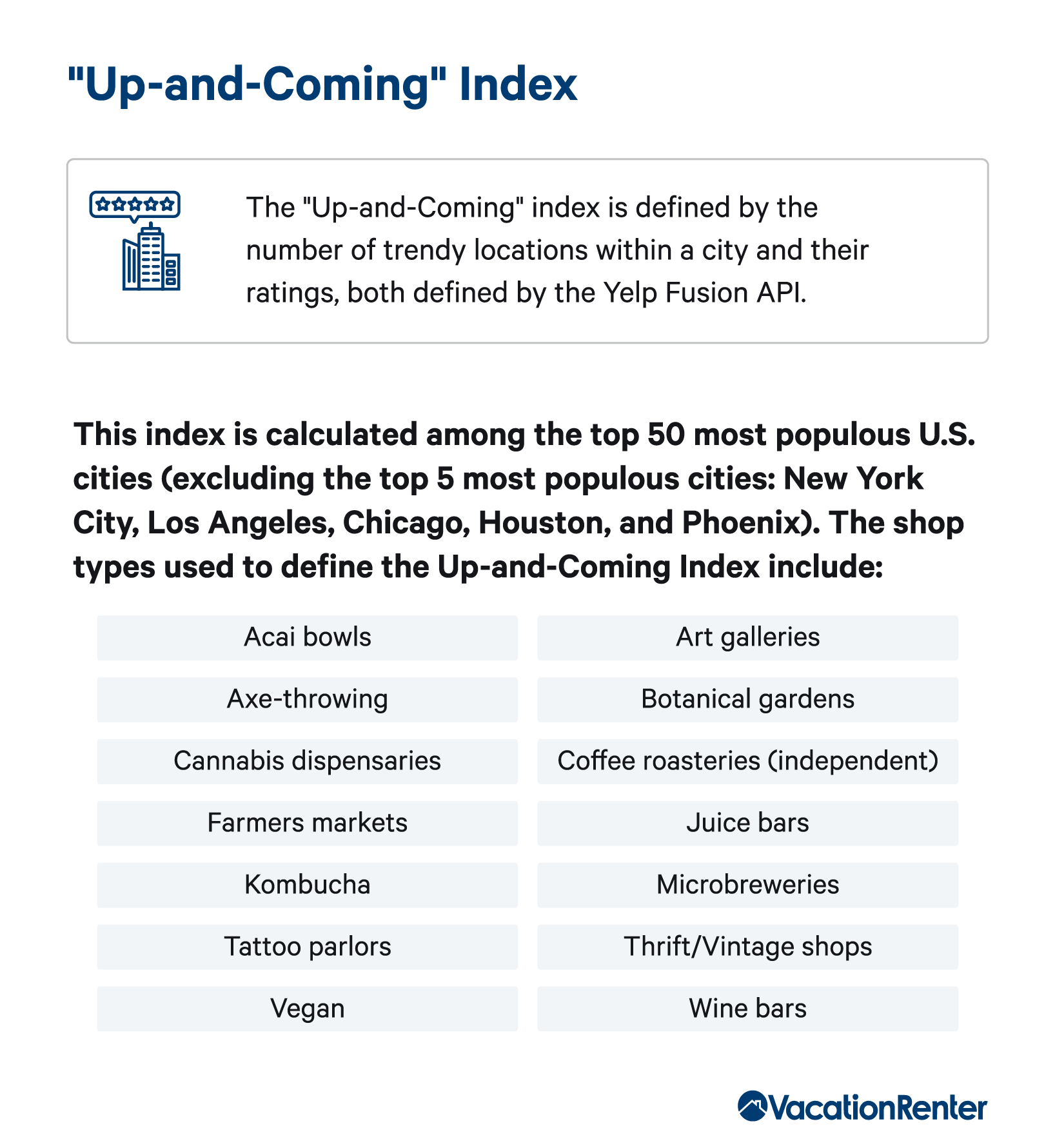 We isolated the 50 most populous cities in the U.S. excluding the top 5 (New York City, Los Angeles, Chicago, Houston, and Phoenix), as these cities are already established as major cities and can't be deemed as up-and-coming.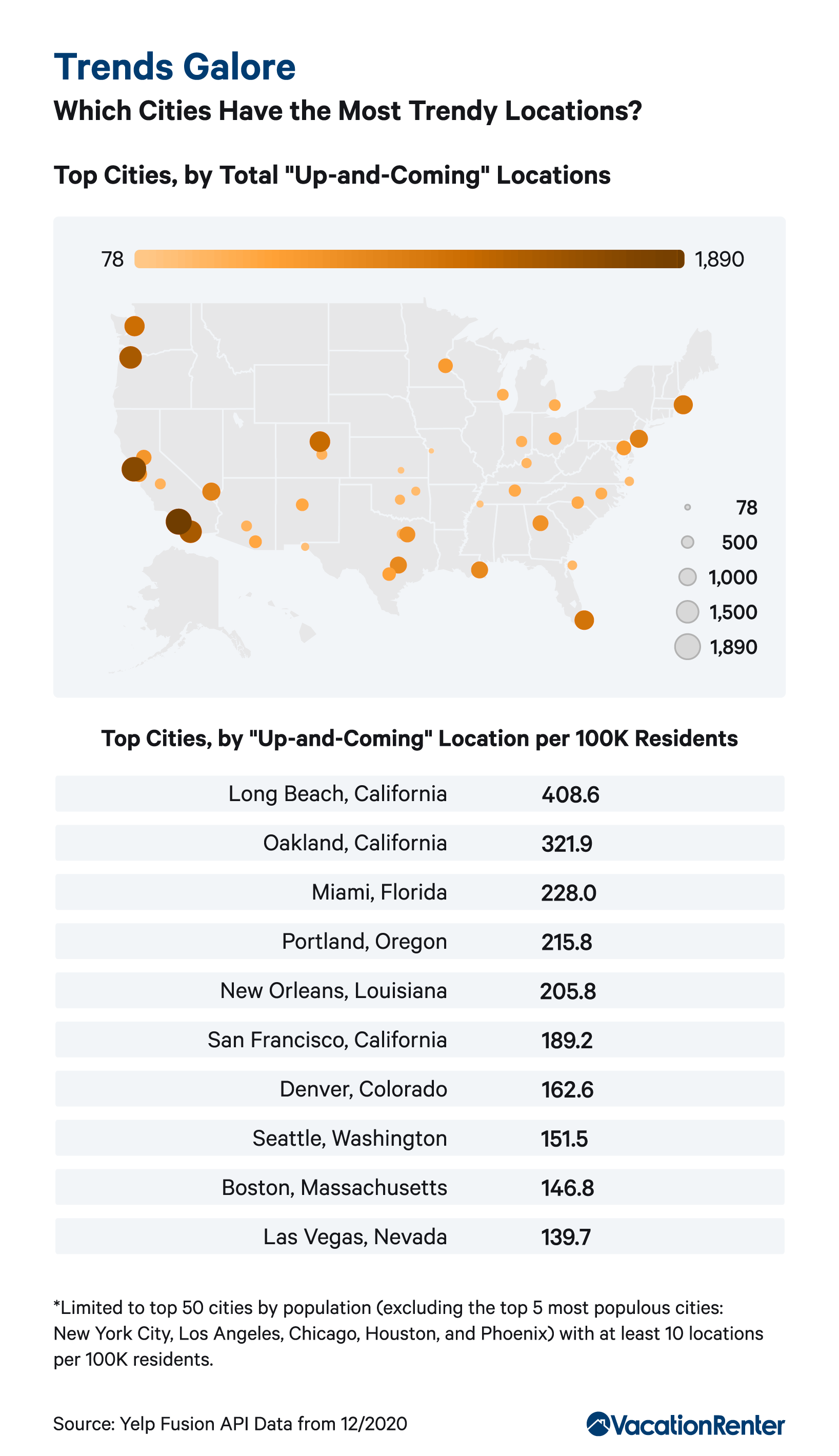 If you're looking for up-and-coming travel locations where you'll have no shortage of trendy things to do, there's only one clear choice for where to go: Long Beach. With over 408 up-and-coming locations for every 100,000 residents, this Los Angeles neighbor is home to ample trendy locations minus the crowds. Drive roughly 6 hours north to Oakland, California (321 spots per 100K residents), or consider a different beach scene altogether in Miami, Florida (228 spots per 100K residents), to avoid packed juice bars or long lines for the ax-throwing experiences. 
Of the 10 up-and-coming cities listed above by the number of trendy locations per 100,000 residents, 3 can be found in the golden state of California (Long Beach, Oakland, and San Francisco). Outside of California, the west coast is still enticing, with Portland (215.8 locations per 100,000 residents), Seattle (151.5 locations per 100,000 residents), and Las Vegas (139.7 locations per 100,000 residents) looking like viable up-and-coming destinations. 
4-Star Reviews or Higher
It's nice to have a multitude of options if you're looking for trendy things to do, but it can be even better to know that most of them have positive reviews online.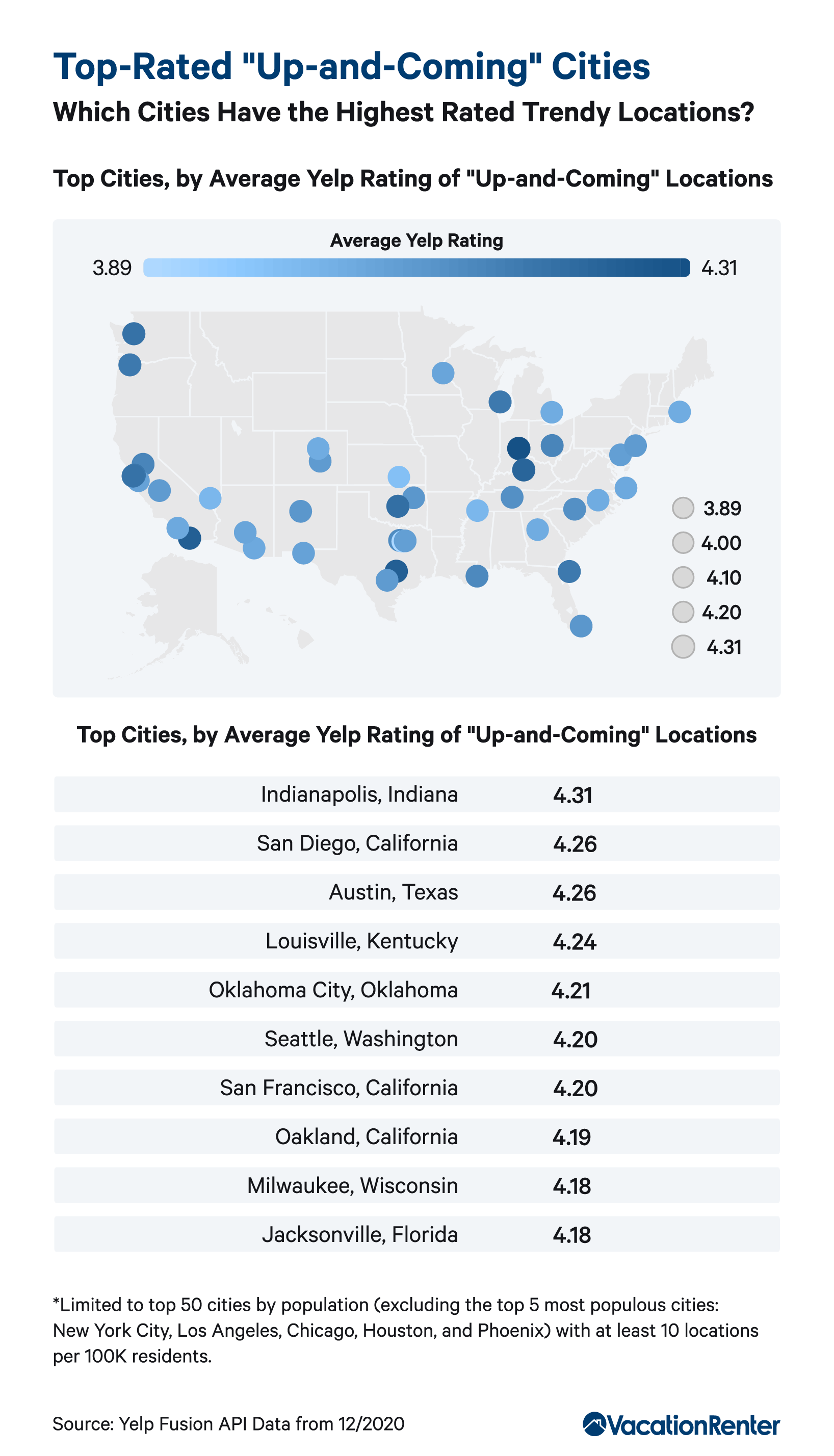 Top cities with the highest average rating for up-and-coming locations included Indianapolis, Indiana; San Diego, California; Austin, Texas; Louisville, Kentucky; and Oklahoma City, Oklahoma.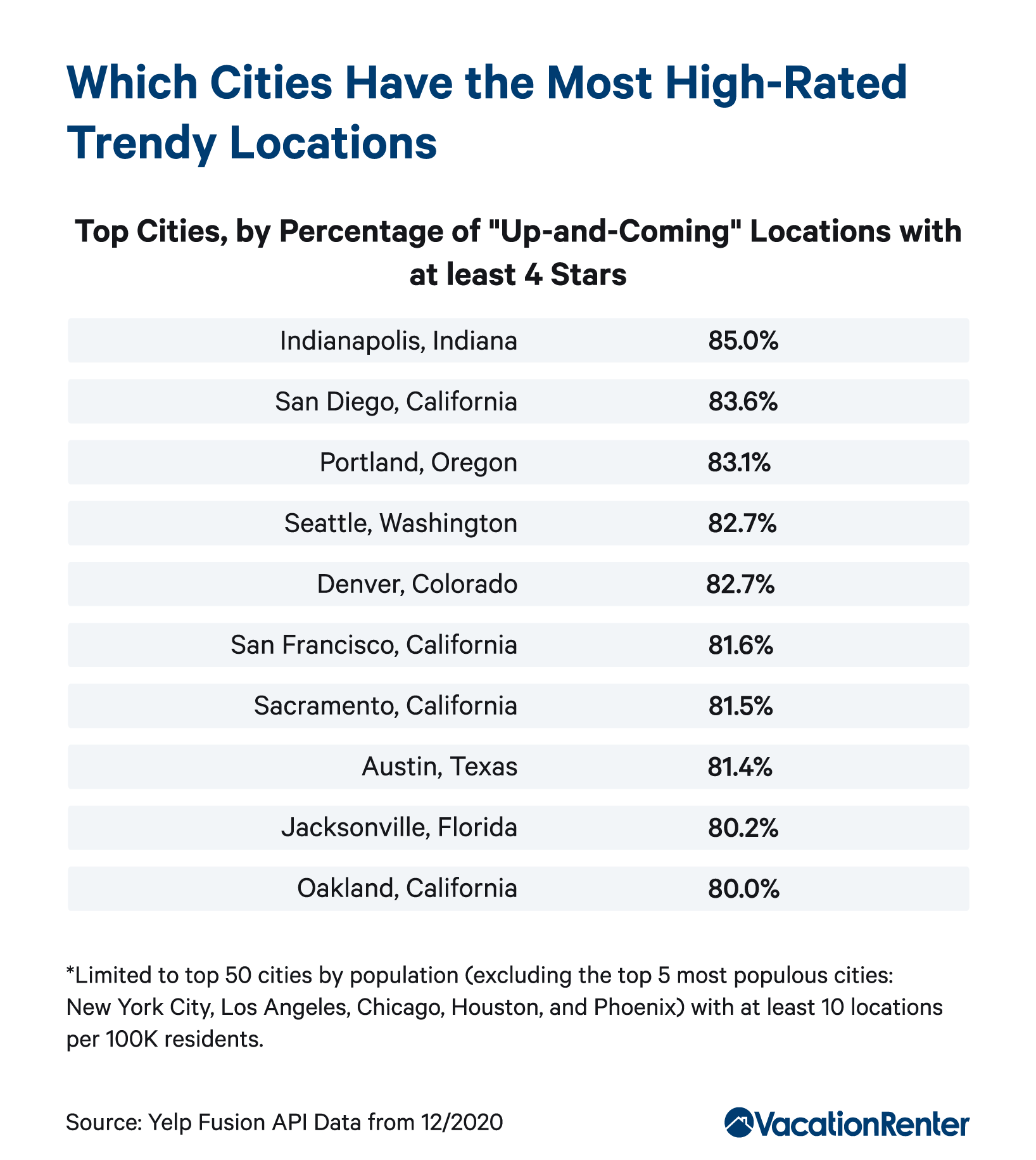 Indianapolis, Indiana – a foodie city with museums, great outdoor activities, and the iconic Garfield Park Farmers Market – also had the highest percentage of up-and-coming locations with at least 4-star reviews (85%), followed by San Diego (83.6%) and Portland, Oregon (83.1%).
Finding Your Niche
If you want to narrow your focus down to the things you most enjoy doing, consider this list of the best up-and-coming locations based on location types, including art galleries, juice bars, and vegan restaurants.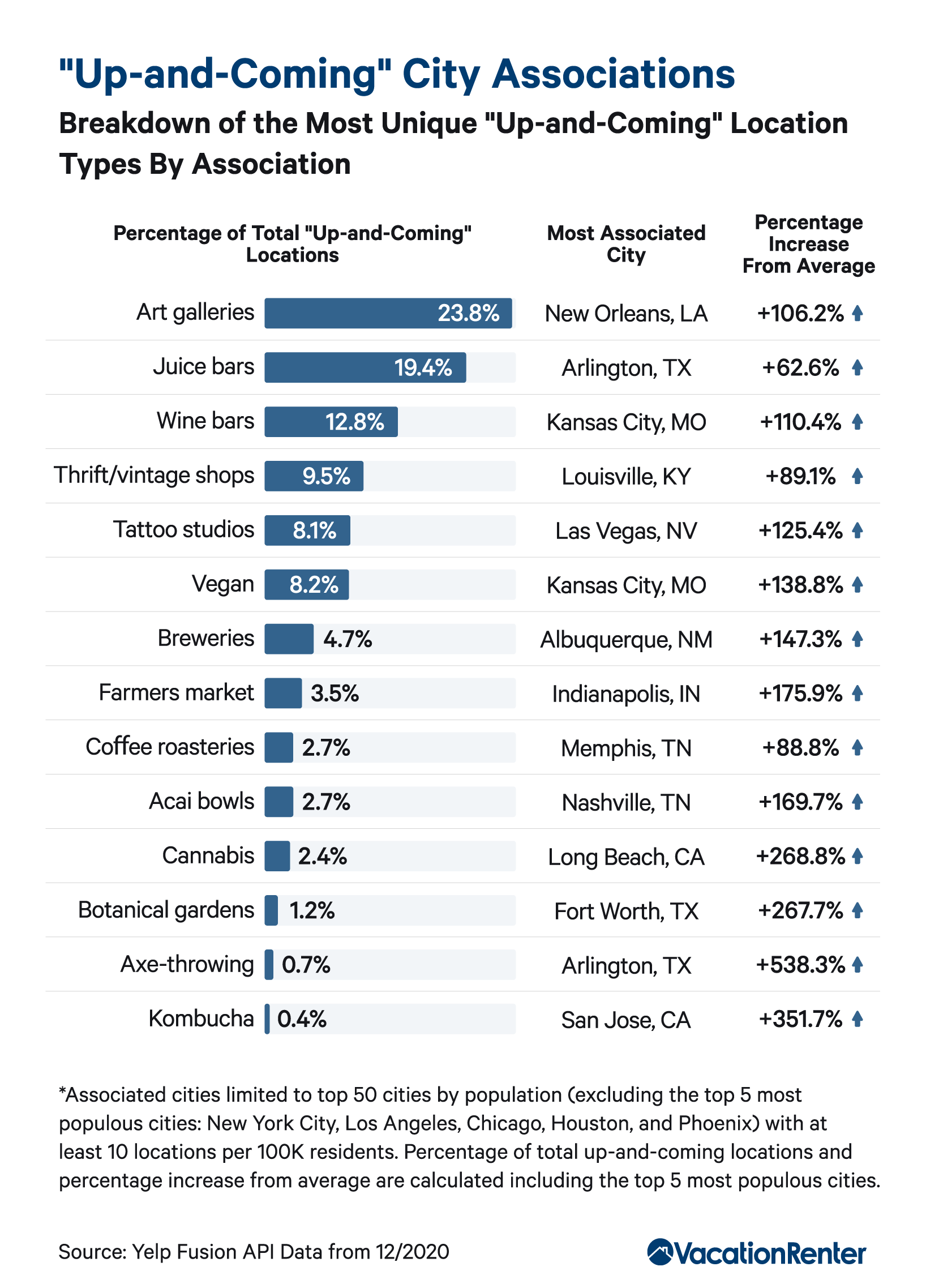 New Orleans, Louisiana is most associated with art galleries, as 49.1% of the trendy locations in the city pertain to art, more than double the average from any of the other cities we analyzed. Once you've had your fill of beignets and Bourbon Street, consider the near-endless number of contemporary studios and fine art the city has to offer. For juice bars, Arlington, Texas, has more options than you'll find anywhere, but if you prefer something stronger, Kansas City, Missouri, has the highest density of wine bars. Saving room for amazing vegan cuisine? Kansas City also has 138.8% more vegan restaurants than the national average, including Mud Pie Vegan Bakery and The Mixx.
Finding Your Next Getaway
Whether you're excited about finding local microbreweries or shopping in hidden gem thrift stores, you may not have to look far for trendy, up-and-coming travel destinations to visit when it's safe to travel. Common vacation spots like Miami, San Francisco, and Seattle all made the cut, with plenty of options for botanical gardens and kombucha on tap. If you want to find the best-rated options though, you might need to consider more unsung destinations, including Indianapolis and San Diego, where 4-star locales flow like water. 
Wherever you're going after the pandemic, VacationRenter can help you get there. By helping you find the perfect vacation rental anywhere in the United States, from Cape Cod to California, and virtually everything in between, you can do what you love in a place that feels like home. Our team of travel enthusiasts is committed to helping you find the perfect rental by bringing all of the leading travel sites together – including Booking.com, HomeAway, Outdoorsy, and more – in one easy-to-use place. Whether you're looking for a spot in the mountains or a bed by the sea, book your next vacation rental with us today!
Methodology and Limitations
For the first half of the study, we collected responses from 1,003 respondents using Amazon MTurk. Of the 1,003 respondents surveyed, 48.5% were female, 51.1% were male, and 0.4% identified as nonbinary. The average age of respondents was 39.45 with a standard deviation of 13.14 years.
The main limitation of this half of the study is the reliance on self-report, which is faced with several issues, such as, but not limited to, attribution, exaggeration, recency bias, and telescoping. Data are solely representative of self-reported claims by respondents. This survey ran in December 2020.
For the second half of the study, we collected data from the Yelp Fusion API for specific locations defining the "Up-and-Coming" index from the top 50 U.S. cities by population. Locations include Yelp results returned for "farmersmarket," "coffeeroasteries," "vintage," "thrift_stores," "tattoo," "kombucha," "juicebars," "acaibowls," "axethrowing," "gardens," "galleries," "vegan," "cannabisdispensaries," "breweries," and "wine_bars." Data was requested on January 5, 2021. Data excludes chain establishments for coffee roasteries and wine bars (defined as restaurants with 15 or more U.S. locations) and locations that fall outside city limits. The final number of locations analyzed in this study is 36,583. The list of the top 50 most populous cities analyzed excluded cities within the group with less than 10 locations per 100,000 residents. We also excluded the top 5 most populous cities (New York City, Los Angeles, Chicago, Houston, and Phoenix) from appearing as an up-and-coming city due to their presence as already established cities, however, these cities were included in determining the national breakdown of up-and-coming locations and the national average of each up-and-coming location.
No statistical testing was performed, so the claims listed above for the second half of the study are based on means alone. As such, this content is exploratory and is presented for informational purposes only.
Fair Use Statement
Are your readers itching to get away? Help them plan for traveling again by sharing the results of this study for any noncommercial use. We simply ask that you include a link back to this page in your story as a credit to our incredible team of contributors for their work on this report.