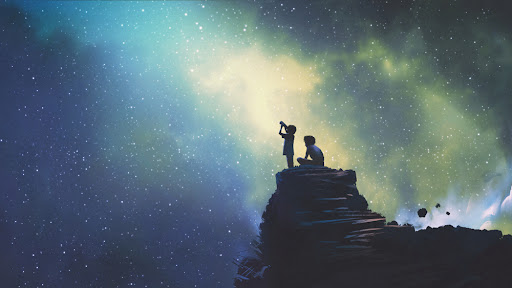 Bermuda, Bahamas, or outer space? According to our survey, 47% of people believe we'll see space tourism available to the masses by 2030. The shocking part is 80% said they'd hop on the rocket and join in if the opportunity arose. Forget spring break in Ft. Lauderdale — today's traveler has their eye on a galaxy far, far away. 
Key Takeaways
People would be willing to spend over $52,000 to travel to space

47% of people believe that space tourism will be available to the masses by 2030

SpaceX is the most trusted brand for space travel
Thanks to Sir Richard Branson, Elon Musk, and Jeff Bezos, the fantasy of space tourism is no longer too far-fetched, and the dreamers are anxiously awaiting their day. With SpaceX becoming a household name, respondents' trusted this company the most for space travel. 
A vacation to space doesn't come cheap. Still, many people say they'd be willing to fork over $52,000, on average, to make it happen. 
In this article we'll look at what we think a space vacation might look like in the future. Pack your bags and get prepared. A romantic dinner on the moon is no longer light-years away. 
What Is Space Travel Worth to You?
So what is space travel worth to you? Are you willing to request PTO for a week on the moon? 
According to The Planetary Society, space travel is worth it for the fact that it may help the economy through job opportunities for those who are highly skilled, the advancement of technology, and the creation of unique business opportunities.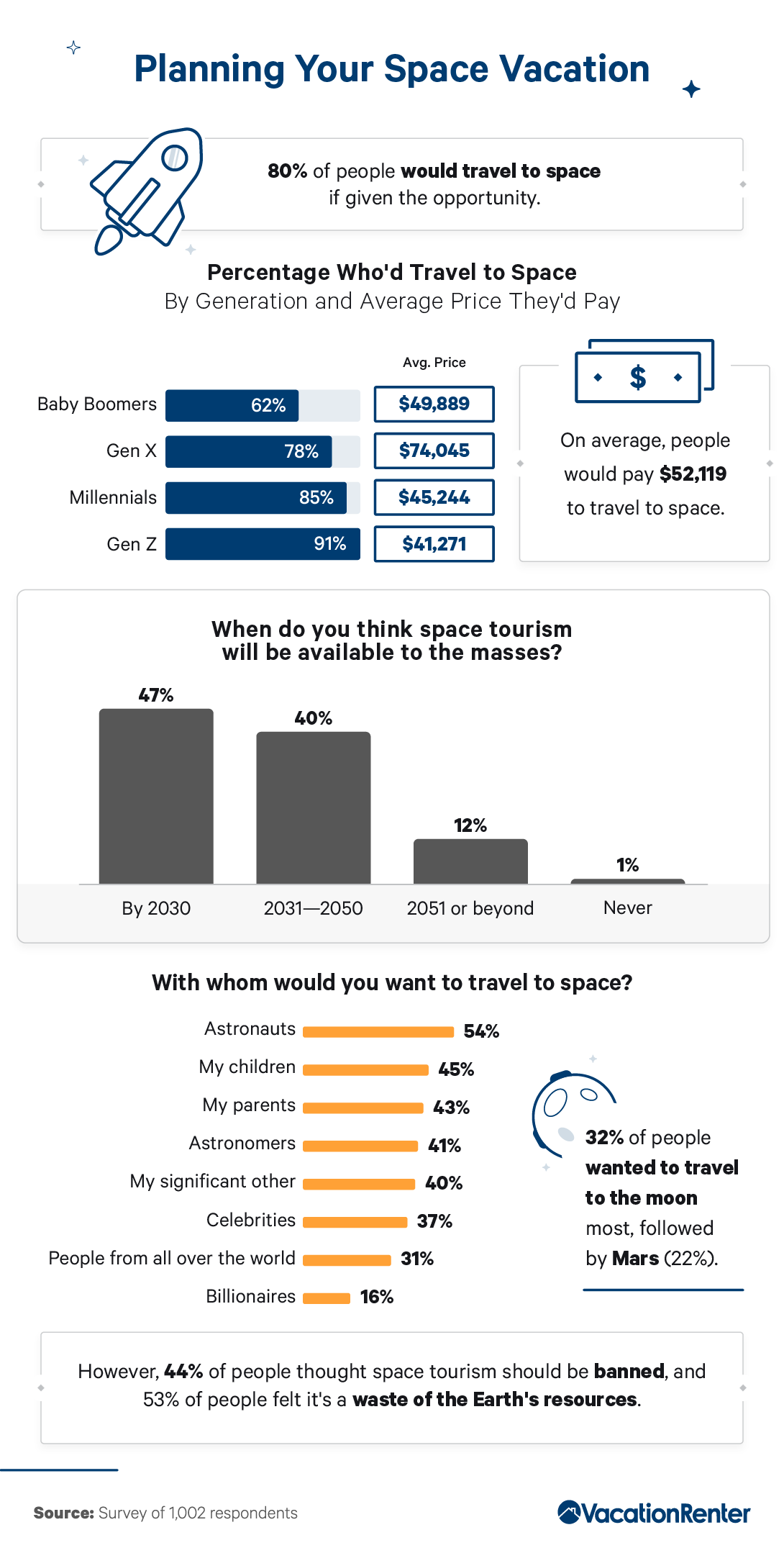 It's fun to think about. Would you give up that new car or boat you've been saving for, if Elon knocked on your door and said, "you've been chosen" — despite the cost? $52,000 is no small sum. According to our survey, 78% of Gen Xers would climb aboard and even pay up to $74,000 to hitch a ride to space. Gen Z on the other hand, at the highest rate of willingness to go (91%), was a bit more financially frugal topping out around $41,000.
Is Celebrity Space Travel Helping?
When surveyed, 58% of people thought it would be a cool thing to see celebrities in space. Not all that surprising — since SpaceX was deemed the most trusted space brand by respondents, 42% would choose to travel to space with Elon Musk rather than the "other" guys.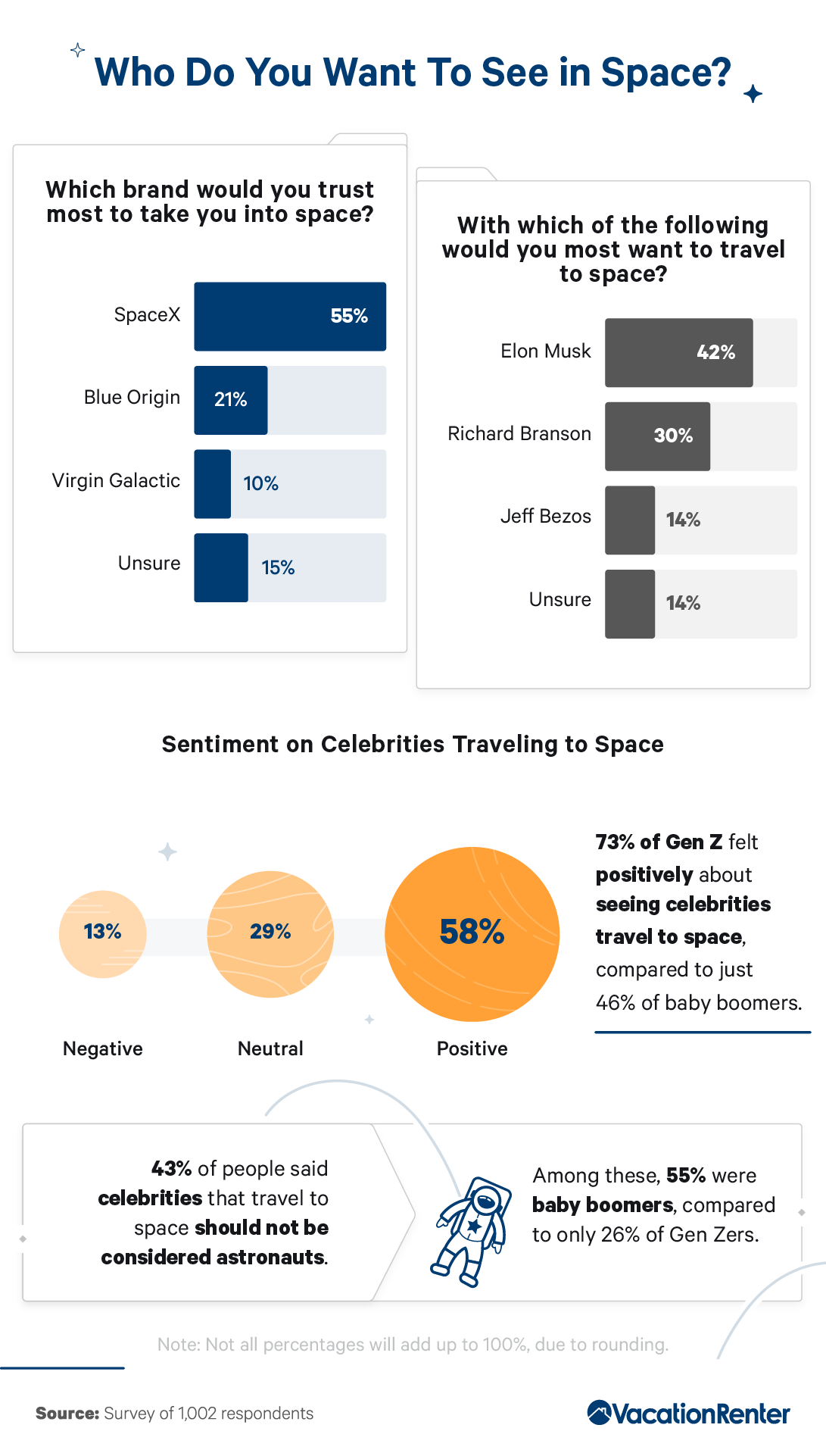 There's a good chance seeing celebrities in space would help boom the business. We are drawn to other things our favorite celebrities choose to do, so why not space tourism? If Dwayne Johnson comes back from a universal space tour and announces dinner on the moon is literally out of this world, many people may shoot for the moon rather than Mars.
Exploring Space Tourism
We know more about the moon than some planets, thanks to Neil Armstrong. As far as vacations go, prepare for a rocky adventure. When dining, we imagine there will be pods or stations designed to give you an Earth-like experience with the option to buy a T-shirt reading, "I ate dinner on the moon." Still, creators of space restaurants would miss out if they didn't also offer anti-gravity rooms. Grab a fork, and stick what you can as it floats by. Dinner on the moon may be the adventure of a lifetime for our traveling foodies.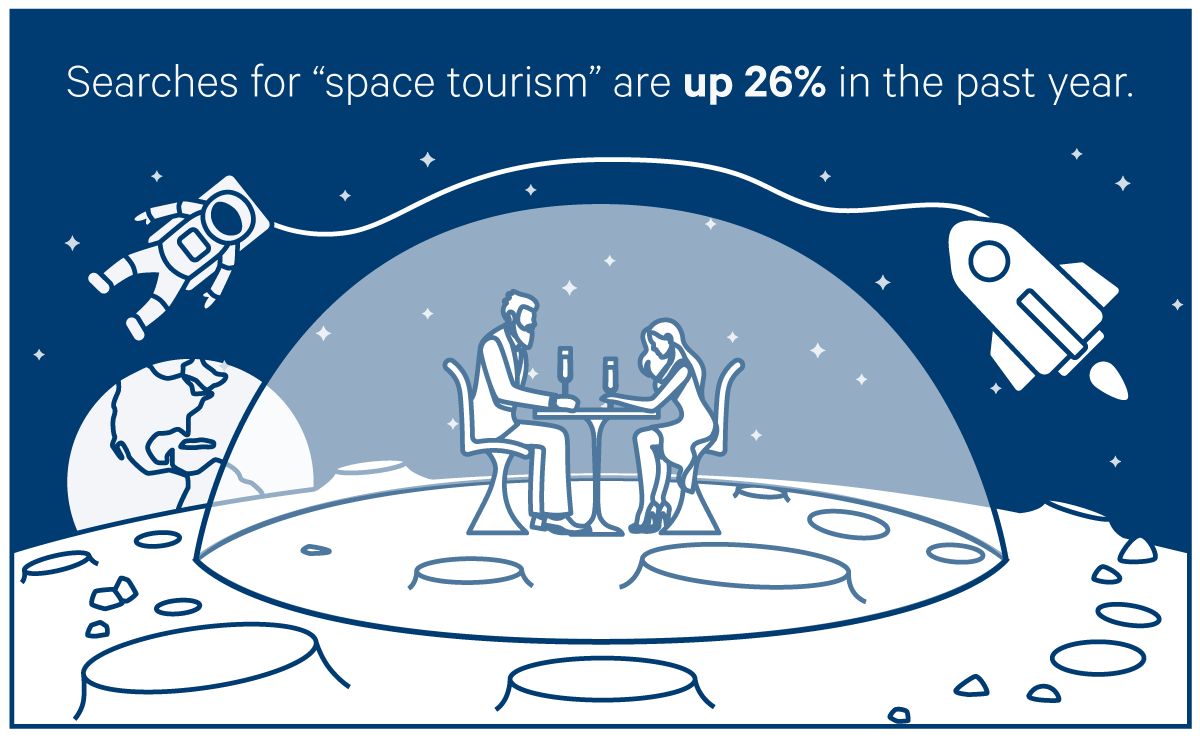 Menu items would be fun: crescent sandwiches, moon pies, rocky road ice cream — and let's face it, with the moon's infamous dusty atmosphere, they've got to play Dust in the Wind by Kansas for the full, moon-like ambiance. And after dessert, a moonwalk, please. 
Adventurers should be all over Mars. Picture a place with canyons, volcanoes, very rocky terrain, and throw in an average of minus 80 degrees Fahrenheit, and you've got Mars. Such a tiny place has quite a reputation. We think it's the perfect place to dune buggy, space style. Granted, you couldn't actually get out of the dune buggy, but let's not dwell on minor details.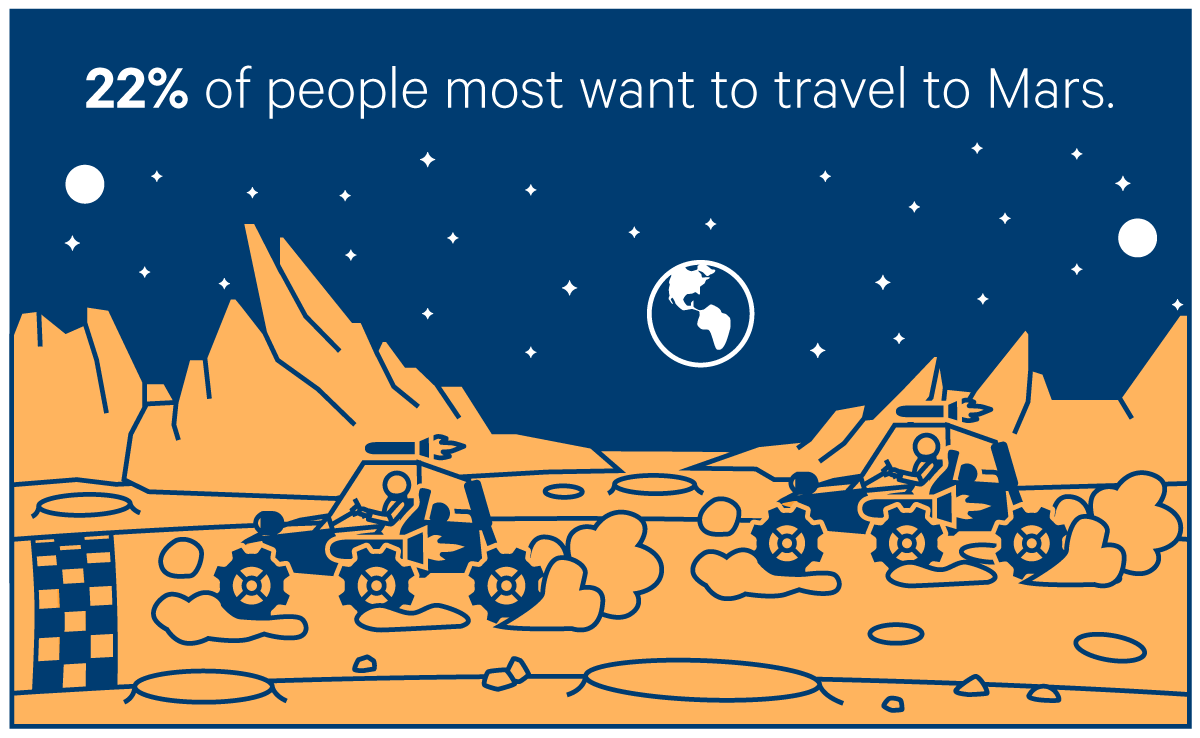 Picture, if you will, nothing on Mars but the cutest little dune buggy station. After dinner on the moon, you grab the local space shuttle for some nighttime fun at Mars Dune Buggy Adventures. The shuttle slides safely into the station, and you're quickly outfitted in dune buggy safety attire, with some oxygen and something to protect you from becoming a human popsicle. Then they shoot you out onto Mars for the race of a lifetime! You're certain to never feel so much fear and fun at the same time.
How Do You Picture Your Space Vacation?
We all have our own vision of what a space vacation might look like. How do you picture yours?
There's sure to be a hopeless romantic out there who is hoping to be the first to make a wedding proposal in outer space. The adventurer wants to experience every planet possible. The artist dreams of inspiration.
We'll have to wait some time before it's a reality. In the meantime, with the help of VacationRenter, space dreamers can visit places like the Kennedy Space Center, Canaveral National Seashore, and West Cocoa Beach Pier to watch rockets launch toward the places they hope to go someday. 
Mentioned In This Article
Methodology and Limitations
VacationRenter surveyed 1,002 Americans about space tourism. 20.5% of the respondents were baby boomers, 24.6% were Gen Xers, 32.9% were millennials, and 22% were Gen Zers. There was a 3% margin of error, with a 95% confidence level. For short, open-ended questions, outliers were removed. Survey data has certain limitations related to self-reporting. These limitations include telescoping, exaggeration, and selective memory. 
Fair Use Statement
If you enjoyed our study on the fantasy of possible future space tourism, please feel free to share this article for noncommercial use. Just be sure to link back to the original article so our contributors can receive credit for their work.