Großzügig, leise, hell und geschmackvoll, zentral gelegen für 6-/ Personen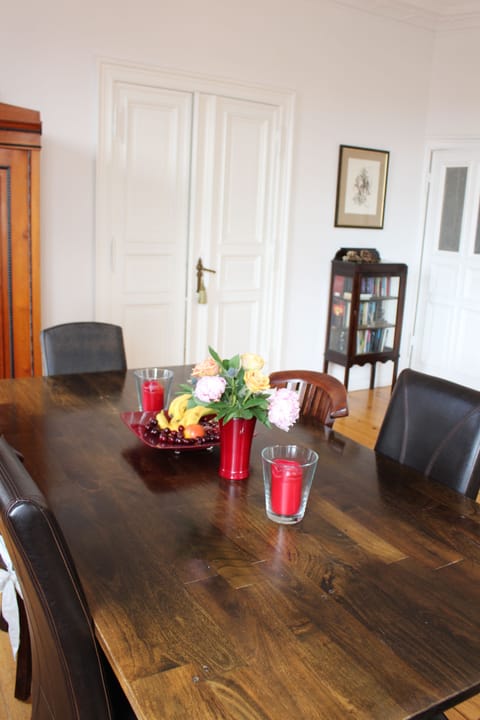 Über diese eigentumswohnung Unterkunft
Eingebettet in Berlin, dieses charmant eigentumswohnung für 226 € pro Nacht ist ein großartig Option für Ihr nächstes Urlaub. Registrierungsnummer:01/Z/RA/015788-23 (Bezirksamt Berlin) Schauen Sie sich das Video an: https://www.youtube.com/watch?v=tiEvlVbEHD0
Leises, helles und großzügiges Apartment mit Stuckdecken, komplett neu renoviert, neue Möbel, moderne Küche mit allen Geräten, Waschmaschine, Trockner. Charmantes, hochwertiges Berlin typisches Apartment der Gründerzeit, von dem aus Sie alle Sehenswürdigkeiten in wenigen Minuten erreichen können. Nichtraucherapartment. S- und U-Bahn sind 5 Gehminuten weg. Die Wohnung ist in einem ruhigen Haus und in ruhiger Umgebung gelegen.
Ausstattung
Pool
Küche/Kochnische
Internet/WLAN
Parkplatz
Waschmaschine
Balkon/Terrasse
Spülmaschine
Whirlpool/Spa
Fernseher
Familienfreundlich
Bewertungen
4.8 / 5

"Herausragend"

(112 Bewertungen)
3 generations of women. Oldest lived in Berlin as a child. Youngest worked in Berlin for 2 years before Covid. The Apartment had lots of space and a decent kitchen. Excellent shower.
The apartment was clean and bright. The bedrooms are all large and comfortable and we really appreciated the washer and dryer and dishwasher. The hosts were great—pleasant and responsive. Close to the S bahn and U bahn, which run every few minutes and you can get anywhere in Berlin in a short time. The neighborhood was quiet and shopping nearby. We'll definitely stay here again!
The Air BB was beautiful, comfortable and in a safe and interesting neighborhood. It was an easy walk to a variety of restaurants and grocery store. The U-Bahn was a 10 minute walk and an easy ride to the main attractions.
It's a great flat. Large light and airy rooms, comfortable beds, well furnished. Everything you need. 5 minutes from the U-bahn, the supermarket, a decent kebab shop, some good restaurants. On a very quiet road in a quiet block. The check in process was pretty smooth even though we were running late from the airport. Would definitely recommend this apartment.
We totally recommend it. Spacious and clean apartment, not far from public transport.
My sister and I are retired and we spent a month in Berlin at this apartment. We found the apartment to be enormous, lovely, comfortable and with a modern bathroom and kitchen. The presence of a washer and dryer was extremely helpful. A few things to be aware of - the apartment DOES have an elevator, but it is 1/2 floor up, so if you have major mobility issues, this could be a problem. This is because most older residential buildings in Berlin do not have elevators nor air conditioning. The latter proved a bit of a problem when the weather reached the low 90's for several consecutive days. There was only one fan in one bedroom. The metro is close - about 1/3 of a mile away and a huge grocery store (Edeka) just beyond. In the other direction you can find the S-bahn station not far away which is above ground. We were first time visitors to Berlin and thus unaware that graffiti is ubiquitous in the city. Consequently when we arrived we were a bit put off at the graffiti on nearby buildings and wondered if we were in a bad neighborhood, but we quickly realized that this is just the way it is everywhere, in all neighborhoods, and our neighborhood was great. It was full of young people just starting out with small children. We felt very safe in the apartment and in the area. It's a lovely apartment in a great location with multiple restaurants and cafes nearby. We heartily recommend it.
This apartment is a fantastic stay in Berlin! Located 5 minutes between a U-bahn (subway) and S-bahn (commute train) I was able to easily get anywhere I wanted within the city and abroad with a single, seasonal €9 pass (including to and from the Berlin airport). The heart of the city and all of its rich history is less than a 15 minute Subway ride away and the airport roughly 45 minutes on the Airport express train. The apartment itself had all the amenities needed including a full kitchen, laundry washer/dryer, and all the linens needed. I was left wanting nothing. I cannot recommend this apartment any higher. Fiala is a great hostess and you will be served well!
4.0
Jul 2022
We found the apartment spacious, clean and very lovely. I appreciated the beautiful high ceilings and historical feel it had. I was glad for the appliances( dish washer, washer, dryer) but found the dryer to be very slow. I would suggest having a clothes hanging rack in the apartment would help if a family is trying to do laundry. The area where the apartment is located isn't all that interesting and parking a rental car is a nightmare. ( as it is in all of Berlin now) Overall, we had a good time here and we were comfortable. When the shower drain kept backing up the owner was very quick to answer our call and solve the problem. This is a lovely place and if you are prepared to walk and climb steps( the lift doesn't go to the floor where the apartment door is) this would be a good choice for you.
4.0
Jun 2022
This is a very spacious apartment. The area wasn't the best from my first impression but then again, we had only a few hours there as our trip was cut short due to an emergency.
We loved our stay with Sieglinde. The apartment was spacious, bright, and with tall ceilings, and we were very comfortable there during our stay. Getting to Mitte was about ~15m by car, and the neighborhood is residential so it was quiet in the evenings. Would definitely recommend for extended stays / work from home trips.
We were so happy with our stay in Berlin. The apartment was absolutely lovely, and it had everything our family of four needed for an extended stay. The check-in process was simple and easy; we had no problem making arrangements to meet to receive the keys and get all the ins and outs of the property. There is an excellent grocery store a short walk away, and very easy access to the s-bahn and u-bahn, which we used regularly. We also took advantage of the many cafes and restaurants located within walking distance. We felt extremely safe, and we were so pleased with the area and the accommodations!
The apartment was wonderful- exactly as described - very clean and it had everything we needed for our stay. Check in was exactly as established. The apartment is close to U Bahn station so easy to get around. The street the apartment is on looks over an industrialize area - that seemed very quiet at night - once you go off that street thought there are restaurants and a Lidhl store near by
4.0
Jan 2020
We really enjoyed our stay at Helmut's place in Berlin! When we first arrived, a replacement for their regular cleaning service had done a quick job and left some things dirty. It was easy to get in touch with Helmut and he quickly and graciously resolved the issue. We really enjoyed the apartment (especially having two bathrooms! Made getting ready really easy) and we had ample space for all four people in our group. This would be a great place for families. The only other thing I'd mention is that this place is about a 15-minute drive or 30 minute train ride to some of the main tourist attractions in Berlin. Based on some of the other reviews, the place seemed to be more centrally located, but Berlin is a huge city so there's a fair amount of commuting to be done no matter where you stay! We didn't have a problem with it, it just was a bit different than our expectations. Thank you again to Helmut for being an exceptional host and making our stay in Berlin great.
We highly recommend staying here! The apartment was immaculately clean, with lovely furnishings and elegant high ceilings and large, bright rooms. It was our home base for our family of 6 adults for 6 days in Berlin. The building and the neighborhood was very quiet and not touristy, with places to eat, groceries and S- and U-Bahn stations a short walk away. And just 10 minutes by bus from Tegel airport. Checking in was easy and communication prompt. Thank you, Sieglinde, for making our stay so comfortable.
Loved this apartment for our family which was close to a metro station, restaurants and grocery store. Owner was able to accomodate us on short notice and was very helpful checking us into the apartment. The apartment was spacious and very comfortable for our six night stay and we would highly recommend it. Thank you Sieglinde and Helmut!
This three bedroom apartment was very spacious and all the amenities were included. Kitchen was fully stocked with plates pots and pans. Two bathrooms to use. Located near train stops which were very can be Convenient. Bitte
Häufig gestellte Fragen
Wie viel kostet dieser eigentumswohnung im Vergleich zu anderen in Berlin?

Der Durchschnittspreis für eine Anmietung in Berlin beträgt 75 € pro Nacht. Diese Miete liegt 151 € über dem Durchschnitt.
Ist das Parken in diesem eigentumswohnung inbegriffen?

Ja, das Parken ist als Ausstattungsmerkmal bei Großzügig, leise, hell und geschmackvoll, zentral gelegen für 6-/ Personen aufgeführt. Für weitere Informationen empfehlen wir Ihnen, sich mit dem Anbieter der Unterkunft in Verbindung zu setzen, um zu erfahren, wo Sie parken können.
Gibt es in diesem eigentumswohnung einen Pool?

Ja, bei Großzügig, leise, hell und geschmackvoll, zentral gelegen für 6-/ Personen steht ein Swimmingpool zur Verfügung. Genießen Sie das Wasser!
Ist Großzügig, leise, hell und geschmackvoll, zentral gelegen für 6-/ Personen haustierfreundlich?

Leider ist dieser eigentumswohnung nicht haustierfreundlich. Versuchen Sie erneut zu suchen und filtern Sie nach "Haustiere erlaubt"
Welche Ausstattungsmerkmale sind bei Großzügig, leise, hell und geschmackvoll, zentral gelegen für 6-/ Personen verfügbar?

Wir haben 10 Ausstattungsmerkmale für diese Unterkunft gefunden. Dazu gehören pool, küche/kochnische, internet/wlan, parkplatz und waschmaschine.