Palace Gate Hotel & Residence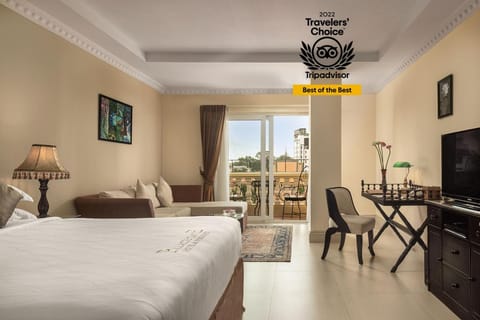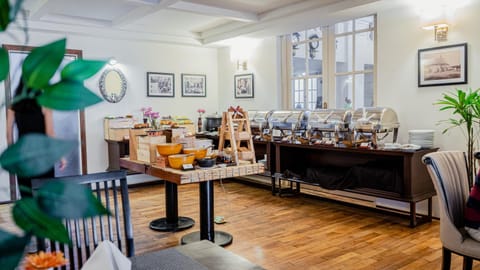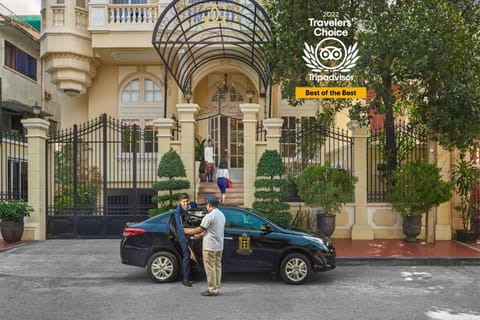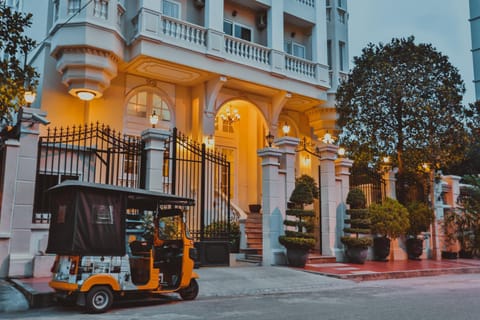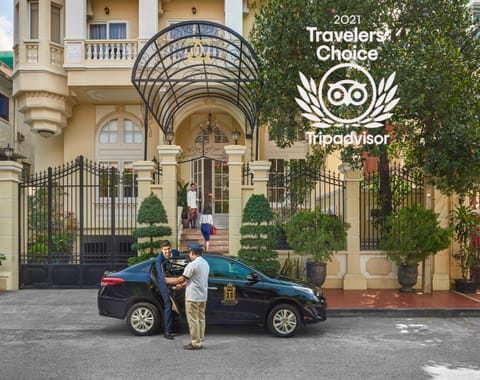 Hotel in Phnom Penh Province
Pool
Klimaanlage
Küche/Kochnische
Gelegen in Phnom Penh Province, dieses attraktiv room in hotel für 44 € pro Nacht ist ein großartig Option für Ihr nächstes Pause. Featuring an indoor swimming pool, Palace Gate Hotel & Apartments offers accommodation within a 700-metre walk from Independence Monument, Wat Botum Park and the Royal Palace. Free WiFi is available throughout the property.
Pool
Klimaanlage
Küche/Kochnische
Internet/WLAN
Parkplatz
Waschmaschine
Balkon/Terrasse
Fernseher
Fitnessraum/Fitnessstudio
Garten
Familienfreundlich
Karte von Phnom Penh 

Province
100 % verifizierte Bewertungen
4.3 / 5 (289 Bewertungen)
Yhw staff were great and very attentive. The hotel is well maintained and is ECO friendly.
We thought of the hotel but end up with a resident the name is very confusing so we mix up with another hotel. The breakfast is so so same as swimming pool
Nice hotel in the centre of the city
Jan 2023
Was upgraded to a king suite, very comfortable for my 5 night stay. Staff were excellent and very welcoming. Location was perfect, with most major tourist attractions close by.
Balcony was very small, only just enough room for a table and 2 chairs.
Very comfortable, good value, friendly staff. Ideal location for a city break.
Very clean and spacious. Incredibly kind staff. Well worth the money.
Breakfast could be a bit better.
Great staff but facilities need maintenance
Jul 2022
The staff were very friendly and helpful with any requests and accommodated our early check in. The rooms and kitchen were spacious. Free breakfast with the room was value for money (i.e. eggs, cereals, breads, noodles etc).
The room facilities need proper maintenance checks (i.e bathroom leakages, light switches were hard to turn off). Lower floor rooms/apartments do not have a view.
Spacious and comfortable room
Mar 2022
The room was spacious and comfortable. Location is far from CBD around 900m. I used to take a tuk-tuk for $1. There is a swimming pool and gym. Receptionists and all staffs are always kind.
The length of the swimming pool is short and the gym does not have a variety of exercise equipment. The bathroom and mini-kitchen are very old.
The Palace Gate Hotel and Residence is located right in the city center of Phnom Penh overlooking a beautiful wat. We had the pleasure of staying in the 9th floor with an amazing view over PP and the hotel staff made our stay very special with a really heartwarming decoration of our room to our anniversary. The hotel's restaurant is a really good choice for local Khmer cuisine and reasonably priced. The hotel is decorated in a nice colonial, dark-wood style and features lots of historical pictures. The pool is a really nice refreshment. You can even use the outdoor spa area of their sister hotel (Palace Gate Hotel & Resort). We could visit everything by foot from this nice central location. Would definetly recommend!
Slight hiccup but the management team more than made up for it.
Feb 2021
The management team, particularly Bong Chanthy and Prak were swift in providing an upgraded alternative when we had an air conditioning malfunction. Additionally, the service in general was amazingly warm and accomodating. Had a thoroughly enjoyable time during our stay, especially over the valentine period.
Beautiful hotel and staff, great facilities and within easy walking distance of so many attractions
Jan 2023
The hotel was in beautiful condition and extremely clean. The staff were some of the friendliest and helpful i've ever met. They went above and beyond to help without being at all pushy. The onsite spa was excellent, the staff were so good and great value for money. The treatments were all excellent. The hotel is within easy walking distance of so many local attractions like the Royal Palace, riverfront and s21 genocide museum. The memorial park was also a beautiful place to go and sit in the evenings and watch the locals taking part in mass dance classes, exercise classes, football games and being around families enjoying the area having picnics etc. I would highly recommend the Russian Market in the day which was a brilliant place to go and haggle for everything and anything. A great place to pickup gifts. The night market is interesting especially for food but not much shopping type stalls available but it's well worth a visit. There are virtually always tuktuks available outside the hotel and they're a very reasonable way to travel around and see the sites
The only slight issue we had was with the shower not draining very well but they immediately came and fixed it. On one occasion we used the salon / spa at the sister hotel Palace Gate Hotel and Resort and our experience was bad in total contrast to our hotel. Our hotel manager went out of his way to resolve things which is a true reflection of his customer service.
An exceptional service by the hotel manager and an excellent place to stay 😊 :)))
Jul 2022
The hotel manager was exceptional. For some reason I've forgotten his name but if any hotel wants to learn what customer service is they must learn it from the hotel manager who assisted us during our stay at Rate Palace Gate Hotel & Residence. He was just excellent. 😊 :)))
There was nothing I can remember that I didn't like except may be the spread of the breakfast can feature more options.
A great location, fantastic design with comfortable spacious rooms. The staff was friendly and accomodating
Mar 2022
the hotel lobby, and overall architectural design has quite the wow factor. The gym is exceptional. The rooms are high end. Spacious
the food was underwhelming, and the indoor swimming pool felt claustrophobic
We would definitely stay here again
Jul 2022
The apartment was great and the beds extremely comfortable. Breakfast was delicious. The staff were excellent. Although there is an indoor pool you can use the sister hotels outdoor pool which was lovely.
Nothing it was all lovely
Service, friendly and great location
Security help me to pick my luggage
room very comfortable and good location.
breakfast was ok but can be better. limited selections. elevator very slow.
a great stay: comfortable , clean and safe
Nov 2021
really great staff, professional and kind. Room clean and very comfortable
the receptionist's attitude is bad
it was ok. But i really expected more.
Apr 2022
The property advertise pictures not from the property. They post picture of the outdoor pool from the Palace Gate Hotel & Resort. But actually they only have an indoor pool.
Staff not helpful, breakfast was awful, indoor pool was air conditioned and awfully cold, spa scheduling is a mess
hotel that uses a misleading name because it is almost identical to that of another hotel located 1 km away, and also uses very similar photographs because it uses the same interior design and style, so that the customer easily chooses a different building that has the identical name. Also, a serious case of a female staff scam in the bar making a mistake in exchanging dollars, which is very common in that Cambodian city ...
Der Durchschnittspreis für eine Anmietung in Phnom Penh Province beträgt 36 € pro Nacht. Diese Miete liegt 8 € über dem Durchschnitt.
Ja, das Parken ist als Ausstattungsmerkmal bei Palace Gate Hotel & Residence aufgeführt. Für weitere Informationen empfehlen wir Ihnen, sich mit dem Anbieter der Unterkunft in Verbindung zu setzen, um zu erfahren, wo Sie parken können.
Ja, bei Palace Gate Hotel & Residence steht ein Swimmingpool zur Verfügung. Genießen Sie das Wasser!
Leider ist dieser hotel nicht haustierfreundlich. Versuchen Sie erneut zu suchen und filtern Sie nach "Haustiere erlaubt"
Wir haben 11 Ausstattungsmerkmale für diese Unterkunft gefunden. Dazu gehören pool, klimaanlage, küche/kochnische, internet/wlan und parkplatz.