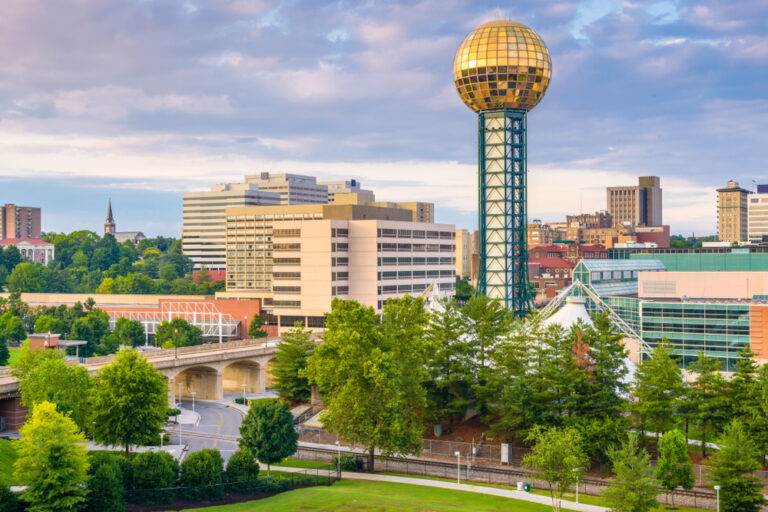 When families in the American South have time for a getaway, many head to the city of Knoxville, located in east-central Tennessee. This bustling city is jammed packed with excitement around every corner. From a bustling live music scene, a deeply rooted culture, and fantastic restaurants, there is something to be seen or done here by just about any visitor. With a mix of urban excitement, scenic beauty, and outdoor activities, this city offers something for everyone. Here are five fun-filled reasons for you to choose Knoxville, Tennessee, on your next family vacation.
Ijams Nature Center

If you're looking for things to do with the family in Knoxville, Ijams Nature Center is the place to go. Spread across 315 acres, this wildlife sanctuary offers loads of enjoyable activities.
Get a glimpse of great blue herons from the River Boardwalk, or look for gnomes and fairies in Jo's Grove. Take a hike, or bike scenic trails, then head to Mead's Quarry to swim, canoe, kayak, or paddleboard. This site also offers many events and guided programs throughout the year, along with a visitors center featuring animal exhibits, artwork, mementos, and gifts.
Pro traveler tip: There are so many things to do in this natural preserve that it can be difficult to plan exactly what to do. Visit their website to get a full list and plan accordingly.
Knoxville Botanical Garden and Arboretum

Just north of Ijams Nature Center, the Knoxville Botanical Garden and Arboretum is a place for families to connect with nature and enjoy the outdoors in a calm and tranquil setting.
While exploring the grounds, check out favorite stops like the Stone Terraces, the Dogwood Nature Trail, and the beautiful Butterfly Meadow. From April through October, stop in for Story Thyme at the youth garden, and don't forget to visit the garden's resident chickens before you go.
Pro traveler tip: Many events, workshops, seminars, and classes take place here year-round. Be sure to check ahead to see if an intriguing class or discussion is taking place during your vacation here.
The Muse Knoxville

The Muse Knoxville is an interactive science museum designed especially for kids that parents will love too. Play musical instruments at Sound Play, paint the walls at Strong Alley, and channel your creative side with all sorts of art and building supplies at Make Space.
Learn about growing organic crops at the Science Garden, explore the stars at the planetarium, and jump, climb, and slide at the outdoor playground. A STEM station, a giant circulatory system, and a play stage with costumes, are rotating exhibits at The Muse. It makes for a wonderful experience for adults and kids alike.
Pro traveler tip: Planetarium shows are just three dollars per person and offer an amazing spectacle of the stars above. This is a perfect attraction for those coming to Knoxville as a family to seemingly escape into a different dimension.
The McClung Museum of Natural History

Located on the University of Tennessee campus southwest of downtown Knoxville, the McClung Museum of Natural History offers an exciting way to spend a few hours with the kids, all for free.
Check out animal mummies in the Egyptian room, see artifacts from the American Civil War, learn about Roman culture, and much more. When you get hungry, you can find several popular restaurants on Cumberland Avenue, just a few blocks away.
Pro traveler tip: This astounding museum hosts a wide variety of exhibits both permanent and rotating. Be sure to check ahead to see if any upcoming exhibits strike the interest of the travelers in your group.
Three Rivers Rambler

Just next door to the McClung Museum, at University Commons, families find Three Rivers Rambler. Here, they can board a steam train for an enjoyable ride along the river with a uniformed conductor, and both open and closed railroad cars.
Along the 11-mile route, passengers enjoy views of downtown Knoxville, local farms, and see the site where Knoxville's first residents settled. At the depot or onboard the train, you can purchase snacks and beverages for the family or bring your own. Look for a schedule for spring and summer rides on the company's website.
Pro traveler tip: This fantastic establishment is constantly renovating and renewing old locomotives back to their original form. Guests can take a look to see which ones they have worked on already and which ones are actively being repaired at this intriguing sight.
Where to Stay in Knoxville
Downtown Knoxville is the perfect place for those looking to have all of the adventure and excitement of this amazing city at their fingertips. Live music permeates the air and can be found around just about every street corner. Couple that with world-class restaurants and shopping, that range from boutique to high-end, and you'll see that this neighborhood truly has it all.
For those looking for a more artsy and laid-back vibe while still offering some of the same amenities of Downtown. Old City Knoxville is the place to be. From artisan bakeries and cafes, to boutique shops and stores, this place is a great option for those who want to be close to all the action, but play it their way. Many historic houses and restaurants give this neighborhood a very unique charm that is hard to replicate anywhere else.
Knoxville Awaits!
You'll have a family getaway packed with nonstop fun and adventure when you decide to visit Knoxville! This city is teeming with roots and culture that simply just can not be found anywhere else in the world. From the historic architecture that adds a special charm to the city, to the bustling nightlife scene downtown, there is surely something to be found here that will strike the interest of every visitor.
Pack your bags, because this fantastic city is only a short plane ride or a road trip away. When you finally arrive you will be more than happy that you chose this one-of-a-kind city as the place to go on vacation.