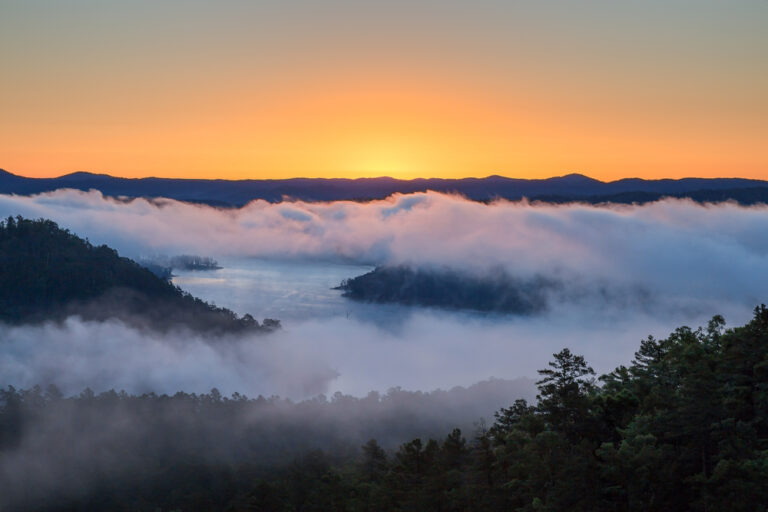 Scenic Broken Bow, Oklahoma, is nestled in the southeast corner of the state, with nearby lakes and the Kiamichi Mountains both offering startling views. It's a prime spot for a family vacation as well as a budget-friendly couples getaway. Broken Bow camping is one of the major reasons travelers flock here, as there are quite a few cozy and quaint cabins for rent, especially during the summer and fall. Whether you opt for cabin rentals or you choose other accommodations, you'll get to explore plenty of beautiful nature while you're here.
Fish Tales Winery and Vineyard
Great for a couple's adventure, Fish Tales Winery and Vineyard allows you to sample its wine fines as well as go for a tour of the vineyard. At this unique winery, they grow "Muscadine" Grapes. These flavorful little grapes are indigenous to the United States and offer a bold and different flavor than other varieties. Enjoy the fantastic wines that are created from this homegrown species at this wonderful vineyard. This is one of the best things to do in Broken Bow, especially for couples coming here on a retreat.
Pro traveler tip: Want to still enjoy the beautiful landscaping and scenery of the winery without the alcohol? This winery also produces craft grape juice that tastes fantastic and offers a chance for those who don't want to deal with the side effects of alcohol the opportunity to tour the grounds.
Three Rivers Wildlife Management Area
The areas around Broken Bow are well-known for their hunting, and this is perhaps the best spot around. With over 200,000 acres, you can access all of it with a Land Access Fee permit, even if you're from out of town. Hunting and fishing are also permitted on the grounds for a small fee so it's possible to get that catch of the day while on a journey here. There are also protected species that reside here such as the Bald Eagle and American Alligator offering travelers the chance to catch a glimpse at some rare native species.
Pro traveler tip: Want to take this journey into the wilderness to the next level? Pack a sleeping bag and tent and spend the night! Camping is permitted pretty much anywhere on the grounds as long as it's no more than 50 yards away from an open road.
Glover River
The Glover River is a popular spot for kayakers and whitewater rafters, but it's a challenge. A more simple route for beginners would be the nearby Mountain Fork River.  Class 1 and 2 rapids reside in the frothing waters of these rivers making it a hotspot destination for any thrill seeker. Rent a canoe or kayak as well as a tour guide from one of the many local shops for a wild experience that will create memories that will be sure to last a lifetime.
Pro traveler tip: Want to experience a more calm journey to one of these two rivers? Pack a fishing rod and perhaps lunch and enjoy a picnic from the banks of the river. Who knows? Dinner may even be caught while eating lunch.
River Man Trail Rides
If you've never been horseback riding, there's no better time than the present to learn. At River Man Trail Rides, you can choose from more than 14 horses, and lessons and rides are available any time of year, during any season. A variety of different rides are offered here making it a perfect thing to do in Broken Bow for solo travelers, families, and even couples. Choose different length rides or even a sunset ride to get a view of the majestic landscape that surrounds Broken Bow from horseback.
Pro traveler tip: There is plenty more offered from this establishment other than just horseback riding. Go for a wagon ride along the river for a new way to experience nature. Fishing is also available on site with 4-hour time slots available for catch-and-release fishing.
Broken Bow Lake
One of the main attractions of Broken Bow is the Broken Bow Lake. Here, you can do everything from hiking to scuba diving. It's also simply a nice place to spend the day relaxing. A man-made lake that was constructed in 1968 and opened in 1970 has been providing both residents and visitors a way to cool off and relax for over 50 years now. Rent a boat and enjoy a refreshing day floating on the water taking in the scenery. Trout and bass are also in abundance making for yet another perfect fishing opportunity. Be sure to stop here while on vacation in Broken Bow.
Pro traveler tip: Want to complete the experience of Broken Bow Lake and stay overnight? Many campsites are scattered along the lakeshore and some have entire cabins for rent. Make it an experience that will remain in memory by spending the night here under the stars.
Beavers Bend State Park
Broken Bow Lake and Beavers Bend are so close together that many vacationers try to visit both on the same day. Beavers Bend State Park offers hiking, canoeing, kayaking, fishing and picnic areas, and swimming. Wander through the forest on your preferred method of transportation and get a glimpse into the serene beauty that makes up Oklahoma. The foliage in autumn is unbeatable and the colors will transform the park into a seemingly different world. One of the best things to do in Broken Bow. Add this park to the itinerary for an unbeatable journey into the wilderness.
Pro traveler tip: If this particular journey to Broken Bow happens to be taking place in November be sure to stop by the annual Beavers Bend Folk Festival & Craft Show for an experience of local music and goods that will bring a local feel to the vacation.
Little River National Wildlife Refuge
While some come to Broken Bow to hunt, others come to simply watch wildlife in their habitat. With over 15,000 acres that include lakes and wetlands, Little River National Wildlife Refuge has everything from white-tailed deer to alligators. Unplug from the typical day-to-day experiences with a calming stroll through this seemingly enchanted wilderness. The multitude of different species that reside here along with the variety of fauna will make for a truly picturesque experience that is great for any type of traveler.
Pro traveler tip: Be sure to pack a camera! Whether it be a simple disposable one or a top-of-the-line digital one. This magical forest is sure to provide breathtaking photographs of the wild that will be a perfect way to commemorate the journey.
Lakeview Lodge Trail
This four-mile trail is perfect for hikers of all skill levels, including kids. Lakeview Lodge Trail is also a great place to take your mountain bike for a day to bike. Camping is also found in abundance here so if spending the night sounds like the perfect way to enjoy this area there are plenty of options to do so. This is a heavily trafficked trail and it averages about an hour and a half at a decent pace. Be sure to take that into account and possibly plan a few other activities to make for a fun all-day outing.
Pro traveler tip: This trail is perfect for young ones if coming to broken bow as a family. The easy inclines and declines will be sure to spark the interest of hiking in any young traveler coming here.
Gardner Mansion and Museum
Full of pioneer and Indian artifacts, the Gardner Mansion and Museum is a great place to spend the day, while touring the grounds is also a must. The mansion itself was built in the 1880s for a Choctaw chief. Today there lies the remains of a 2,000-year-old cypress tree that was used as a navigating point for natives hundreds of years ago. Also stored here are numerous artifacts from the native peoples and serve to educate guests about the native Americans' presence in these parts of the country.
Pro traveler tip: This fabulous museum that showcases indigenous Americans' contributions to American life is open seven days a week. at just five dollars for adults and three for kids over the age of 5, this is a wallet-friendly way to explore the local history.
Where to Stay in Broken Bow
Beavers Bend Cabins offer a luxurious way to spend time in the wilderness while still enjoying all of the modern amenities that are found in any hotel. Different room options make it perfect for travelers that are coming solo or with a family as well. Pet-friendly rooms are available too so bringing that furry friend along will not be a problem.
Just down the road from Broken Bow is Hochatown. This cute town offers many of the same types of rentals that can be found in Broken Bow but at a more affordable price. Whether it's staying in a cozy cabin to get the feel of staying outdoors or resting and relaxing in a comfortable hotel Vacationrenter has all the options that could be desired.