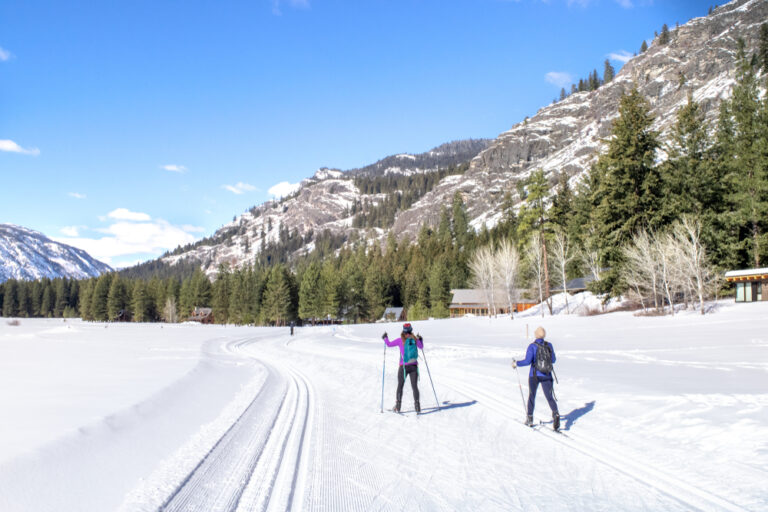 Winter is truly a magical time of year. As the holiday season approaches, many of us start to look forward to taking time off to travel or spend time with our friends and family. We find ourselves daydreaming of what we'll do with our free time on vacation, and the possibilities seem endless. But the holidays bring more than just a bounty of food and festivities — it kicks off the 2021/2022 ski and snowboard season, giving us the gift of winter snow-sliding sports.
Indeed, traveling during the holidays is no cheap feat, especially when you're headed to winter resort locations, but it doesn't have to break the bank. To start, you want to book your flights and find your vacation rental as far in advance as possible to take full advantage of price discounts and travel deals. It also helps to travel during non-peak times, so consider shifting your itinerary a day or more if you can. Lastly, selecting your destination wisely will save you money across the board as flights, accommodations, and trip expenses in general will be more affordable.
To help in your search for the perfect ski destination, we've rounded-up a few of our favorite non-boujie resort locations across the country. Take a look at the list below and start planning your affordable winter vacation today!
Killington in Vermont
As the home of the largest ski resort east of the Mississippi river, Killington is a dream destination for snow-sliding enthusiasts. In addition to Killington Ski Resort, the area has another option for skiing and snowboarding in Pico Mountain, which boasts a smaller and more intimate guest experience. Of course, this winter destination also offers a plethora of other activities like dog sledding, ice skating, snow shoeing, and much more to keep you and the family occupied on vacation.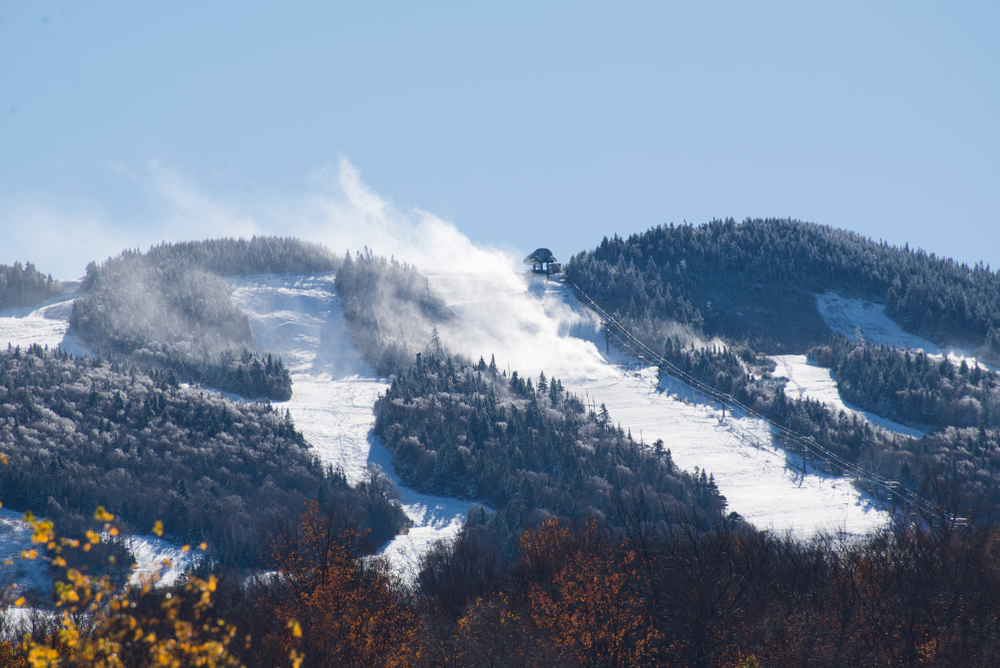 No vacation is complete without good food and beverages — luckily Killington has a thriving local restaurant scene, giving you an abundance of eatery options at affordable prices. For a fast-casual and budget-friendly dining experience, we highly recommend that you pay a visit to the popular iPie Pizzeria. On the other hand, The Garlic has a more upscale ambiance and italian-inspired menu, making it the perfect place for a special celebration or simple date-night. Either way, be sure to visit The Lookout Tavern, a long-time local favorite before you leave town.
Killington Ski Resort
Spread across five mountains, Killington Ski Resort has over 1,500 skiable acres and almost 75 miles of trail so you really have room to roam here. They also open earlier than most ski resorts; you can start your 2021/2022 ski and snowboard season on November 6th and take advantage of off-season travel deals. We strongly suggest booking your lift tickets in advance to keep costs down — day passes are between $60 to $140 as opposed to the peak season, when the day-of purchase price is $170. If you plan to travel over the Thanksgiving holiday, be sure to check out the resort event calendar for details on all the festivities like the Loaded Turkey Rail Jam and the 10th Annual Turkey Trot.
Bend in Oregon
Our next affordable mountain destination is a mecca for outdoor enthusiasts all year long, but especially during the winter months. Bend is nestled along the Deschutes River near the Cascade Mountains, so it's no wonder that nature-lovers flock there in search of adventure. As one of our favorite places to visit during the holiday season with world-class skiing at Mt. Bachelor, we highly recommend planning a trip to this budget-friendly winter destination!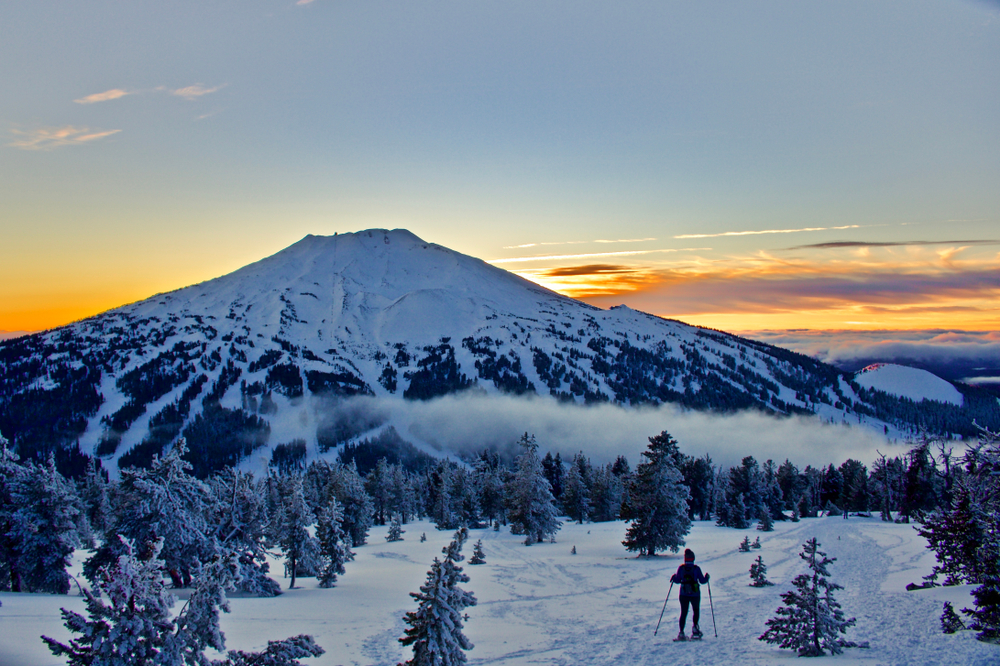 But Mother Nature isn't the only reason people visit the city in droves, the vibrant culinary culture attracts foodies from all over the world. From world-renowned micro-breweries like Deschutes Brewery to farm-fresh vegan eatery options like Root Down Kitchen, you're bound to find a dining establishment to satiate your appetite in the city of Bend. If you're feeling adventurous, consider visiting the Sunny Yoga Kitchen to promote your overall health and wellness by eating sustainably sourced food, practicing your mindfulness with yoga, or doing a bit of both!
Mt. Bachelor Ski Resort
With over 4,300 lift-serviced, skiable acres and two Woodward-designed terrain parks, Mt. Bachelor guarantees to satisfy even your wildest snow-sliding desires. The resort opens on the day after Thanksgiving and offers an action-packed event calendar until its closing day in April, so it's easy to keep yourself entertained while you give your legs a rest. Lift tickets go for anything in-between $65 and $95 (on non-holidays) when you book in advance and you'll see the deepest discounts on multi-day ticket purchases, so it pays to do your trip planning. As one of our top locations to have an affordable ski trip, we highly encourage you to consider it for your next winter vacation!
Auburn or Enumclaw in Washington
You have options with the next set of non-boujie ski destinations on our list. Both located in the state of Washington, Auburn comes with the comforts of the urban lifestyle, while Enumclaw provides unparalleled access to the outdoors. Sitting on the outskirts of Seattle, Auburn offers an array of activities from arts and culture to shopping and dining, not to mention the jam-packed events calendar. As the gateway to Mt. Rainier, you can enjoy the best of both worlds — the amenities of city living and ability to get into nature quickly.
To the southeast lies Enumclaw, located in the shadow of Mount Rainier National Park, making it a haven for adventure-seekers across the pacific northwest. This destination is a great launching pad for the legendary Crystal Mountain Resort located just 30 miles away, but it also offers a lot in the way of festivals, events, and lively local restaurants. While there's a long list of eateries to choose from in town, some of our favorites are The Historic Mint Restaurant & Alehouse, The Rainier Bar & Grill, and IL Siciliano Ristorante Italiano.
Crystal Mountain Resort
Boasting almost 500 inches of snowfall per year, Crystal Mountain Resort has bottomless amounts of fun for snowsport enthusiasts. It's the perfect winter wonderland, with over 2,600 skiable acres for your riding enjoyment. The locale also offers breathtaking views of the Cascade Mountain Range on its Mt. Rainier Gondola , ascending over 2,500 vertical feet to the state's highest elevation restaurant: the Summit House. If you want to ski at Crystal Mountain, now is the time to book as the resort opens on November 19, 2021 and lift tickets will only get pricier. Currently, day passes run from $95 to $184 depending on the dates of your stay when you book online in advance, so don't delay and start planning today!
Pagosa Springs, Colorado
Perhaps one of Colorado's best-kept secrets, our next destination of Pagosa Springs is nestled in the heart of the San Juan Mountains. As the name suggests, this mountain community is overflowing with hot springs, enabling you to take a relaxing dip after adventuring outdoors in arguably the state's most rugged mountain range. The city provides perfect access to the Wolf Creek Ski Area, which gets the largest annual snowfall in the state of Colorado!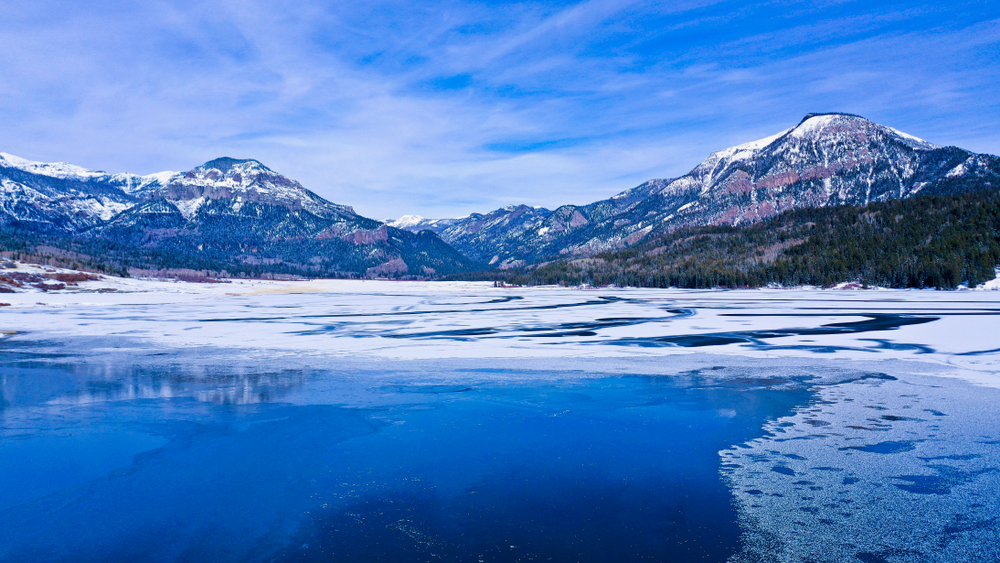 That said, Pagosa Springs has more to offer than just snow-sliding sports — they also have extensive arts and cultural activities like museums, theaters, and historic trains to keep you and your loved ones entertained while on vacation. This small mountain community also has a handful of breweries which are worth checking out, like the Riff Raff Brewing Company overlooking the San Juan River. Our top restaurant recommendation, the Mountain Pizza & Taproom, serves up hand tossed pies and craft beers in a casual atmosphere, making it the perfect place to unwind on winter vacation!
Wolf Creek Ski Area
The last location on our list is the remote Wolf Creek Ski Area. With 1,600 skiable acres and almost 450 inches of natural snowfall each season, you'll practically be swimming in snow as you navigate down the mountain. Day passes are extremely affordable and top out at $92 during peak holiday periods, but we still recommend booking in advance to take advantage of early season discounts and multi-day pass deals. If you're itching to get back on skis or a snowboard, you're in luck because Wolf Creek is actually open now on select weekends, and open daily on November 12, 2021.
Plan a Ski Trip With VacationRenter
Of course, those aren't the only affordable ski destinations in the country — far from it, in fact. If you're interested in learning more about affordable ski destinations, check out our blog post with the Best Places to Ski for Under $100 All Over the United States! While the sport of skiing does have some minimum cost requirements, you can stay on-budget by choosing your destination, travel dates, and accommodations wisely. We hope this post inspires you to plan your perfect ski vacation this winter and do it affordably!
Find your perfect vacation accommodations at VacationRenter today.
Mentioned In This Article