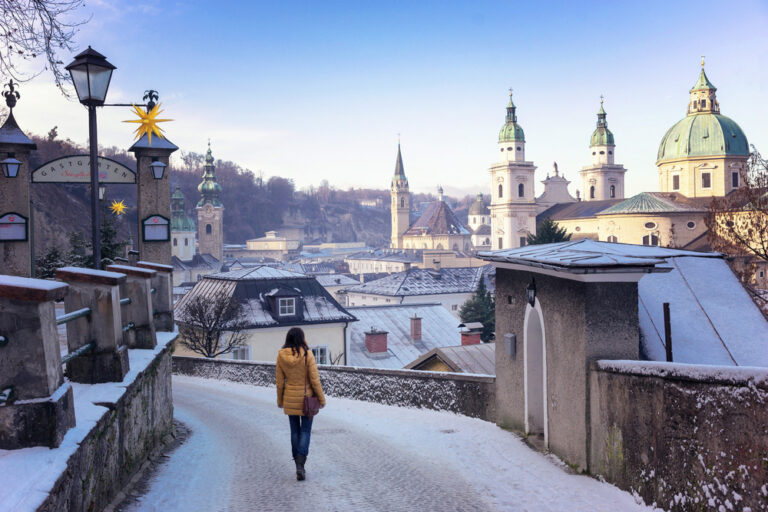 You've planned a trip, bought your airfare, and packed your bags. Destination: Europe in the dead of winter! While the lack of warm weather and scarcity of beaches might deter some prospective travelers, it's not as crazy as it sounds. In fact, there are plenty of beautiful destinations in Europe that are made even more appealing by a little snowfall and a cavalcade of pretty lights adorning age-old architecture — not to mention ski resorts and outdoor winter activities. We've listed some of our favorites below.
1. Budapest, Hungary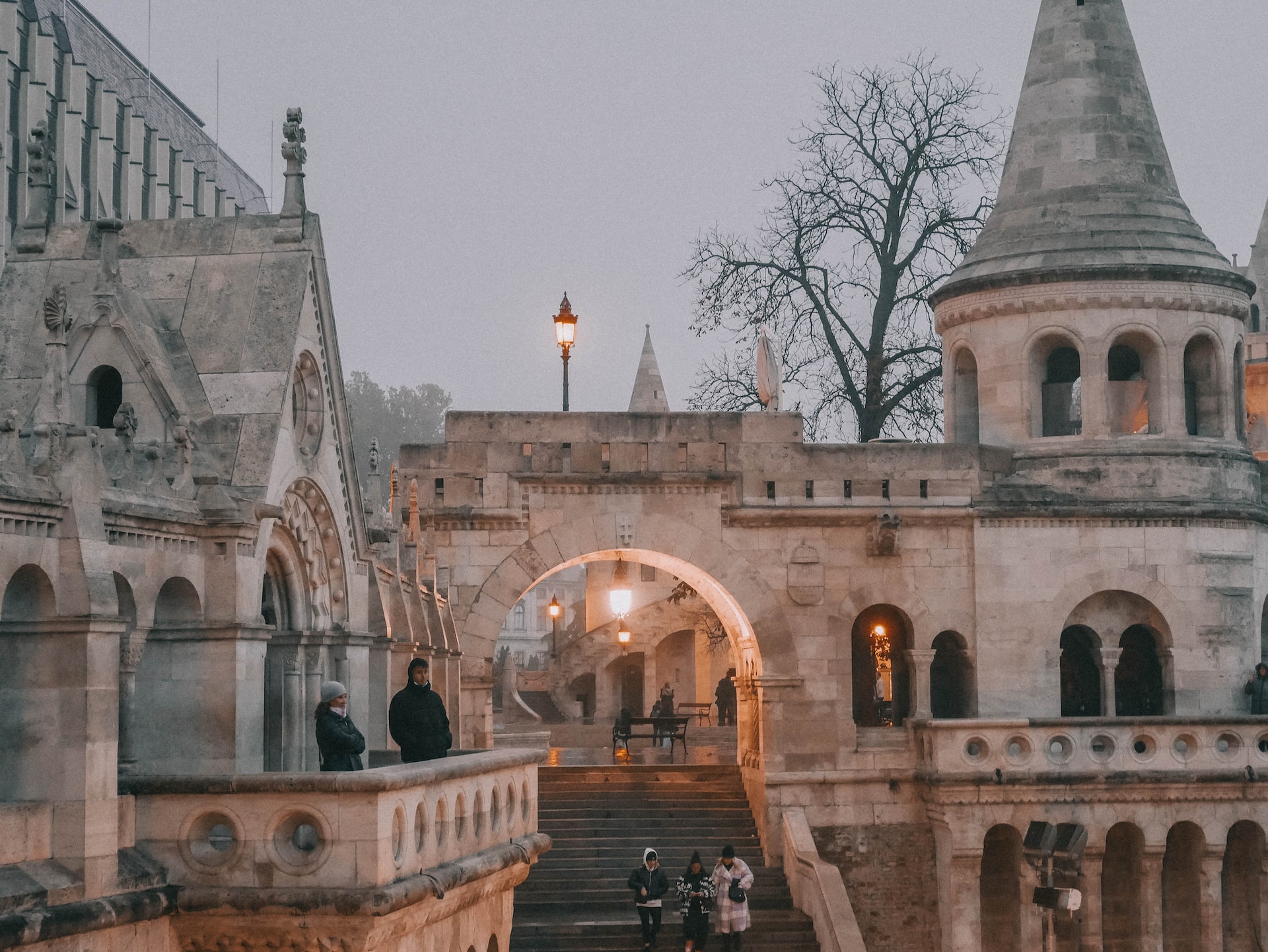 The Pearl of the Danube has all the festive trappings of the snowy season: outdoor skating rinks, Christmas markets, streets and trolleys strewn with twinkling lights, and even a nightly light show at St. Stephen's Basilica. Rich with history — as Budapest began as a Roman outpost centuries ago — the cultural finds are plentiful, from castles and cobbled streets to coffee houses and opera houses. Known as the City of Baths, this wintery getaway is also home to more than a hundred thermal springs, the most famous of which is Széchenyi Baths. Taking a dip is highly recommended!
2. Chamonix, France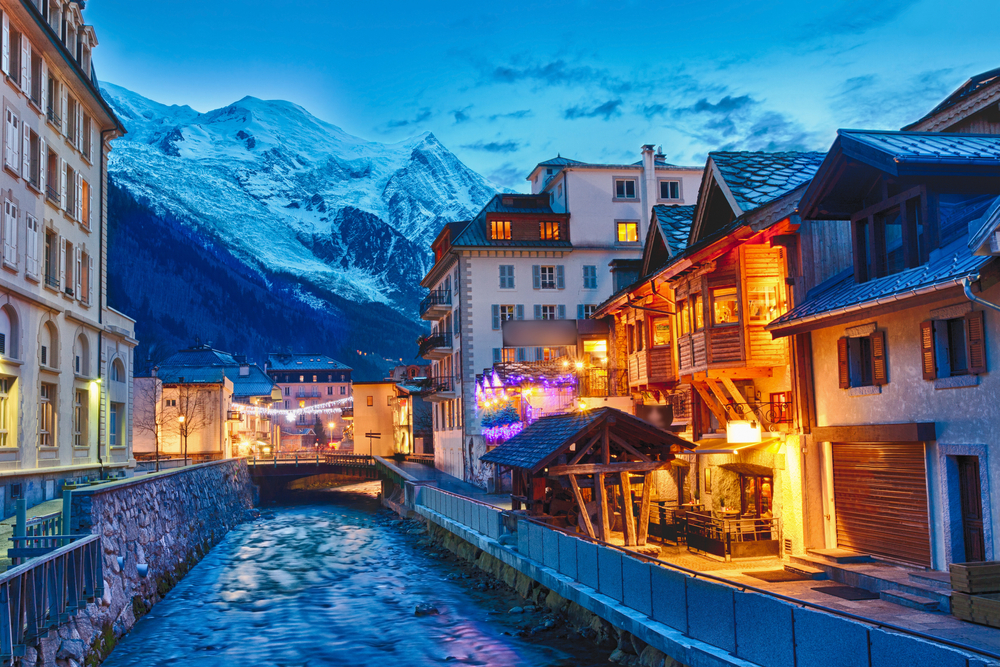 Sitting pretty beside 15,528-foot Mont Blanc, this stunning ski town hosts the well-heeled and rugged alike. Mountaineers head for the nearby peaks, while ski enthusiasts ogle the 12-mile Vallée Blanche run. The buzzing town draws shoppers, partiers, and folks who agree that the cuisine of the Savoie region should be a lengthy affair — whether tucking into wine and raclette or coffee and a flaky croissant. Host of the first winter Olympic Games back in 1924, Chamonix is a place of superlatives. Here, you can visit France's biggest glacier (Mer de Glace), look up at the Alps' highest peak, or take a cable car to Aiguille du Midi for breathtaking vistas from a lofty suspended glassed-in perch. And the skiing — at Brévent or Les Grand Montets — isn't too shabby either. For globetrotters, even more winter splendor awaits a snowball's throw away in neighboring Switzerland and Italy.
3. Rovaniemi, Finland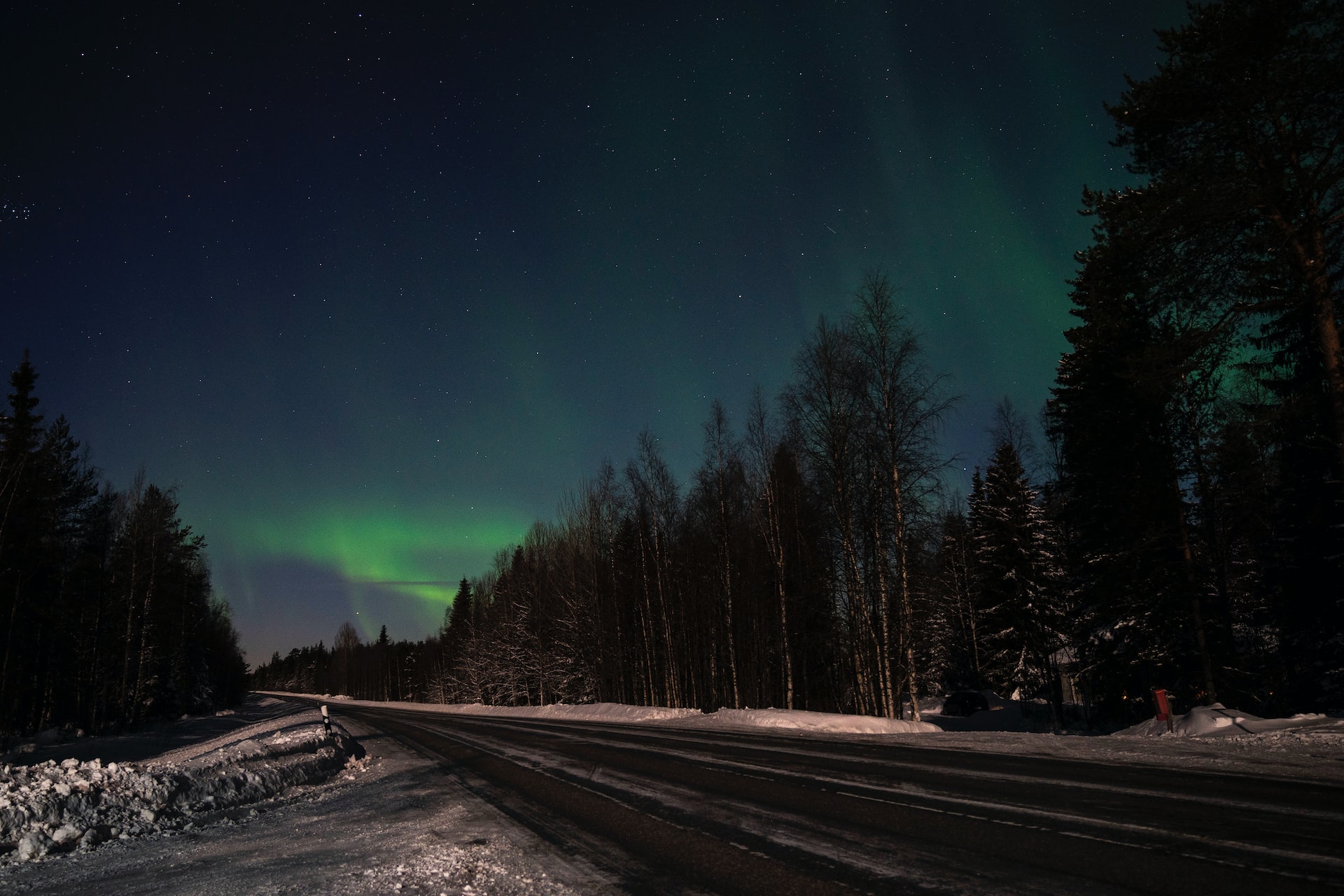 Lapland — and its Arctic Circle-straddling capital city, Rovaniemi — is the poster child for winter. Peaceful, uncrowded, and blanketed in snow much of the year, northern Finland has a smorgasbord of wintery fun. Whether you snowboard, ice climb, or simply cross-country ski out your door, there's a little something for every pace. Consider a visit to Pallas-Yllästunturi National Park for some endless snowshoeing. Mush aboard a dog sled or take a reindeer sleigh ride through the forest — yes, Lapland is the official home of Santa. And, after all the chilly play, find a sauna for a traditional Finnish warm-up. If you time it just right, you might also catch a glimpse of the northern lights in the wee hours of the morning!
4. Salzburg, Austria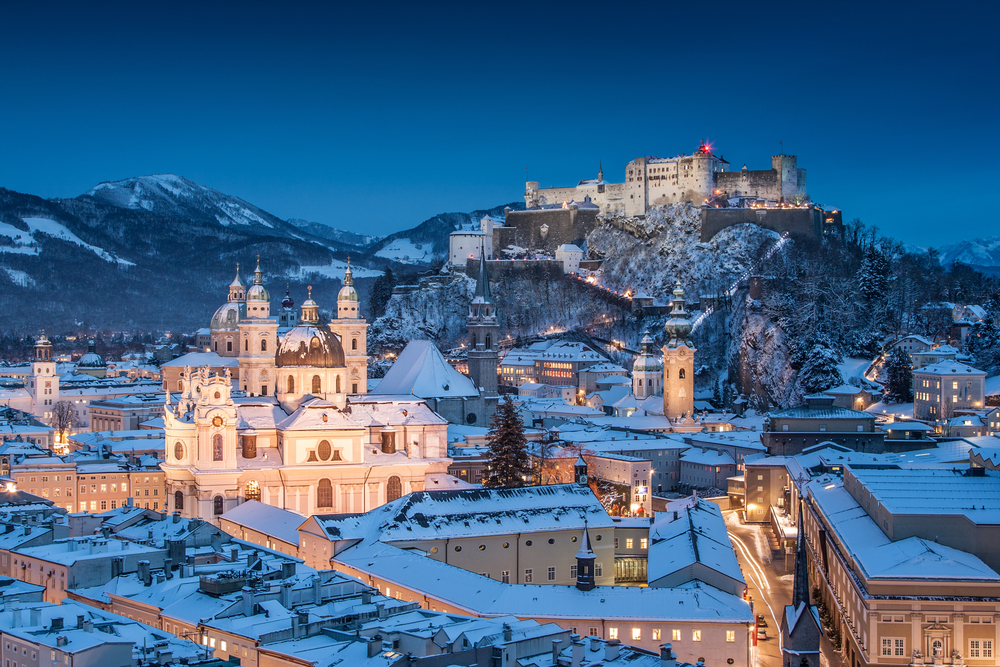 Step into this storybook alpine village for art, music, and unforgettable moments of centuries-old winter tradition. Salzburg sparkles with Christmas markets and ski resorts. Its museums, Baroque architecture, and melodies — inspired by native son, Mozart, and The Sound of Music — provide oodles of culture to match the natural splendor of the Alps. Skiing is a must for powderhounds — as is sampling an après stein of bier. Between adventures, find a cozy spot in a coffeehouse for kaffe and strudel. Last but not least, be sure to check out the 14-kilometer floodlit toboggan run on Wildkogel.
5. Courmayeur, Italy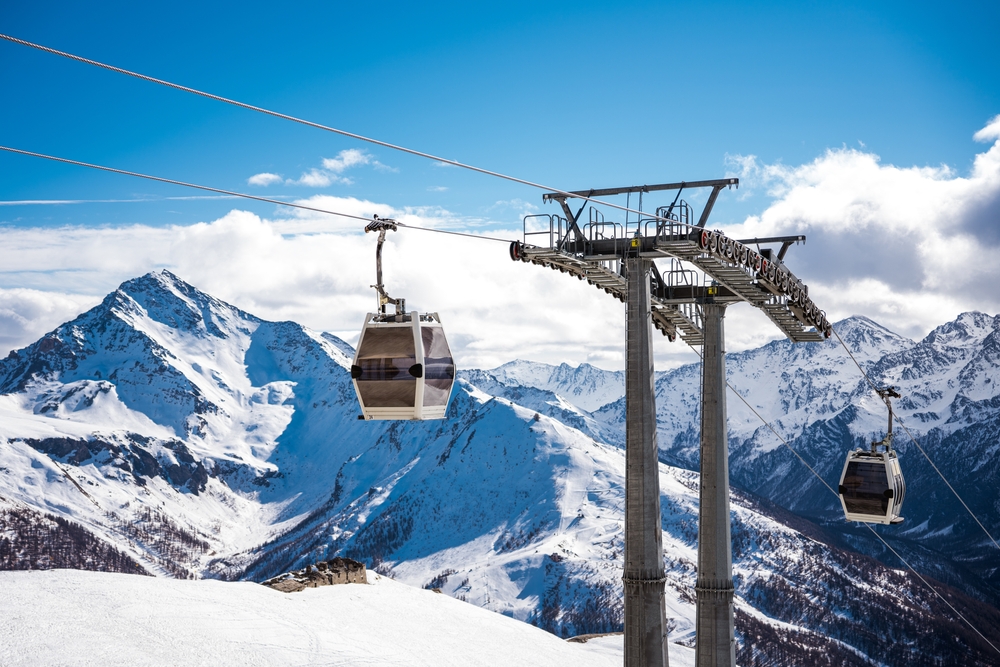 There are alpine resorts, and then there is Courmayeur. This ancient ski resort at the foot of Mont Blanc was settled by the Romans and remains ground zero for an Italian Alps adventure. GQ has called it northern Italy's hidden treasure, and that's not just because Mont Blanc is the highest mountain in all of Western Europe. Courmayeur is also known for the SkyWay Monte Bianco cable car, a modern aerial tram you can catch right in the center of town that ascends over 11,000 feet up the mountainside. At the top, you'll find plenty of intermediate skiing trails, but also views of surrounding peaks like the Matterhorn and Monte Rosa. In town, you'll want to grab a drink at Caffè Della Posta, one of the oldest establishments around, and you'll find a nice sit-down meal at both Aria and Al Camin.
6. Bergen, Norway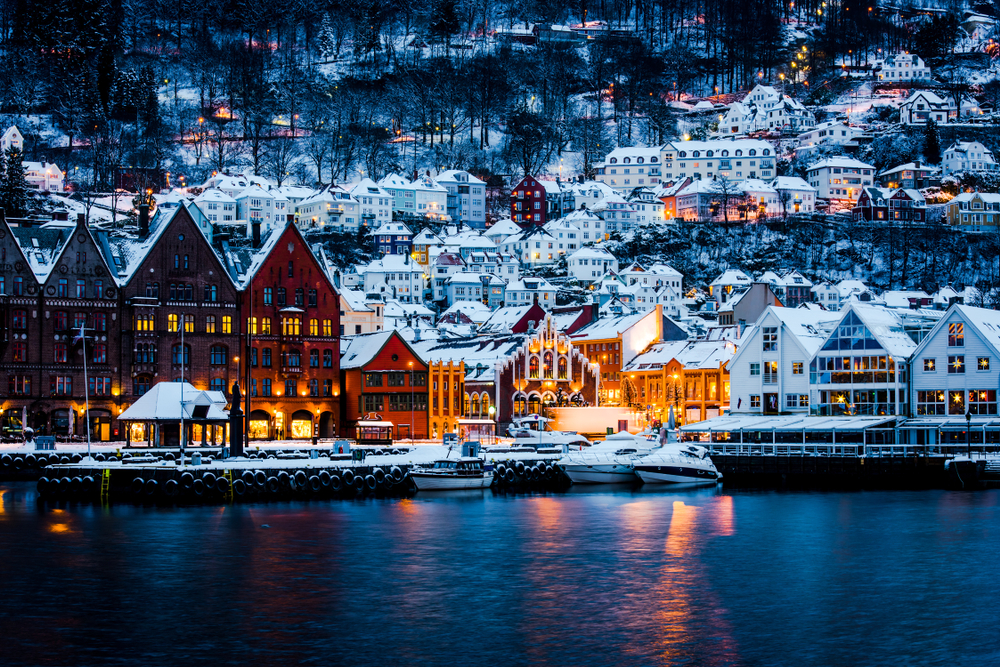 If scenic views are what you're after this winter, look no further than the second-largest city in Norway, whose nickname is the Heart of the Fjords. Bergen's ideal location, situated between two of the biggest fjords in the country, Hardangerfjord and Sognefjord, is just a piece of what makes this compact city so appealing. It's also home to narrow cobblestone lanes, a bustling fish market, and a picturesque wharf, where the eminently colorful UNESCO World Heritage site of Bryggen can be found. Speaking of UNESCO, Bergen is considered a City of Gastronomy for its abundance of local specialties with a seafood flare, such as fish soup, fish cakes and persetorsk, a traditional steamed cod dish. Head to the KODE for a culture fix, then take the cable car to the peak of Ulriken, the highest of seven nearby mountains, and take in all the wonderful winter sights below.
7. Prague, Czech Republic
Prague, no matter what time of year, routinely elicits amazed reactions from visitors due to its arresting Gothic architecture and colorful Baroque buildings. In the winter, those feelings are heightened thanks to falling snow, colorful lights, and plenty of Christmas markets — or vánoční trhy in the Czech language — to explore. Paris enjoys a world-class reputation as the City of Lights, while the capital of the Czech Republic flies more under the radar, but is no less beautiful, with the fitting nickname of the City of a Hundred Spires.
If you're planning to travel to Prague from the end of November to the beginning of January, you'll be enchanted by the Old Town Square Christmas market. Along with the Christmas market held at Prague Castle in the square in front of St. George's Basilica, these are some of the largest, most photographed, best-known, and most-visited Christmas markets in Eastern Europe. Stalls at both consist of brightly decorated wooden huts with all manner of wares and souvenirs to purchase, as well as local food and drink to sample — many made fresh right before your eyes.
Plan Your Own European Getaway This Winter
As you can see, the sights look a little more magical if you journey to Europe in winter. On the whole, you'll also find fewer tourists and lower costs on airfare and accommodations — two big positives. Use VacationRenter to book accommodations in an absolutely stunning ski-in/ski-out chalet or swanky modern apartment and pack it full of family or friends. You'll be glad you did!