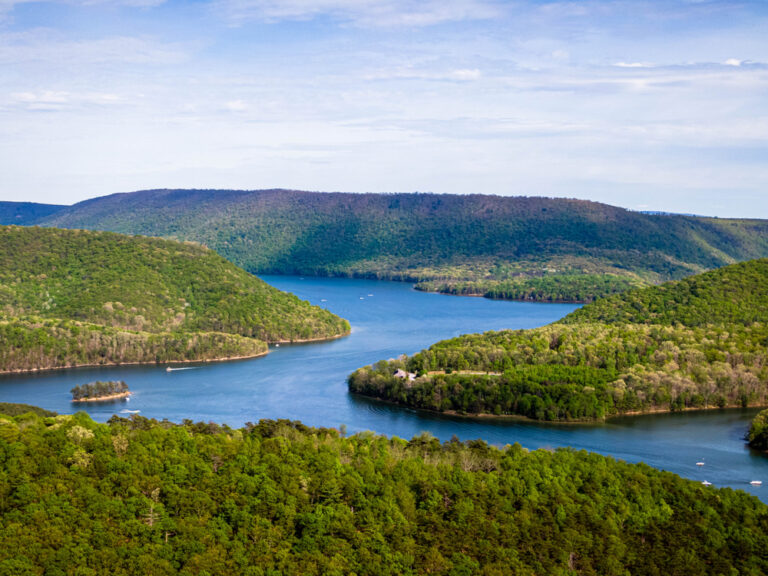 Pennsylvania is a state whose outdoor beauty is often understated. The Keystone State doesn't like to brag, but it's home to majestic marvels such as the Allegheny and Pocono Mountains. The Dutch countryside is another nugget that modestly nestles itself into the background. And then there are the lakes! Pennsylvania may not feel the need to make waves, but the truth is it boasts more than 2,500 lakes — both natural and man-made — many of which would make the ideal scene for your summer vacation. We've streamlined our list of Pennsylvania's most summer-worthy lakes down to three of the best the state has to offer.
Raystown Lake
This particular lake likes to live large. Located in the south-central township of Hesston, Raystown is the state's largest inland lake: the man-made body of water flows 8,300 acres in length. The reservoir is about a two-hour drive from Baltimore and two and a half hours from Pittsburgh. Sometimes there are flights into State College, which has a smaller airport just a 45-minute drive away.
You can choose to rent a houseboat for your entire stay or alternatively, Susquehannock Campground is a popular campground which is mindful of social distancing. Vacation homes in nearby communities like Martinsburg and Huntington are other avenues for more tailored comfort. There's also the four-star Lake Raystown Resort which has 400 acres of waterfront property and top-rated accommodations.
Activities in Raystown Lake are also a cut above. Lincoln Caverns is one of the two spectacular crystal caves where you can partake in a one-hour tour, including a Black Light Tour for the strong of heart. If you're feeling both lucky and adventurous, you can go gem-panning. There are a number of public beaches, and the lake has 12 public access spots for boaters, swimmers, and those who just come for the scenery. The entire family-friendly Raystown Lake region is known for its outdoor activities, so you can easily pack several days with activities like hiking, biking, and fishing at the lake itself.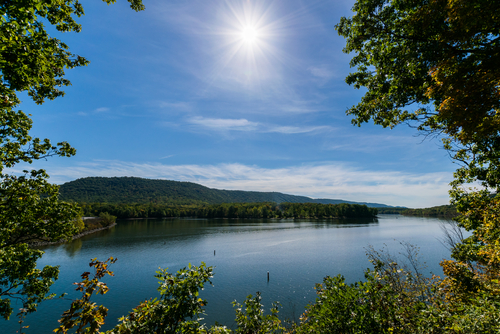 Outdoor dining is taken to a new level — pavilions and picnics can be catered, where you can have anything from traditional hamburgers to gourmet fare. There's also The Marina Café which offers versatile American cuisine in a casual setting overlooking a picturesque Marina. Their award-winning Galley Wings are just one of the sumptuous specials that can be enjoyed in-house, or as a take-out order, which includes curbside pickup.
Sometimes you need more than food to whet your appetite. Brookmere Winery & Vineyard Inn is Pennsylvania's first winery with its own bed and breakfast (wise decision, if you ask us) and has quite the selection of award-winning wines on offer. If you happen to enjoy their delectable selection of wines a little too much, make sure to check in at the inn!
Lake Wallenpaupack
Second on our list is none other than the second-largest lake in Pennsylvania. Considered one of the best lake communities in the state, Lake Wallenpaupack is situated in the Pocono Mountains close to the town of Hawley. The in-land lake is an expansive 5,700-acre lake and has 52 miles of shoreline, so there's ample space for socially distanced shore-based recreation. 
The lake is 74 miles from Newark, NJ and there are a few regional airports nearby including Williamsport and Wilkes-Barre Wyoming Valley Airport.
There are many safe activities you can do this summer including a variety of Pocono action sports in nearby Greentown at the Lighthouse Harbor Marina. You can rent a pontoon boat for the day. Normally, they do have scenic boat tours but it's best to call to find out if the tours are happening at a lesser capacity. In fact, Lake Wallenpaupack has four boat launches around the lake, and rentals are available. There are public beaches located at Tobyhanna State Park, Wilsonville Recreation Area, Promised Land State Park, and at the Palmyra Township public beach in Hawley. You can also hike on the many trails surrounding the lake. While there won't be any of their signature festivals happening this summer, there might just be a firework display or two to illuminate an evening.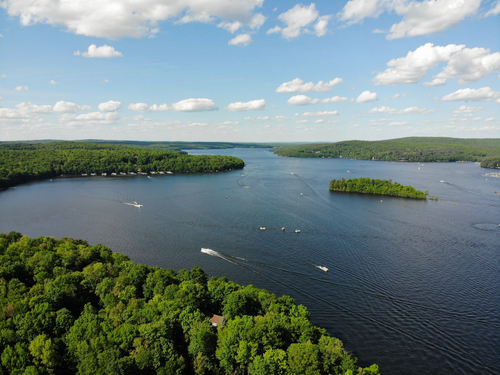 There are more than 30 restaurants within a seven-mile radius of the lake that offer a variety of worldly cuisine, including Der Jaeger if you like German food. The establishment has an antique and art vibe that will have you feeling a little more enlightened about the local history by the time you leave — heads up: reservations are definitely required. The Dock on Wallenpaupack has all kinds of food, from pizzas to steak quesadillas and scallop pesto fettuccine. Their lobster-roll is popular but they also have both vegetarian and vegan options. The outdoor dining makes for some stunning scenery and they also do takeout.
Even though you'll be so busy enjoying yourself, you do need a place to sleep. The award-winning Silver Birches Resort has a collection of thirteen vintage structures with varied histories dating back to the 1920s. The choices for lodging are broken down into three categories including guest rooms, cottages, and houses. All buildings face nearly 700 feet of shoreline on Lake Wallenpaupack and offer breathtaking views of the lake. But there are actually 335 vacation rentals — from cabins to houses — at the lake to also consider, with rates starting at $132 per night. Alternatively, you can find house rentals by the lake on VacationRenter. If all else fails, go wild and pitch a tent at one of their recreation sites such as Ironwood Point and Wilsonville.
Treasure Lake
We had to save this treasure for last. People have been drawn to Treasure Lake time and again for its rich scout history and resort-style feel. The Treasure Lake community is built around two reservoirs and at the center is the water body of the town's namesake, Treasure Lake. Historically, it's a former boy scout property located between Point Pleasant, PA and French Town, NJ — the property is actually situated on two islands in the middle of the Delaware River. The community is a semi-private residential development located 100 miles northeast of Pittsburgh, with DuBois Regional Airport less than 10 miles away.
Treasure Lake hosts two of the best golf courses in all of Pennsylvania — The Gold Course was rated as one of the best in the state by Golf Digest. Other treasure troves on the island include tennis courts and swimming pools for those who can't get enough of that resort feeling. Treasure Lake is designated for motor boats and has a fully stocked marina and 200 rental slips. Families will love the nature trails and Living Treasures "Wild" Animal Park is the perfect attraction for kids in nearby New Castle.
There's also the Presque Isle State Park, another hidden treasure where you can bike, fish, boat, and the sunsets are star-studded. Be sure to take note of their restricted guidelines this summer due to the pandemic, though. Two sandy beaches line the shore of the lake where water skiing, fishing, and swimming are the most popular summer sports.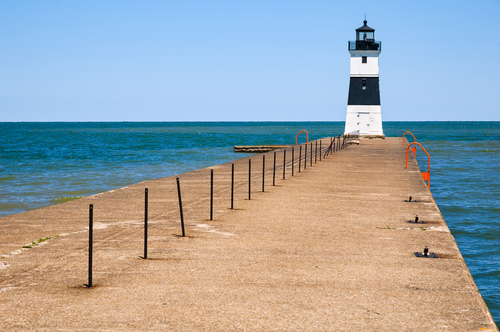 The lake has one more treasure up its sleeve. If you're craving worldly cuisine without having to leave the country, wander over to Conshohocken where in the west part of town you'll find authentic Italian food prepared by Tuscany-trained chef Simone Calonachi at The Gypsy Saloon. Dining can be on-site outdoors or fly-by curb-side pickup. 
Whichever lake you choose, here's to a treasure chest of memories. Book your stay at one of Pennsylvania's lovely lake towns on VacationRenter.
Mentioned in This Article