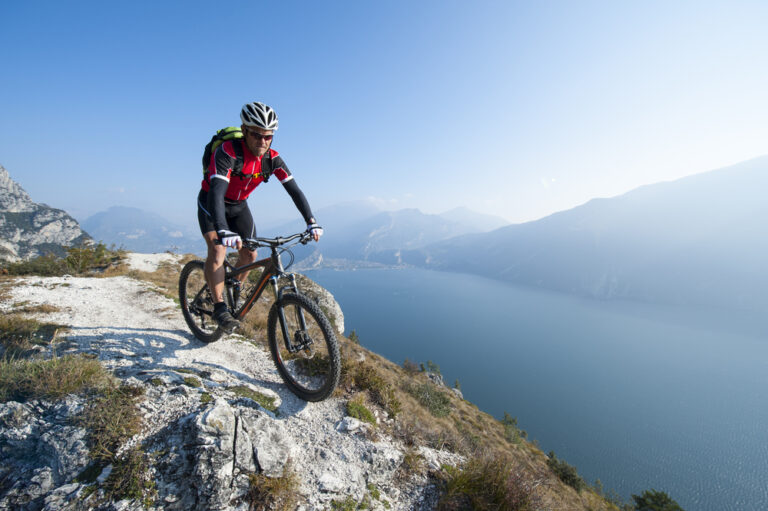 Do you remember when you first learned to ride a bike? In that magic moment, when everything just clicks, it feels like you're flying as you roll down the road for the first time. Your fears are released and replaced by a sense of independence and true freedom.
As a wave of calm washes over you and the stress of the day melts away, you enter a flow state. You're living in the moment, fully engaged in the task at hand, and perpetually present. In this pure state of being, your creativity flows freely and sport becomes art. Similar to surfing, skateboarding, and skiing, you seem to lose all sense of self and reconnect with nature, becoming intimately aware of your connection to the ever-evolving landscape around you. Time slows down and your senses heighten as you enter a state of pure being.
If you've been mountain biking before, you know this feeling well. And if you have yet to experience the pleasure of flowing down a backcountry trail, we highly recommend that you give it a try! That being said, we know the sport of mountain biking can be intimidating, and it's hard to know exactly where to start. So we've rounded up some of the best mountain biking trails in the country – from beginner rides to expert routes – to help you get your wheels spinning.
Continue reading to learn more about the top trails in Oregon, California, Utah, and Colorado — and remember, that it's all downhill from here!
The Top Trails for Mountain Biking in Oregon
As a world-famous destination for outdoor recreation of every variety, Oregon is home to a vast network of mountain biking trails. Whether you're just getting started in the sport or you have extensive experience, it's the perfect place to plan your next vacation adventure. We'd also be remiss not to mention that the state has a lot more to offer than what we cover below, but for brevity's sake, we're just touching on the best biking trails in town.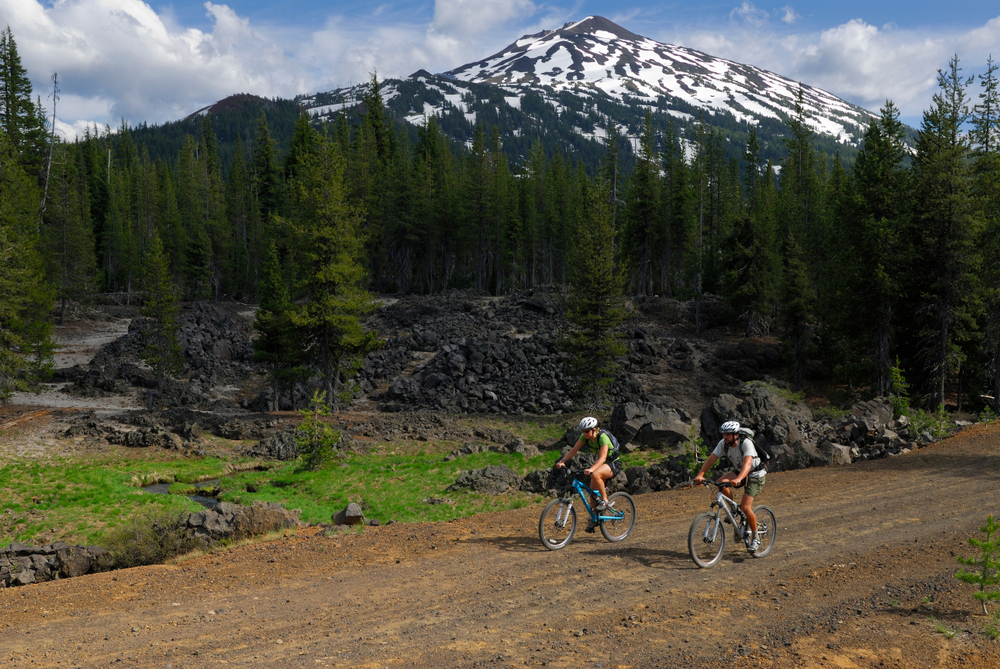 Phil's Trail System in Bend, Oregon
Distance: 840 miles of total trail
Skill Level: 31 easy routes, 48 intermediate routes, 7 difficult routes
As one of the largest trail networks in Bend, Phil's Trail System comes highly recommended. There's a route suited for every skill level — from brand new beginners riding rented hardtail bikes with plastic flats, to the weekend warrior who's stoked to shred the brown pow. Phil's Trail System even has routes that are perfect for pros like Brandon Semenuk, who's known for being paid to dance with bikes on backcountry trails. Since the 840-mile-long trail system has more than 80 different routes and exponentially more route combinations, we've called out the top trails below to make your life a little easier.
North Umpqua Trail in the Middle of Nowhere, Oregon
Distance: 72 Miles
Skill Level: Difficult
This epic 71-mile route is best tackled as a multi-day excursion, so you'll want to be prepared to spend a few nights camping along the trail. With that in mind, we strongly suggest bikepacking North Umpqua, which makes it an expert route as that requires specialized bike gear and a high level of endurance.
That said, if you're as fit as a fiddle and enjoy pushing your physical limits to the max, it's possible to complete the route in a single day. But we can't emphasize it strongly enough: you'll want to have some serious training under your belt before attempting to accomplish that feat. Regardless of how many days it takes you, this is a route well worth riding, especially if you're looking for varied cross-country.
The Best Mountain Biking in California
In a state as massive as California, you can find mountain biking trails of all shapes, sizes, and difficulty levels. Of course, as you might expect, some of the best routes are in and around the Sierra Nevada Mountains with an abundance of trails in the Lake Tahoe area like the picturesque Tahoe Rim Trail. However, we realize it's not always feasible to travel that distance, especially if you only have time for a half-day ride, so we'll also talk about an area that's a little closer to the coast. But first, let's cover the cream of the crop: Downieville.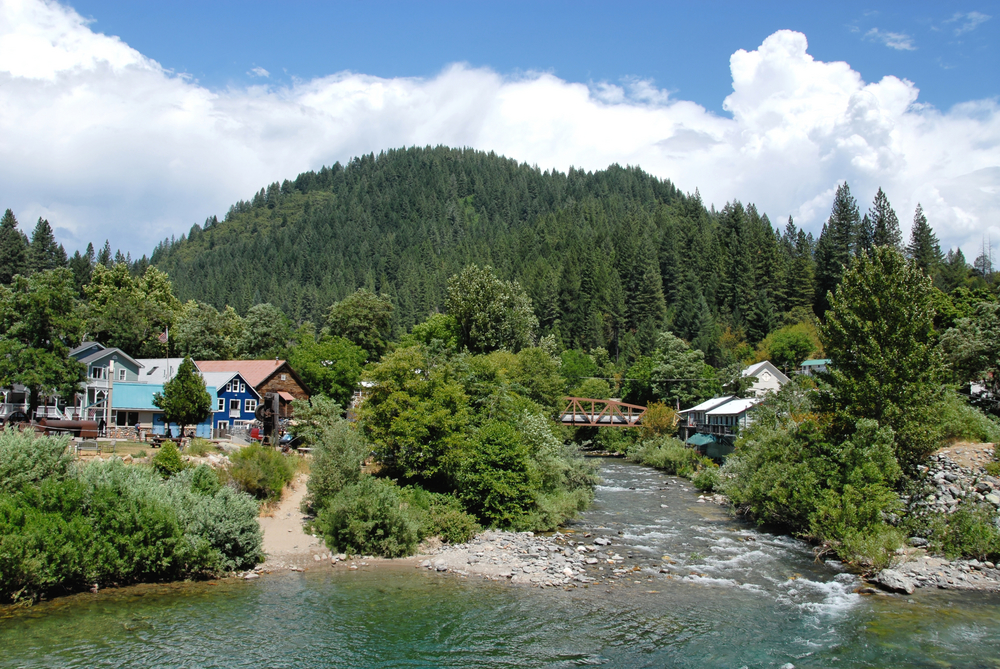 Downieville Classic in Downieville, California
Distance: 14 Miles
Skill Level: Difficult
After you visit the idyllic destination of Downieville once, you'll want to make it an annual pilgrimage, and we can guarantee that you'll look forward to it every year! We highly suggest rounding up some of your best bike buds together and setting up camp outside of town, along the banks of one of the many rivers in the area.
Then over the next few days, you can pile into a car or two and head down to the bike shop to catch the shuttle, which takes you to the top of a 14-mile-long downhill leg burner. By the time you reach the end of the trail, your legs are cramped, your forearms are toast, and your hands feel like lobster claws, but we can guarantee that you'll be grinning ear to ear. So after getting your fill of water, electrolyte gel packs, and grabbing a quick bite to eat, you're ready to hop right back into the shuttle van to do it all over again.
There's also a trail that gives you a full loop experience with only a few miles of asphalt, and we strongly suggest that you consider riding the full loop at least once. It really makes you appreciate the long, flowing downhill so much more, and there's nothing quite like the feeling of doing the whole trail unassisted. As any avid mountain biker or backcountry skier knows, the downhill tastes that much sweeter when you've earned your turns. Be warned that a few sections are very fast and technical, so you'll want to be prepared to just lean back, grip it, and rip it.
Soquel Demonstration State Forest in Santa Cruz, California
Distance: 52 miles of total trail
Skill Level: 1 easy route, 7 intermediate routes, 1 difficult route
This amazing loop is located in the fog-laden hills east of Santa Cruz. If you time your ride right and you tackle the trail in the days following a rainstorm, you'll find that the dirt is perfectly tacky. It'll make you feel like a downright professional downhill mountain biker, as your tires have just the right amount of traction on the trail, giving you great grip without getting bogged down in the mud.
While the uphill portion of the route could be better, it could also definitely be worse as it's simply a deep-woods dirt road leading back up to the start of the trail. You can then flick your suspension wide open, drop your seat, and enjoy the downhill, taking you through a series of long flow sections with sprinklers in place to keep things stable in the dry season.
If you need some time to rest partway down, take a breather at the skills park and when you're ready, drop right back into the amazing downhill. There's also an exit after the main downhill section which dumps you onto the Braille Trail and you can take that route if you prefer an easier return to your car, or keep going for another couple of miles of pure flow-state on the Braille Flow Trail. This additional section adds a pretty serious burner of a return climb back up to the car, but the downhill thrill is well worth the extra effort.
The Ultimate Utah Mountain Biking Trails
The state of Utah, while mostly desert terrain, is a widely popular vacation destination due to its many National Parks including Zion, Canyonlands, Arches, and Bryce Canyon. Not to mention, the meandering Colorado River, which many river runners love to float almost every month of the year. That said, Utah is also home to world-class bike trails, and with a comparatively long summer season, it's a bit of a mecca in the mountain biking community.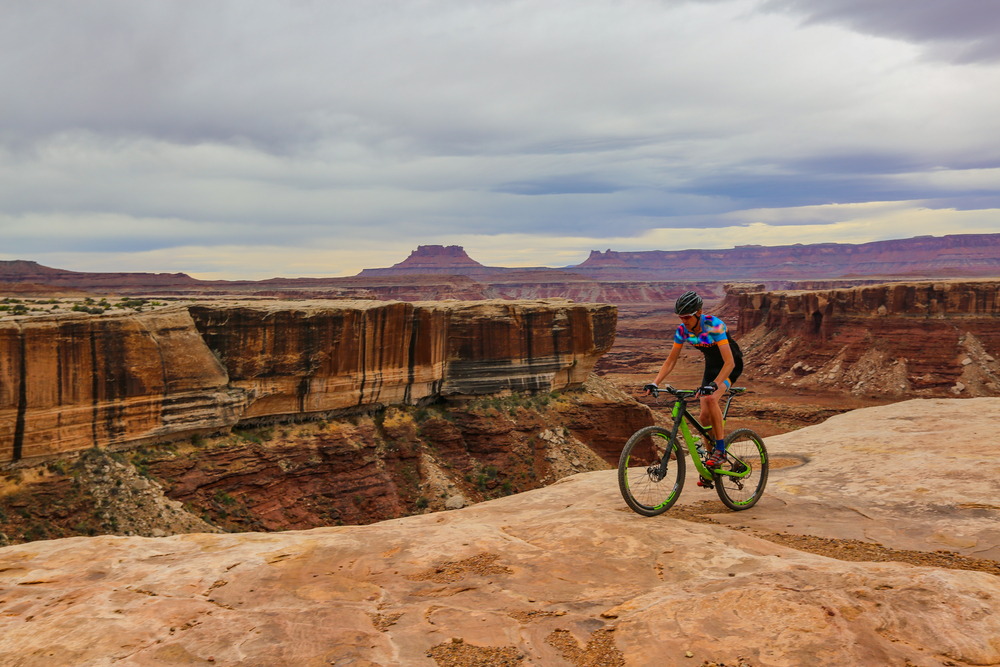 The Whole Enchilada in Moab, Utah
Distance: 34 Miles
Skill Level: Difficult
Mountain biking enthusiasts agree that by any standard of measurement, The Whole Enchilada comes in at the top of the list of trails in the state. As the name suggests, this trail has it all, from paved paths to expert terrain and everything in between. There are a few uphill sections on the route, but you'll be pleased to know that most of it is downhill with plenty of shuttle services available to give you a lift to the top of the trail.
However, The Whole Enchilada is not to be taken lightly as it's 34 miles one-way, and some of the sections are extremely difficult. Of course, if push comes to shove, you can always hike-a-bike up and down the steepest sections. But if you're feeling up to the challenge, it'll be an experience you won't soon forget. The route descends 7,000 vertical feet from its high alpine start above treeline, and through a variety of desert ecosystems before ending deep in the sandstone canyon of the Colorado River.
We suggest that you plan to get an early start because it'll take you anywhere from four to eight hours to travel the entire route, but also so you can stop along the way to rest and refuel while you enjoy the picturesque views of the vast desert landscape. If you have some flexibility around when you can make the trip there, we highly recommend going during the spring or fall shoulder seasons to avoid the crowds on this hugely popular trail.
Slickrock Loop in Moab, Utah
Distance: 11 Miles
Skill Level: Difficult
Located in the hills surrounding the famous desert town of Moab, Slickrock is often referred to as one of the best mountain biking trails in the country due to its unique terrain. It seems intimidating at first glance — especially with a name like Slickrock — but rest assured that you can ride the whole route on your mountain bike. In fact, you'll find that the smooth rock is actually very tacky and gives you a good amount of grip during the steep uphill climbs and long smooth descents.
The 11-mile loop offers plenty of short ups and downs, so it's a great route for riders of any skill level. And if you have any hesitation, the quarter-mile practice loop at the start of the trail is the perfect place to get a taste of the terrain that you'll encounter along the entire route. One thing to note is that unlike many mountain bike trails, the Slickrock Loop is open to motorized dirt bikes. As a result, you'll want to be very aware of your surroundings as you navigate the route, and it's definitely not the ideal place to go if you're seeking silence and solitude in Mother Nature.
Colorful Colorado's Best Mountain Biking Trails
As a destination that's known the world around for its abundant access to the great outdoors, Colorado is high on the list for anyone in search of adventure. It's covered in resort areas that attract throngs of skiers and snowboarders during the winter months, but after the snow melts, the state changes its tune. As soon as the dirt dries, many resorts like Winter Park and Aspen Snowmass transition into major mountain biking hubs, but you'll also find a massive cross-country trail system crisscrossing their way through the Rocky Mountains.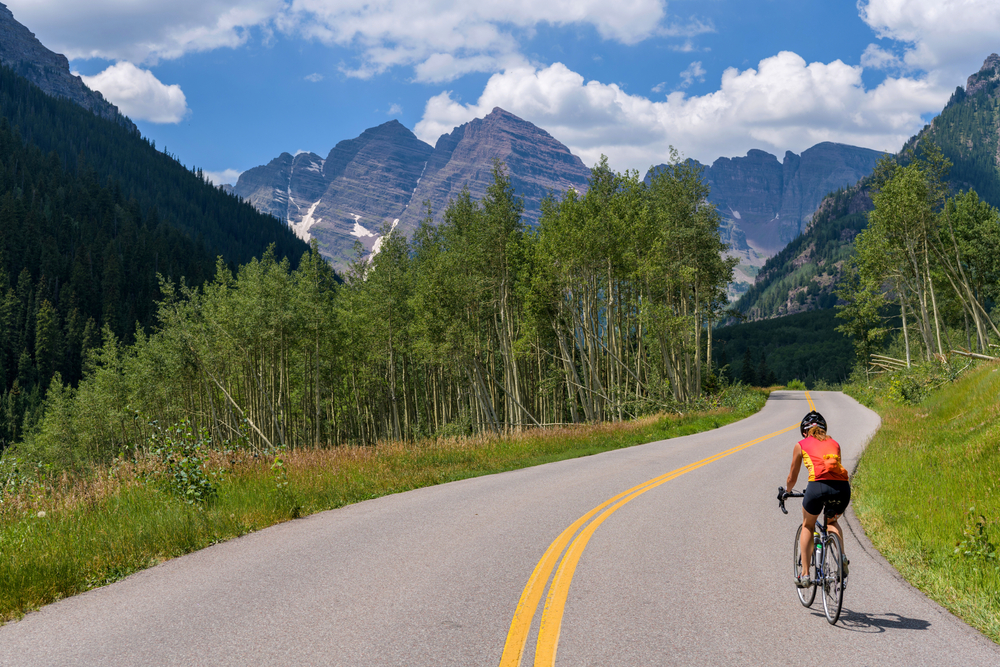 401 Trail Loop in Crested Butte, Colorado
Distance: 14 miles
Skill Level: intermediate
As a stunning single track that's carved into the Crested Butte mountainside, the 401 Trail Loop is a downhill that every mountain biker needs to experience. With very few technical sections and simply breathtaking views, it's a great route regardless of your level of experience. We highly recommend riding this trail in the early summer during the peak wildflower season — or shortly after a solid rainstorm — as you'll be surrounded by all shapes, sizes, and colors of Colorado's famous wildflowers.
While the flowing downhill section seems to go on forever, you'll come to a fork about ¾ of the way down where you can continue descending to the parking lot. However, if you're up to the challenge, we strongly suggest that you choose to take the short uphill route. After a short, but steep climb, you'll be delighted with yet another excellent downhill ride that dumps you into the aforementioned parking lot. You can also do it as a loop by taking a dusty fire road uphill to the top of the trail. It's really not a bad climb endurance-wise, but it is rather long and relatively boring, so shuttling cars is definitely the preferred method, especially if you want to ride the route multiple times in one day.
Doctor Park Trail in Crested Butte, Colorado
Distance: 20 Miles
Skill Level: Difficult
The Doctor Park Trail is located on the outskirts of the Crested Butte valley, just off of Cottonwood Pass, which travels over to Buena Vista and it's absolutely one of the local favorites in the area. It's a diverse downhill with almost 3,000 feet of vertical that touches on everything: fast flow sections through aspen groves, technical rock gardens that require precision and skill, and high-speed areas with dirt berms that are perfect for carving. As one of the few mountain bike trails that truly has it all, our only gripe with it is that it's not long enough!
You can do the route as a 20-mile loop, but most people prefer to do it by shuttling to the top with an off-road capable truck so they can lap the downhill a few times in the same day. That being said, if you want to do the whole loop under your own power, be prepared to pedal up a high-traffic paved road before doing a large river crossing over to a steep and narrow dirt road which switches back multiple times to the top of the trail. But either way you slice it, Doctor Park is something that every avid mountain biker needs to experience at least once in their lifetime.
Aspen Snowmass Mega Loop in Aspen, Colorado
Distance: 60 Miles of Total Trail
Skill Level: Difficult
Last but definitely not least, we come to the granddaddy of them all: the aptly named, 60-mile-long Aspen Snowmass Mega Loop. It's a combination of over 50 different individual mountain biking trails, and with the exception of a few short paved paths that serve as connectors, the route is entirely made up of top-notch single-track. As you weave through the Aspen area, you'll enjoy an endless amount of diverse terrain and some of the best views that the Roaring Fork Valley has to offer.
Since the loop links together a large number of different mountain biking trails, you can choose to do only certain sections in order to make your daily trip mileage more manageable. And while there are a fair amount of places along the route to fill up on water and grab a bite to eat while you give your legs and lungs a rest, many portions of the loop will take you into the backcountry, so it's essential to have proper trip planning in place. It's also worth noting that there are no shuttle options on the Aspen Snowmass Mega Loop, meaning you'll have to earn every turn as you climb and descend almost 10,000 vertical feet over the course of the entire route.
Stay in Style During Your Mountain Biking Trip
Of course, the U.S. is home to many more highly rated mountain bike trails and honorable mentions to this list, but we consider the routes we've talked about as the creme-de-la-creme. And when you're on the road or have spent a few days camping in the backcountry, it's always nice to have a great place to recover. So whether you prefer to stay in a vacation home, RV, cabin, hotel, or all of the above during longer trips, we're here to help you get a good night's rest and back in the saddle.
Wherever you decide to go for a ride on your mountain bike, you're sure to find the perfect accommodations quickly and easily at VacationRenter