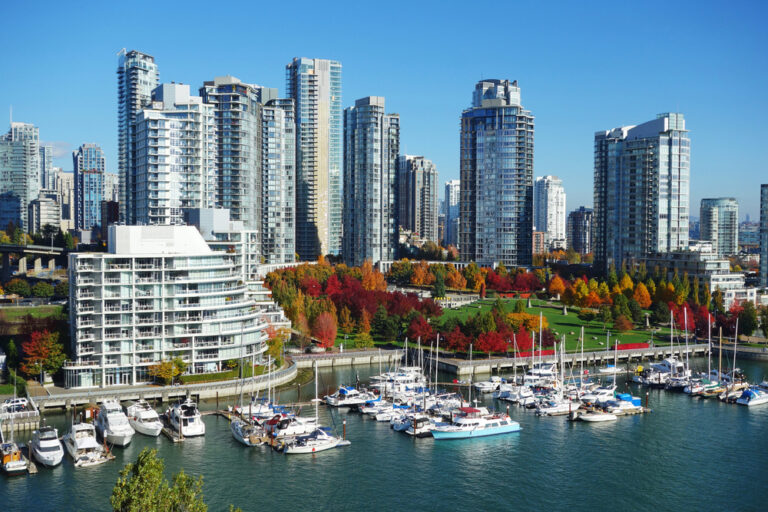 Lauded as one of the most picturesque cities in Canada, Vancouver in British Columbia is known for its grandiose landscapes, majestic mountains, breathtaking beaches, sparkling ocean waters, and vibrant foliage. This major metropolitan coastal city is known for being safe, clean, and green. Skyscrapers are at ease with towering trees — just as the hustle and bustle of modern life is at home with natural wonders all around. 
Vancouver Neighborhood Guide
Within this urban oasis of "Van City" — as it is often called — is a group of diverse districts, each offering its own attractions to any type of traveler. We can't lean towards one more than the other because the truth is, we would set down travel roots in any one of these neighborhoods — so we'll leave that decision totally up to you. 
Downtown
By day, Vancouver's downtown sector is a lively hub of chain and luxury boutiques and high-end department stores. The locals like things to be laid back — food trucks and casual lunch spots are languishly strewn about. Keeping that cruise-control going as cruise liners depart regularly from Canada Place, a very cool terminal designed to look like a ship.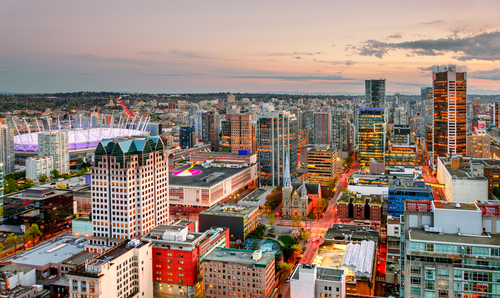 By night,  neon-lit Granville Street has a buzzing nightlife scene of bars and clubs, and you take in a live band at the Commodore Ballroom. 
West End
Vancouver's West End neighborhood might be mostly residential, but this easy-going district happens to have a cool gay bar scene in Davie Village. Speaking of diversity: enjoy a diverse range of dining including seafood grills and ramen shops.
Once you've had your fill, take a much-needed walk along the Seawall waterfront path and its forested trails. Enjoy public art such as the A-maze-ing Laughter sculpture, featuring 15 cast-bronze figures, and a stone Inuit statue called the Inukshuk.
Yaletown
Van City's Yaletown is one of those downtown districts whose reputation precedes itself. New York City has Soho, Paris has the Left Bank, London has Kensington — and well, Vancouver happens to have Yaletown. The hip district right in the heart of the city is home to the trendiest of restaurants, cocktail lounges, outdoor terraces, art galleries, and a collection of cafes. Indie fashion and decor boutiques also set the scene, as well as a myriad of rejuvenating spas.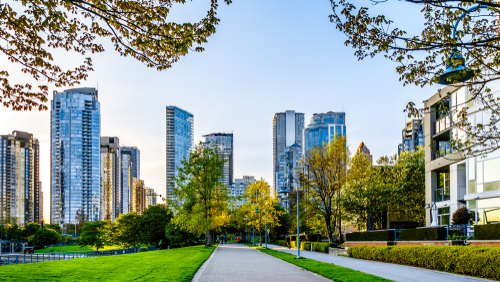 Still feel the need to clear your head? Head on over to David Lam Park or George Wainborn Park for some air. Both are on the waterfront and boast an expansive lawn. The Skytrain, a public transportation option, is also very close by.
Don't forget to pay BC Place Stadium or Rogers Arena a visit! Professional sports and rock concerts are pretty much an everyday thing at both of these venues. 
Coal Harbour
Another cool hot spot in the city's downtown is Coal Harbour. Nicknamed "The Waterfront," Coal Harbour is celebrated for its marina, and you can also see seaplanes take off near the grass-roofed Vancouver Convention Centre. Take a cruise from the city because the cruise terminal is also close by. Along the Vancouver Seawall's walking and cycling path, you can follow the shore to the famous Stanley Park, where kids will love the Vancouver Aquarium. Here they can see some rather interesting locals: tropical fish, penguins, and just the everyday stingray. 
Take in the mountain views, or indulge in a myriad of both upscale and casual dining options. There are also plenty of pubs and clubs that come to life in the evenings for those looking for vibrant nightlife options. 
Granville Island
You can continue on to the trendy peninsula and shopping district of Granville Island. Often called a "magical escape within the city," here you'll find cool restaurants, theaters, as well as a public market on the south side by False Creek. Enjoy a plethora of arts and culture. There are plenty of art studios featuring Indigenous art, Aboriginal art, art festivals, and theater productions.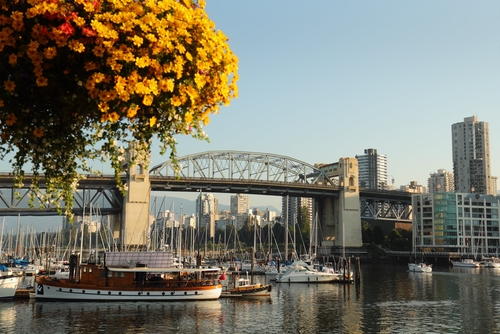 Kitsilano
Keep the laid-back theme going in Kitsilano — a residential area known for the huge saltwater Kitsilano Pool. There's also Kitsilano Beach surrounded by mountain views all around. Go hunting for fashion and the like on the district's main drag — West 4th Street — where you can also find yoga and outdoor gear stores. 
If you get hungry, there are plenty of seafood and vegetarian restaurants. The kids will love the culture scene like the Vancouver Maritime Museum and the H.R. MacMillan Space Centre too!
Gastown
The lively district of Gastown lies north of the Vancouver peninsula and is a stretch off the beaten path. Gastown has long been known as the place to discover some hidden gems: you can find anything from basement vintage shops that house brand names like Chanel and Dior, to hole-in-the-wall late night eateries, like Black Frog Eatery.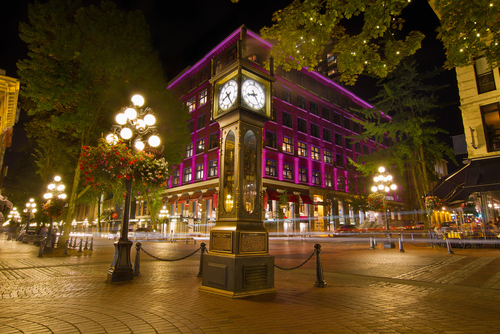 If we're talking about food, Gastown is a food lover's paradise. The trendy food scene is full of chic restaurants that specialize in everything from gourmet sandwiches to local seafood. Cool eateries like The Flying Pig line the Downtown Eastside.
Pop your head in indie art galleries and decor stores in Victorian buildings. The area is also home to a number of cocktail lounges, wine bars, art galleries, and fashion studios.
Where to Stay in Vancouver, Depending on Your Travel Style
Vancouver has a versatile range of accommodations for your stay, where travelers can be mindful to make the most of any budget. 
Where to Stay During Your First Time in Vancouver 
If it's your first time in Vancouver the Rosewood Hotel Georgia will make a lasting impression. The Rosewood is a blend of the grandeur of the Roaring Twenties and contemporary design. In our own roaring twenties, the Forbes-rated five-star hotel has been restored as one of the most prestigious and prominent hotels in the world. Close to Stanley Park, the Rosewood Hotel Georgia is also a short walk from world-class museums, art galleries, beautiful boutiques, and the city's finest restaurants for fine dining.
Talk about making a statement, The Sutton Place is all talk in high places. This high-rise hotel offers highly-stylish luxe rooms with cityscape views and high-end dining. A wine boutique and spa are but just a couple of the amazing amenities.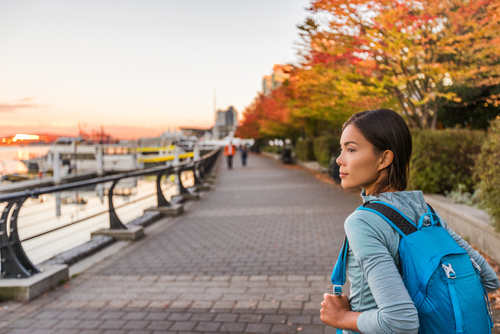 Best Places to Stay in Vancouver for Families
One reason the family will love Rosedale on Robson Suite Hotel is for its centrality. The all-suite hotel is located a five minute walk from BC Place Stadium and a couple of kilometers away is English Bay Beach. It's also just minutes away from Queen Elizabeth Theatre and the Vancouver Centre for the Performing Arts. 
There's plenty of H2O at the hotel too: enjoy the hot tub and the indoor pool. Work out in the gym or relax in the sauna. Original Joe's Restaurant is available on-site. Parents will love the fully-equipped kitchenette that is featured in every suite. Bonus: enjoy free WiFi as you lounge on the second floor garden terrace.
You can also go all inn at the Granville Island Hotel on Granville Island. The hotel is situated in the midst of parks, playgrounds, water, and a bike pedestrian path. The Granville Island Market is also nearby. The Aquabus — a tug boat-sized commuter boat — leaves every few minutes for downtown, Stanley Park, and the kid-friendly Science Centre. 
Best Places to Stay in Vancouver for Tourists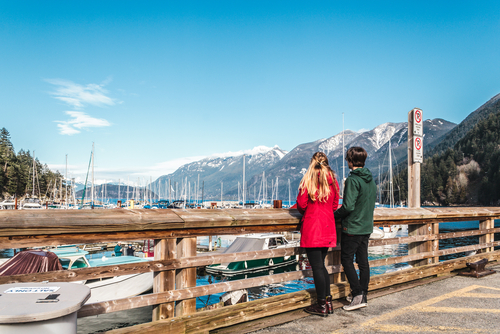 Featured in Forbes Travel Guide, tourists will love the century-old St. Regis Hotel in Vancouver. The St. Regis recently reopened after $2 million in renovations and upgrades made on the historical building during the COVID shutdown. Downtown attractions such as the Convention Centre, Cruise Ship Terminal and the city's best shopping — think Holt Renfrew, Versace, and Nordstrom — are mere steps away. 
Standing proud in the heart of the city, the 100% Canadian-owned and operated hotel is the boutique-style holiday haven of your dreams. The St. Regis prides itself also on its modern art collection where you'll find abstract paintings in hallways, the reception area, and speckled throughout the hotel. The St. Regis has amenities for all of the senses including sumptuous foods from the kitchen; even the bathrooms bring the heat with heated marble floors.
The culturally-inclined tourist will love the effortlessly stylish Opus Hotel. Situated in the pulsating Yaletown, the hip district in the heart of the city is home to the trendiest restaurants, art galleries, spas, and cafes. At the center of all this coolness is the Opus Vancouver. The Opus has its own hand in the arts. Their 96 guest rooms have a host of lifestyle decor themes such as pop-deco art, vibrant colors, and spa-style bathrooms.
Where to Stay in Vancouver on a Budget
Worried about traveling to this world-class city on a budget? No worries, because we've got you covered. If you're travelling to Vancouver with the family or just prefer some more privacy, bed and breakfasts can make for great alternatives. Located centrally in Vancouver, Barclay House is one of the more affordable options out there. 
The YWCA Hotel Vancouver is on a low-key property and close to Granville Island. The simple rooms are comfortable and cozy offering free Wi-Fi, shared kitchens, and TV lounges. The very affordable Samesun Vancouver is also a very cool hostel that happens to be close to all of the city's main attractions as well as the Granville Public Market. 
Best Area to Stay in Vancouver Without a Car
Luckily, a lot of the city's regions are not regulated by the need for a car. A walk and a way are all you need in Vancouver's West End. The district has it all — cool beaches like Second Beach or English Bay Beach are two examples. The city's acclaimed Stanley Park is also a stone's throw away. Yaletown is also in close proximity to a plethora of restaurants and attractions, and the stylish Gastown district is actually best-explored on foot anyway.

5 Family-Friendly Attractions in Vancouver
Vancouver is one of the safest, family-friendly cities in the world and offers many main attractions the whole clan can plan together. 
Stanley Park
British Columbia is renowned for its natural beauty and Vancouver's Stanley Parks is one of the biggest natural attractions. More than 400 hectares of lush, green park with towering trees will beckon you to explore the trails, Sandy beaches and ocean shore — all in the heart of downtown. Think Canada's own Central Park! That's not all: you can stroll along Stanley Park's Seawall. The paved trail that's nine kilometers in length follows the ocean. It may be too long for kids to walk the whole thing, but the path is also great for bike rides. No need to worry about bringing a bike, because there are several bike shops close by that rent out. Take in the park with a guided tour or feel free to discover its natural nuggets on your own. The young — and young at heart — can also enjoy a day of swimming, a picnic, a round of golf, or a round of tennis.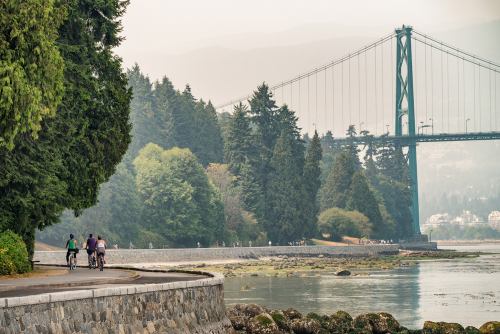 Granville Island Village
When it comes to family-friendly fun, Granville is where it's at! This made-for-walking little village of an island has lots of things for family in the way of fun. Enjoy the sights, sounds, and smells of the public market where you can get fresh produce, locally-made delicacies, or grab some lunch. Handcrafted treasures and souvenirs are on hand throughout the market. There are also other shops and restaurants to explore on the island. Indulge in sumptuous fish and chips right by the water!
Kids can have their own Market at The Kids Market, a variety of shops and services devoted to children like bumper cars and an arcade. Let there be water play galore at the massive water park! Kids will love it for the never-ending fun and parents will love it because admission is free of charge. If that's not adventurous enough, kids can try The Adventure Zone — a huge indoor jungle gym where they can climb, jump, and move freely. Carousel Theatre for Young People has a host of plays and other events, so be sure to check out the program for the day. 
Science World
The family can easily spend the whole day at Science World — an interactive experience of fascinating exhibits, displays, shows, and activities. The center takes such a playful approach to celebrating all things science that the kids won't even realize they're learning and taking a deep dive into the world of animals, plants, and the earth's amazing creations. 
Most of the activities are geared towards kids but the whole family will have fun discovering the science world, too. Apart from the exhibitions, there are more than 300 square meters of indoor play space for the kids to burn off that access energy as well as an outdoor science park. The Omnimax theater also features films and live shows. 
Aquabus 
Kids will love ferrying around on one of these mini rainbow-colored ferries that putter around False Creek all day serving as water taxis to all the main destinations: Granville Island, Yaletown, the Plaza of the Nations, and many others. But there's more to the Aquabus than being a water shuttle — it also tours along the water giving you the opportunity to take in the city's scenic beauty. Missed the boat? Don't worry, the Aquabus comes along in 15 minute intervals, if not less, so you'll be on board before you know it and operate year-round.
Pacific National Exhibition 
One of the best summer family hotspots in the city is none other than the Pacific National Exhibition, better known as the "PNE". The kids will love playing in Playland, the amusement park that has everything from mellow rides for the little ones to the full-out roller coasters for the thrill-seeking older kids. Go on the Atmosfear to see panoramic views of the city while swinging at 45 miles per hour. The Revelation lets riders experience G-force like a fighter pilot. You might want to seek this particular skill before lunch. But if rides aren't your thing, try your hand at carnival games, have a taste of some fried food or take in a summer night concert.
Ready for a trip o Vancouver? Book the perfect rental in your neighborhood of choice on VacationRenter!