When thinking about "Mexico City," you might be inclined to think about homemade street tacos. However, in addition to its excellent street food, Mexico City is an industrial, cultural, and, of course, tourism mecca. Centro Historico — also known as Mexico City's historic center — is rich with heritage sites. Some of these constructions range from as early as the 16th century to the 20th century.
Prominent among them include the iconic Zocalo Square, the Mexico City Metropolitan Cathedral, the National Museum of Anthropology, and the National Palace. Chapultepec Park and Chapultepec Castle are other places to behold, located within a short walking distance to one another and the anthropology museum.
Key Points
Six unique places to discover in Mexico City
Mexican food to try
Learn more about the location of Mexico City and its people, language, and culture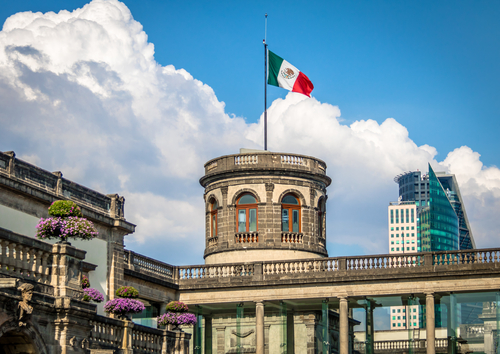 The various Mexico City "barrios" (also known as neighborhoods) — including Polanco, Coyoacán, Condesa, Juarez, Santa Fe, Roma Norte, Avenida — make it a top vacation destination. It also makes Mexico City an appealing location for academic research. Whatever your motivation is, whether it's vacation, study, or just the lure of Mexican food, this article is your guide toward making Mexico City memorable.
How Is Mexico City Laid Out?
Mexico City is the "ciudad de México" — also known as the capital of Mexico or CDMX — and is laid out with El Zocalo at the center surrounded by other institutions. Zocalo means "plaza," and it's also commonly referred to as Plaza del Zocalo. The intricate mixture and balance of culture, history, art, and food make Mexico City a perfect blend of ancient and present, like traveling through a time machine and getting stuck halfway. The Nahuatl (Aztec) people were believed to be the first native settlers of Mexico City.
The Templo Mayor ruins are the Aztecs' most historical evidence. Located 2,250 meters above sea level, Mexico City has pleasant atmospheric conditions. It's widely accepted as the world's oldest and largest Spanish-speaking city, with about 9 million residents.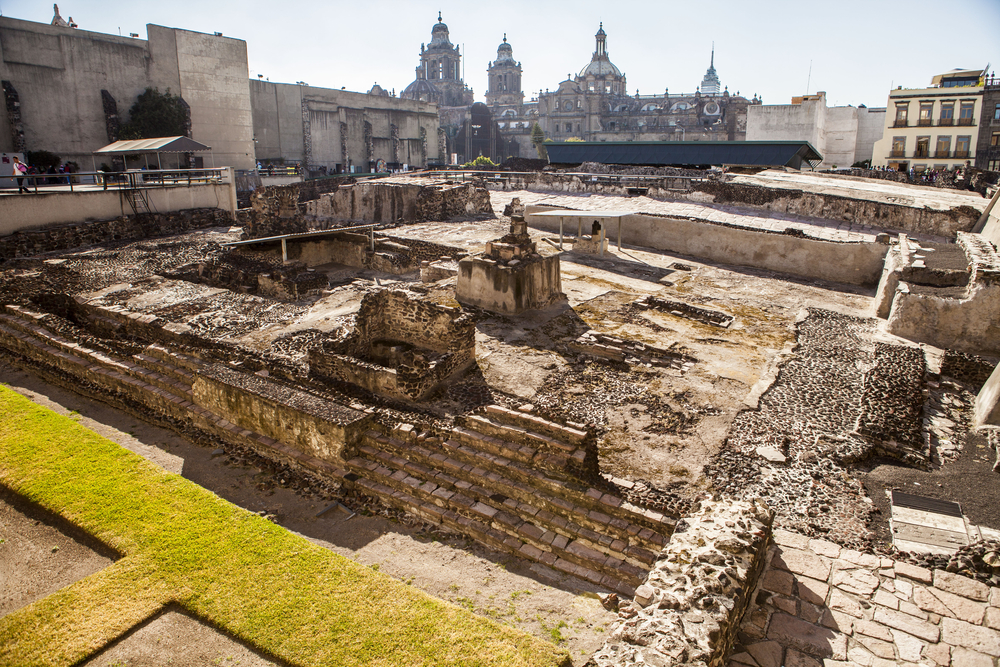 Most visitors usually arrive by air via the Mexico City International Airport, also known as Aeropuerto Internacional Benito Juárez, just 8 miles away from the Mexico City city center. On arrival, you can immediately get sucked into the city's rush, especially during the daily rush hour. Mexico City has an excellent public transportation network, including buses, a metro system, and others that connect you to various parts of the city at an affordable price. As a tourist, the metro system might be a better option than taking the bus.
6 Amazing Places to Discover in Mexico City
Mexico City comprises 16 districts, referred to as "delegacion". Each part of the city has its own food, arts, and side attractions suitable for different people. Keep reading to learn more about six amazing districts to discover in Mexico City.
Polanco
The high-end district of Polanco is probably the most affluent in Mexico City. It hosts the incredible Museo Soumaya with its private art collection you can see for free. World-class restaurants and shopping centers make Polanco a great location. Polanco is also a safe neighborhood that is constantly expanding, with various residential developments underway.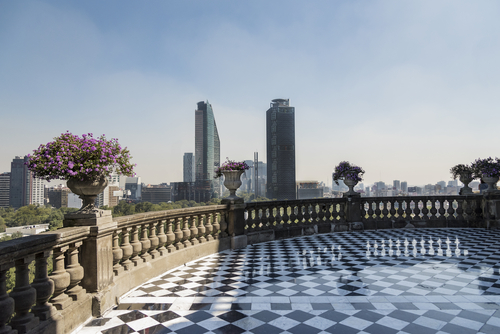 Presidente Masaryk Avenue is one of the main thoroughfares. Along this road are exclusive fashion stores, such as Dolce & Gabbana, Gucci, Louis Vuitton, Rolex, Tiffany & Co., and more.
Paseo de la Reforma
Paseo de la Reforma is the main avenue. It measures almost 15 kilometers and passes through the central neighborhoods of Mexico City. It's among the best neighborhoods, boasting some of the most representative monuments and buildings in Mexico. However, the most iconic is the Angel of Independence, a giant sculpture of the victory goddess symbolizing Mexican independence.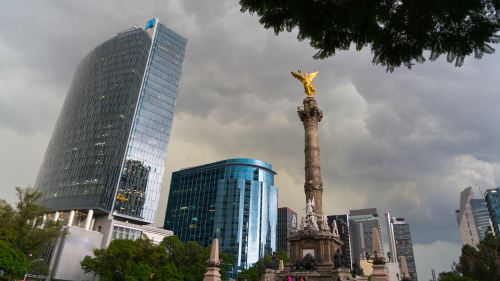 Driving or walking along the Paseo de la Reforma, you can observe beautiful constructions from different periods, such as the Church of San Hipólito, the Prisma Tower, the El Moro Building, the Reforma Tower, the Mayor Tower, and the Mexican Stock Exchange. Like Polanco, Paseo de la Reforma is considered an exclusive area.
Centro Histórico (Historical Center)
The Centro Histórico (The Historic Center) of Mexico City preserves most of the city's cultural heritage, making it an almost mandatory stop when visiting the Mexican capital.
Every corner of the Centro Histórico represents Mexican culture, highlighting the Zócalo and the main square of CDMX that is regularly used to host outdoor events for families. The Centro Histórico is better explored on foot so you can absorb its architectural monuments, including the Palacio de Bellas Artes, the Alameda Central, and the lively Plaza Garibaldi.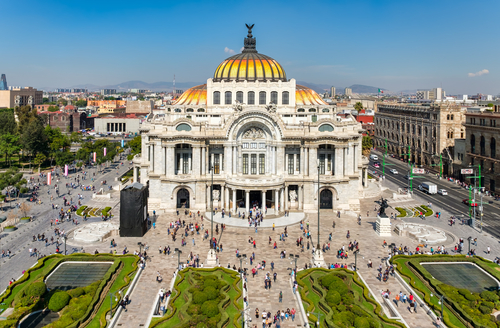 When it comes to food, the Centro Histórico offers authentic Mexican flavors at affordable prices, as well as markets like San Juan, where you can get all kinds of fresh ingredients. The Centro Histórico is one of the best areas to stay in Mexico City.
Coyoacán
Coyoacán is a quiet and somewhat hipster area, about a 30-minute drive from the city center. This area is perfect for those who want something more colonial — especially for Frida Kahlo fans considering these very streets saw her grow. There's an old-world Bohemian feel in Coyoacán that hits you once you enter the city.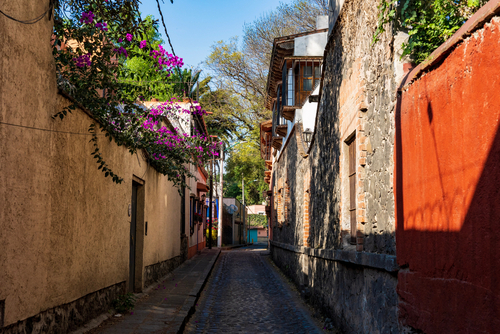 Coyoacán used to be a small town near Mexico City before becoming one of its neighborhoods. At the Coyoacán center, there's a handicraft market where tourists can purchase gifts and souvenirs on the weekends. There are also several other attractions, including the Frida Kahlo Museum and the Leon Trotsky Museum.
San Ángel (Saint Angel)
San Ángel is another beautiful area of Mexico City. The city's south has a lot to offer, such as markets, convents, art galleries, art deco design, and more. On Saturdays, there's also usually a bazaar.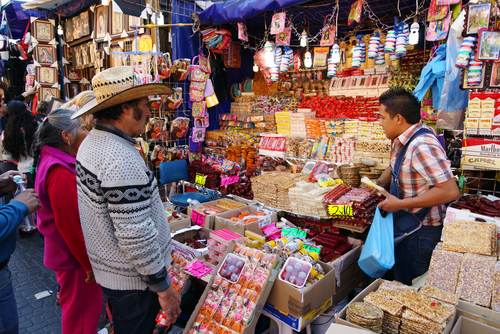 San Ángel is ideal if you already know the most famous sites in Mexico City and want another type of experience. It's close to Coyoacán and has several interesting sites, like the house that Diego Rivera and Frida Kahlo shared, as well as the legendary San Angel Inn Restaurant. There are also many shopping options and international designer stores.
Roma
These adjacent neighborhoods share a unique urban and bohemian blend. Both are renowned for their exquisite restaurants, independent boutiques, art galleries, and more. However, Roma is the gastronomic hub. Signature cuisine is the rule in several of Roma's restaurants, where culinary artistry is fully exploited in making the finest delicacies.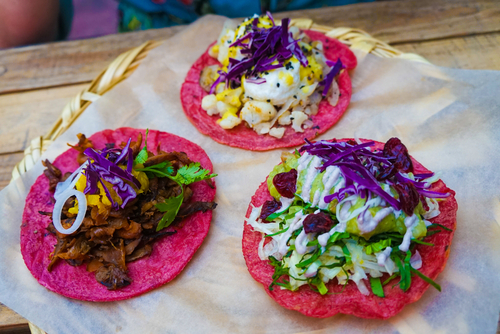 If you're excited about discovering new flavors, you shouldn't miss the opportunity to enjoy a delicious drink in one of the many coffee shops and tea rooms in Roma. In Roma, you'll also find boutiques where garments are made by hand and cultural centers that display paintings, photographs, sculptures, furniture, and other works of art. Condesa is considered one of the safest and wealthiest neighborhoods. La Condesa is located to the south of Zona Rosa.
Where to Stay in Mexico City
By now, you probably have an idea of the location that'll best suit your needs based on your particular interests, such as nightlife, food, or history. For clarity, let's recap some essential points:
If you're a foodie, you've probably done your homework on the fantastic Mexican and Spanish food of Mexico City, which means the Colonia Roma district could be the place for you. Mouth-watering cuisine is a must when in Roma, but the street food is also equally remarkable.
Suppose you're in Mexico City for art galleries, art deco, and other interesting sightings. In that case, San Ángel is the neighborhood for you. Tag along with a tour guide to locate interesting sightings.
Coyoacán is where you can locate one of the biggest markets in Mexico City. Here, you can purchase different handicrafts and maybe spend time admiring or studying the priceless artifacts at the Frida Kahlo Museum.
If you want places soaked in historical monuments and architecture, the Centro Historico is the way to go. Palacio de Bellas Artes and other historical and cultural representations will make your time worth it.
If you've got the big bucks to spend, Paseo de La Reforma is the district for you. This business district also has several good coffee shops, fitness centers, and nightclubs — one of the best Mexico City nightlife experiences.
If you're looking into staying in a district with easy access to incredible shopping, opt for the Polanco district. Polanco is arguably the most high-class and trendy district in Mexico City.
Find a Beautiful Mexico City Vacation Rental for Your Trip With VacationRenter
Mexico City is undisputedly one of the most incredible places to consider for vacation. It has the right blend of history and culture that will make your stay worth it. You may not know where to stay when it comes to accommodations — but that's where VacationRenter comes in.
We pull rental options from across several different sites and only show the best results based on your preferences. Whether you're visiting Mexico City for the first time or the seventh, explore this part of Latin America with VacationRenter!
Mentioned In This Article