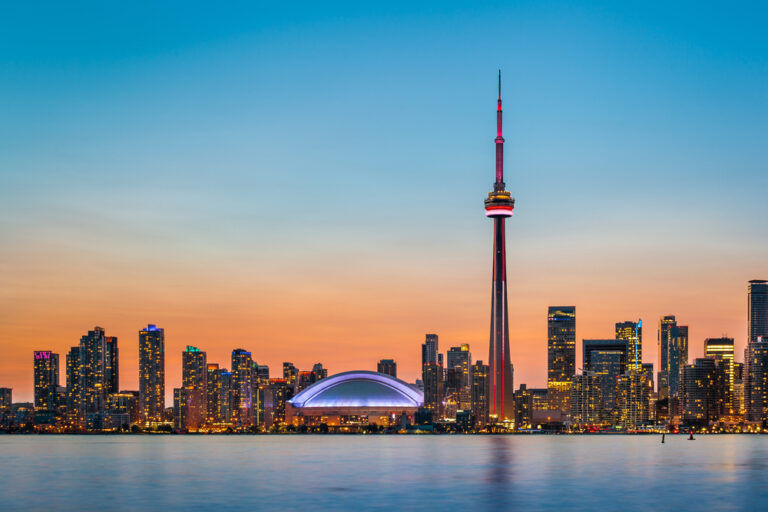 Toronto is the capital of the Ontario province, and one of Canada's major cities. Its population of over 2,700,000 people makes it the most populous city in the country — and the fourth most populous in all of North America. The city has attracted so many people for a reason: it is exceptionally scenic with lots to do.
If you've been considering a trip to Toronto, you've probably thought about the best places for your stay. But the city has a vast urban territory, which can make for a difficult decision. To give you a hand, we've put together a helpful guide highlighting the best neighborhood options and the destinations that are best suited to different travel styles.
Toronto Neighborhood Guide
The city of Toronto has a diverse mix of neighborhoods with different characters and allures. Here are some of the main localities within the city and surrounding Toronto suburbs so you can get the most out of your stay!
Downtown
Downtown Toronto is the central commercial hub of the city and is an exciting focal point of activity and entertainment. Filled with restaurants, bars, nightclubs, and more, staying in this region of the city will leave you spoilt for choice. In addition to offering a dizzying array of places to eat and drink, Downtown Toronto is also home to a number of iconic tourist attractions such as the CN Tower, the tallest free-standing land-based structure in the Western Hemisphere.
If you're in need of some retail therapy, Downtown Toronto is home to countless shops and malls. The Eaton Centre, in particular, is wildly popular amongst shoppers. With over 300 shops and restaurants in addition to excellent transport links, it is the busiest shopping center in the whole of North America.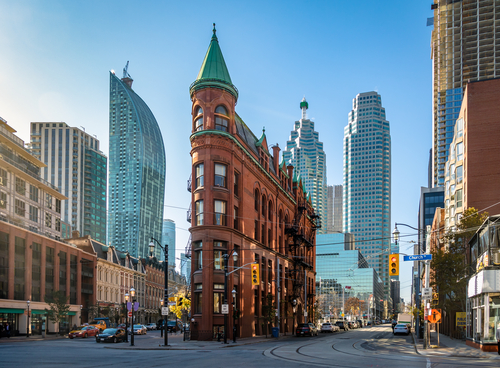 East End
In comparison to Downtown Toronto, the East End is more of a residential area. Nevertheless, it does offer a vibrant nightlife, plenty of commercial areas, and an abundance of parks and green spaces. Leslieville is an up-and-coming East End neighborhood that has benefited from extensive investment and revitalization efforts. It has now become an ultra-hip destination boasting a wealth of up-market restaurants, bars, and shops.
While smaller in size, the Riverside District has a stimulating mix of boutique shops, restaurants, hotels, and many instances of beautiful architecture. If you're a nature lover, you'll be thrilled by the numerous parks dotted throughout the East End. Riverdale Park, in particular, offers grand sweeping green spaces and breathtaking views of the Toronto skyline.
West End
Toronto's West End used to be the city's industrial center, which historically attracted many migrants. As a result, the area is now one of the most diverse in the city, with an eclectic mix of cuisines and activities to take part in. The Little Italy District, for example, has become hugely popular thanks to an abundance of quality Italian restaurants and cafes as well as the lively nightlife.
Similarly, the Little Portugal area has numerous delicious eateries, offering dishes such as churrasqueiras, also known as authentic Portuguese BBQ. Travelers staying in the West End also have a vast range of shops and boutiques to visit. The Ossington Village, for instance, is a former industrial region that has undergone extensive development. As such, it is now littered with numerous high-end shops and restaurants.
Midtown
Midtown is one of the most affluent areas in Toronto. It is also a quieter section of the city with some of the grandest architecture around. While there aren't as many tourist attractions here as other parts of Toronto, there is still more than enough to see and do. For starters, you have Yonge Street, which contains a rich assortment of shops and bars. Then there's also St. Clair Avenue West, which has four retail areas with many cafes, shops, and restaurants.
If you enjoy sightseeing, you can visit Casa Loma in Midtown. Described as "Toronto's Majestic Castle," Casa Loma is a Gothic-style stately home with equally impressive gardens. Built over a hundred years ago, the structural design is ahead of its time and will appeal to anyone who's interested in history. It's even appeared in many TV shows and movies!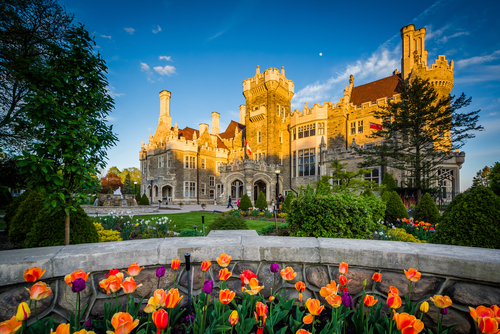 Scarborough
Located east of the East End, Scarborough is sometimes overlooked as a tourist destination due to its location on the city's outskirts and relatively late development. As recently as the 1950s, much of the area was largely rural, but Scarborough has quickly progressed to take its place among Toronto's most vibrant neighborhoods.
Kennedy Avenue, for example, is a retail hotspot with countless independent stores offering everything from computers and electronic goods to homeware items and furniture. The area is also replete with breathtaking attractions such as the Scarborough Bluffs — an escarpment with nine beautiful parks and a beach running alongside it.
Elsewhere, the Rouge National Urban Park offers a range of scenic hiking trails if you'd like to get closer to nature. The Toronto Zoo is also located in the area, and provides a fun day out for the entire family.
Where To Stay Based On Your Travel Style
With more insight into Toronto's popular neighborhoods, keep reading for further guidance on the best places to stay based on your travel style.
Best Area To Stay In Toronto For First Time
If you're visiting Toronto for the first time, the Downtown District is an ideal destination for your stay. This is where the preponderance of activities, attractions, and nightlife are all located.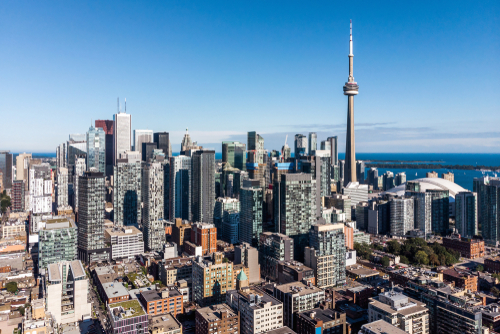 Firstly, there's Toronto's Chinatown — a vibrant neighborhood with much to do and see. It is the largest Chinatown in all of North America! This lively area is home to many Chinese restaurants, shops, fresh produce markets, and residences. Chinatown is a great place to stay for your first visit thanks to the extremely affordable accommodation, picturesque surroundings, and wealth of dining and shopping options. It's also in close proximity to other attractions in the Downtown District.
You can visit the Art Gallery of Ontario, one of the largest galleries on the continent. Its impressive collection consists of art dating back to medieval times, and includes pieces by world-famous artists like Picasso and Van Gogh. If you're a foodie, you'll find yourself reveling in the wide selection of restaurants to choose from. Consider trying two of the local favorites: Rol San, which serves scrumptious food until 2 AM, and the Dumpling House — renowned for making some of the best dumplings in the country.
Downtown Yonge is also an excellent landing spot on your first trip to Toronto. As the central part of the city, it's also known as "mini-Times Square" due to its high-rise buildings and abundance of electronic billboards.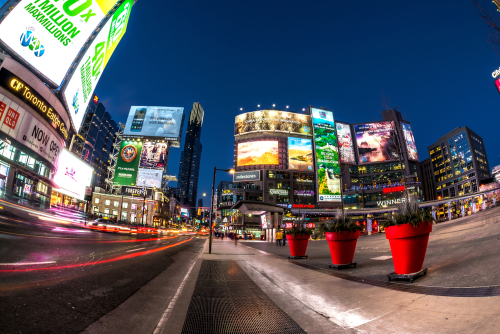 While staying in Downtown Yonge costs more than Chinatown, it's also easier for first-time visitors to experience the city's diverse arts and cultural offerings. Massey Hall, one of the most esteemed performing arts theatres in the country, is located here. This internationally acclaimed venue frequently attracts world famous artists and bands. The equally venerable Elgin and Winter Garden Theatres are also in Downtown Yonge. As the last remaining Edwardian-stacked theatres in the entire world, these venues offer a range of excellent traditional and avant-garde theatrical performances.
Another great place to stay on your maiden voyage to Toronto is the Yorkville area. The shopaholics out there will absolutely adore this area. As the high-end retail sector of the city, it is home to many up-market boutique stores including Gucci, Chanel, and Prada. Holt Renfrew, the legendary Canadian premium department store, is also located there.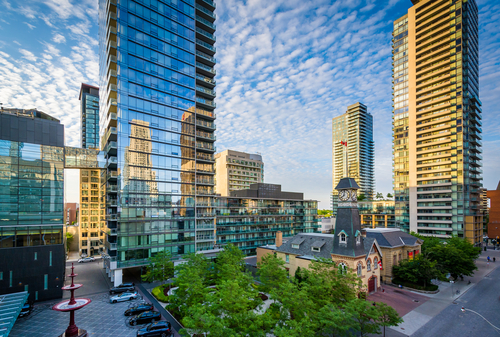 Above and beyond luxury shopping, Yorkville is an excellent cultural hub. The Canadian Fine Arts Gallery resides here, for instance. This popular venue has a collection of breathtaking fine arts pieces from acclaimed artists like Jean-Paul Jérôme, Marcelle Ferron, and Sam Borenstein. The Mira Godard Gallery is also located here. Founded in 1962, this three-story gallery displays contemporary Canadian and international art, and has a diverse collection of paintings, sculptures, prints and photographs.
Yorkville is also home to the Royal Ontario Museum. A world-renowned museum of art, natural history, and world culture, this captivating attraction is guaranteed to keep the whole family captivated for hours.
Best Area To Stay In Toronto For Nightlife
As a major global city, it comes as no surprise that Toronto has a vibrant nightlife. The Queen West region in the West End offers excellent accommodation and unforgettable nights out. It's so hip that Vogue magazine described it as the second coolest neighborhood in the world. When it comes to bars and clubs, Queen West doesn't disappoint. If you prefer your nights out to be a little less raucous, but no less hedonistic, there are many other venues that will suit your tastes. Otto's Bierhalle and Bar Fancy are two such examples.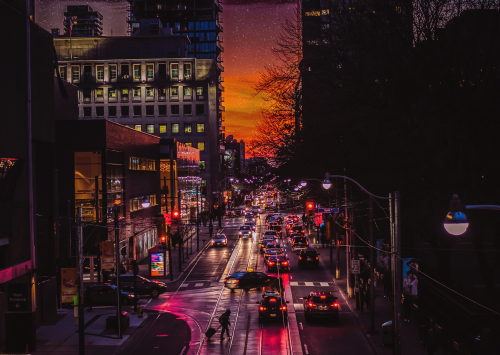 There are also numerous bohemian boutique hotels that double up as popular party destinations. As part of your stay, you can enjoy a great night out without ever leaving your hotel. The Drake Hotel, in particular, is a haven for revelers in the region. With fantastic modern art, a quality restaurant, and bar — plus frequent lively events — staying at the Drake can make for a truly special getaway experience! Another hotel that promises a comfortable stay and spirited atmosphere is the Gladstone Hotel. This stylish venue showcases designs by local artists, and also features a vivacious bar and nightclub in addition to hosting a mix of sensational events.
Ossington Avenue in Downtown Toronto is another area offering an excellent selection of bars, clubs, and live music. This up-and-coming strip has quickly become one of the most popular locations for a night out in the city. If live music is what you're after, the Painted Lady should be one of your first ports of call. Described as a burlesque and absinthe house, the Painted Lady is jam-packed with rock 'n 'roll, blues, funk, and soul acts. Legendary musicians like Ron Sexsmith, Chris Thomas King, and The Trews have played here.
Another great music venue here is the Dakota Tavern. An atmospheric basement bar, hip bands like the Cowboy Junkies and Broken Social Scene, play at the tavern on most nights. For a more mellow night out, there are still many exceptional watering holes serving great drinks in a more relaxed atmosphere to choose from. Sweaty Betty's is a fun, unassuming bar featuring eclectic furniture, a cozy lounge area, and a comfortable patio. Other great bars in the area include the Man of Kent and Reposado Bar and Lounge.
Best Places To Stay In Toronto For Couples
Toronto is also the perfect holiday destination for couples seeking a romantic break. The Harbourfront-Distillery area sits atop the list of best places for a loved-up getaway. Not only does this waterside location have a wealth of romantic activities on offer, but it also provides a range of settings with unparalleled beauty for couples to enjoy. One such example is the Sugar Beach — a former park that's been transformed into a scenic urban beach on the waterfront. The 8,500 square meter area is littered with now-famous brightly colored beach umbrellas and offers the best sunbathing spots.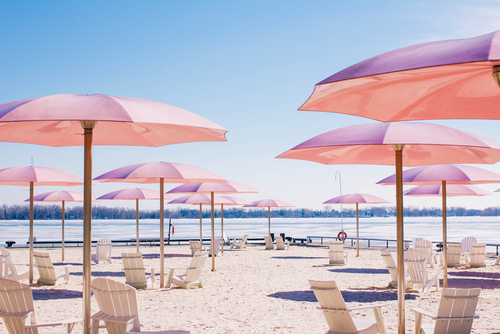 Another magical couple's activity here is the Toronto Harbour Dinner Cruise. These memorable excursions provide a first-class romantic dining experience with incredible views of Lake Ontario, the Toronto skyline, and the Toronto Islands.
Couples with a mutual love of everything food-related will need to make a short trip to the St. Lawrence Market. The historic market was once voted the greatest food market in the world by National Geographic. So rest assured that you'll find all the fresh ingredients you need to prepare a special romantic meal.
The Distillery — formerly the Gooderham and Worts alcohol distillery — was transformed into a hip cultural, artistic, and entertainment district. With a wealth of bars, art galleries, boutiques, and restaurants, it's the perfect location for a date night. After a meal at a romantic eatery like Pure Spirits Oyster Bar and Grill or Wildly Delicious, you can frequent one of the many theatres or live music venues, including the Soulpepper Theatre or the Young Centre.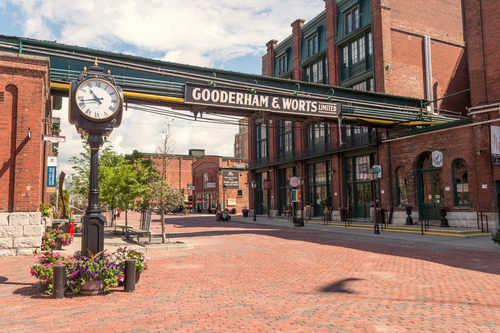 If you're both fond of long walks along breathtaking nature trails, or enjoy romantic picnics against the backdrop of magnificent hills and forests, Scarborough is the place to stay. Not only is this the greenest part of the city, but it is also awash with mouthwatering dishes from a diverse selection of ethnic eateries. Love the tranquility of the water? Head over to Bluffer's Park and Beach to catch some rays! It has remarkable natural beauty and offers a perfect setting for couples to spend some quality time together.
Best Places To Stay In Toronto For Entertainment
Unsurprisingly, Toronto's Entertainment District tops the list of best places to stay for some entertainment. This lively part of the city is located in the Downtown region. In this area, you will find many activities catering to a range of tastes and age groups.
If you're in the mood to dance the night away, there are countless spots like the Orchid Nightclub and the Fiction Club to choose from. Traveling with family? Ripley's Aquarium of Canada, the Roundhouse Park, the Toronto Railway Museum, and the Hockey Hall of Fame are all located in the Entertainment District, and have something for every member of the family to enjoy. The historical Ed Mirvish Theatre is also located in the district. It's been putting on entertaining musicals, dramas, comedies, and experimental plays for over half a century, so you're sure to have a good time.
Things to Do in Toronto
Toronto is positively filled with lots of exciting things to do. Here are some of the best options to help you get the most out of your trip.
If you're a foodie, you can't visit Toronto without trying out the Alo Restaurant. It's a high-end restaurant offering a premium dining experience in a luxurious setting. For something more cultured, Patois may well be the restaurant for you. It's an eclectic eatery with a menu consisting of Caribbean and Asian fusion "soul food."
When it comes to attractions, the world famous Niagara Falls are a stone's throw away from Toronto. With around 750,000 gallons of water per second falling to the river below, this is the biggest waterfall in North America. It's no surprise that tourists travel from all corners of the globe to witness this magnificent wonder of nature in person when they visit nearby Toronto.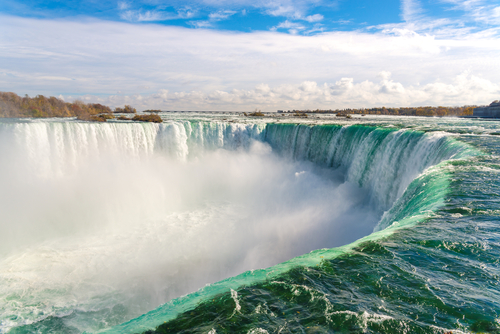 To explore the city of Toronto in a truly unique way, book yourself a ghost tour. These exhilarating guided walks feature numerous ghost stories from the city's past. It's a thrilling and memorable way to learn about Toronto and its rich history.
The city of Toronto also hosts numerous world-renowned events. During September, the city welcomes global celebrities for the Toronto International Film Festival, which showcases the hottest Hollywood and independent movies. The Winterlicious and Summerlicious food festivals also take place in Toronto in the winter and summer every year. Culinary events just don't get any better than this for real food lovers.
Mentioned In This Article