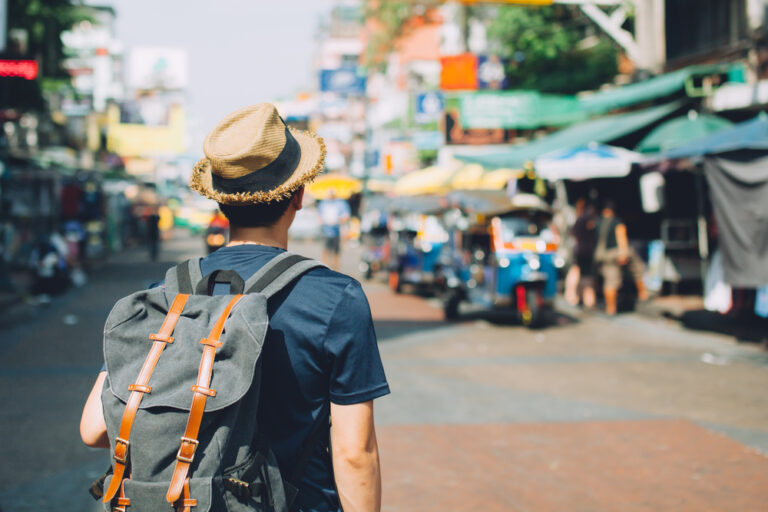 After a year in solitude, people are itching for adventure. With heavy travel restrictions still in place, Americans have had to hold off visiting their dream destinations and experiencing that much-needed reprieve. Although many vacations have been replaced with staycations over the last year, the idea of traveling internationally has many people planning for the future and excited for it to become a part of our reality again. 
To see just how excited folks are for the return of travel, we surveyed over 1,000 Americans about both realistic and hypothetical travel situations. People were asked about the lengths they'd go to explore the world. Keep reading to see what sacrifices people are willing to make — or perhaps have already made — to escape their maybe too-stale surroundings. 
How Vital Is Travel?
Travel has existed since the dawn of time, but the culture around it has changed drastically from nomads exploring untouched lands on foot to people today waiting in the infamous TSA security line at airports. For this part of our study, we wanted to know how much people value the notion of traveling today.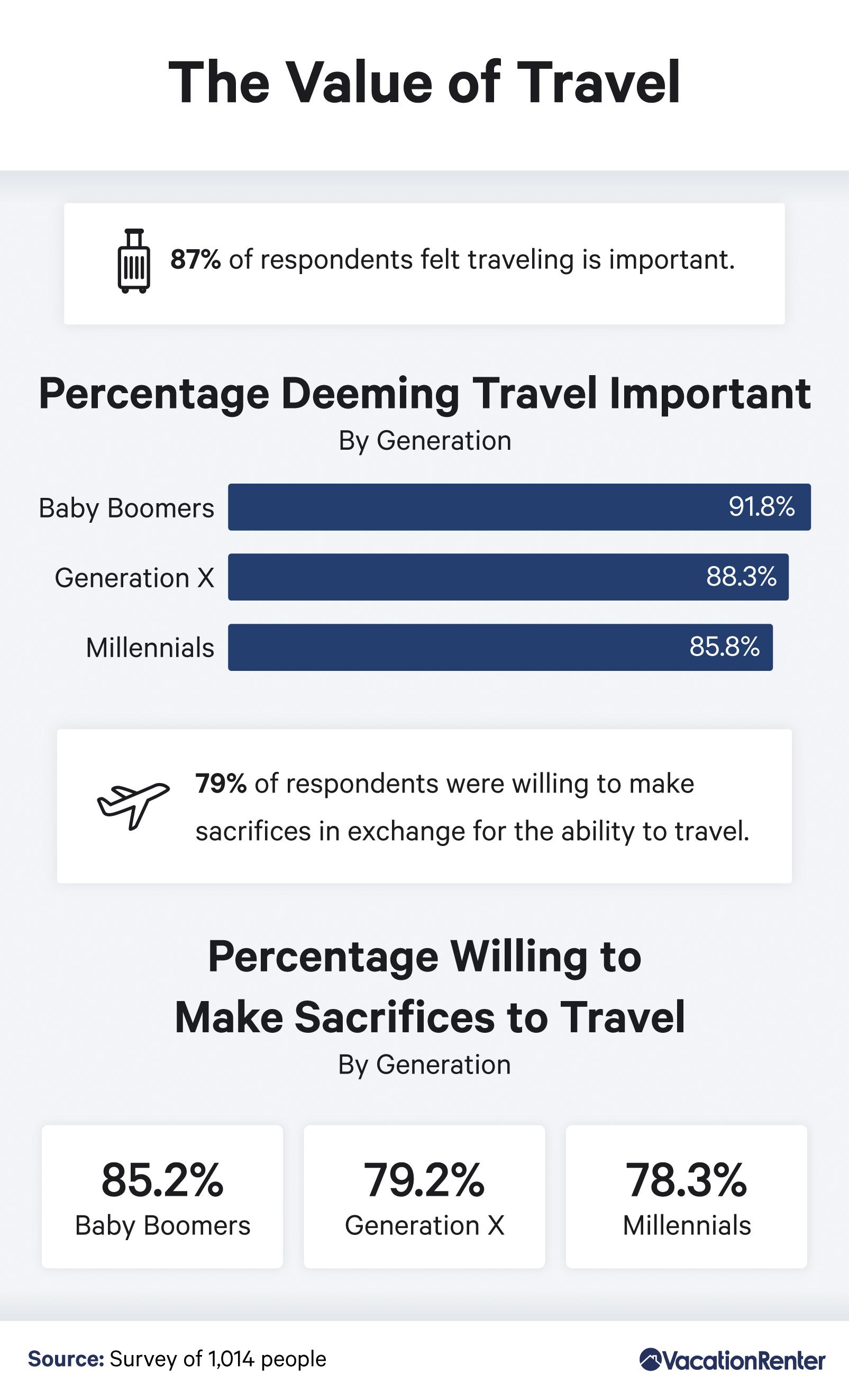 When people can't have something, they tend to want it more. Seeing as travel is restricted or not practicable right now, this was the case for 87% of respondents, who all agreed it is an important thing to do. Although the generations seemed to be in agreement, there was about a 3% difference between all of them – nearly 92% of baby boomers felt strongest about traveling, while Gen Xers hovered right above 88% and millennials close to 86%.
Furthermore, 79% of the people we surveyed said they would make some sort of sacrifice in exchange for the opportunity to travel. The generations continued a similar trend for this question, with baby boomers coming out on top again. A little more than 85% claimed interest in capitalizing on this opportunity, followed by 79.2% of Gen Xers and 78.3% of millennials. Baby boomers, specifically, have the most time to travel and likely the budget to do so as well, so their eagerness makes sense during this unprecedented time of "stay-putness."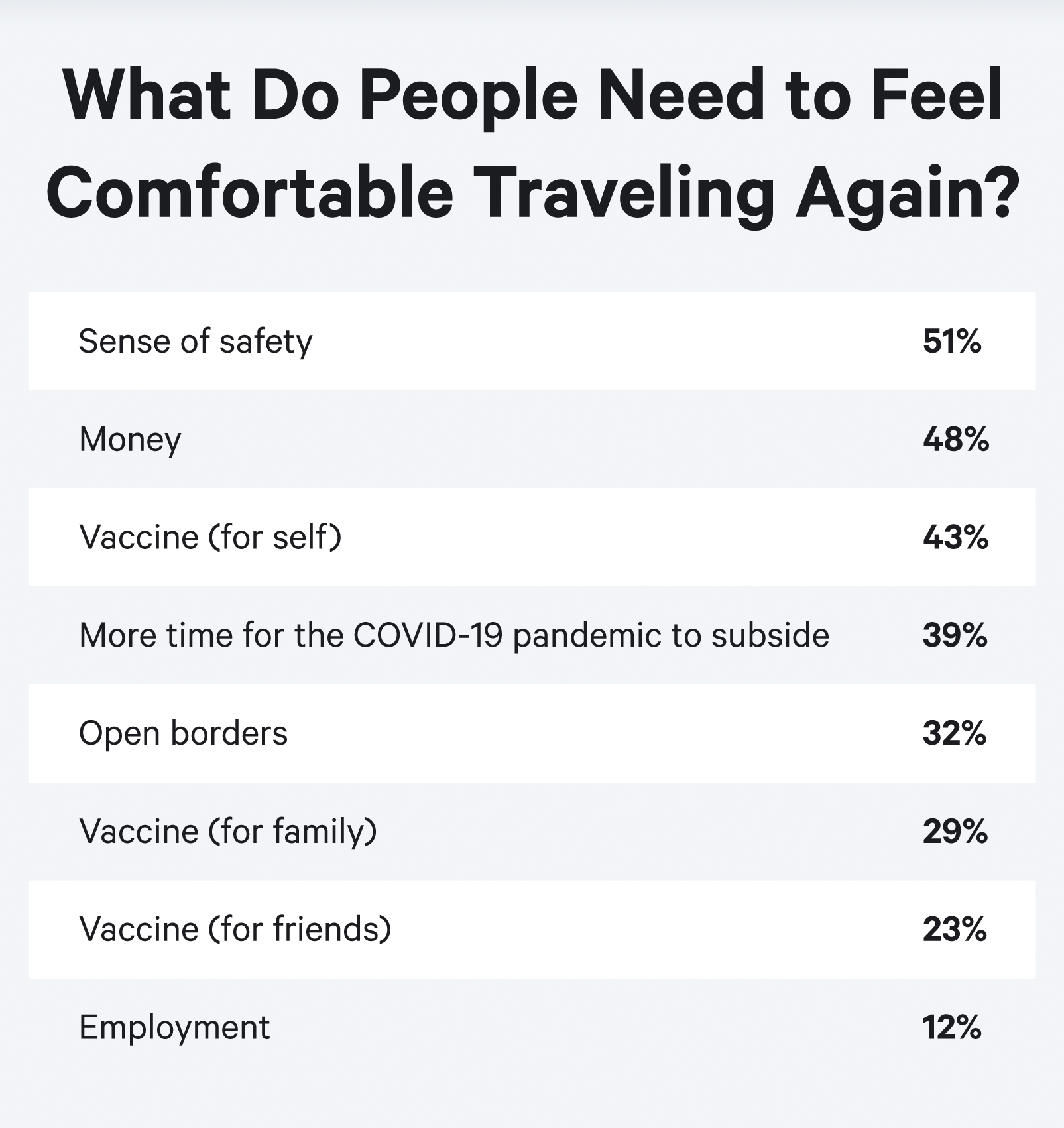 When asked what they'd need to feel comfortable traveling again, respondents answered with a variety of requirements. Over half of them said they'd want to feel a sense of safety before going abroad. This sentiment was extended by more specific reasons selected by respondents such as wanting vaccines in general, wanting their family and friends to get vaccinated, and wanting more time for the pandemic to subside. 
Forty-eight percent just needed the capital, though. According to a recent poll by Statista, among Americans, 59% knew someone or were someone making less than $50,000 who had lost their job due to the economic effects of the pandemic, while 58% said the same for those making between $50,000 and $100,000 or more than $100,000. Regardless of income group, the financial impact of the pandemic has taken away the option of traveling for many.
But, if money wasn't an issue, where would people want to go? To discover this, we asked our respondents to share the location of their most desired post-pandemic vacations in an open-ended response.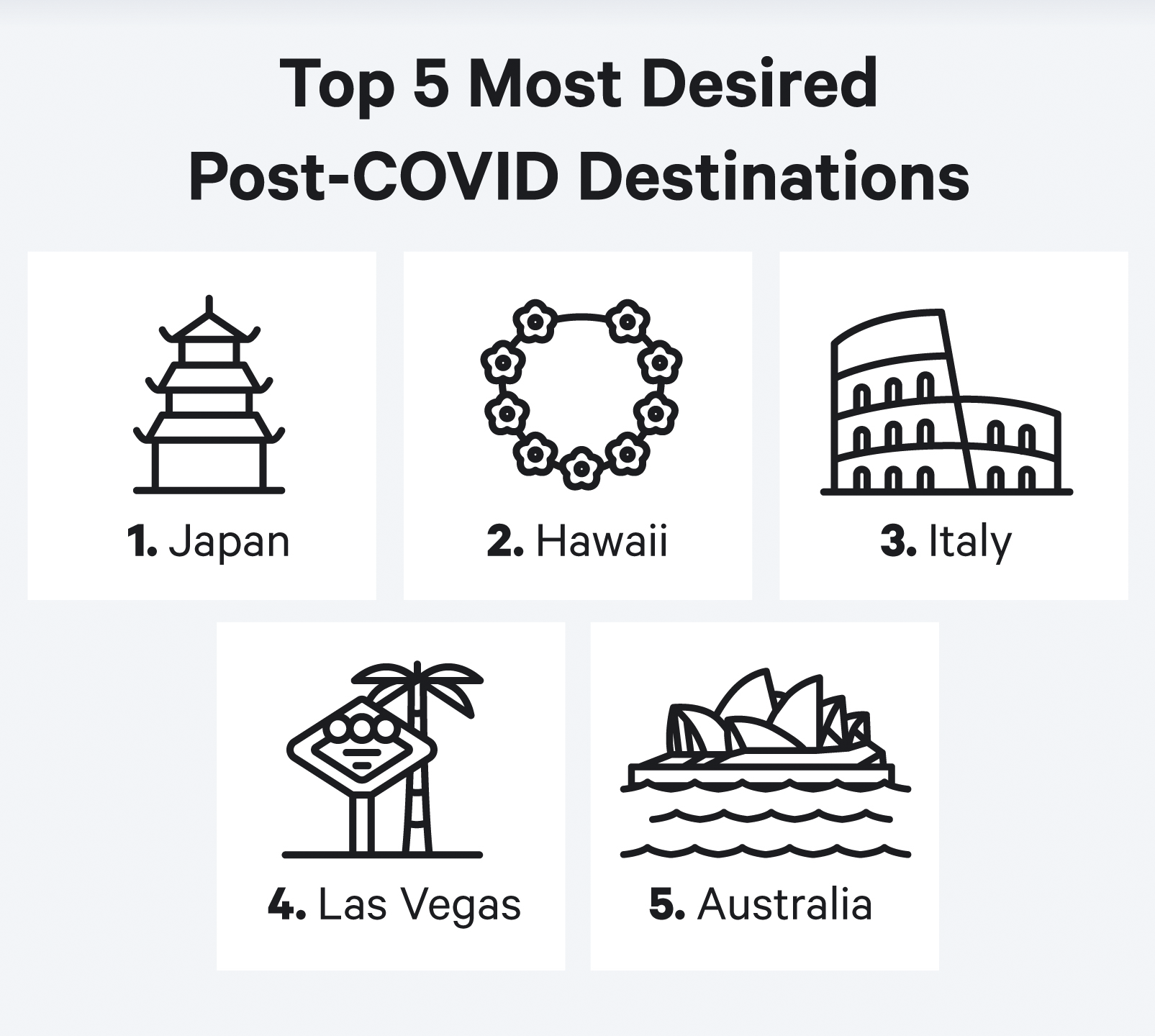 Among our respondent's top five dream destinations, Japan and Australia have both been successful at keeping the pandemic at bay in their respective countries. They both also ranked highly in terms of destination competitiveness before COVID-19 existed. Due to their impressive pandemic response, as well as offering travelers a taste of unique culture and gorgeous nature-related experiences, they claim two out of the top five spots on the list.
The other three popular locations listed by respondents are desirable for their own reasons as well. For example, Hawaii boasts some of the world's most gorgeous beaches, with over 750 miles of shoreline. The island also has some of the best surfing, snorkeling, and scuba diving spots you can find. Italy has an incredibly rich history with some of the world's most visited landmarks such as the Vatican, the Colosseum, and the Leaning Tower of Pisa – 96.2 million people visited the country in 2019. Once the pandemic is over, it's no surprise that people would want to visit Las Vegas to blow off some necessary steam as the city offers countless casinos, bars, clubs, shows, and other highly entertaining activities in which visitors can indulge.
Sacrifices for Travel
When something means a lot, it's likely you'll give up a lot for it. To measure the value people place on travel, we explored exactly what sacrifices people would make for the ability to do so right now, hypothetically speaking of course.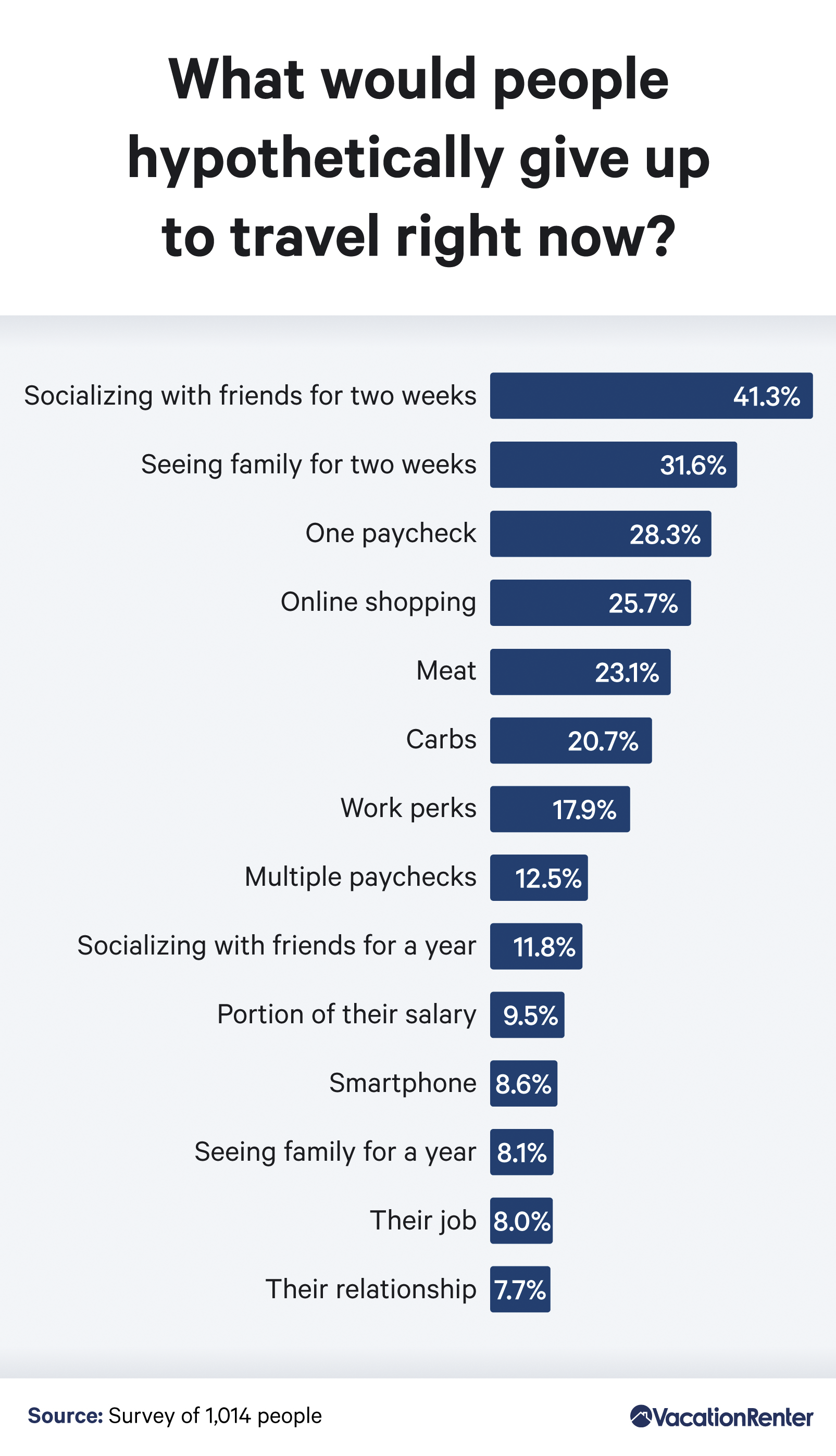 In a hypothetical situation, for the opportunity to get a sense of adventure again, 41.3% of respondents would give up socializing with their friends for two weeks, and 31.6% would do the same with their family. A smaller portion of respondents indicated that they would take this sacrifice a step further, claiming they would give up seeing their family (8.1%) or friends (11.8%) for a whole year for the opportunity to travel again. Clearly, people are willing to travel alone. After so much time in isolation, where many people have been stuck with family or friends, it adds up that some would welcome the opportunity of self-discovery on a solo adventure. Perhaps, these responses also indicate that people are open to the idea of quarantining from their friends and family for the hypothetical opportunity of getting back to gallivanting to different corners of the world.
Once again, money factored into our respondents' selection – some financial sacrifices included forgoing one or more paychecks, taking an overall pay cut, or giving up a job altogether. Major lifestyle choices were put into question as well, as just over 23% of respondents would give up meat, and 20.7% would ditch carbs just to hop on a plane. We know the majority of people view travel as important, but its scale of importance appears larger when considering the seemingly impossible sacrifices people would make. 

Perhaps unsurprisingly, millennials would have the toughest time conceding coffee, alcohol, and social media in exchange for the opportunity to travel. 
Coffee has been a growing craze among millennials – about 44% of U.S. coffee demand comes from them. They are very passionate about their caffeine intake too! For millennials, it's quality over quantity. They are willing to pay more for complex drinks, especially if their efforts contribute toward environmental and social sustainability practices.
Seeing as, according to a survey, millennials tend to spend an average of $300 a month on alcohol, it would clearly be a big blow for them to give it up. As we've seen with coffee, a similar trend has emerged for young adults' alcoholic drink consumption – sustainability and wellness have become a priority. For example, CBD-infused cocktails continue to grow in popularity, as well as low-sugar and low-carb drinks.
Lastly, it's no surprise that the last thing millennials give up would be social media. Their daily use of Facebook and Instagram is higher than other generations, and they are also heavily influenced by the platforms – for example, they are most likely to make online purchases based on advertisements and influencers on various apps and were projected to have spent $1.4 trillion online last year.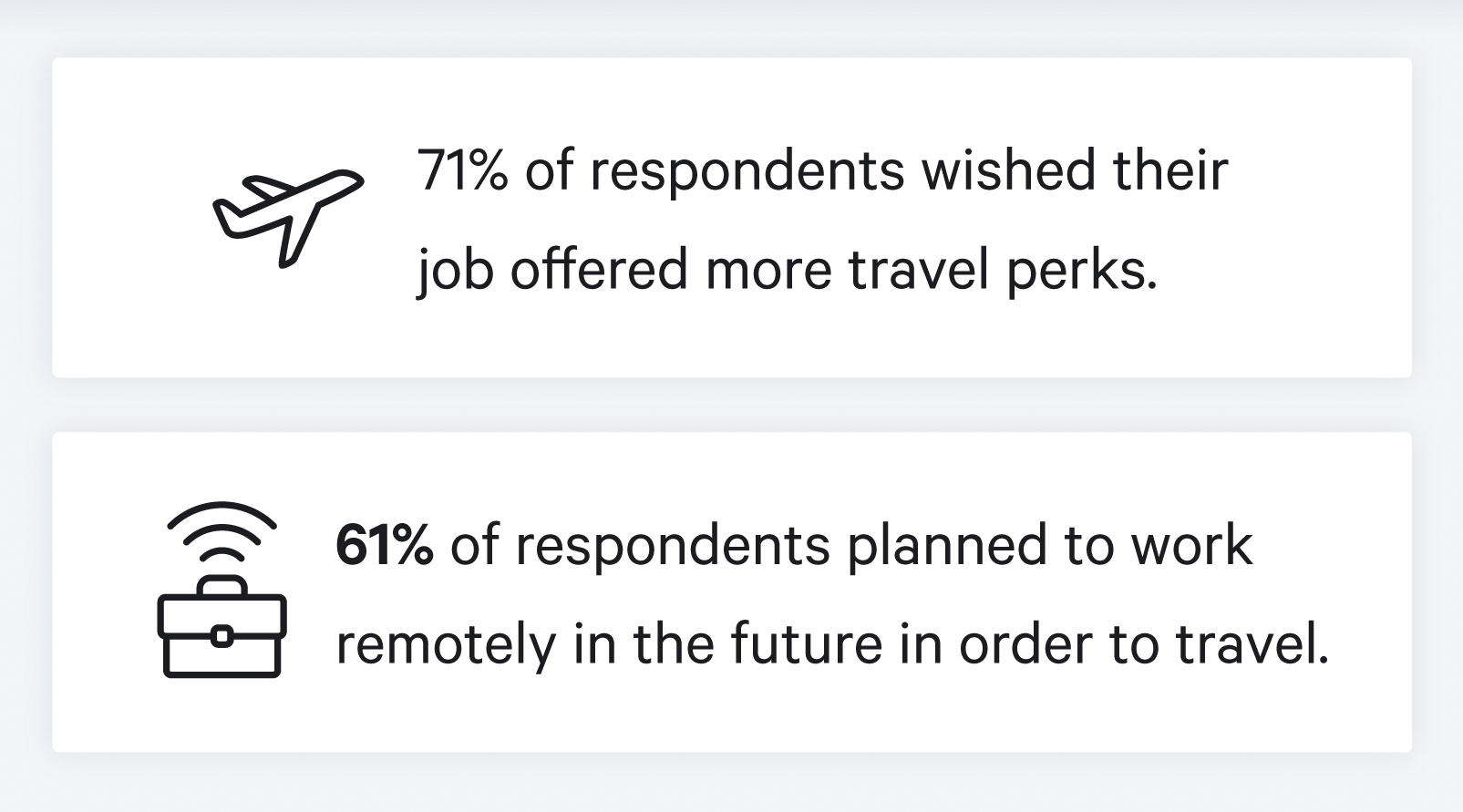 The cubicle isn't cutting it anymore – people are desperate for a change of scenery. Seventy-one percent of respondents would relish the opportunity to travel as a part of their job. Alternatively, 61% of them wanted to switch to a remote position in order to have the option of traveling when and where they want.
On a personal development level, business-related travel can be greatly beneficial. Firstly, it can build your confidence, especially when experiencing a new or foreign culture. Travel forces you to navigate various challenges, and once these obstacles are conquered, it can feel very uplifting. Being abroad can also expand your creativity – research has shown that when spending time in a different setting, people are at their most innovative. These perks, and more, can make travel an eye-opening experience, prompting travelers to have the opportunity to grow in more than one way.
Saving Up
As we discovered before, money is a considerable factor of travel that can often determine much of where we go and what we do. To see the extent of people's dedication to travel, we asked our respondents what they would be willing to give up in order to pay for their future vacations.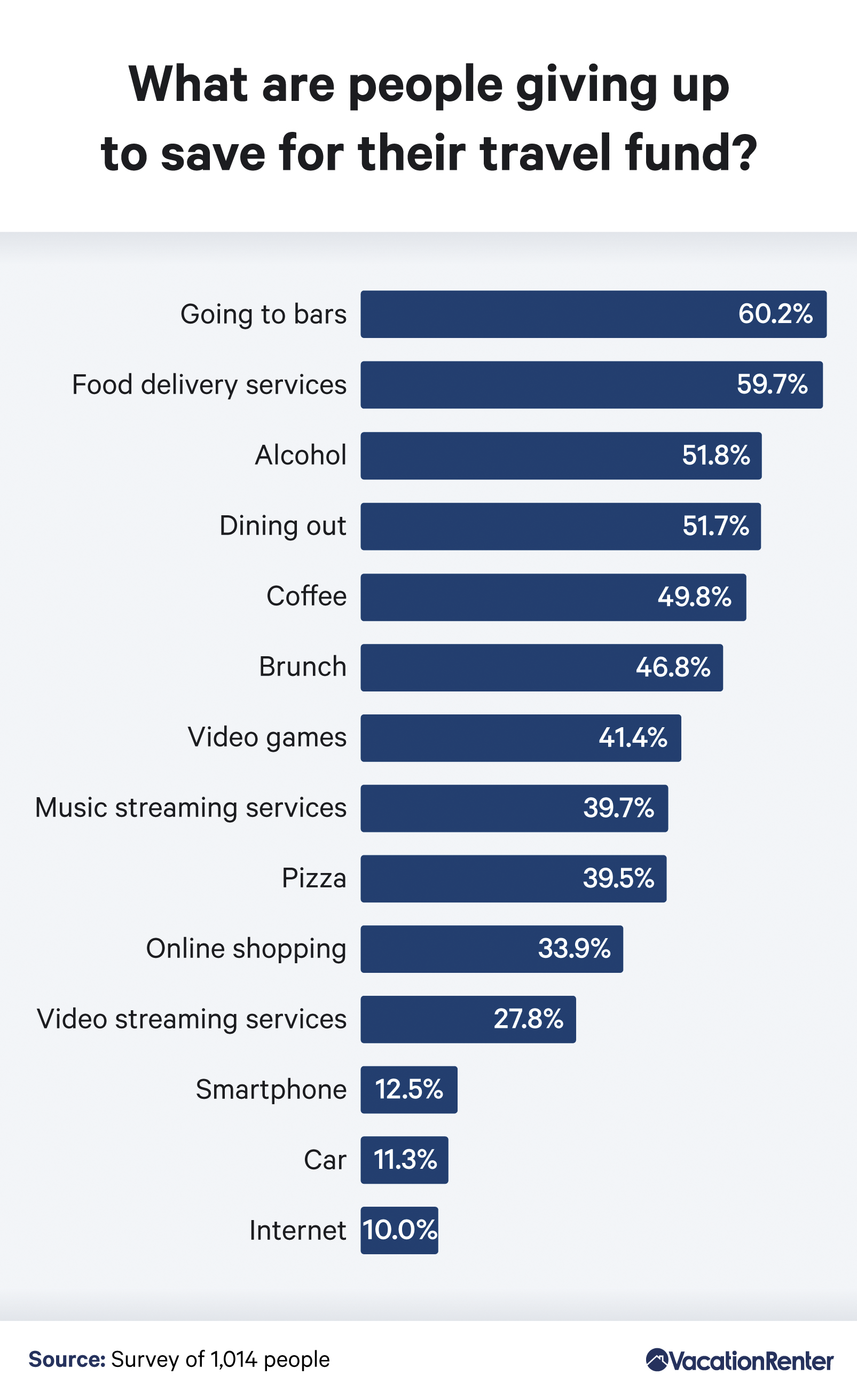 Half of the top 14 sacrifices people would make in order to save for their travel fund were food and drink related. The top sacrifice people agreed they would give up was going to bars (60.2%). With bars already being a limited option due to coronavirus restrictions, it makes sense people would give up this facet of life for their travel fund. Alcohol, in general, is expensive though, which may explain why 51.8% of respondents would be willing to give it up altogether.
Following just slightly behind giving up bars, almost 60% of respondents indicated they would give up food delivery services for funds to go abroad. Food delivery services are known to increase the cost of a meal. On top of the price of the food and its taxes, many companies also charge delivery and/or service fees, plus a tip for the driver is highly recommended. A study by Tech Crunch and Crossover, which compared ordering food directly from a restaurant with delivery apps, proved just how expensive the latter can be. Data showed that ordering on UberEats was 29.7% more expensive, DoorDash even higher at 32.8%, and Postmates stood well above the rest at 40.5%.
A handful of other sacrifices for funds were technology-oriented, such as video games, music or video streaming services, online shopping, and even smartphones. At the bottom of the list, perhaps one of the most treasured, was the internet, with just 10% of respondents willing to leave behind this important tool.
The Fate of Funding for Travel
Hypothetical sacrifices are one thing, but to see what people are doing right now for their future travel plans, we asked a few more questions.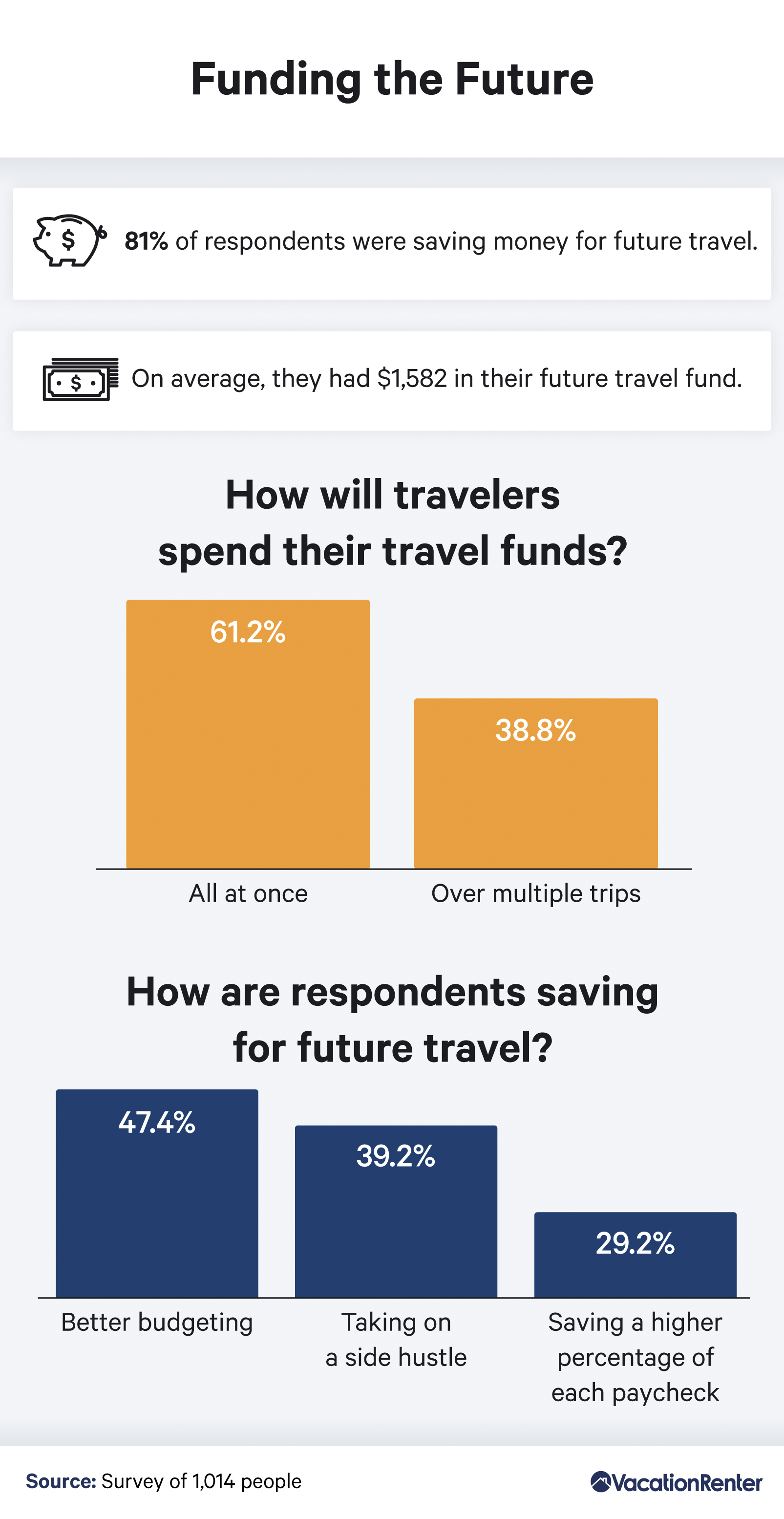 Thinking ahead, 81% of respondents said they have already stashed away money for their future travels, with an average of $1,582 being saved. Many are eager to spend it – 61.2% said they plan to spend every last penny of their travel fund all at once, while the rest wanted to conservatively meter it out over numerous trips.
Respondents strategized different ways to save money. Over 47% budgeted themselves better for future travel plans. While it may require some additional spending restraint, people can accomplish this by being resourceful with their purchasing habits. For example, being mindful when grocery shopping – like minimizing unnecessary products – and saving money on entertainment (like having a drink with friends over FaceTime instead of going to a bar) can cut down on unnecessary expenses. 
For those with an entrepreneurial spirit, taking on a side hustle has been a strategy. "Side hustles" include the likes of food delivery, freelance work, or tutoring, for example. Any applicable skill, or even just having the free time, can translate into a secondary source of cash flow. Gen Xers were the most likely generation to pursue this option. Still, just under 30% of respondents had simply been sectioning off a higher percentage of their paychecks to add to their travel fund.
And Now We Wait
Although our survey respondents shared that they'd give the world to travel again, many understand that their safety comes first. As people anxiously wait for their trip plans to become viable, they've begun to make conscious efforts to save money for these endeavors. It's important to keep in mind that the traveling landscape is likely to change once the pandemic is behind us.
The idea of "conscious traveling" is likely to take hold for the future of travel. This involves being more in touch with the actual journey, spending more time away from home, a heightened appreciation of one's surroundings, and more conservative spending when abroad. Whatever path you choose to take, you'll need a place to stay. From snowy wonderlands to vibrant beachfronts, VacationRenter has you covered. Visit our website today and start dreaming about your next adventure.
Mentioned In This Article
Methodology and Limitations
We conducted a survey of 1,014 Americans and asked them to answer questions about their experiences and opinions of traveling. 
Fifty-six percent of respondents were millennials, 26% were Generation X, 12% were baby boomers, and about 6% belonged to other generations with insufficient sample sizes. Fifty-one percent of respondents identified as men, and 49% identified as women. 
Respondents ranged in age from 18 to 78 with a mean of 39 and a standard deviation of 12.2.
The data are not weighted and are based on self-reporting. With self-reported data, there are limitations, such as over- or underreporting of information as well as exaggerated numbers and answers.
Fair Use Statement
Seeing as we're stuck at home, reading about traveling is the closest we can get to experiencing it. If you think a friend or family member might enjoy this article, feel free to send it their way. All we ask is that you do so for noncommercial use only and provide a link back to the original page so our contributors can earn credit for their work!