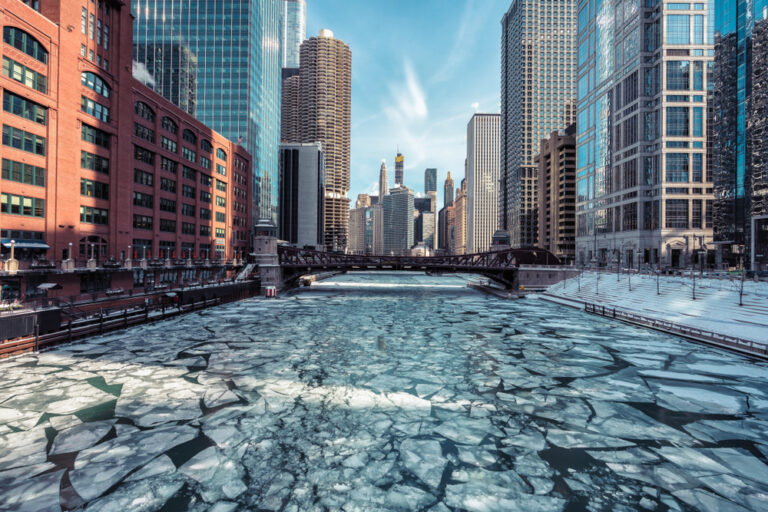 Once the warm weather ends and the winter chill descends, local Chicago couples may find themselves looking for a romantic getaway to escape the freezing cyclone. Luckily, Chicago is centrally located near a number of neighboring areas that have plenty of fun things to do. Even if it's a milder winter, taking a nice break from city life with your significant other is sometimes essential — and these scenic destinations are the perfect way of spending some quality time.
Chicago's Best Romantic Winter Getaways
Whether it's a long holiday weekend to Lake Geneva or a short roadtrip to St. Joseph, Michigan, your romantic weekend getaway can take advantage of a slew of popular destinations unencumbered by summer crowds. If you can't wait till summer and want to take advantage of the off-season, these are great winter destinations too. Read on for our 10 favorite romantic weekend getaways near the Windy City.
Galena, Illinois
Driving Time from Chicago: 3 hours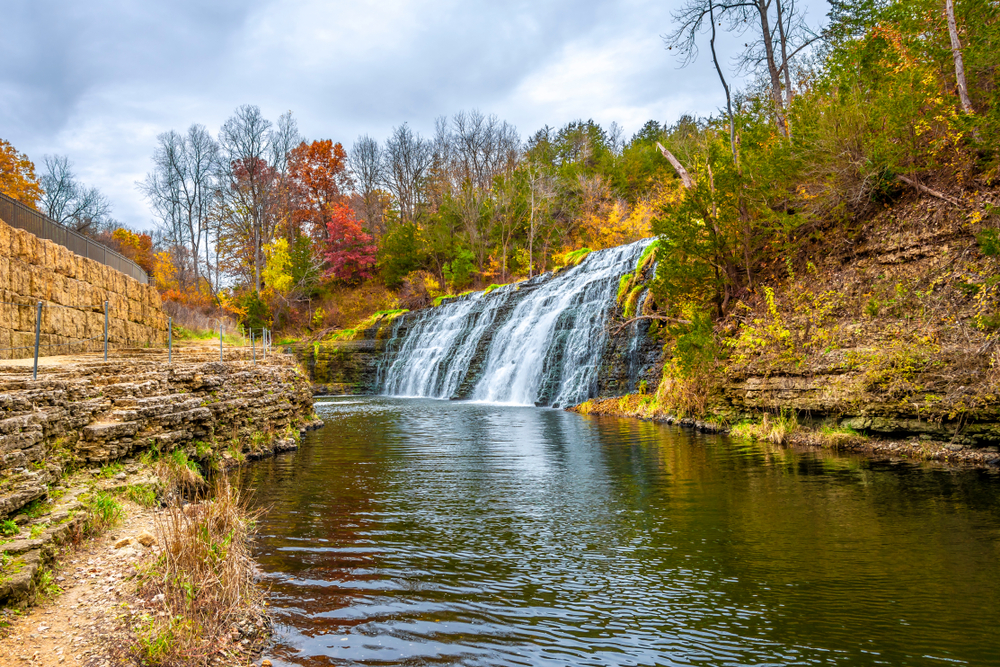 Our first pick is the small town of Galena. With a main street filled with cute antique shops and cozy restaurants, Galena, Illinois, is a favorite romantic getaway near Chicago. Skiing at popular resorts in the winter months provides Windy City couples with a little excitement followed by hot cocoa and a crackling fire.
Things to Do in Galena
Belvedere Mansion. Galena is the home of the historic Belvedere Mansion, built in 1857. Wander the halls of this pre-Civil War era Italianate home, and enjoy guided tours well into the fall months.
Thunder Bay Falls. Galena's parks include Thunder Bay Falls, a series of waterfalls that make for a lovely backdrop for those romantic photos — whether frozen over or covered in foliage.
Artist's Annex. Get a taste of Galena's art scene at the Artist's Annex. Take a pottery class, shop the gallery, and support the local arts!
Lake Geneva, Wisconsin
Driving Time from Chicago: 1 hour and 45 minutes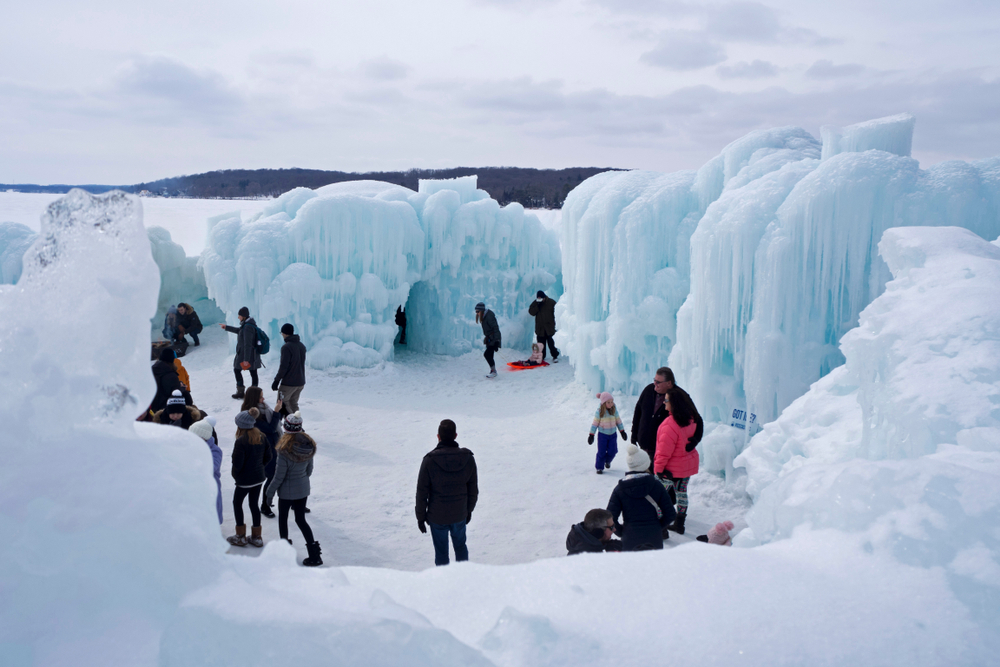 During the summer, families retreat to Lake Geneva, Wisconsin, for boating, fishing, beaches, and other lake activities. But come winter, this resort town transforms into a different kind of getaway. Located just under two hours from Chicago, this pretty lakeside town invites romance with spectacular sunsets and restaurants. 
Opportunities abound for cross-country skiing, ice skating, and snowshoeing, while Lake Geneva Canopy Tours operates its zip-lining adventures year-round. Take in the rows of Gilded Age mansions in snow or a multi-colored kaleidoscope of leaves. Time it right, and you should have your pick of Lake Geneva's lovely rental homes and cabins.
Things to Do in Lake Geneva
Geneva Lake Arts Foundation-Gallery 223. Located in the heart of Lake Geneva, make sure to check out the Geneva Lake Arts Foundation-Gallery 223. Gain a perspective of the local scene through the unique local artists of this delightful town.
Winterfest. One of the premier off-season events in the area, Winterfest hosts a U.S. National Snow Sculpting Championship that needs to be seen to be believed. No visit is complete without viewing the ice sculptures downtown or attending one of the bonfires on the beach.
Ice Castles. Geneva National Resort & Club flips the notion that winter has to be dull on its head. This winter wonderland is built entirely by hand by professional ice artists, and features well-lit ice slides, mazes, and crawl tunnels. Afterward, retreat to the warmth of the spa or take a sleigh ride with that special someone.
Mackinac Island, Michigan
Driving Time from Chicago: 6.5 hours,
(plus a 20-minute ferry ride)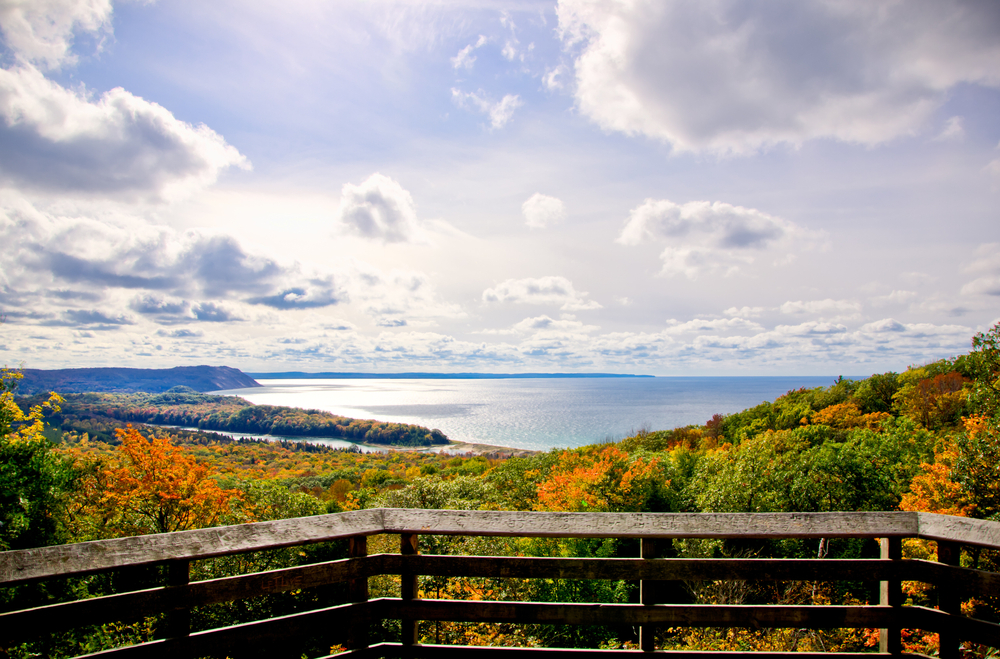 This destination may require a long weekend due to its distance from Chicago and the fact that it is only accessible by boat! However, if the distance doesn't dissuade you, the fall and winter seasons are worth checking out at this beachy retreat. Historic Mackinac Island is one of the few places in the world where horse-drawn carriages are still the primary mode of transportation. Slow down, and curl up with a book by the fire. Or go exploring Mackinac Island State Park, with miles of paved and unpaved trails. While there are no rentals available from November to April, the park is still open for couples who bring their own fat-tire bikes, snowshoes, or cross-country skis.
Things to Do in Mackinac Island
Rent Your Own Horse and Carriage. What's more romantic than riding around in a horse & buggy in the winter? Take in the vibe of minimal cars and explore this beautiful island with your loved one. Just make sure to bundle up!
Eat Fudge. Do you or your beau have a sweet tooth? If so, the good news is Mackinac's famous fudge is still available during the off-season! Multiple shops offer delicious confectionary delights.
Grand Rapids, Michigan
Driving Time from Chicago: 3.5 hours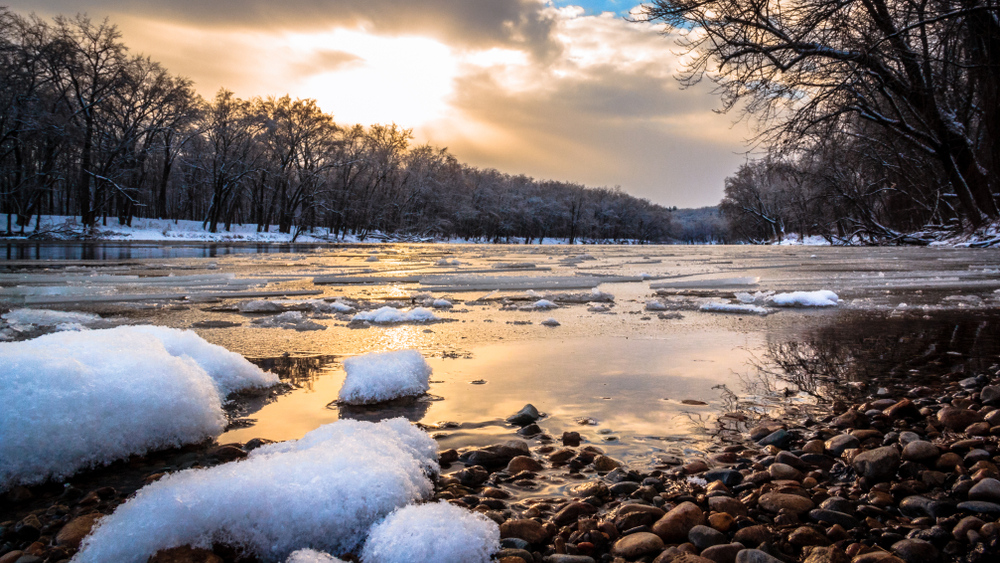 Bright and bustling, Grand Rapids shares an eclectic mix of beer breweries, art galleries, shopping districts, and river views that don't lose an ounce of luster in the off-season. Romantic couples will appreciate the pretty river walks along the Grand River and the opportunity to explore local theater as well as see a complete opera series. Rental homes and apartments abound in this city, making mingling with the locals a breeze.
Things to Do in Grand Rapids
Rosa Parks Circle. Head to this outdoor skate park named in honor of Civil Rights activist Rosa Parks and skate amongst the bright holiday-themed colors.
World of Winter Festival. Downtown Grand Rapids transforms into a dazzling winter wonderland every January and February, with unique interactive art installations and lots of ice sculptures.
Frederik Meijer Gardens & Sculpture Park. The nearly 200-acre viewing grounds feature an exciting and comprehensive outdoor sculpture collection open to the public all year long.
Marion, Illinois
Driving Time from Chicago: 5 hours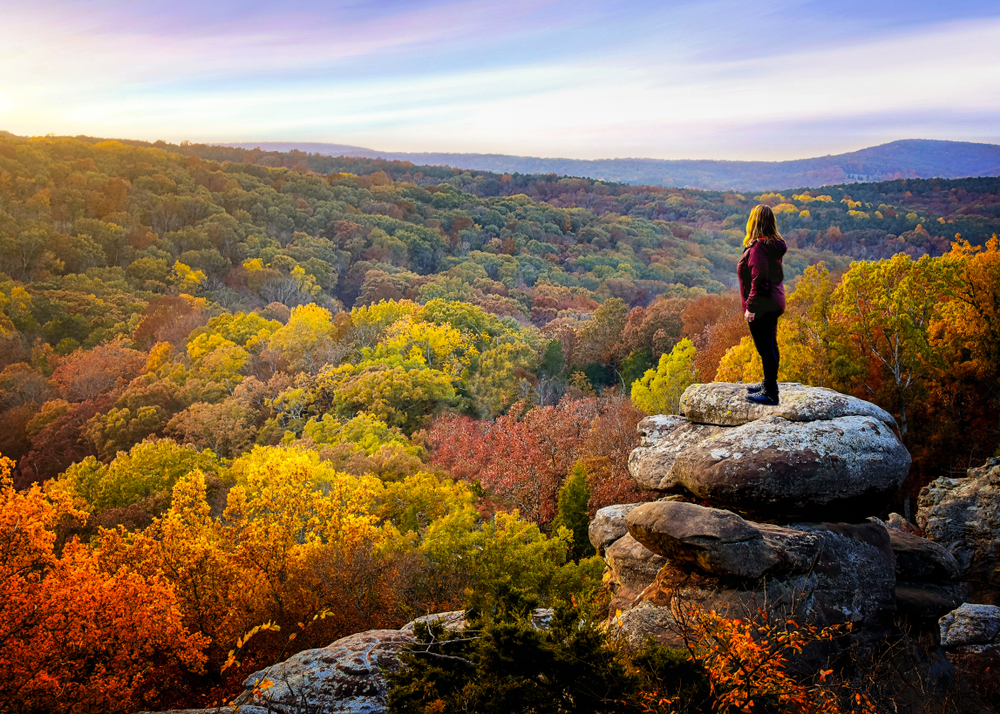 At the very bottom of the state is Marion, Illinois. While it might be a trek to get to from Chicago, it's certainly worth the drive for outdoorsy types since this quaint little town is near thousands of acres of explorable forest. The cooler months offer their own joys, including horseback riding amid the fall foliage and wandering the trails of Shawnee National Forest. Further south, the neighboring city of Metropolis is home to a real-life superhero.
Things to Do in Marion
Go Camping. Spanning 289,000 acres, Shawnee National Forest is nestled between the Ohio and Mississippi rivers. The campgrounds are open almost 365 days a year, but keep in mind that October is one of the busier months. Go horseback riding or explore the park on foot. 
Visit Metropolis. An hour's drive south will bring you to Metropolis, Illinois, the adopted home of Superman. Visit the Super Museum, which boasts one of the largest Superman collections in the world. Out front, you won't be able to miss the 15-feet-tall, 4,000-pound statue of the Man of Steel himself. Or go bowling at the Metropolis Super Bowl!
Cedarburg, Wisconsin
Driving Time from Chicago: 2 hours and 20 minutes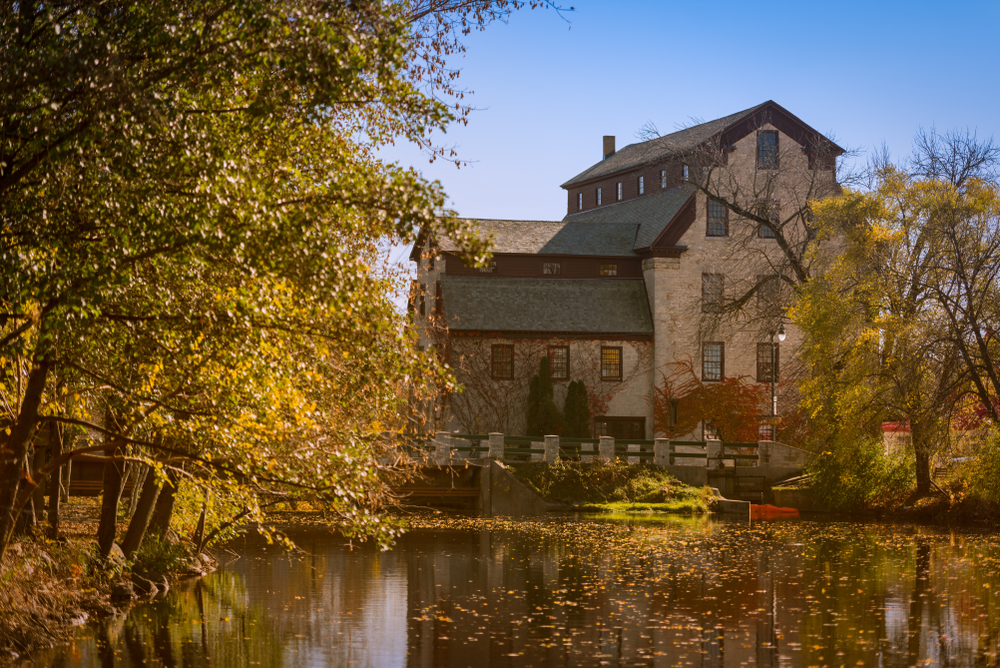 Though it's lovely all year round, Cedarburg, Wisconsin, is a particularly great spot for couples to hit up in fall and winter, when they can pick pumpkins or get a fresh-cut Christmas tree. There are plenty of opportunities for scenic proposals in this part of Wisconsin, and the historic architecture in the downtown area can make you feel like you're worlds away from the big city.
Things to Do in Cedarburg
Cedarburg Covered Bridge. Check out the incredible history of the bridges in Cedarburg. Enjoy a nice picnic by the water by visiting this beautiful and historic location.
Cedar Creek Winery. Enjoy a glass (or a tasting) of delightful fermented grape juice from Cedarburg's premier winery! This historic establishment opened its doors in 1972. Take a bottle home to remember your trip.
Eagle River, Wisconsin
Driving Time from Chicago: 6 hours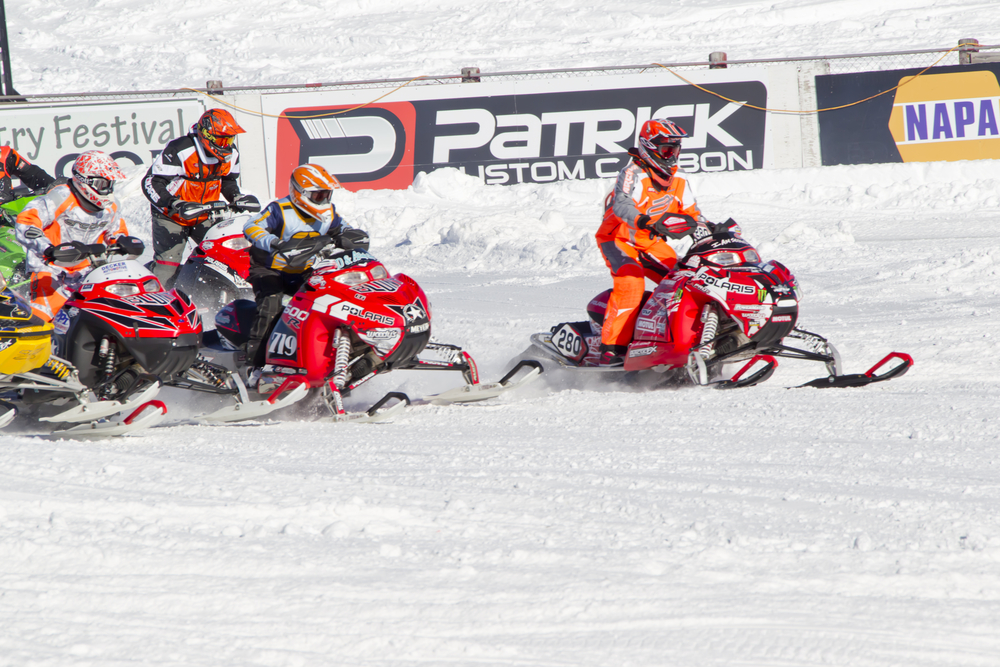 Another recommendation that is probably best for a long weekend trip is Eagle River, Wisconsin. Nearly at the Michigan border, Eagle River might seem a world away. But if you and your significant other are adrenaline junkies, it'll be more than worth the trip, as this fun-loving town is the self-proclaimed Snowmobile Capital of the World. With more than 500 miles of trails meticulously cared for by snowmobile clubs, there are hours of entertainment waiting. Drill a hole in one of the frozen lakes and try your hand at ice fishing, or sample some of the unexpected culinary delights.
Things to Do in Eagle River
World Snowmobile Headquarters Museum. You can't travel to the Snowmobile Capital of the World and not expect a museum dedicated to what some jokingly refer to as the Canadian Jet Ski.
Labatt Blue Pond Hockey National Championships. Held annually every February, Dollar Lake transforms into 24 specially marked outdoor rinks for this exciting event that brings participants from all over the country.
World Championship Derby Complex. If you'd rather watch others careen around from a safe distance, the World Championship Derby Complex hosts exciting outdoor snowmobile races.
Saugatuck, Michigan
Driving time from Chicago: 2 hours and 20 minutes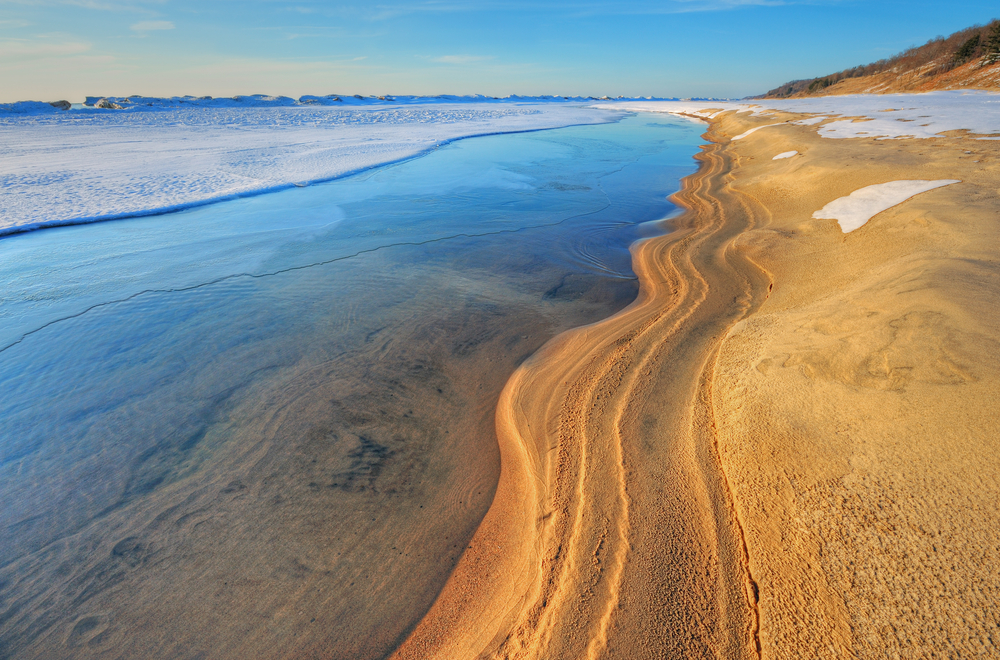 Known as an LGBT haven in the Midwest, Saugatuck is the perfect cozy winter getaway. There's a real sense of acceptance and community here, so expect to find like-minded people no matter when you visit. Gay-friendly hotels provide respite for couples looking to relax and be themselves without worrying about potential disapproval in a small-town atmosphere. Of course, all couples can find plenty of romantic appeal in this small town.
Things to Do in Saugatuck
Mount Baldhead. Affectionately known as "Mt. Baldy" to the locals, you'll have earned an epic view of Oval Beach after climbing, ahem, just 302 stairs. Enjoy the world-class taste of nature with this one-mile hike.
Art Coast. The towns of Saugatuck, Douglas, and South Haven are located in what is fondly known as the "art coast" of Michigan. Discover fine art in every medium from a mix of local and national artists.
Kalamazoo, Michigan
Driving Time from Chicago: 2.5 hours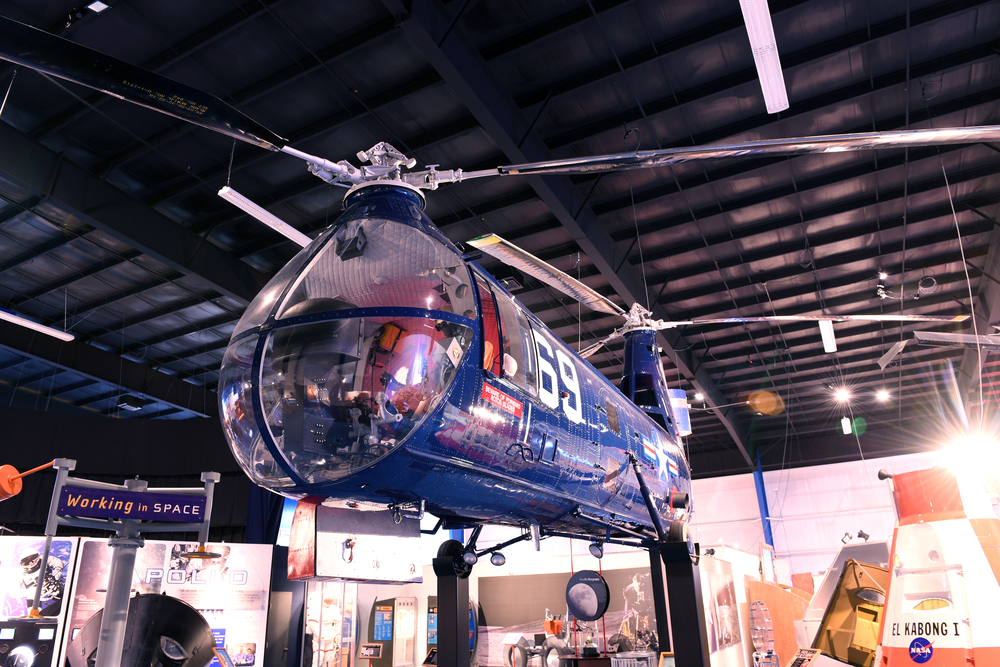 Want to feel like a king or queen for your weekend away? It doesn't get more romantic than Kalamazoo's Henderson Castle, a gorgeous 19th-century estate that really does look like a castle. The castle now operates as an inn and wedding venue, making this a perfect getaway for couples who are auditioning unique places to tie the knot. Beyond the castle, Kalamazoo is an apple-picker's dream, and there's a lot of fresh fruit and cider to go around during the harvest season.
Things to Do in Kalamazoo
Kalamazoo Institute of Arts. Enjoy a fine collection of 20th-century art and view work by ​Dale Chihuly, Andy Warhol, and Deborah Butterfield, among many other prestigious artists.
Gilmore Car Museum. Check out the thrilling collection of classic automobiles at this top-five auto museum. Find your favorite out of over 400 unique models.
Air Zoo. Ready for take-off? The Air Zoo is a Smithsonian-affiliated aerospace and science museum with over 100 air and space artifacts. History here is far from static — interactive exhibits include full-motion flight simulators and indoor amusement park rides. Hold on tight!
Stay Local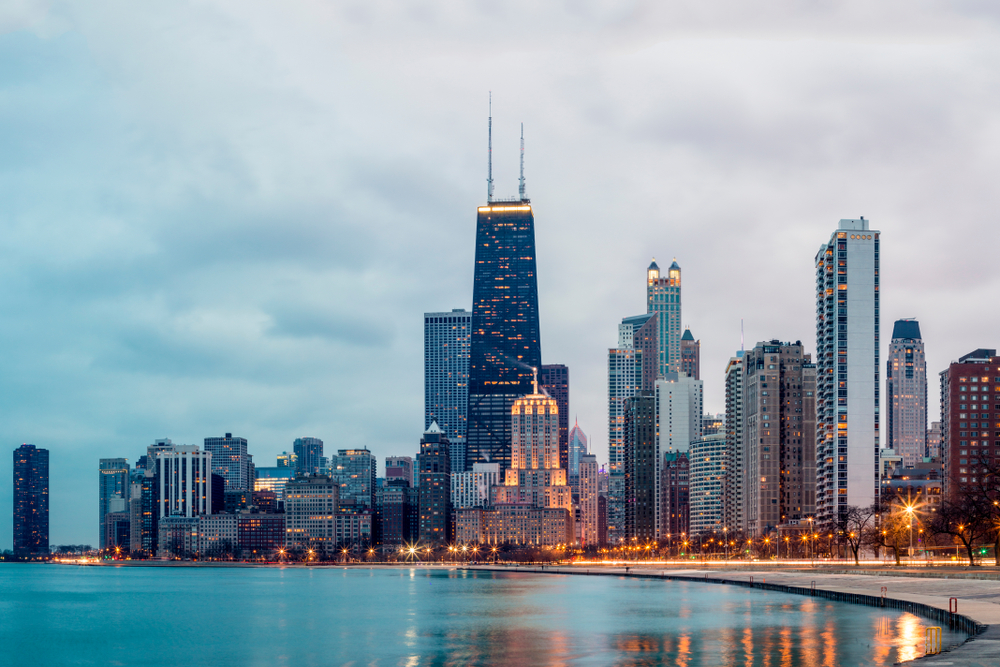 Who doesn't love playing tourist and going on vacation in their own city? Get a nice hotel, go to a Blackhawks game, and eat awesome food without having to go anywhere.
Things to Do in Chicago
Splurge at Alinea. Enjoy and savor the culinary experience at this world-class, Michelin-rated restaurant.
Chicago Botanic Garden. Experience the thrill of the aesthetic floral gardens that the Windy City offers. This establishment features many events year-long.
Let's Get This Weekend Getaway Started
That romantic getaway you've been looking forward for way too long starts now! Pick a place, pack up the car, and start a journey that you and your significant other will never forget.