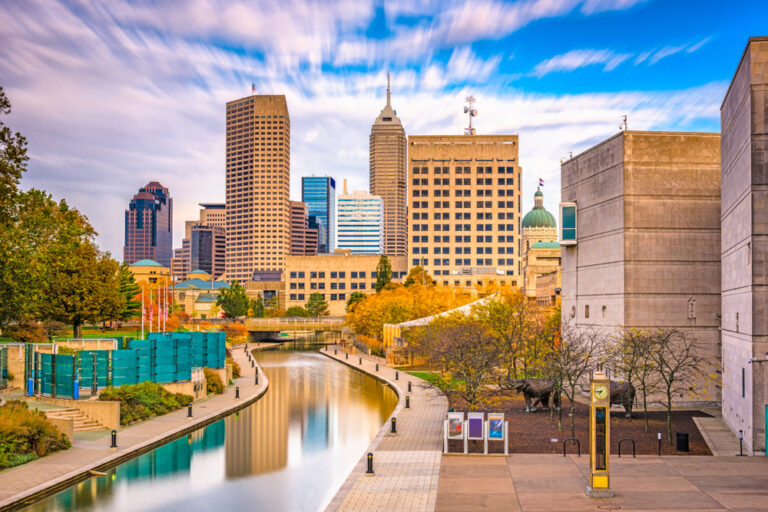 Indianapolis, best known for the races at the Indianapolis 500 Speedway, is the largest city by population in the state of Indiana. The metropolis has six designated cultural districts that offer art, recreation, shopping, and more. There are a ton of wonderful destinations to visit, like Newfields (formerly the Indianapolis Museum of Art), Garfield Park Conservatory, and Holliday Park. There are so many different things to do in Indianapolis that it can be a struggle determining just exactly what the best things to do are. Here's a diverse list of additional options in downtown Indianapolis to help round out your visit to Naptown. Get the bags packed and get ready for a mid-western adventure in this lively city that has magic and beauty seemingly coming out of the sidewalks.
Things to Do in Indy
From taking in the many different museums this spectacular city has to offer or setting up a picnic in one of the bucolic parks that are peppered through this magnificent city. Amazing restaurants and nightlife are here in spades as well. This city is jam-packed with things to do and places to see. There is sure to be something to do for any visitor making their way here. Here is just a few of the many beautiful landmarks and places to see in this wonderful city.
Eiteljorg Museum

Eiteljorg Museum of American Indians and Western Art exhibit Western art, Native American art, and cultural objects. Be immersed in a world that existed before the settlers came from Europe by walking through the hall of this wonderful museum and talking in the pieces of history that seem to be alive themselves. Artwork is found in both permanent galleries and special exhibits. The R.B. Annis Western Family Experience is an interactive family area with hands-on activities.
In addition, the Wigwam, Totem Pole, and Stagecoach are favorite locations. Outdoor garden spaces feature sculptures. Wi-Fi is free, and the café and shop offer souvenirs or eats. All of this combines to make for a wonderful afternoon or morning outing while on vacation here. The museum is located in White River State Park.
Pro traveler tip: Many events take place here that are meant to serve to inspire and educate. Check the schedule online before your trip and perhaps catch an awe-inspiring and inquisitive speech or seminar.
Indiana State Museum

The Indiana State Museum features exhibits on the art, culture, science, and history of Indiana from prehistoric to contemporary times. With many different exhibits to explore and see this is the perfect place to come solo or with the family. Permanent exhibits include Ancient Seas, Frozen Reign, Natural Regions, The Hoosier Way, and Contested Territory.
In addition to exhibits, the museum features hands-on experiences that make Indiana's history come alive. Legacy Theater presents the stories of people who influenced life in Indiana. Be sure to check out this wonderful museum and all of its exhibits for a true one-of-a-kind experience while on vacation in Indianapolis. The museum is located in White River State Park as well.
Pro traveler tip: This museum also has many satellite locations where one can enjoy many of the same sights but, indifferent and equally gorgeous locations. Be sure to check out the spots and see if a day trip will perhaps take you there.
White River State Park

In addition to two museums, White River State Park attractions include the Indianapolis Zoo, concerts on the Farm Bureau Insurance Lawn, Victory Field, and NCAA Hall of Champions. This place is teeming with things to do and exhibits to see making it a perfect place to spend an entire day getting in touch with an authentic Indiana experience.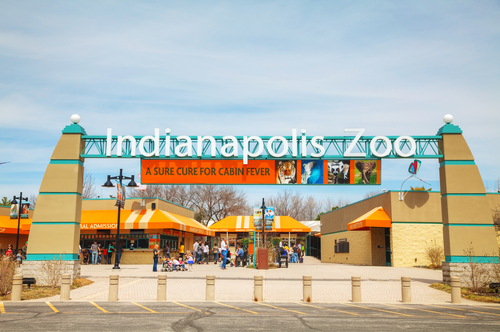 Art in the Park is a collection of permanent public art pieces that are located in the park. These pieces include Yellow Butterfly and Street Seat. The asphalt White River Wapahani Trail, almost 11 miles in length, passes through the park. Be sure to check out this wonderful park for an experience that will remain in my memory for a lifetime.
Pro traveler tip: The Indianapolis Zoo is a perfect detour to take while wandering through this truly enormous park. Get in touch with your wild side with many different animals from all around the world nearly at arm's length.
Indiana State House

All three branches of government operate out of the Indiana State House. Completed in 1888, the neoclassical building is constructed of Indiana limestone and white oak. The building is highlighted by marble columns and a stained-glass rotunda window. History buffs will marvel at the architecture of this prestigious building.
Along with a guided tour of the building, you can view the Great Hoosiers in Sculpture exhibit. Tours are given throughout the week. Take in the sights and history of this amazing building while on vacation in Indianapolis for an in-depth look as to how the local governments here are run as well as a deeper look into the sprawling history of this wonderful state.
Pro traveler tip: Tours here generally take a couple of hours so be sure to stop at one of the many delicious nearby restaurants beforehand or plan to find one afterward to top of a historic day spent in the State House.
Military Park

Military Park, the oldest park in Indianapolis, covers 14 acres. The area features open green space and a large shelter house. Many community events and cultural festivals are held in the park throughout the year. The location provides easy access to the Indianapolis Cultural Trail as well as the Downtown Canal Walk, an activity that takes place around the Indiana Central Canal. Be sure to stop by. here for an afternoon picnic or a few hours of rest and relaxation. This park is perfect for it.
Pro traveler tip: Be sure to check the schedule online of what events may be taking place that are coinciding with your vacation. Nothing beats a concert in the park while on a wonderful vacation.
Where to Stay in Indy
Downtown Indianapolis also known as Mile Square is the place to be for those seeking adventure and things to do around every corner. Check out Olde National Centre for an amazing event. Or, stop by one of the many world-class restaurants or lounges in the city for a fun and thrilling night in Naptown.
For those looking for a more laid-back and free-spirited experience while on vacation in Indianapolis. Broad Ripple is the neighborhood to be. Boutique shops and cute cafes line the streets in this bohemian village within the city. Stay here for a chill vibe that will be sure to relax you and get you in the spirit of creativity.
Indy is the Spot!
Ready to take in the incredible array of culture in Indianapolis? Indianapolis is a city in Indiana where just about anything can be seen or experienced. From the multitude of rich historic museums to the numerous fantastic and relaxing parks, this city is truly a place where one can have all the fun they could imagine while also getting a very restful vacation at the same time. Book a trip here now for an experience of a lifetime in this gem city of the Mid-west. Book your stay on VacationRenter!