Social media has undoubtedly taken #travelgoals to the next level, providing thousands of millennials with an endless database of jaw-dropping images of where to go next. If you're an aspiring globetrotter who frequently keeps up with travel bloggers, then you've probably come across gorgeous images of hot air balloons soaring at sunrise in the Turkish city of Cappadocia. After coming across those images, we wouldn't put it past you if you decide to add "witness hot air balloons fill the sky" to your bucket list.
But guess what? You don't have to fly all the way to Turkey to make your hot air balloon dreams come true. Lucky for you, Colorado has a handful of colorful hot air balloon festivals scheduled every summer.
It's no wonder that the state of Colorado has the affectionate nickname, "Colorful Colorado." Indeed, the state's summers especially, are resplendent with rainbow-hued vistas. But Colorado's natural scenery plays only one role in its summer beauty. The region's hot air balloon festivals also adorn the state's summer skies with their own color-bursting brocade. Here are five hot air balloon festivals happening this summer that will set the tone for an eye-catching and eventful season.
Moffat County Balloon Festival
August 5 to 7 (2022) in Craig
Moffat County Hot Air Balloon Festival is once again taking to the skys this August at Loudy-Simpson Park in Craig, Colorado. This year's festival will be the 12th version of the Balloon Festival in Moffat County and will feature balloon launches over three mornings on Friday, Saturday, and Sunday. The balloon festival already has 18 pilots signed up for this year.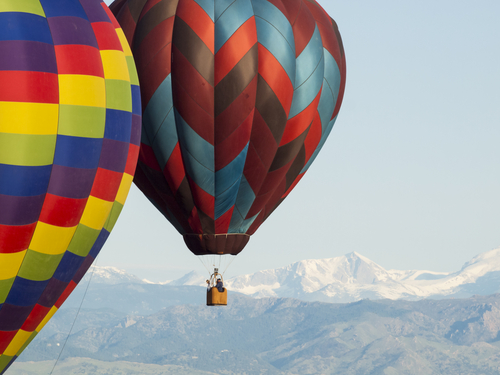 Along with the balloon festival, live music will be provided all day Saturday by The Petty Nicks Experience, a Tom Petty and Stevie Nicks tribute band. Families can also look forward to a cardboard boat regatta, bounce houses, a collection of cars from the Colorado Cruisers Car Club, food vendors, and arts and crafts booths. Continuing with the tradition, this year there will be a rubber ducky race supporting hospice care in support of Northwest Colorado Health beginning at the Ranney Street bridge. Craig Fire and Rescue drops the ducks into the Yampa River around Saturday morning, and from there, the yellow plastic flock numbering in the hundreds (or thousands) takes approximately 20 minutes to reach the boat ramp and the culmination of the race. Volunteers await the ducks' arrival at the finish line.
But there's more on tap while you're in town: Yampa Valley Brewing Company provides a range of diverse, high-quality craft beers for not just Yampa Valley, but the entire northwest Colorado. But if you really want to go wild, you might want to try The Sand Wash Basin Wild Horse Herd where you'll witness an extraordinary herd of wild horses. While you won't be allowed within 100 feet of the stallions, you can still see them in all their unbridled glory. 
The festival is also located close to the northwest corner of Colorado, which means you could also take a trip to the border of Utah to check out the Dinosaur National Monument. There you'll find fossils, immortalizing the mysterious reptile-like beings that walked our planet over 60 million years ago. Seeing the bone structures of these life-sized creatures is a pretty marvelous sight to see, so if you're fascinated by all things science, this would definitely be an interesting adventure for you.
You can also find petroglyphs painted and etched on the monument's rocks by the Fremont Indians thousands of years ago. To learn the park's secrets of the past, it would be a good idea to book a guided tour. One unique tour for our outdoor explorers is a whitewater rafting tour through Dinosaur National Monument with OARS. They offer a variety of five-star tours that hit all the most exciting spots, all while enlightening you with everything you need to know about the land's history.
Needless to say, a trip to Dinosaur would be an interesting attraction for history buffs too.
Ready to take a trip to Craig and see the dinosaurs?
Labor Day Lift Off
September 3 to 5 (2022) in Colorado Springs
The countdown to lift off has already begun. On Labor Day weekend, be prepared to take to the skies at the Colorado Springs Labor Day Lift Off,  where the festival will have its massive hot air balloon launch. Aptly called "the most colorful weekend of the year," the tradition will be celebrated from Memorial Park in Colorado Springs. The early morning balloon ascension will fill the city skyline. The kaleidoscope of colors has been happening for over 45 years, making this cherished summer celebration one of the largest ballooning events in the country. You can go up in one of around 70 balloons accompanied by breakfast and drinks from local vendors. And new this year is the Lace Up & Lift Off Orangetheory 5K race.
Just a 10 minute drive from Memorial Park is Seven Falls, also known as "Colorado's Grandest Mile." There are many outdoor activities to keep you entertained at Seven Falls, but the most exhilarating one is the Soaring Adventure. This wilderness experience will take you through an intrepid route consisting of ten zip lines, various suspension bridges, and spectacular hikes giving you another chance to see Colorado Springs from an aerial perspective.
Colorado Springs sits at the eastern foot of the Rocky Mountains and is home to one of the nation's most famous landmarks, Pikes Peak. Author Katharine Lee Bates was so taken by the summit that she penned the still-popular patriotic anthem, "America the Beautiful" in 1885. Visitors can ascend this 14,115-foot beauty accessible via car, bicycle, or hike. During the last weekend of June, skilled professional drivers gather to race up the highway during The Broadmoor Pikes Peak International Hill Climb. This year, the aptly named Race to the Clouds is celebrating its 100th year milestone.
Two other sites to include on your Colorado Springs to-do list are the Garden of the Gods and the Cave of the Winds. As you can see, you won't fall short of things to do in this city, being an added bonus after attending the vibrant hot air balloon festival.
Find the perfect vacation rental in Colorado Springs today.
Picture the Sky Balloon Rally
September 3 to 5 (2022) in Windsor
Another long-running Labor Day Weekend extravaganza is the Windsor Harvest Festival, which is celebrating its centennial in Windsor, Colorado, this September. On Saturday, the Picture the Sky Balloon Rally will alight from Eastman Park offering a brilliant display of airborne colors. Come for the balloons, stay for a bonanza of events across the long weekend, including one of Northern Colorado's largest parades, a beer garden, farmers' market, fireworks show, car show, a pancake breakfast, and a free movie at the drive-in.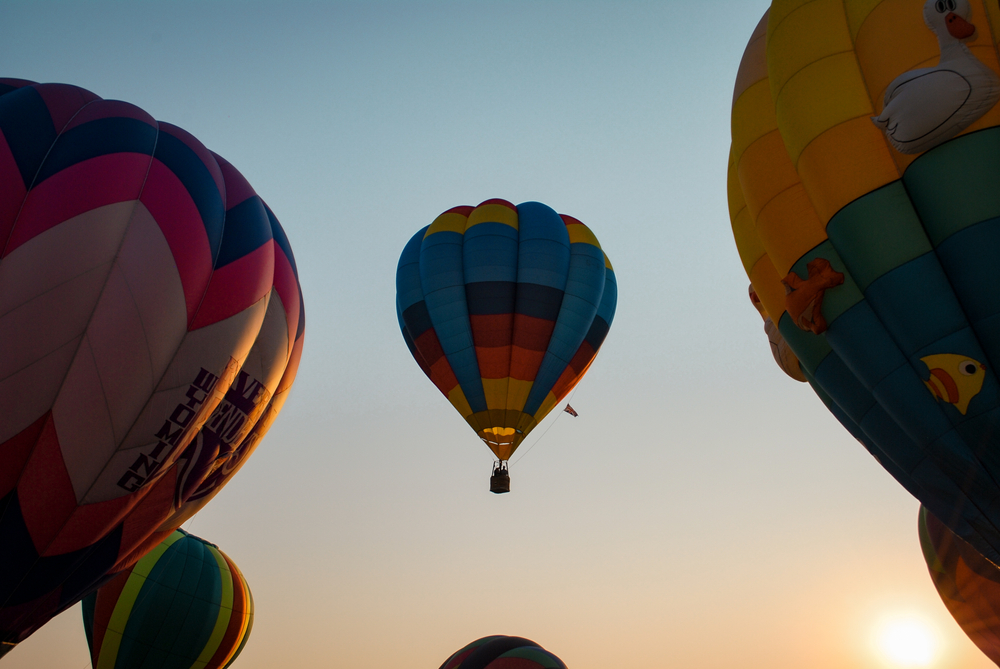 Windsor is centrally located within driving distance to the cities of Loveland, Fort Collins, and Greeley, offering multiple fun places to explore. Fort Collins is home to New Belgium Brewing, the makers of crowd-favorite offerings like Fat Tire and Voodoo Ranger. Tours of the brewery are well worth the trip, as are the food trucks and taproom. This weekend also plays host to the downtown Fort Collins bike parade, currently scheduled for Saturday. Put on by the brewery, "Tour de Fat" features a day packed full of free festivities "celebrating beer, bikes, and bemusement."
Meanwhile, Greeley is famous for its rich heritage of cowboys and rodeos. The Greeley Stampede encompasses a mix of community-focused events throughout the year, with larger, summer celebrations spanning 12 days around the 4th of July. This year marks an historic 100th year celebration that will see concerts by Brad Paisely and Stone Temple Pilots as well as all kinds of rodeos.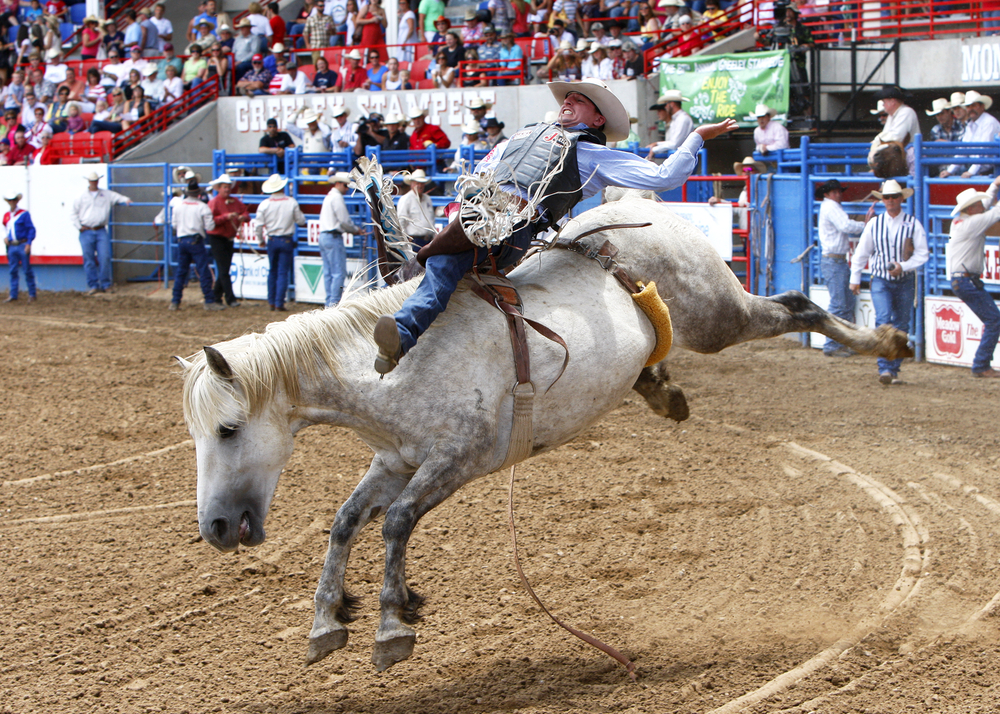 Last but certainly not least, Loveland's downtown is an art-lover's paradise, with all kinds of murals, art galleries, and places to shop. Come hungry, as the diverse, funky restaurants will certainly satisfy any cravings you might have after a long day of perusing the artwork.
Looking for the perfect way to enjoy the summer? Why not check out all the fun to be had in Fort Collins!
Snowmass Balloon Festival
September 16 to 18 (2022) in Snowmass Village
There's a lot of summer fun to be had in Snowmass! The village might be known for its picturesque ski resort near Aspen, but the Snowmass Balloon Festival every September is plenty of reason to visit during the "off" season. Rise and shine in the early morning hours and you'll catch sight of over 30 hot air balloons, as pilots will be competing with each other in one of the highest-altitude hot air balloon festivals in the U.S. Balloons rise at an altitude from 2,000 feet to 10,000 feet, giving spectators 360-degree panoramic views of the spectacular Colorado mountains. 
A highlight of the three-day event will be the Night Glow that usually takes place on Friday evening. In addition to balloon rides, there will be "baskets" of food and drinks, barbeque, and a free live music concert. There is also the Kids' Corner where there will be plenty of family-friendly activities. 
From Snowmass, you should definitely spend a day visiting the breathtakingly beautiful Maroon Bells. The best way to get there from Snowmass Village is through the village shuttle and bus service. What's so great about Maroon Bells is that the most sought out mountain views are easily accessible to anyone. One hiking trail that's safe for children and recommended for all skill levels is the Maroon Bells Scenic Loop Trail. As you hike towards the lake, you'll see exactly why the Maroon Bells mountains are one of the most photographed ridges in the country. 
For some added adventure, tucked in among the trees and rocks at Elk Camp on Snowmass Mountain is the Lost Forest — an on-mountain adventure center where there are zip lines, a mountain coaster, and 80 miles of amazing hiking and biking trails — not to mention the incredible mountain excursions and two-disc golf courses. You'll also get lost in the magnificent mountain views.
How does a trip to Snowmass Village sound? Start planning now!
Colorfest
September 16 to 18 (2022) in Pagosa Springs
Are you ready for the mass balloon ascension in Pagosa Springs? We certainly hope so because an array of balloons will fill the sky on the weekend of September 16th to 18th at Colorfest Balloon Rally. See them float over the Pagosa Lakes area and the Pagosa Springs Golf Club during the morning hours.
Attendees 21 and older should also get a "passport" to the Pagosa Wine and Food Festival, so you can listen to live music as you sample wine from around the world and feast on local cuisine. Pagosa Springs takes their food very seriously — local restaurants and specialty food shops will be competing for the Golden Whisk Awards by providing tastes and samples from their menus. Some food for thought: you're invited to vote for your favorite dish or sample!
While you're on holiday, treat yourself to a relaxing day at one of the town's many hot springs. Most people are drawn to The Spring Resort & Spa to see the "Great Pagosah Spring," breaking records as the world's most massive hot spring with a depth of over 1,000 feet. The pool's exact depth is unknown to anyone, as no plumb lines or measuring devices have ever actually hit the bottom. With temperatures surpassing 140 degrees, visitors are not allowed to dip into this worldwide phenomenon, but as the Mother Spring, it does supply mineral water into the spa's many swimmable soaking pools.
If you'd rather soak in hot springs on a rooftop, you can cross the San Juan River and spend an afternoon at Overlook Springs. Catch sunset overlooking the city as you unwind in one of their scenic rooftop tubs, or stay as late as 10:00 PM on weekdays, and 11:00 PM on weekends to gaze at the stars.
Despite the timeless TLC song, "Don't Go Chasing Waterfalls," the town recommends that you do go chasing the wondrous waterfalls in Pagosa Springs. There are four magical cascades to choose from: Piedra Falls, Fourmile Falls, Silver Falls, and Treasure Falls. The sights and sounds of each will transport you to another world.
Last on your itinerary, head west to the Chimney Rock National Monument, a celestial observatory built by the Ancestral Puebloans over a thousand years ago. The monument is only open to the public between May to September, so this would be your last chance to witness this astronomical masterpiece for the rest of the year. Check it out if you get the chance and experience the powerful energy in an archeological wonder that some say was ahead of its time. Be sure to reserve tickets to Chimney Rock directly on the Recreation.gov website before your trip.
Have the perfect send-off for summer 2022 in Pagosa Springs!