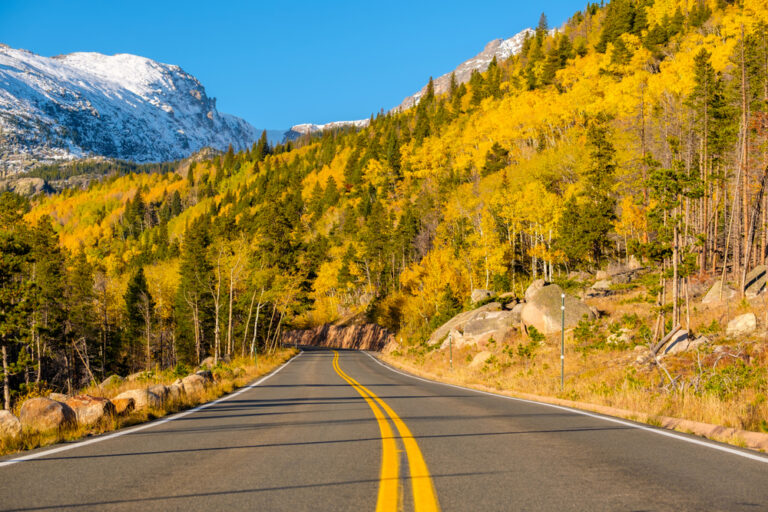 Are you looking to cash in on the seasonal Colorado gold rush, but don't know where to start? With all of the different leaf-peeping prospects across the state, it's understandable to feel a bit of analysis paralysis. Adding to the pressure is the fact that you only have about four weeks to catch the fall colors before they're gone. For more tips, be sure to read our post on the Five Best Fall Trips in Colorado.
To ease the leaf-peeping planning stress, we've put together an epic road trip loop that takes you up and over our favorite mountain passes and through some of Colorado's most iconic cities and towns. Read our recommended itinerary below to help in planning your perfect fall color travel route!
Starting point: Denver, Colorado
Closest airport to starting point: Denver International Airport (DIA)
Ending point: Loops back to Denver
Driving distance: Just over 450 miles
Duration of trip: 1 week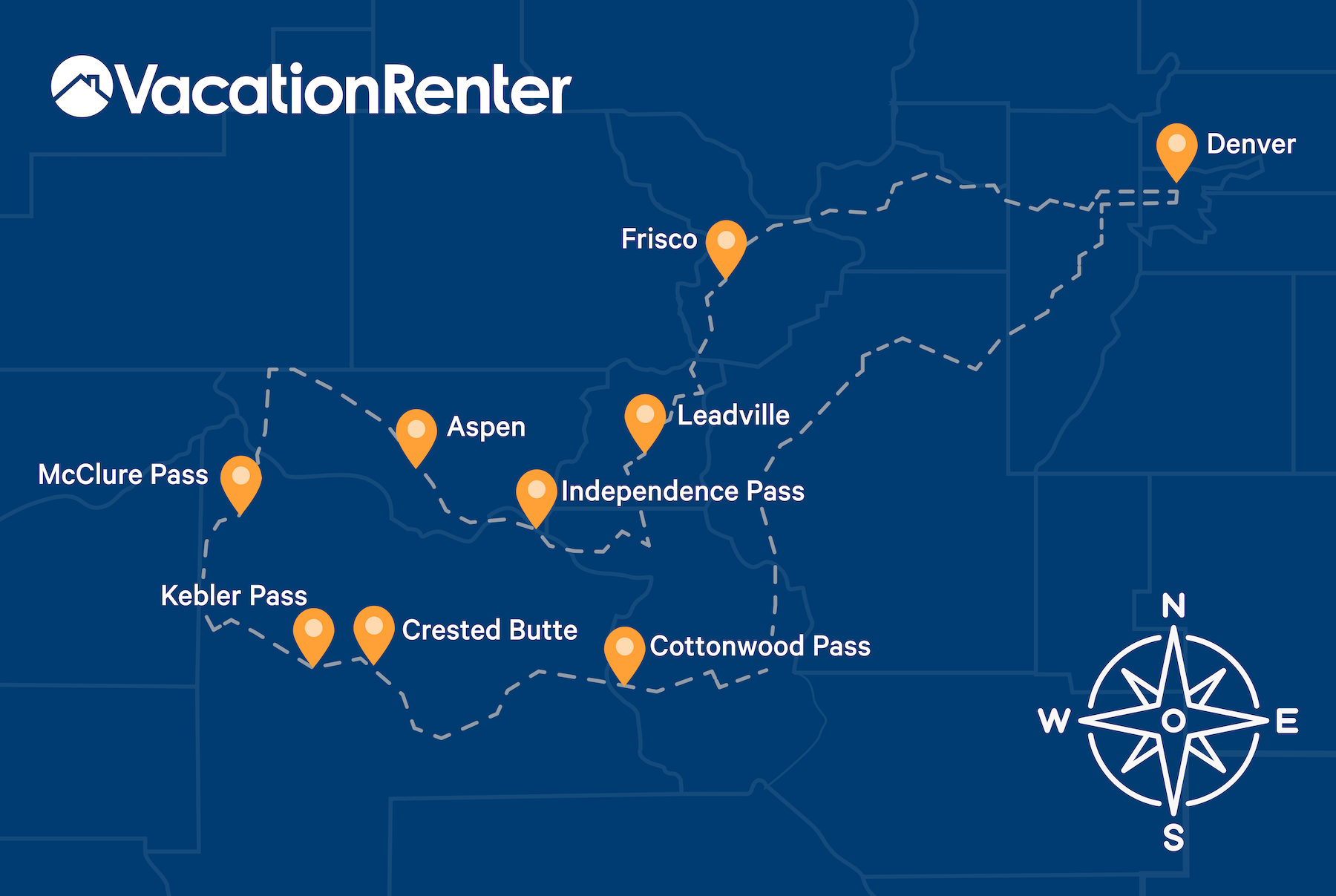 Day 1: Denver to Crested Butte via Cottonwood Pass – 190 miles
Whether you fly, drive, or reside in Denver, it's a great launch pad for this week-long adventure. The "Mile-High City" has a lot to offer — from arts and culture to drinks, dining, and nightlife — so we recommend spending a day in Denver before departing on your road trip. Plus, this allows you to hit the road early, giving yourself enough time to make the drive and truly enjoy the fall colors along the way.
About half-way through your drive, you'll arrive by the town of Buena Vista, which sits at the foot of Cottonwood Pass and provides the perfect stopping point to stretch your legs or grab a bite to eat. Then it's time to buckle-up and keep your eyes peeled because the rest of the route travels through national forest land, making it prime leaf peeping territory!
Day 2: Crested Butte
Dedicate some time to spending a day in this remote mountain town to experience as much of its natural beauty and abundant history that you can. The Crested Butte valley is known as one of the top destinations for fall colors in Colorado, and for good reason: it's home to some of the largest aspen groves in the state.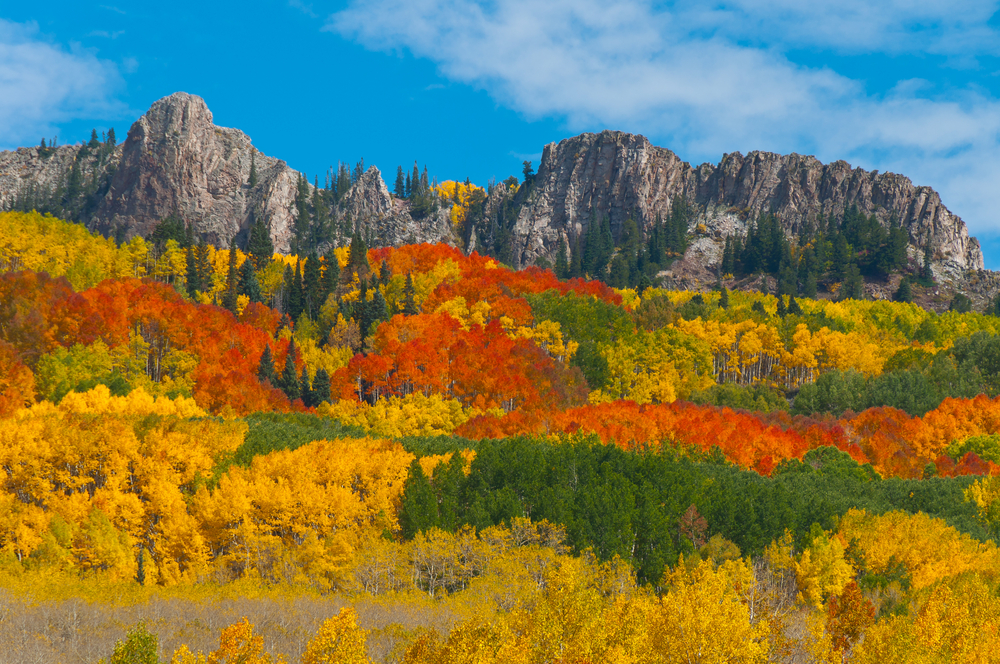 You can start your day leaf peeping along one of the many hiking and biking trails in the valley, then spend your afternoon soaking up the sun in town. Main Street is littered with historic architecture, in addition to some amazing shops and restaurants — including a local favorite called Secret Stash. Whatever you do, be sure to pay a visit to Niky's Mini Donuts for a sweet treat before you leave town!
Day 3: Crested Butte to Aspen via Kebler Pass and McClure Pass – 100 miles
It's a good idea to get going early on the third day of your trip to give yourself a good amount of time for this two-pass travel day. As you leave Crested Butte, the pavement is suddenly replaced by grated gravel at the start of Kebler Pass. But fear not, as this road is regularly maintained so any all-wheel or four-wheel drive vehicles can navigate this route with ease. You'll find the road engulfed in aspens, offering endless opportunities to get a glimpse of the golden groves. We do not recommend taking Kebler Pass if you're driving a two-wheel drive car. Instead, we suggest looping around through Gunnison and up to Hotchkiss until you rejoin the route near the town of Kebler.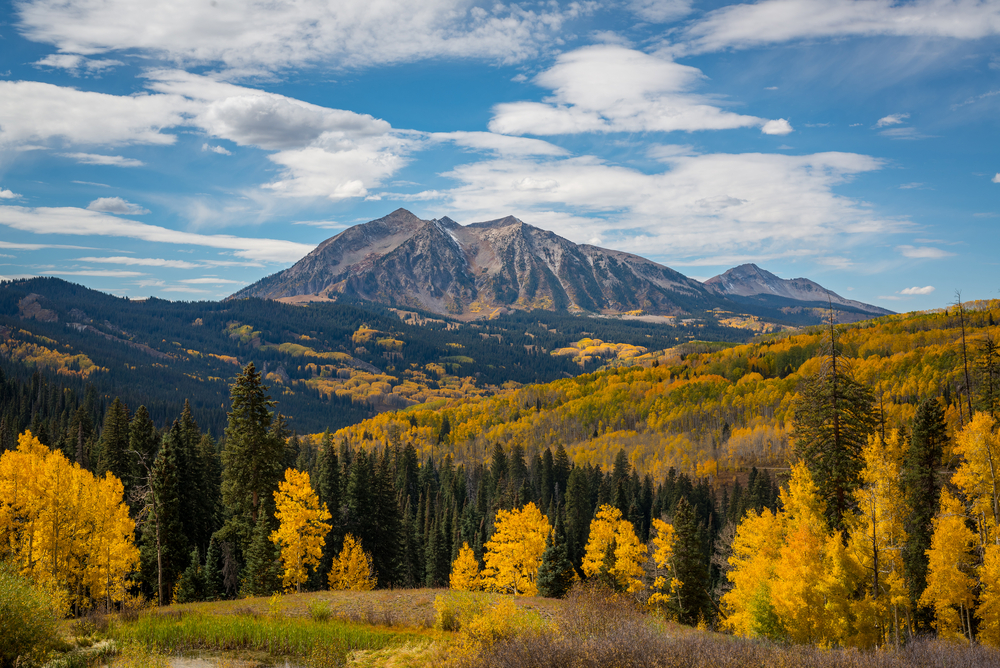 The leaf peeping continues as you drive over McClure Pass, past the town of Redstone and through Carbondale before heading up the Roaring Fork valley to Aspen. If you're an experienced driver with a highly capable off-road rig, consider taking Pearl Pass as an alternate — and much more extreme — travel route. 
Day 4: Aspen
In a little place called Aspen, where the beer flows like wine, hues of silver and gold are a common occurrence. But the famous destination gets a little richer when the trees begin to turn and the fall gold rush begins. As autumn temperatures drop, the colors creep down the four mountains of Aspen Snowmass and Mother Nature puts on a tie-dye show of vibrant reds, yellows, and greens.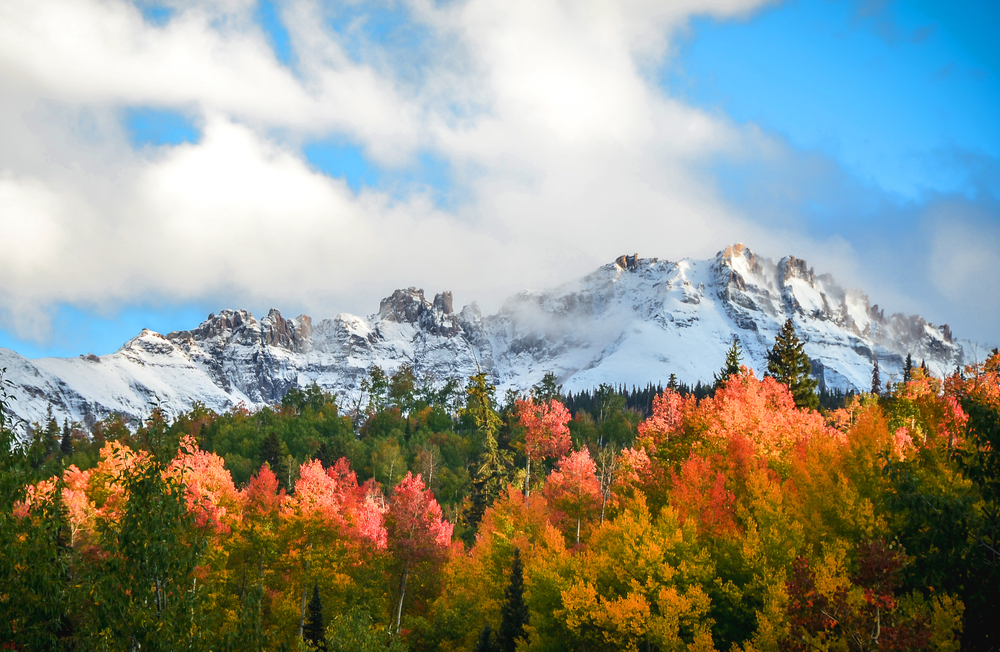 Not to mention, it's the best time of year to take advantage of off-season rates on restaurants, hotels, and vacation rentals so you don't have to break the bank to visit the playground of the rich and famous. Whether you want to enjoy the abundance of outdoor activities available or immerse yourself in the wine and dine culinary culture, Aspen has something for everyone!
Day 5: Aspen to Frisco via Independence Pass and Leadville – 140 miles
We strongly suggest that you budget ample time for the journey over Independence Pass for a few reasons. It's an extremely narrow and curvy road that requires you to drive at slower speeds, but you'll also have to wait for oncoming cars to clear before entering the two single-lane sections of the road. More importantly, you'll want to have plenty of time to stop for some of the many leaf-peeping opportunities along the pass, such as taking a hike to Lost Man Lake, going for a cold plunge at Devil's Punchbowl, or catching the fall colors on the Continental Divide.
Upon arriving in Leadville, after having worked up an appetite from taking in the vibrant fall colors, odds are high that you'll be looking for lunch. The legendary Silver Dollar Saloon is sure to satiate, as they've been doing for their patrons since the 1800s. Then, you can explore the rich history of the town, which almost became the capital city of Colorado, before heading out to Frisco.
Day 6: Frisco
Located in Summit County, Frisco has a small-town vibe and offers easy access to ski resorts like Breckenridge, Keystone, and Copper Mountain so you can go leaf peeping at any elevation. Or if you prefer to check out the fall colors from lake level, rent your favorite watercraft from Frisco Bay Marina and take it for a spin on Lake Dillon!
With hundreds of miles of hiking and biking trails, there's no shortage of outdoor activities in the area that are great for leaf peeping, but stop by Frisco Adventure Park if you're looking for more to do — from disc golf to other special events. Whatever you do, be sure to eat, drink, and be merry in one of the local restaurants and bars as you celebrate the last stop of your trip.
Day 7: Frisco to Denver – 75 miles
The 450 mile journey comes to a close as you finish the last leg of the loop and return to Denver, but the leaf peeping isn't over yet. As you head up I-70 to Eisenhower Tunnel and descend the other side, the seasons seem to change before your very eyes as you gain and lose elevation on your way back to the city. This provides yet another opportunity to participate in the seasonal gold rush and experience the vibrant fall colors of Colorado!
Discover Colorful Colorado
Start planning your perfect leaf peeping road trip to Colorado today. To explore more road trip routes around the United States, click here!