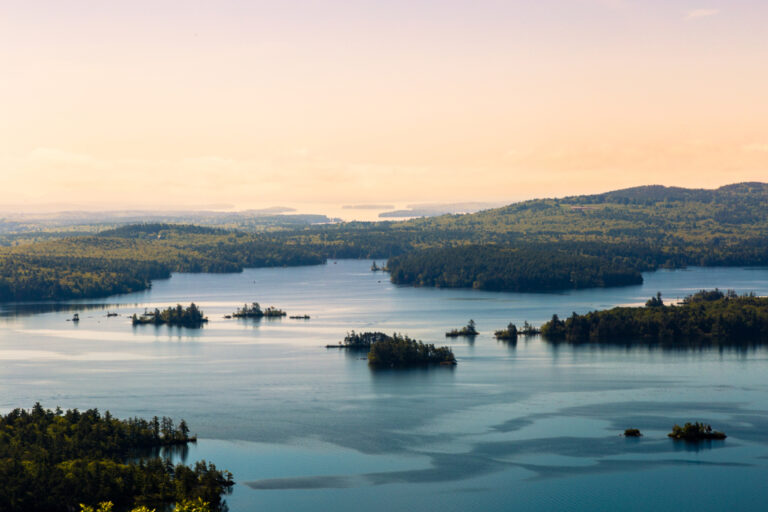 Hidden along winding, forested roads, between country stores and covered bridges, hundreds of sparkling lakes transform Eastern New Hampshire into one of the most pleasant and timeless summertime escapes. As the souvenir-shop signs attest: life is better at the lake.

Start each day with coffee accompanied by loons calling across the water. Toast marshmallows as the stars begin to twinkle at night. And throughout each languid vacation day, answer the water's call at whatever speed suits you. Zoom, paddle, float, swim, hang onto a tow rope, cast a line, or simply sunbathe with a good book. Beyond the lakefront, be sure to soak in the flavors and history of New England's quaint towns and undulating countryside. Foray to quintessential New Hampshire adventures (think granite-hued hikes, blueberry picking, or ziplining), and be sure to taste locally crafted maple syrup, brew, or "chow-dah" along the way.

Located roughly an hour and a half from Boston, the Lakes Region is a drive-able weekender for city dwellers fleeing the muggy summer heat — or worthy of weeks-long immersion for anyone hankering for a little lake therapy. With Winnipesaukee as the splashy centerpiece, surrounded by 272 of its smaller brethren, the area stretches from the spectacular White Mountains to Maine.
Here, we explore five of our summertime favorites: Lake Sunapee, Newfound Lake, Lake Winnipesaukee, Squam Lake, and Lake Winnisquam.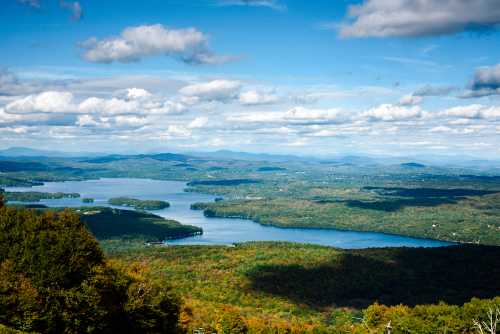 With ski-and-summer resort Mount Sunapee as a stunning backdrop, this 4,100-acre lake is rimmed with state parkland, sweet villages, and ample outdoorsy opportunity.
A smidge west of the official Lakes Region, Sunapee has four outposts along its 70-mile, cottage-lined shores: Sunapee Harbor, where you can stroll, board a cruise, launch your own craft, or sample local cuisine; Newbury, an ideal spot for afternoon ice cream and home to The Fells Estate and neighboring John Hay National Wildlife Refuge; New London, a classic New England town home to Colby-Sawyer College; and petite George Mills. Whether you're just looking to unwind or seeking some thrills, the area has it all — from canopy zipline tours at Mt. Sunapee Resort to sandcastle-ready Mt. Sunapee State Park Beach.
To get oriented, cruise the 39-mile Sunapee Scenic Byway. For a little elevation, head east to hike Mt. Kearsarge. And for some Ivy League-steeped culture, take a 40-minute drive to Hanover, home of Dartmouth College.   
Seeking the perfect lake house to call yours for a weekend, a week or beyond? Check out our Lake Sunapee finds.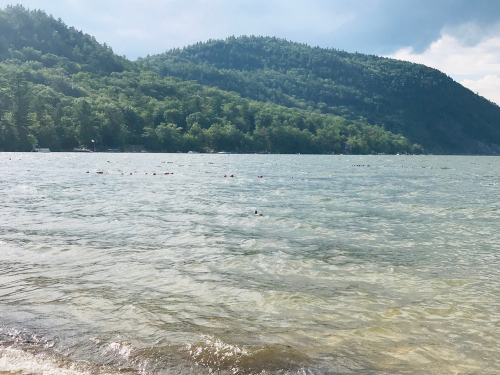 Pristine and under-the-radar, this tranquil oasis — fed by eight springs and bottoming out at a depth of 183 feet — may just be one of the cleanest lakes in the world. With 22 miles of shoreline, Newfound Lake is a haven for boating, fishing, and taking in the forested landscape. Rent a kayak and paddle along the undeveloped shoreline at New Hampshire Audubon's Newfound Center.
For a beach day, Wellington State Park has a sizable stretch of sand, picnic spots, and trails to explore. Hikers may opt for a picturesque jaunt along the Elwell Trail to a couple of peaks: Little Sugarloaf or Big Sugarloaf. For some boulder-sized fun, check out the Sculptured Rocks Natural Area, where the Cockermouth River creates a playground that's ideal for cooling off while clambering. 
Ready to settle into the lake life? Peruse these Newfound Lake vacation accommodations for the perfect getaway.  
A sprawling 72-square-mile expanse, Winnipesaukee hums with jet-skis and motorboats while also providing ample room for quieter pursuits, such as stand-up paddle boarding, fishing, and canoeing.
From the arcade-bedecked boardwalk of Weirs Beach and Laconia's Motorcycle Week to the upscale eateries in Wolfeboro and Tuftonboro's antique shops, there's a little something for all tastes. Eight charming towns circle the lake with a kaleidoscope of white clapboard colonials, marinas, galleries, umbrella-filled dining decks, souvenir shops, and clam shacks interspersed with farms, forests, and parkland. Settle into one of the villages, explore hundreds of islands via whichever kind of vessel you prefer, cruise the wide-open "Broads," or venture beyond the lake.
Although exploring the White Mountains is well worth the trek, lakeside Mt. Major — just a few miles north of Alton Bay — is one of several close-to-home peaks that delivers lovely views as well as a gentle three-mile hike, round trip. History buffs can find plenty of 18th, 19th and early 20th century attractions throughout the area, including Moultonborough's Castle in The Clouds, a 1913 mansion with trails (for horseback riding or hiking), waterfalls, and, as the name implies, lofty views. For alpine action, such as ziplines and mountain coasters, check out nearby Gunstock Mountain Resort. Of course, just staying put, relaxing on the lake is perfectly acceptable, too. 
Whether you're looking to unwind in a quiet cove or go full-throttle with power-boat-fueled fun, find that perfect home away from home at Lake Winnipesaukee.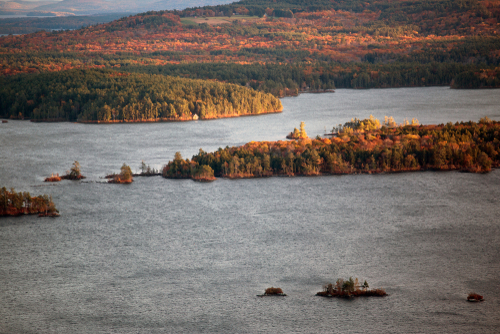 Thanks to its starring role as the location for the film "On Golden Pond," Squam officially hit the tourism limelight in the early 1980s. Yet Winnipesaukee's northwestern neighbor remains an idyllic spot for slower-paced, nature-filled vacationing. Kayak and look for bald eagles among Big and Little Squam's 67 islands. Take a lake tour aboard a Squam Lakes Natural Science Center pontoon, or check out the center's trails and live animal exhibits.
For a leg stretch and a birds-eye view, take a two-mile round trip hike to Rattlesnake Mountain Trail or three-mile round trip route to Red Hill. More ambitious jaunts in the Squam Range, such as the Mount Percival/Morgan Loop, are within easy striking distance as well. Big (6,791 acres) and Little (408 acres) Squam Lakes are connected via a channel in Holderness, one of the area's five settlements. For stunning views, hikes, and waterfalls, take a day trip north to explore the White Mountains and, perhaps, try summiting the Northeast's tallest peak, Mount Washington, off your bucket list.
Discover your own "Golden Pond" moments at one of these Squam Lake rentals!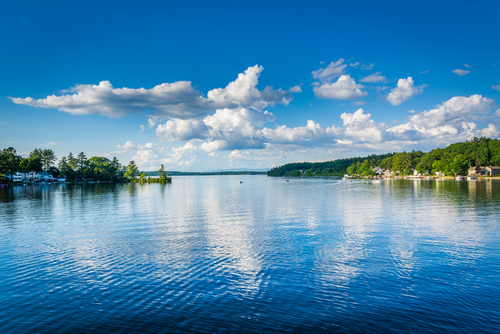 Winnisquam purportedly means "pleasant waters" in the native Abenaki language, and "pleasant" is an understatement. New Hampshire's fourth largest lake sits just southwest of mammoth neighbor Winnipesaukee, sharing some of the area's natural, quaint, and commercial attractions — and water, given that Winnisquam is fed via a Winnipesaukee outlet — while maintaining its own unique character.
Stroll the evergreen-scented trails of Ahern State Park or park a chair on Bartlett Beach. For those who relish some time on the fairway, Lochmere Golf & Country Club sits near the lake's southwestern shores in Tilton. And the whole family might get a kick out of mini golf at nearby Pirate's Cove Golf Adventure. Sure, you could score a deal or two on some brand names at the nearby outlet mall; but, to truly immerse oneself in lake life, it's better to enter a fishing tourney and troll for trout and salmon in the well-stocked depths.  
Seeking a summer getaway? Lake Winnisquam has plenty of lakefront digs available.