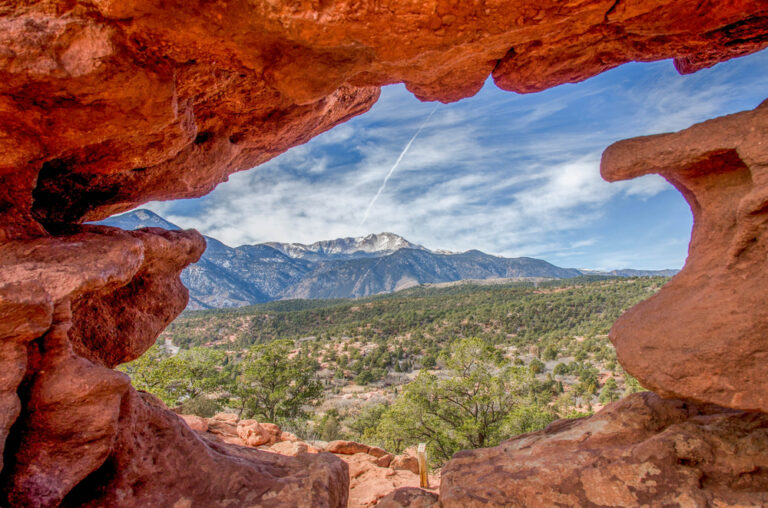 Nature provides an incredible array of things to see in Colorado Springs, Colorado, situated at the foot of the Rocky Mountains. The majestic landscapes and picturesque views are sure to enlighten anyone who gazes upon them. There are also many historical places to visit in Colorado Springs, a city that was settled in the mid-19th century. Attractions include the National Museum of World War II Aviation, Cheyenne Mountain Zoo, Western Museum of Mining and Industry, and Colorado Springs Pioneers Museum. This fantastic town is sure to amaze and satisfy vacationers from all over the globe. Here are a few of the top places to see in the area.
Discover Nature
The words nature and Colorado go hand and hand. Colorado Springs is no exception. A multitude of trails to hike, parks to explore, and incredible beauty make this place a truly one-of-a-kind destination for all nature lovers. The sheer majesty of the surrounding mountains is enough to spark the imaginations of visitors here. Below are just a few of the top places to visit while on vacation.
Pikes Peak

Pikes Peak, a landmark in Pike National Forest, is the highest summit of the southern Front Range of the Rocky Mountains. There are hiking trails and a cog railway that leads to the summit. Activities available on the peak include visiting Pikes Peak Summit House, picnicking, and fly fishing. To get to the summit, you can bike, hike, drive, or take a Jeep, shuttle, or limo tour. Keep in mind that the summit of Pikes Peak is typically 30 to 40 degrees colder than it is at the base.
Pro traveler tip: Considering the wild swings in temperature, be sure to pack what you need, and pack light because layers will be coming off just to be put back on during this wonderful trek to one of the most famous peaks in the United States.
North Cheyenne Cañon Park

Hike, bike, or ride a horse through the forest that is located in the heart of North Cheyenne Cañon Park. There are nine trails in the park. Helen Hunt Falls and Starsmore Visitor and Nature Center are two of the best attractions in the park. You can admire Helen Hunt Falls from a bridge across the falls, and if you continue to hike up to Silver Cascade Falls, you'll see a picture-perfect view of North Cheyenne Cañon. The park is home to black bears, mule deer, mountain lions, and birds that love water, like the kingfisher.
Pro traveler tip: Rockslides and other natural events occur here from time to time and unfortunately shut down some of the trails. Be sure to check ahead to see if there are any trail openings or closings before the visit.
Rock Ledge Ranch Historic Site

Rock Ledge Ranch Historic Site, listed on the National Register of Historic Places, is a museum and a working farm. Life in the Pikes Peak region is depicted at several different periods. You'll see the cows, sheep, horses, and chickens that live on the ranch when you take a living history tour.
There are trails over the 226-acre ranch to explore. You can visit the Three Sisters Garden at the Carriage House and attend special events, like sheep shearing and the Annual Powwow. Take a step back in time to a period when settlers ruled the land and native Americans were in abundance. This inquisitive and interesting site will be sure to spark the imagination of all who journey here.
Pro traveler tip: Events and workshops are taking place here nearly all of the time. So, be sure to check ahead before your visit to see if the kids can be entertained by a story or learning a new skill.
Will Rogers Shrine of the Sun

The Will Rogers Shrine of the Sun is located 8,000 feet above sea level, on the side of Cheyenne Mountain. You can walk up the interior steps of the five-story observation tower to enjoy the wonderful panorama of Colorado Springs. The Romanesque Revival-style structure is fashioned from a single sheet of Cheyenne Mountain granite, and bound together only with steel and cement. Will Rogers, killed the year The Shrine was built, is remembered in images of his life that are displayed throughout the interior.
Pro traveler tip: Be sure to pack a camera on your visit to this awe-inspiring landmark. The views from atop, along with the physical shrine itself, create many opportunities for an amazing snapshot to commemorate the experience.
The Broadmoor Seven Falls

Seven Falls is a series of waterfalls that are located less than a mile from The Broadmoor Resort. The falls flow between the towering Pillars of Hercules in a 1,250-foot-wall box canyon. Be amazed at the sheer natural beauty of these multiple landmarks. The surrounding forest and scenery will make it feel as if you are in an enchanted forest.
You can climb the 224 steps to the hiking trails and the banks of streams that feed the falls. As you ascend to the top, you'll see rock formations, golden prairies, and verdant valleys. Patrons of the attraction can dine at the on-site restaurant, which offers Colorado cuisine in a rustic setting.
Pro traveler tip: Coming here usually means a full day trip, so be sure to bring a backpack and pack a few snacks as well as plenty of water, because these hikes will surely make you lose track of time while taking a journey along them.
Garden of the Gods

Garden of the Gods, a National Natural Landmark, is a must-see stop when you visit Colorado Springs. The park features towering red sandstone formations and mountain views. The Visitor and Nature Center and Museum presents many interactive exhibits, a Geo-Trekker theater experience, as well as a terrace and a glass-enclosed café. You can explore the park on your own, or take one of the guided walks in the Central Garden area. There are also 15 miles of trails in the Garden of the Gods.
Pro traveler tip: There are multiple ways to explore this amazing garden. Whether by foot, or by rented 4×4, there is just about every option to explore this area that will suit any type of traveler visiting here.
Where to Stay in Colorado Springs
Boulder, Colorado is a fantastic option for those looking to take a short drive out of the expansive wilderness that surrounds this beautiful town, and escape back into a bustling college town. Delicious restaurants and a lively nightlife scene define this city, making it a perfect place to snap back to reality after spending time in the woods.
Cripple Creek is another fantastic option for those looking to explore the rich history of the state. This charming old mining town is perfect for history buffs, and those looking to escape into the imagination of what the area was like over one hundred years ago. The town also offers a variety of places to stay if you happen to fall in love with it. There are plenty of accommodations that can keep you close to town.
Colorado Springs is the Spot!
Colorado is a true one-of-a-kind state that offers more serene beauty per square mile than just about any other place on Earth. Colorado Springs is the epitome of it all. Being the biggest city in Colorado, while also being surrounded by lush natural wilderness. The contrast of it all makes for an amazing getaway that will remain in memory forever. Book a trip here now to escape the daily grind, and get out of the house while exploring this majestic landscape.